Last Updated on 9th May 2021 by Sarah and Justin
Last year when I started talking to the LAM Foundation about this trip and mentioned we would absolutely be going to New Zealand, I was told that I absolutely must meet Bronwyn Gray, the Director of the New Zealand LAM Trust. We were in touch even before we left New York, so when almost a year later it was time to meet, I was very excited.
Bronwyn's story is similar to Sue Byrnes', the founder of the LAM Foundation. Sue's daughter Andrea was diagnosed with LAM in the early '90s when next to nothing was known about the disease. She established the LAM Foundation in 1995.
Bronwyn's daughter Lisa was diagnosed with LAM a few years later. In the process of learning (what little there was to be known) about the disease, she discovered the LAM Foundation. After corresponding with Sue (via paper mail!) she flew to the US and learned everything there was to know about LAM and the Foundation, and decided she wanted to do the same thing in New Zealand. She established the New Zealand LAM Trust in 1999.
Both organizations not only provide invaluable support to women with LAM, but also have been instrumental in furthering the search for a cure by inspiring and funding research. As the Director of the New Zealand LAM Trust, Bronwyn has made connections with leading researchers and clinicians worldwide to help bring forth new ideas to help cure LAM. She is an incredible leader in the LAM community and I am so grateful that Justin and I were able to meet her.
Bronwyn and her partner Lesley live in Auckland but spend summers on Waiheke Island, which is a 40-minute ferry ride away from the city. We lucked into some beautiful weather the day we met. On our way there, we particularly enjoyed the view of the Auckland skyline from the ferry.

Bronwyn took us on a comprehensive "tiki tour" of Waiheke. We drove all around to see different parts of the island and its stunning views, we had coffees on the main street, and walked on the beach.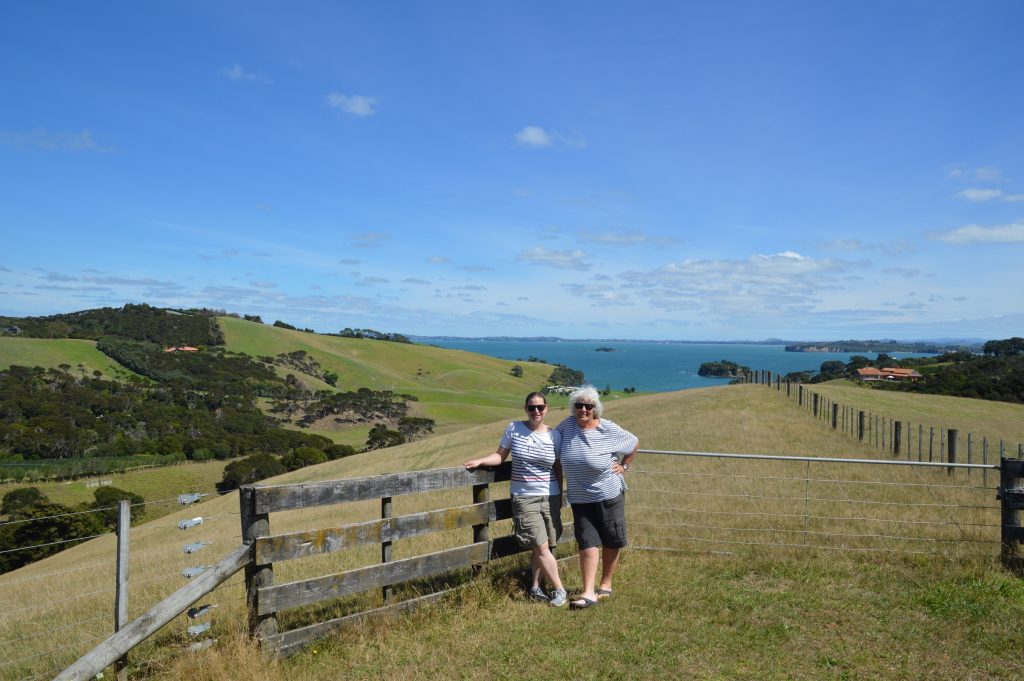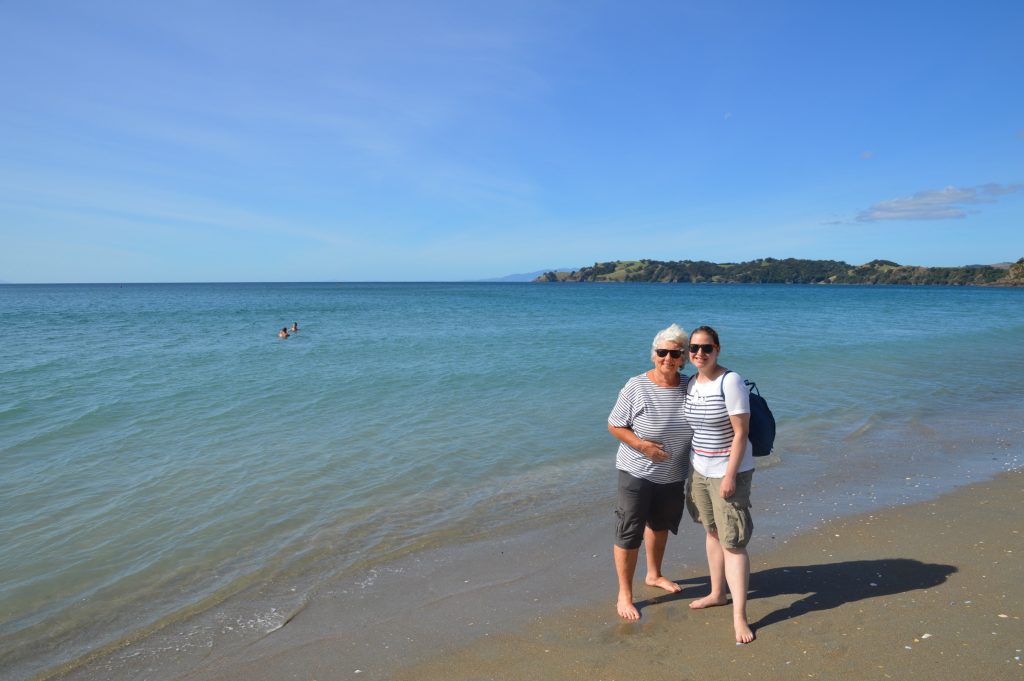 Waiheke is a beautiful place and learning all about it from Bronwyn was wonderful. We finished the day at her and Lesley's home (which also had a gorgeous view) refining our NZ itinerary with their expert guidance. And on the way back to the ferry picked up some famous Waiheke Island olive oil at the local market. It was a perfect day.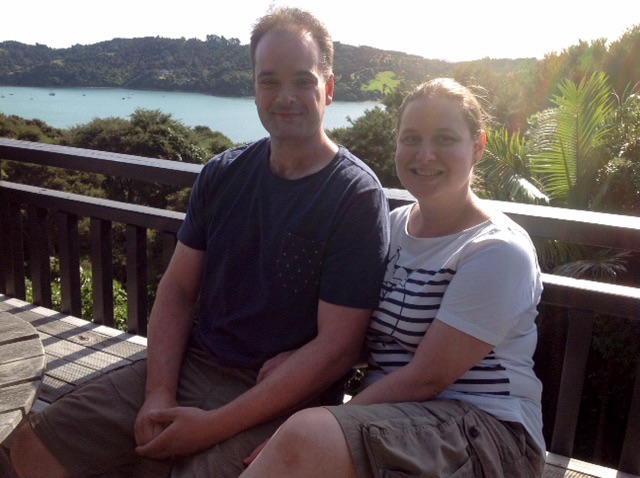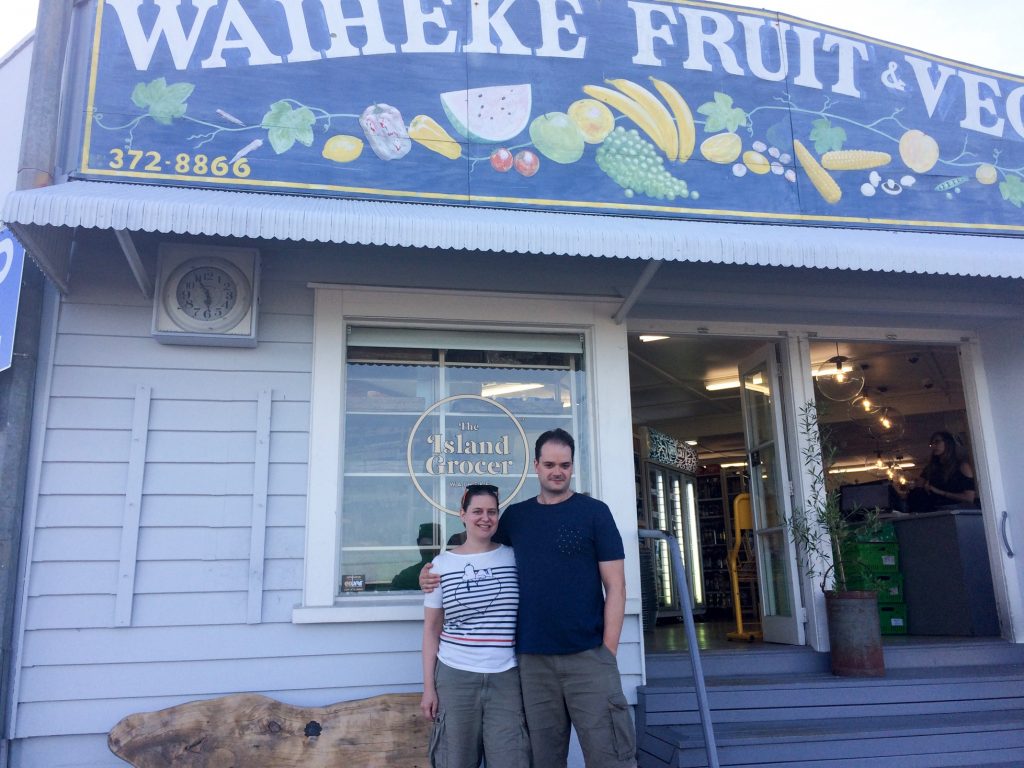 Turns out, when not on Waiheke Island, Bronwyn and Lesley live around the corner from where we were staying in Auckland. So the next day we stopped by and were lucky to meet Bronwyn's daughter Lisa. Lisa and I were diagnosed at the same age.
I can't thank Bronwyn and Lesley and Lisa enough for spending time with me and Justin, showing us their homes, teaching us about their country, and just letting us into their lives.