Last Updated on 14th November 2019 by Sarah and Justin
This summer we spent 2 weeks in Romania. We didn't really know what to expect, but it turned out to be one of our favorite trips. We went to some of the most popular places to visit in Romania and yet it felt like like one of the least touristy countries we've been to in Europe. Also, each of the cities we visited were extremely unique. From palaces in Cluj-Napoca to the medieval city of Sighisoara to the green mountain towering over Brasov to buildings with eyes in Sibiu to art nouveau in Oradea, we discovered new and cool things everywhere we went. Read on for all the details of our journey and all our favorites: the things to do in Transylvania that really stood out to us, our favorite places to eat, and reviews of where we stayed. We also provide some information about accessibility for each destination. We hope this post inspires and helps you plan your own trip to Romania.
Places to visit in Romania
We visited six cities in Romania, all of which are in Transylvania.
Days 1-3: we flew into Cluj-Napoca, the largest city in Transylvania and the second largest city in Romania.
Day 4: we took the train from Cluj to Sighisoara.
Days 5-7: we took the train from Sighisoara to Braov, probably the most popular destination in Transylvania.
Days 8-9: we took a minibus from Brasov to Sibiu.
Day 10: we took the train from Sibiu back to Cluj.
Days 11-12: we took a minibus from Cluj to Oradea.
And we actually ended our trip in Hungary, but that's a story for another post.
You could shorten this itinerary if you only want to spend 1 week in Romania. To do that, we'd recommend cutting out Oradea altogether and not backtracking to Cluj. You could instead take the train from Brasov to fly out of Bucharest.
2 days in Cluj-Napoca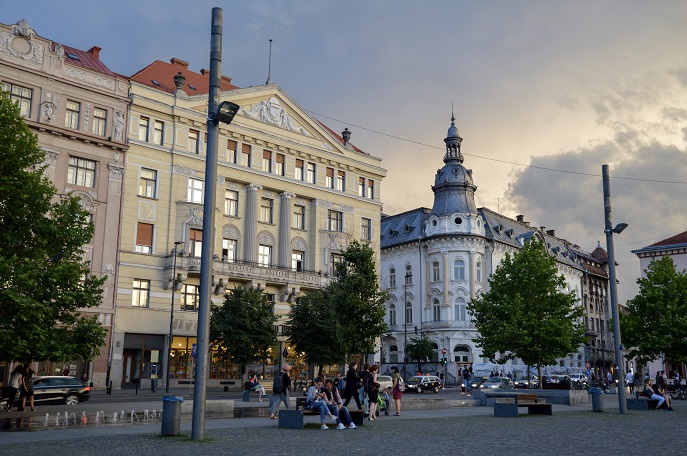 Cluj was our favorite place in Romania. Maybe it's because we ended up spending the most nights there, maybe it's because we like bigger cities. Whatever the reason, we were charmed by Cluj and we're glad we spent the time we did there.
Things to do in Cluj
Palace hunting
Many of Cluj's just regular old buildings are ornate and lovely. But there are some that stand out from the rest and those are the palaces. Specifically, there's one block where you can see old palaces on four corners, each with a different style and different colors. They are a bit crumbly, but utterly romantic. Sarah could have spent her entire time in Cluj taking pictures of them. When we think back on Cluj, these beautiful buildings epitomize the feeling we had there and one of the reasons we loved the city so much.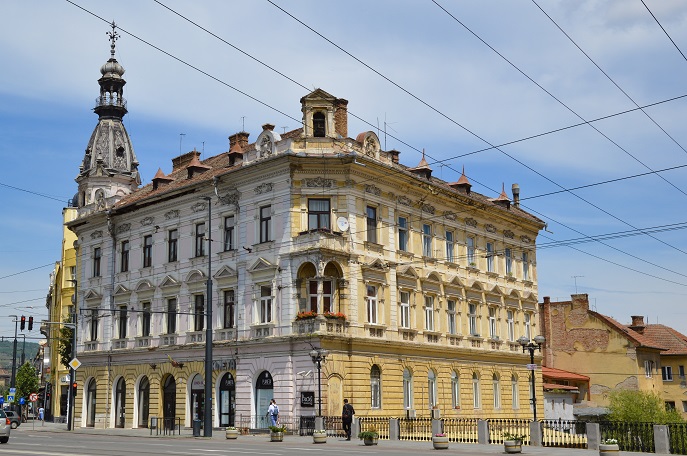 Cetatuia Hill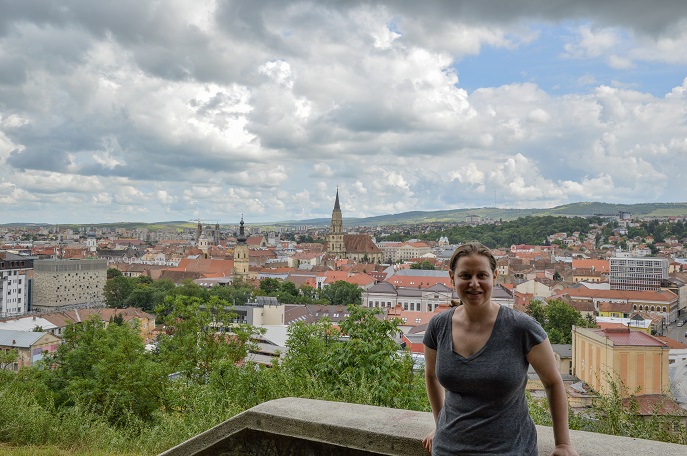 The view of Cluj from Cetatuia Hill is worth the climb. There are a few ways to get up. We approached it from the back since it was less steep and we came from our hotel. There's not that much to do on the hill itself except admire the views, but there is a cafe where you can get a drink or a snack on the way up.
Piața Avram Iancu
Cluj's two most beautiful (non-palace) buildings are located facing each other on the major street Piața Avram Iancu: the Orthodox Cathedral and the National Theater. The part of the street with the church also has a huge sculpture of Avram Iancu as well as a small park. When we visited there was a craft fair around the statue, which was nice to check out. Other incredibly large and pretty buildings are located on either side of the street as well, so be sure to walk all around it.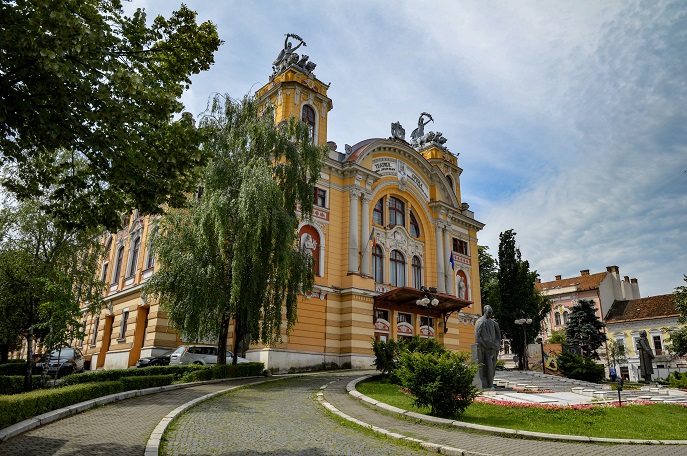 Central Park
Central Park seemed like where everyone in Cluj went to hang out. You can walk through shaded paths or relax by the artificial lake. It's definitely a nice spot and if you're looking to take a break from the bustle of the city, it's easy to pop in for a bit.
Where to eat in Cluj
The two places to eat in Cluj that we highly recommend can probably be found in any tourist guide, but we don't care. They were the two best places we ate during our time in the whole of Romania and so we are going to sing their praises here too.
Samsara Foodhouse
Samsara is a vegetarian restaurant that focuses on raw food. We are not vegetarians, but were so impressed by this restaurant and their food that we ended up going there twice during our four nights in Cluj. The food is fresh, healthy, and delicious. Our favorite dishes were the trio of raw spreads (the beet spread was especially tasty) and their pastas. It may be hard, but try your best to save room for dessert because their cakes are great. Note, there's a Samsara Teahouse up the block, but we only dined at Samsara Foodhouse.
Roata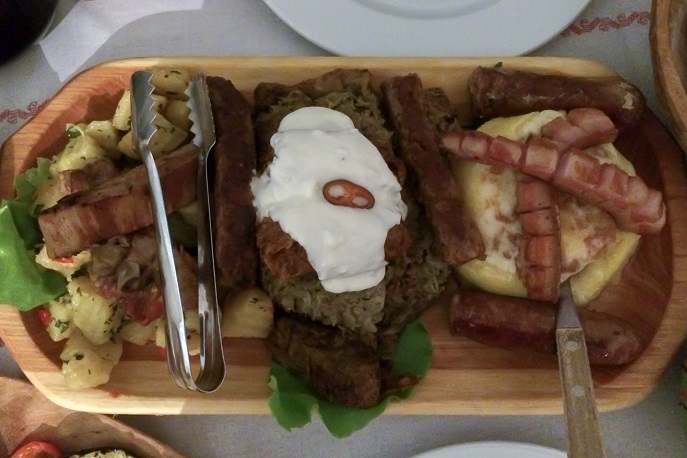 To take a turn completely in the other direction, Roata serves typical Romanian fare including all manner of heavy, greasy, but utterly delicious meats. The restaurant was more touristy than others, but honestly nothing on this trip ever felt over-the-top to us. It's one of the things we loved most about visiting Romania. To start the meal, they serve shots of liquor – a fruity red version for women, a stronger version for men. We then gorged ourselves on their specialty platter of traditional Romanian dishes including the local dish "Cabbage a la Cluj." In an attempt to be healthy, we rounded out the meatfest with grilled vegetables, eggplant dip, and sauerkraut. Sadly, we were a bit too full to partake in dessert.
Getting around Cluj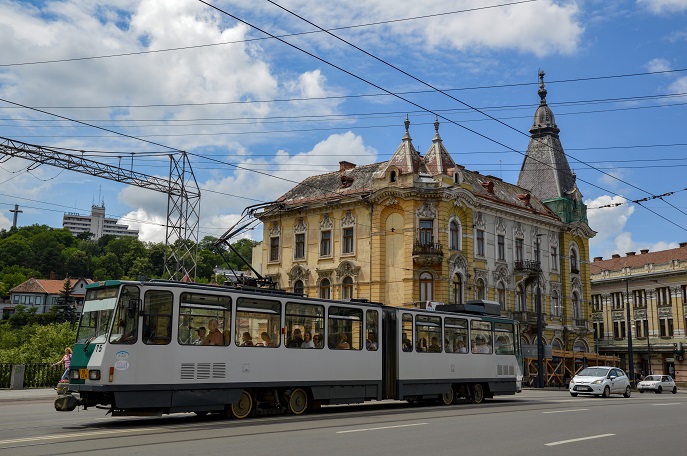 Cluj has a comprehensive system of buses and trams and the hybrid trolleybus. We were actually surprised we only took public transportation within Cluj once, from the airport. The trolleybus #5 is located just outside the airport (you have to leave the parking lot and turn right to get to the stop). You buy your ticket at the machine at the stop and get on board. Easy peasy. We thought about taking transportation other times during our stay but ended up just walking where we needed to go. You can take public transportation to the main train station as well.
In terms of accessibility, Cluj was pretty good. Aside from the hill we had to walk up to our hotel (see below) and Cetatuia Hill, the main part of the city (and where you'll do most of your sightseeing) is fairly flat. According to the tourism board, most of the public transportation (trams and buses) are wheelchair-accessible with ramps.
Where to stay in Cluj
We stayed at the Villa-Hotel Escala in Cluj and loved it. The rooms were spacious and comfortable. The owners were extremely friendly and helpful in telling us everything we needed to know about Cluj and giving us recommendations for where to eat. It's located a tiny bit out of the center in a really lovely, quiet neighborhood. It should be noted that to get to the hotel from the center requires a 10-minute walk up a pretty big hill, but we just took it slow and peeped into the beautiful homes as we strolled by. Also, the hotel does not have an elevator and all the rooms are located up stairs so it's not appropriate for anyone in a wheelchair or with other major mobility issues.
1 day in Sighisoara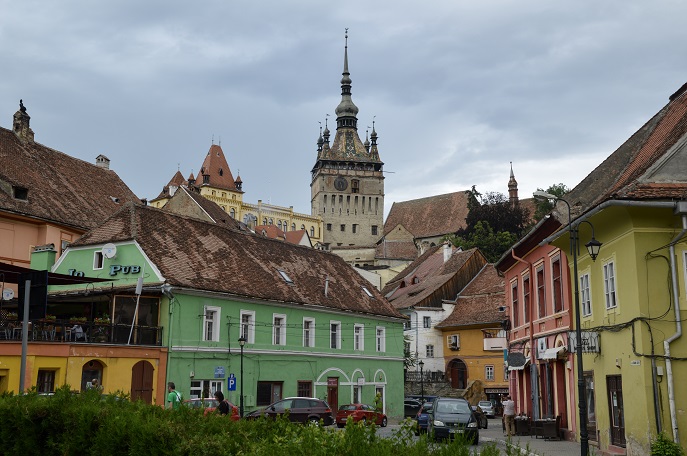 We really don't like spending one night anywhere, let alone an entirely new destination. But it really worked out in Sighisoara. In our 24 hours in Sighisoara we hit the main sights, had a delicious meal, and enjoyed a soak in our hotel's jacuzzi.
What to do in Sighisoara
The Sighisoara Citadel
The main attraction in Sighisoara is its historic center (or Citadel), which was designated a UNESCO World Heritage Site in 1999. This area of the city is perched on a hill (as would make sense for a fortified medieval city) and requires a bit of climbing, but it's manageable.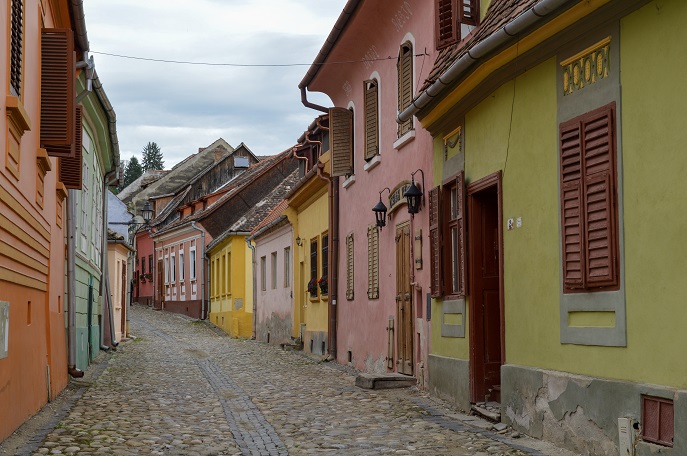 We spent a full afternoon in Sighisoara exploring the small cobbled streets and staring up at the towers and admiring the brightly colored houses and taking in the views of the surrounding area. Having just come from Cluj, which for the most part just felt like a regular city with regular people, we did notice more tourists in the Sighisoara Citadel. But we came to see it's just another part of town, with cafes and shops and places to stay.
Orthodox Cathedral
Across the river from the Citadel and the main part of the city is the Orthodox Cathedral. It's a beautiful white and black church that makes for a lovely photograph and is worth seeing up close as well. The walk along the river to get to it takes you outside the immediate center of Sighisoara and is definitely worth doing.
Where to eat in Sighisoara
Gasthaus Altepost Restaurant Traditional
Our one dinner during our one night in Sighisoara was at this relaxed spot in the middle of town. We had some nice weather so ate outside on the terrace. Here we had our first taste of the Romanian specialty, zacusca. The bright red dip made from red peppers and eggplant was served cold with toasted bread and was outstanding. Our main courses were pretty great too. Sarah had a tasty rendition of chicken paprikash and Justin had hearty meat-filled cabbage rolls.
Aldi
So yeah, living in The Netherlands and having spent a lot of time in Germany, we love Aldi. We made ourselves a great picnic lunch from everything on offer at the one in Sighisoara, and were introduced to a great Romanian snack: covrigi. They're like pretzels but better, especially the kind with caroway seeds that we bought at the Aldi. Anyway, the Aldi is a little outside the center of town, but way bigger and better and cheaper than the shops in town so if you are like us, definitely go.
Getting around Sighisoara
Walking is the way to get around Sighisoara. We walked the 20 minutes from the main train station to our hotel and back. If you would prefer to take a taxi, you should have your hotel arrange it in advance for you. We didn't see any taxis at the train station when we arrived. Sighisoara is not the best place to visit in terms of accessibility. The main attraction is the Citadel, which is a medieval walled city, with cobblestones galore, located on top of a hill.
Where to stay in Sighisoara
Mercure Sighisoara Binderbubi
There are two great things about this hotel: the location and the jacuzzi. We enjoyed our stay and would likely stay there again if we were ever to return. That said, there are a lot of hotel options in Sighișoara, including up in the Citadel.
2 days in Brasov, including day trip to Sinaia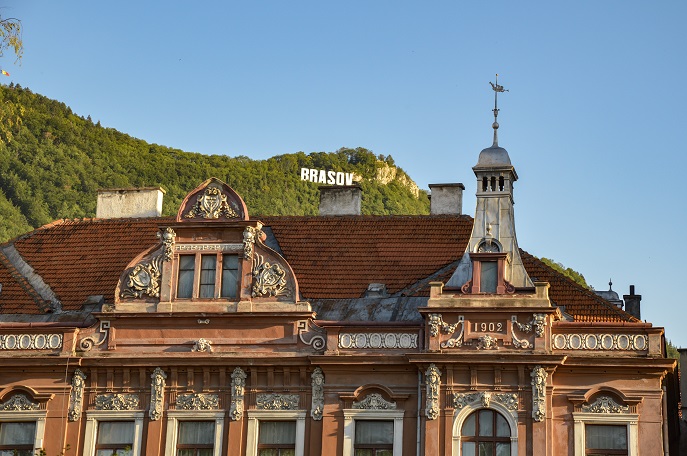 Brasov was the place that inspired this whole trip around Transylvania. We had seen pictures of the city and surrounding area and knew we had to get there. It actually turned out that we didn't spend enough time there, and would happily return to get to know the city better and explore more of the surrounding region.
Things to do in Brasov
Mt. Tampa
The main attraction in Brasov is Mt. Tampa. It literally overshadows the rest of the city by, you know, towering over it. The Hollywood-inspired Brasov sign is one of those ubiquitous images you've probably seen somewhere even if you didn't know it was in Romania. We honestly thought we might find Mt. Tampa underwhelming – we admit we sometimes think we're less impressed with major tourist attractions than other tourists. But we were wrong. It was so cool to see that mountain from below, walking through the picture-perfect streets of the Brasov Old Town. And of course, Sarah enjoyed taking pictures of it (although, it's a bit hard to get the perfect shot).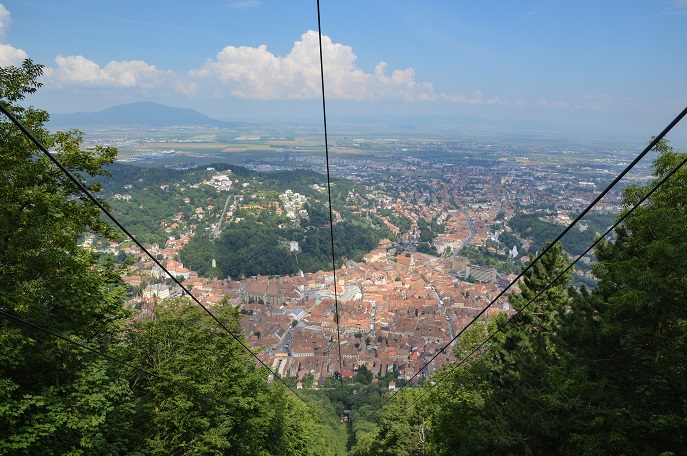 Of course it's also quite cool to go up to the top of Mt. Tampa. The more athletically-inclined, non-lung-disease-having of you may hike up it. And if you want to, hike it you should. But we took the quicker, easier way up via the Mt. Tampa cable car. It's a bit old and rickety looking but it got us to the top (and back down again) safe and sound.
At the top, it was a nice walk to the famous sign. Walking behind the sign was pretty cool and even though the viewing platform beyond it wasn't that big, it did offer fantastic views. The price for a round-trip ride on the cable car is under $4 per person, which we think was well worth it.
Oh, and on the way up to Mt. Tampa, don't miss the old city walls.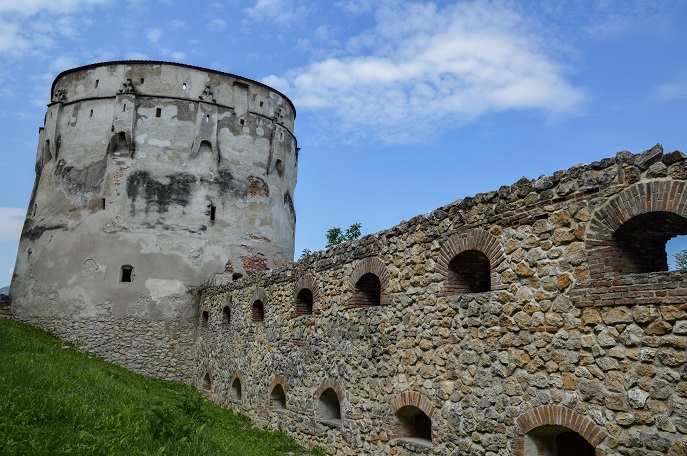 Brasov Old Town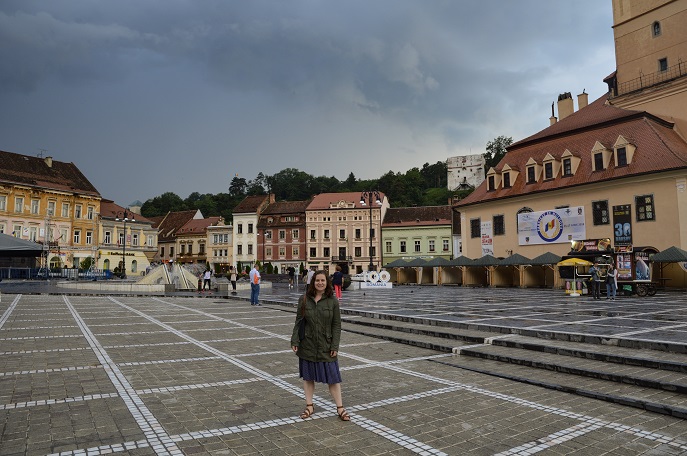 The other main thing we recommend to do in Brasov is walk around the Old Town. It's a beautiful place to stroll with tons of small streets, pretty buildings, and a nice church. And of course Mt. Tampa is up above casting shadows as the light changes throughout the day. We just really love places like this.
Day trips from Brasov
There are a few super popular day trips you can take from Brasov. We skipped the most popular – Bran Castle and Rasnov – and took one day trip to Peles Castle in Sinaia instead. Peles Castle is one of the most beautiful castles in Romania (and some say in Europe too!) so we were happy with our decision. But if we make it back to Romania, we will think about spending some more time in Brasov so we can see more of that area.
Where to eat in Brasov
Sergiana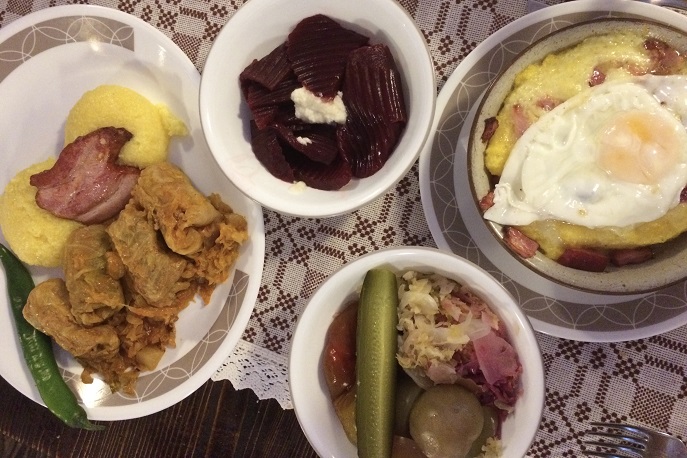 This place is pretty touristy looking and feeling, but the food was great. First and foremost, if you're vegetarian, do not come here. Upon arrival, you are greeted with bread and pork rinds (in place of butter). Second, come hungry. Like really really hungry. Romanian food is not light, and this place serves it as heavy as it gets. Sarah had bulz which is polenta with cheese and lardons topped with a fried egg. We're pretty sure there was sour cream in there too. It was an appetizer portion and it was so rich she couldn't even finish it or have dessert. Justin had (his by now a standby) cabbage rolls.
Pilvax
Pilvax serves Hungarian food, but to be honest it was sometimes hard to tell the difference between Romanian food and Hungarian food. Regardless, we really enjoyed our dinner there. It's located on what we think was the nicest street in the Old Town and we were able to sit outside. We started with a ridiculous lard-based spread (yep, more pork fat) and for mains had goulash and a sausage platter. All good stuff.
Betty Ice
There are a lot of gelato shops in the Brasov Old Town, but Sarah thinks she found the best and cheapest one in Betty Ice. They have lots of tasty flavors for a reasonable price (the closer you get to the main square, the higher the prices get!).
Getting around Brasov
Brasov is pretty big, but it has a great bus system. There's a bus stop right outside the main train station and you can take bus # 4 or 51 to get to the Old Town. Once in that area, you'll probably just get around by walking as all the main sights are close together.
The buses are wheelchair-accessible and Brasov itself was fairly good in terms of accessibility. The cobblestones of the Old Town were a bit more modern and flatttened, and there were also sidewalks. Much of the area is pedestrianized too which is nice. The cable car to Mt. Tampa is not wheelchair-accessible, and it's a bit of a hike just to get to the cable car itself (including hills and stairs).
Where to stay in Brasov
Belfort Hotel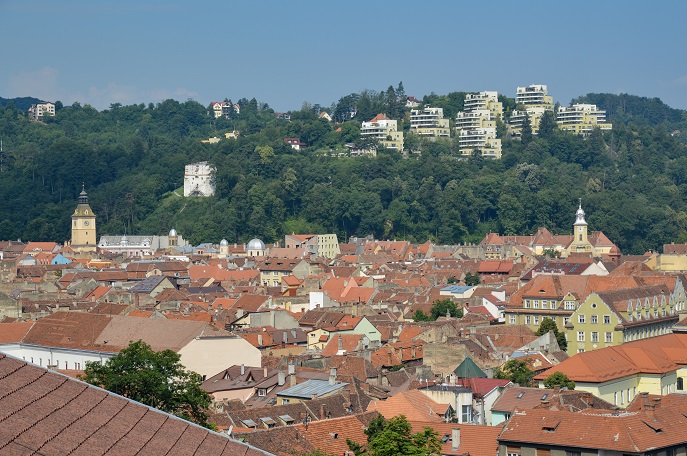 We loved the Belfort Hotel for its rooms (ours had a balcony), the breakfast spread, and the view of Brasov from the breakfast room on the top floor. We didn't love the Belfort Hotel so much for the big hill one has to climb to get to it. It's just a few minutes outside the Old Town, on the way to Mt. Tâmpa. Like in Cluj, we just took it slow and Sarah survived. But the sidewalks were very narrow and not well-paved, so anyone with major mobility issues should get there by car or find a different place to stay.
2 days in Sibiu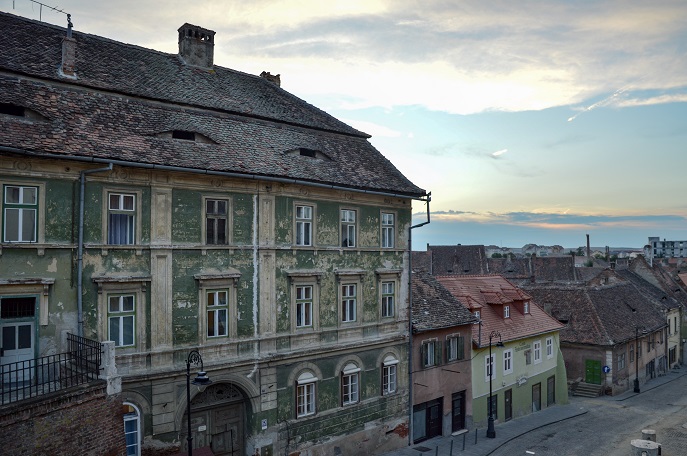 Everyone loves Sibiu. We didn't read one negative thing about the place. So we arrived with high expectations. And we loved it. Mostly because… the buildings have eyes.
Things to do in Sibiu
Buildings with eyes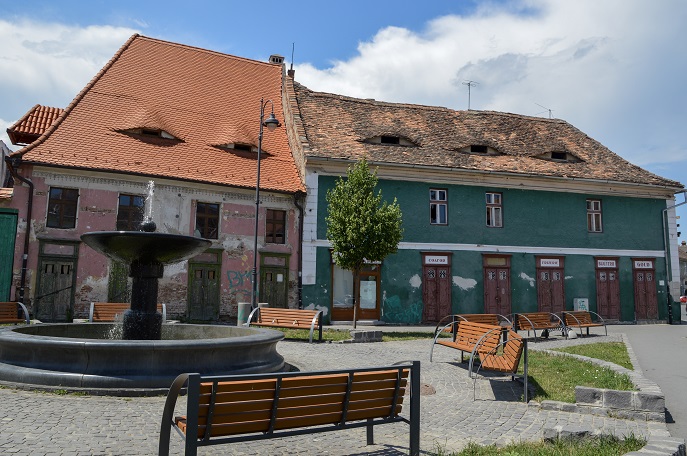 Sure there's an Old Town and it's lovely and picturesque, but the thing that makes Sibiu unique is these buildings with eyes which seem to be staring at you all the time. It's the most bizarre thing! But it's so cool. They come in all shapes and sizes and colors and are simultaneously cute and creepy. The pictures almost convey what it was like to be there, walking under them, feeling their eyes follow you. But you really have to visit and see for yourself to understand.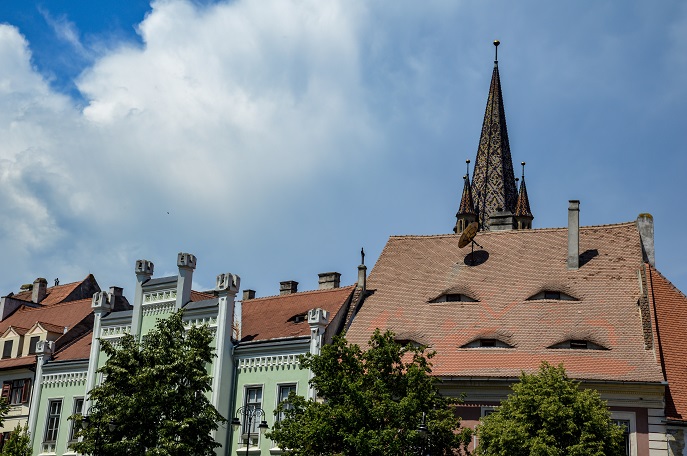 Many have told the story behind the eyes. We love this Hecktic Travels post about them. If you're curious, give it a read.
Where to eat in Sibiu
Syndicat Gourmet
Sydicat Gourmet is kinda hidden on a small side street in the lower town of Sibiu, but we think it's worth seeking out. The food was different from anything else we ate in Romania and quite tasty. Justin had curry and Sarah had a duck burger. The place was small and cozy, serviced by one waitress who made you feel at home.
Kulinarium
We also went to a more central and touristy spot in the upper town: Kulinarium. We needed a break from the traditional Romanian fare and dined on some solid pizza and salad. If that's what you're in the mood for, you can't go wrong here.
Getting around Sibiu
We walked everywhere in Sibiu. We chose our hotel in part for its proximity to the train station. In terms of accessibility, the annoying thing about Sibiu is that it's split into an upper town and a lower town and the former is in fact up. You must walk up hills or stairs to get to it. Once you're up there, things are flat and easy to get around. The lower town, however, is not as nicely kept, with narrow and crumbling sidewalks and more difficult to navigate cobblestones.
Where to stay in Sibiu
Rosen Villa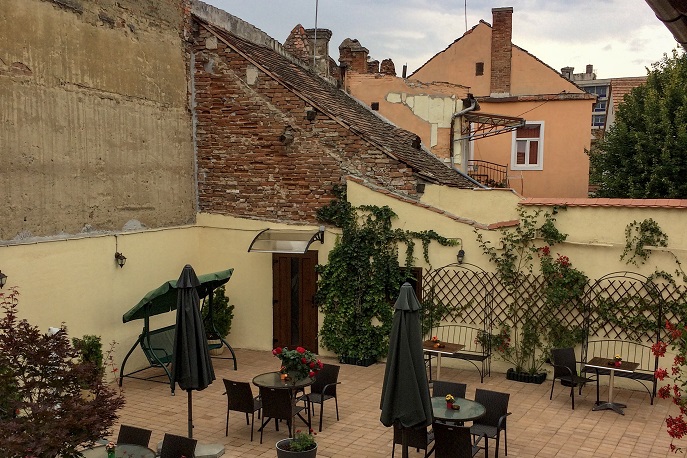 Rosen Villa is a small hotel a bit outside the center in the lower town, near Syndicat Gourmet. It's walking distance from the train station, which is one of the reasons we chose it. The other was the price at ~44 EUR per night. Our room was small but very comfortable, and most importantly the air conditioning worked well. The owner and staff were very friendly and helpful. Another highlight was the inner courtyard, a picturesque spot where you could sit and relax with coffee and cake (and catch up on blogging as Sarah did!).
Another 1 day in Cluj
Our one night back in Cluj cemented its status as the best place we'd visited in Romania. We fell in love all over again.
2 days in Oradea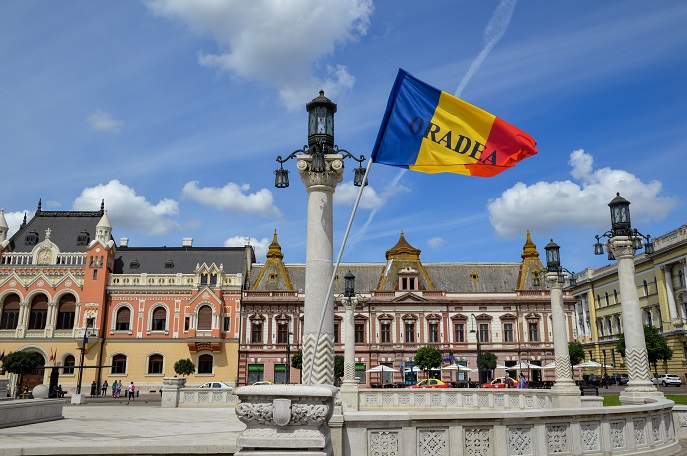 Oradea is often overlooked in a Transylvania itinerary. And it is a little bit out of the way. But if you can make it work, we highly recommend visiting. And if you're an Art Nouveau lover, it's a must-visit.
Things to do in Oradea
Union Square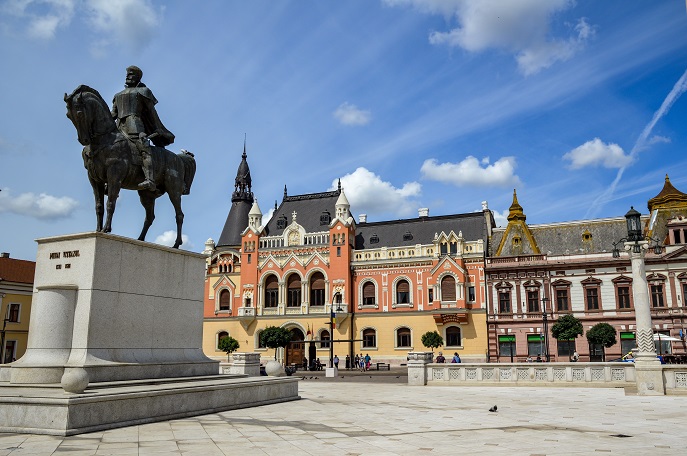 It's hard to pick the highlight of Union Square, it's so chock full of impressive sights. There's the Church of the Moon and the Black Eagle Passage and the Town Hall and at least ten more cool things to see. It's also incredibly clean, possibly since Oradea is a bit lower on the touristic radar, so get to there soon!
Calea Republicii
This is the main shopping street in Oradea. It's pedestrianized so it's easy to walk down. In addition to many different cafes and shops, it's flanked by some truly incredible Art Nouveau buildings.
Where to eat in Oradea
The Hub
We typically do not eat in hotel restaurants. But at this point in our journey we were a bit tired and the reviews of our hotel's restaurant were great so we went for it. And then we proceeded to splurge on a delicious feast of fancy steaks and cocktails. If you're not staying at the Ramada, you probably shouldn't go out of your way to eat here. But if you are, don't feel bad if you do.
Spoon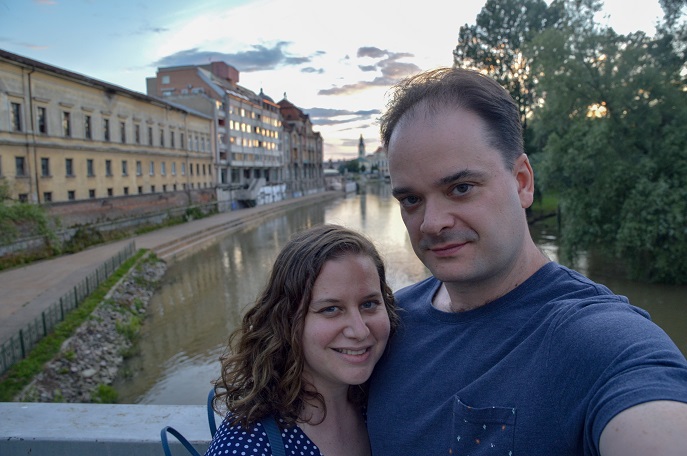 We had a nice night out at Spoon. The riverside location was good, the food was good, the beer selection was good, but the service was not good. One of our dishes came out wrong and when we told them and asked for the correct dish, let's just say it took a bit of convincing. Of course part of this was our fault as we don't speak Romanian, so we take responsibility for that. And when the correct dish came out, it was outstanding. So go and try it out for yourself. If you want to sit by the river, make a reservation. And definitely try their pizza. It has cheese-stuffed crust!
Getting around Oradea
We took the bus and tram in Oradea. The main train station, from where we arrived and departed, is far from the main part of the city as well as our hotel. Unfortunately, the public transportation system is not well integrated with Google Maps, so do some research in advance. We took a very roundabout route (including too much walking) when we first arrived and then our hotel told us how to get back to the train station and it was much more straightforward.
Oradea is easy to get around by walking. It's quite flat and most of the streets were well maintained. Union Square itself looks brand new. And the other main street is pedestrianized. Public transportation in Oradea is wheelchair accessible: trams and buses are equipped with ramps. We thank Accessible Romania for providing us with this information and recommend that anyone who has further questions about accessibility in Oradea or Romania as a whole contact them directly.
Where to stay in Oradea
Ramada Oradea
We stayed a bit outside the center of the city at the Ramada. We stayed there for the roof-top jacuzzis and the much-needed gym. The hotel also has an incredible view of the city, which we enjoyed from our room. And, as mentioned above, the restaurant is great. So even though next time we'd probably opt to stay more in the center of Oradea, we were glad with our choice this time.
Taking public transportation in Transylvania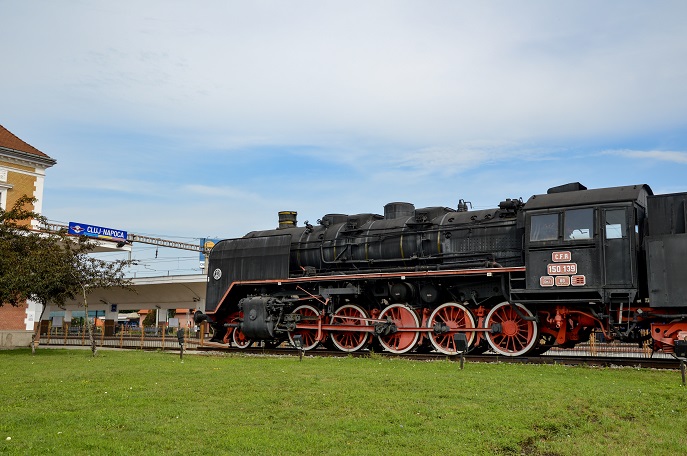 We thought a lot about how to get around Romania on this trip. We considered getting a car but settled on taking public transportation. We think we made the right decision, especially since we were traveling to the major cities in the Transylvania region.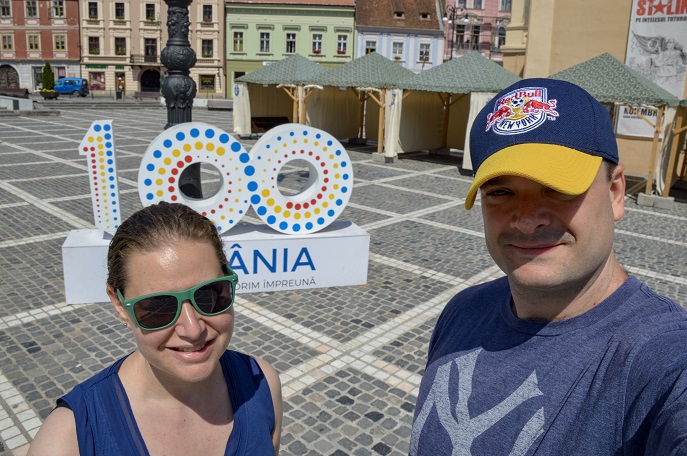 We hope this post has inspired you to visit Romania! We truly enjoyed our time in the country and can't wait to get back and see more. If you have any questions about our itinerary or other things to see or do, ask away in the comments.
Like this post? Pin it!