Last Updated on 9th August 2019 by Sarah and Justin
Visiting a castle was a must-do on our two-week Romania trip. So we took a day trip from Brasov to Peles Castle, one of the most beautiful castles in not just Romania, but in all of Europe. Here's a quick guide for how to visit Peles Castle from Brasov.
Peles Castle
Peles Castle is in Sinaia, about an hour by train from Brasov. Many people traveling from Bucharest to Brasov stop off in Sinaia (mainly to see the castle) as it's located between the two cities. Peles Castle was built in the 19th century in the Neo-Renaissance style. It was the summer palace of King Carol I, the first king of Romania. In 1990, after the castle had been closed to the public for many years, it was reopened as a museum.
How to get from Brasov to Peles Castle
Train from Brasov to Sinaia
We took a public bus from our hotel near the Brasov old town to the Brasov train station. There we purchased round trip tickets to Sinaia. You can purchase train tickets online up to six hours in advance of your train, but we wanted to see what the weather would be like before committing to our day trip, so bought them at the kiosk in the train station.
The train from Brasov to Sinaia takes about an hour. The scenery along the way is quite beautiful. Pretty much immediately upon leaving Brasov, you're in the mountains, surrounded by lush green forest. The most spectacular views, however, started about 15 minutes before arriving in Sinaia. You'll see Bucegi Mountains towering over you, including the Heroes' Cross on Caraiman Peak.
Taxi from Sinaia train station to Peles Castle
The Sinaia train station is at the bottom of town. Literally, in order to get from the train station into town, you have to walk up a couple pretty big flights of stairs. Then, to get to Peles Castle, you basically have to hike up a mountain. Okay, maybe we're exaggerating a bit, but you do have to walk up a very long, fairly steep road to get there. We read a bunch of blog posts and trip reports by people who seemed quite fit saying it took them 30-45 minutes. We knew it would take Sarah at least double that even with her supplemental oxygen.
Typically in these situations, we look for public transportation options. But we couldn't find one! We read there might be a bus sometime that might take us up close to the castle, but couldn't figure out where exactly it would be or when it would leave. So in the end, we did what we absolutely hate doing… we took a taxi. And it was the best decision we ever made (well, aside from quitting our jobs to travel the world). The taxi took about ten minutes, and as it wound its way up (and up and up) the road to get to the castle, we laughed at the prospect of us walking it. The taxi dropped us off just a few steps away from the entrance to the castle and, including tip, only cost 17 RON, which at the time was 3.65 EUR.
Visiting Peles Castle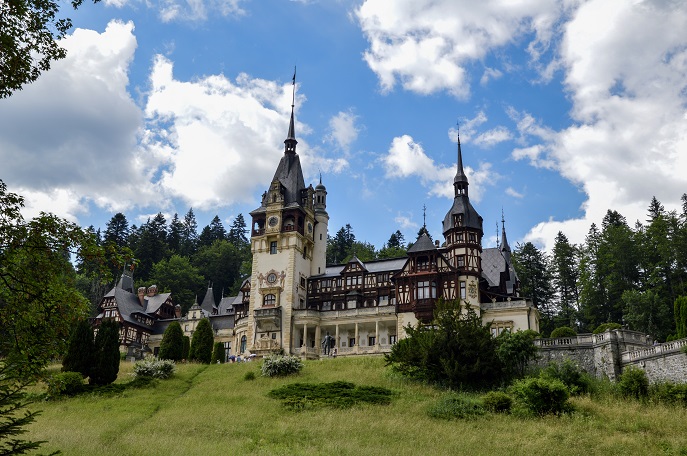 First and most importantly, Peles Castle is gorgeous. It's set back from the world, surrounded by green forest and mountain peaks. Its coloring and design makes it look almost delicate. It has a garden with grand staircases and unbelievable sculptures right outside its doors. It's the epitome of a fairy tale castle.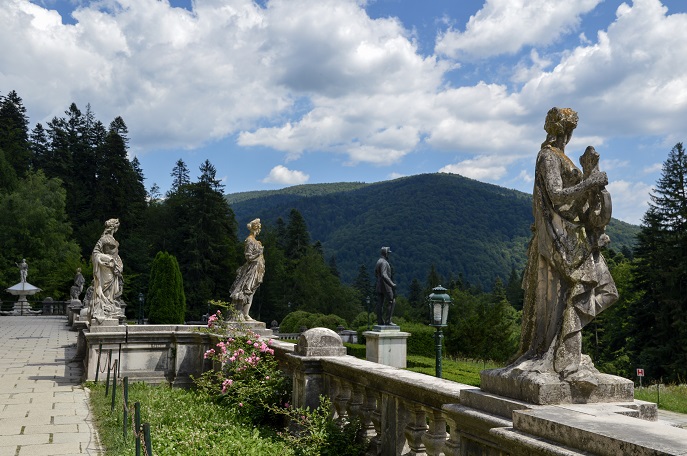 It's definitely worth seeing just from the outside. And often times that's all we do. But this time, we took a tour to see the castle's majestic interiors. Which leads us to our second point about visiting Peles Castle… it's a touch disorganized. We bought our tickets and asked when the next tour in English would take place. The ticket seller didn't know, and told us to ask the people in the castle. We knocked on a nondescript door and two women answered. They didn't know when the next tour would be either because they had to find a tour guide. After a bit of confusion, they finally told us it would be in ten minutes and to come back then. We did as we were told, but when we returned they told us the tour had already started. We expressed our confusion and disappointment and they took us to meet the tour. We only missed the first few minutes, so it all worked out. We only tell this story because you should just be prepared that there may not be a tour in your language exactly when you arrive, and you might need to be a bit persistent in getting what you want. Please don't be rude, but just follow-up on what you're told. And don't stray far from that door!
Even after all that we thought the the tour of the castle was well worth the cost. It lasted about an hour during which time the tour guide taught us a lot about the castle and Romanian history. As we visited on a Tuesday, we only saw the ground floor, but there are over 160 rooms in the castle, so we don't feel like we missed out on anything. The interiors are truly magnificent, with each room topping the next in terms of beauty and extravagance. Some of the rooms are themed, such as the ornate and unique Moorish room.
And there is art everywhere. The walls of the cinema room feature frescoes painted by Gustav Klimt! Everywhere we looked there was some other beautiful item or interesting detail.
Exploring Sinaia (or not)
We walked down from the castle back to Sinaia and ultimately the train station. We had grand plans to explore the town, but we got caught in a downpour. It was actually one of the biggest rainstorms we've ever been caught in! We tried to hide out under some trees a few times, waiting for it to let up, but of course it only got worse and we only got wetter. We were completely soaked by the time we got down to town, and the roads were a bit flooded so it was hard to walk around. We ended up just grabbing supplies from the supermarket and going down to the train station to wait for our train.
But if the weather is different, it really is a lovely walk down from the castle. You make your way through forested paths, past local vendors selling tourist souvenirs (in the least aggressive manner we've seen), and the Sinaia Monastery. This was one place we had wanted to visit, but we only got a quick glimpse of the exterior through the rainstorm.
Peles Castle accessibility
Peles Castle has several floors and some stairs. They were manageable for Sarah – not too many at one go so she could go slow without ending up behind the tour group. If you are in a wheelchair, you will be able to visit the ground floor of the castle, and the staff will provide the necessary ramps to negotiate any stairs. If you are arriving by car, you should contact the castle in advance to make an appointment so you can park in the (otherwise restricted) accessible parking lot which is much, much closer to the castle. You will also be able to use a special entrance. The first floor of Peles Castle is not wheelchair accessible unless you have a special lift.
All the above information was provided by Accessible Romania. If you want to see the entire castle, it may be easiest to arrange a tour through Accessible Romania's accessible tour company. They can make all the necessary arrangements. We are in no way associated with or compensated by Accessible Romania. We just contacted them to learn some additional information and found them to be very helpful and quick to respond.
Tips for your day trip from Brasov to Peles Castle
If you're not going to explore Sinaia, the whole trip should take four to five hours (depending if you walk or take a taxi to the castle).
If you buy a round trip train ticket, you'll save a little money.
Wear comfortable shoes if you're going to walk up or down to the castle.
Bring an umbrella or a slicker – you never know when the sky will open up in Romania!
Bring cash – the castle and taxi only took cash.
Double check the opening times on the Peles Castle website. During most of the year, the castle is closed on Mondays and Tuesdays. During the summer, it's open on Tuesdays, but you only have the option to tour one of the floors. On other days of the week, you have the option to pay more to also tour the upper floor.
If you want to take pictures inside the castle, you must pay for a photography pass. Don't try to get away with it – there are many guards inside the castle and they'll catch you.
Like this post? Pin it!