Last Updated on 26th March 2019 by Sarah and Justin
We recently spent a wonderful two weeks in Romania – specifically the Transylvania region. We spent a lot of time deciding how to travel on our Romania trip, and did quite a bit of research to figure out if we wanted to rent a car or rely on public transportation. Ultimately we decided to explore Romania by train and bus, and are very glad we did. In this post, we're sharing our top tips for how to visit Romania by public transport.
Our Romania itinerary
To give you some perspective, here are some general details about our two week Romania trip. We traveled entirely in Transylvania in mid-June. We flew into Cluj-Napoca and left Romania via train from Oradea. In between, we visited Sighișoara, Brașov, Sinaia, and Sibiu. We took a total of six trains and two minibuses.
Deciding how to travel in Romania
At first, we thought we were going to rent a car for our Romania trip. We like the flexibility of having our own transportation and we really wanted to get the most out of our two weeks and not feel like we missed anything. Plus, even though we're really comfortable traveling by train, buses are less our thing. And if you book far enough in advance, car rentals in Romania are pretty inexpensive. But renting a car always adds an extra level of stress to our trips. This could be because we're driving on the "wrong" side of the road, or worried about the quality of the roads or other drivers, or because only one of us actually drives (Sarah has a driver's license, but it's been a while… like decades)! We have loved our road trips, but most often prefer trips where we don't have to worry about a car. So after doing quite a bit of research and reading a lot of trip reports, we realized that it made more sense for us to take public transportation. First, we would be visiting the major tourist destinations in Transylvania all of which are easy to get to via public transport. We didn't have any tiny villages or places totally off the tourist route on our itinerary. Second, we heard driving in Romania can be slow going and wouldn't shave that much time off our travel days. Third, we read that parking in most of our destinations was going to be dreadful. For all these reasons, we decided to travel by public transportation in Romania.
And we were rewarded with some amazing views like these!
Even though we did a lot of advanced research, we didn't actually book anything until we got to Romania. Given the number of options available on any given day, we wanted to play things by ear. So every few days, we had to decide which form of transportation to take. We chose whether to take the train or bus based on three things: departure and arrival time, duration of travel, and station location. For example, we had hoped to take a bus from Cluj-Napoca to Sighișoara because it would have been shorter, but we were traveling on a Sunday so our options were more limited. The buses left extremely early in the morning and dropped off at a bus station well outside the main part of Sighișoara.
Seeing Romania by train
The first thing you should know about trains in Romania is that they are slow. Very very slow. We are accustomed to taking trains in the Netherlands and Germany where things move at a pretty high clip. These trains are not like that. But you'll get to see some beautiful scenery along the way, so just relax and enjoy the ride. Also, due to this slowness, the trains might be a bit late. Just know this going in so you can manage your expectations.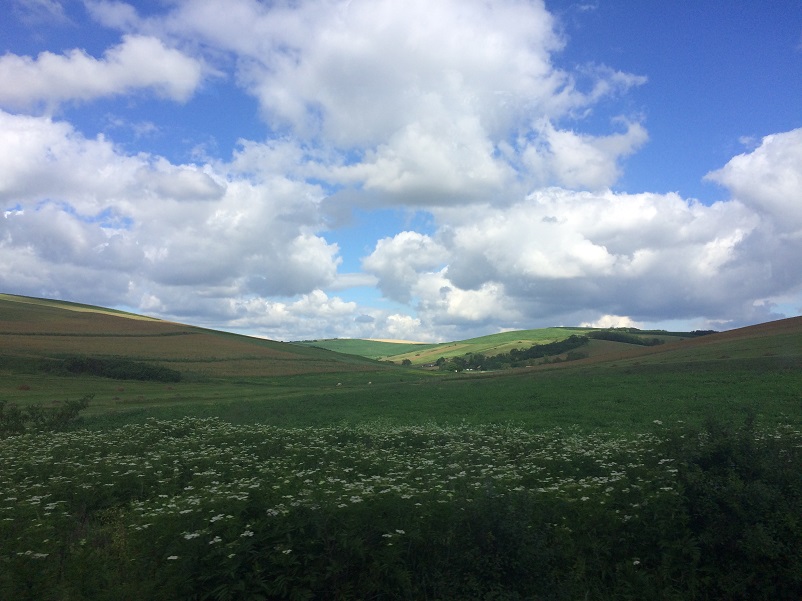 The second thing you should know about trains in Romania is that there are a lot of different types. We took six trains in Romania and even though five out of the six were categorized Inter Regional (IR) trains, they were all completely different. Several had internal compartments, each with six or eight seats. Others were open with the more modern two-by-two seating arrangement. Some had air conditioning, some did not. Some had windows that opened, others did not. All the actual seats were different sizes and comfort levels. Perhaps if you get to know the lines well enough you can predict what kind of train you'll get, but we obviously don't have that level of experience. But in general, all the trains we took were perfectly fine. They were quite clean, and our fellow passengers were polite and respectful and quiet. And when things got a bit warm due to lack of air conditioning or open windows, we all commiserated with one another. We read online to avoid the Regional (R) trains – advice which we followed – so we can't comment on those.
Here are some other random bits of information about taking the train in Romania.
There are no station announcements, so you'll need to pay attention to where you are either via Google Maps or by actually looking out the window at the station signs. We did both.
People don't don't like putting their bags on the floor – they put them on the shelves or hooks above them, or on their lap.
Locals get ready to get off at their stop well before the train arrives. We're talking like up to 20 minutes. We got confused and thought we were arriving early in Brasov because so many people got up and ready.
You can eat on the train, but if you're in a compartment, they're quite confined. Our typical train picnic feasts were not possible. So bring snacks that are easy to eat and (to be kind to your fellow passengers) not particularly smelly.
Romania buses
We took the bus twice in Romania. In both cases we just showed up at the bus stations and paid the driver in cash. It's important to show up 20-30 minutes in advance of the scheduled departure. The minibuses are small – only seating 19 people – and one of ours sold out. You also want to claim seats as soon as possible after buying your ticket.
The two buses we took in Romania were actually minibuses. There was plenty of room to store our two bigger suitcases in the back and our small backpacks inside. They both had air conditioning, although it was a bit weak in one. Obviously, these minibuses did not have bathrooms. We read that bathrooms on even big buses in Romania are rare and that the drivers don't stop for bathroom breaks on trips under four hours. There are usually bathrooms at the bus stations, and we recommend using them before you depart even though you'll have to pay a small fee. This whole bathroom thing also impacted our transport decisions. For example, we wanted to take a bus from Sibiu to Cluj-Napoca because the train left at 6am, but the bus trip was 3 hours 40 minutes and we didn't think there would be a bathroom. Given Sarah's small bladder, we decided to suck up the early wake-up and take the train instead.
Driving in the minibuses confirmed our decision not to rent a car and drive ourselves. We felt more comfortable letting those experienced driving in Romania, on Romanian roads, through tiny villages, with other Romanian drivers get us where we needed to be.
When taking buses in Romania, expect the unexpected. Halfway through our first bus trip, the driver pulled over at a garage, told us all to get out (in Romanian), and unloaded all the luggage. The workers at the garage jacked up the minibus and changed one of the tires. We tried not to think about just how unsafe driving on the previous tire had been prior to this switch. The looks on our fellow passengers' faces as this happened told us this might not have been a rare occurrence for a bus trip. Though they weren't happy about the situation, they definitely weren't surprised. The whole thing only took about 20 minutes, and at least Sarah could use the bathroom!
One last tip about taking minibuses in Romania – it appeared you could ask the driver to drop you off pretty much anywhere along the route. We're not sure if this is the case with larger buses.
How to buy bus and train tickets in Romania
There are two very helpful websites to use when planning to travel by public transportation in Romania. Both websites have English-language options.
For trains in Romania, use CFR Calatori. This website has all the train timetables and allows online booking. In order to book online, you must create an account. If you book your ticket online (which you can do up to six hours before the train leaves), you will get a discount. The further in advance you book, the greater the discount. You'll get an e-ticket, so you can just show your phone to the ticket collector on the train. You should also know that you can get a 10% discount if you buy a round-trip ticket. This is the case if you buy online or at the ticket machines.
The ticket machines at the train stations were really easy to use. There's an English language option and they take credit cards. You can also buy your tickets directly from ticket sellers at the station. We only did this when we were unable to buy our international ticket from Oradea to Debrecen, Hungary online or at a machine.
For buses in Romania, use Autogari. This website has timetables and allows online booking for some routes and carriers. We didn't book any bus tickets online, however. As we mentioned earlier, we paid cash to the drivers. You should note that even though this website has different icons for which type of bus or minibus you'll be taking, it isn't always accurate. We thought we'd be taking a large bus from Sibiu to Cluj-Napoca, but it was a minibus.
Taking public transportation in Romanian cities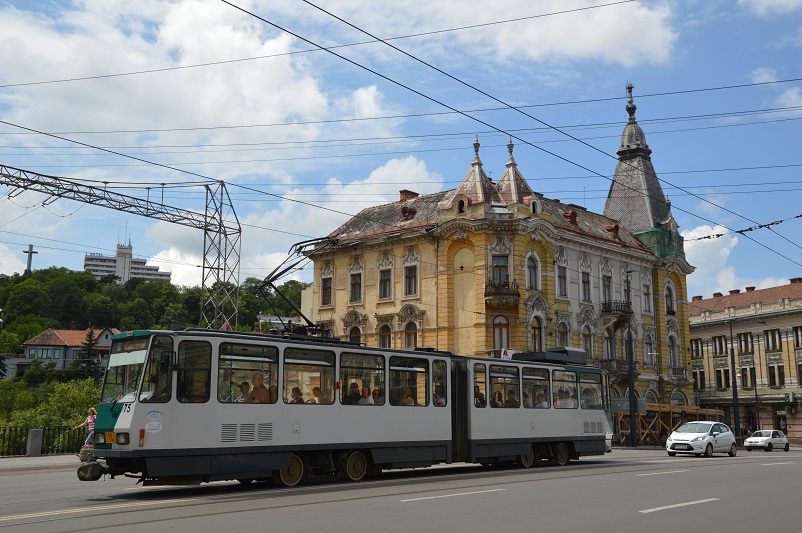 We prefer to take public transportation instead of taxis in our everyday lives and when we travel. In Romania, we used public transportation in the bigger cities: Cluj-Napoca, Brașov, and Oradea. They each had a similar system whereby you had to buy your ticket from a machine or a person in a booth before boarding. We used cash for all of these purchases, but we think some of the machines took credit cards. The public transportation systems in these cities are integrated with Google Maps, but the schedules may not be accurate. So use it to figure out how to get where you need to go, but always check the timetables at the bus or tram stops.
Accessibility of Romania public transport
If you're going to visit Romania and you have reduced mobility, it may be difficult for you to travel by public transport. CFR Calatori offers assistance on some trains on some lines at some stations. Though the service seems somewhat limited, there is detailed information on what is offered and how to request it on their website here.
The minibuses we took were not wheelchair accessible. We are not sure what the larger buses were like, but since the buses are run by so many different companies we would be surprised if there were no accessible bus options.
If you are interested in traveling in Transylvania and have reduced mobility, we recommend that you rent a car or work with a tour company. Accessible Romania is a group that helps make Romania more accessible to visitors and they work with a tour company that specializes in accessible travel in Romania.
Final thoughts
We definitely think taking public transportation in Romania was the right decision for our trip. We saw many situations – from other drivers, to flash flooding in Sighișoara, to the parking in basically every city we visited – which made us glad we weren't driving. While we didn't get to see some of the more off the beaten track destinations, we feel like we got a good sense of Transylvania as well as Romanian life. When you use public transportation you travel with locals, so you get to see real people interacting with each other. Even if you don't understand the language, you get to understand a little bit more of what it's like living in this country you're visiting. Plus, the scenery was pretty great.
Like this post? Pin it!