Last Updated on 9th August 2019 by Sarah and Justin
We boarded a train in Lyon. The train wasn't very well air conditioned, the seats were a bit cramped, and there was no wifi (gasp!). But we were heading to the South of France for the first time together, so all the rest of that stuff didn't matter. In our four days in the region, we would see Nice, Monaco, and a few towns in Provence. We would drink lots of wine and eat an innumerable number of baguettes. This post includes our South of France itinerary (which could easily be extended from four days to five or a week) as well as how to see the South of France by train.
Our high-level South of France itinerary
We spent four days in the South of France. We spent two nights in Nice and two nights in Noves, a small town in Provence. We took a day trip from Nice to Monaco, and explored the Provence region a bit from Noves. If we had to do it over again, we probably would have spent a week in the area. But on second thought, we never would have made it out alive due to the heat wave.
Traveling to the South of France by train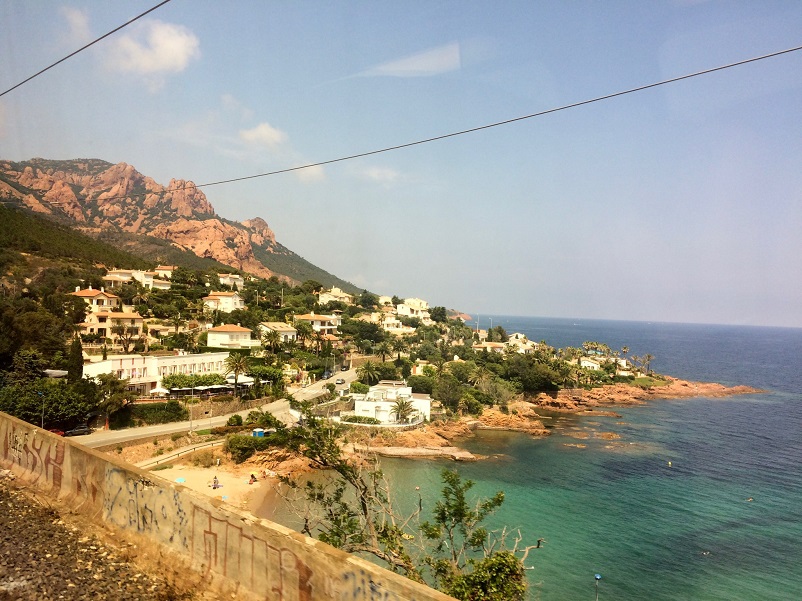 Nice is located on the southeast coast of France. The train journey takes almost five hours from Lyon (longer from Paris of course). Most of the trip takes you south through the middle of the country (which isn't that scenic), but once you turn east and start up the coast, you'll want to stare out the window the whole time.
For this trip, you can (and should) book tickets online at the French railway company SNCF. As is our tendency, we got to the train station pretty early, but there were so many people waiting to get on the train it didn't really matter. You're supposed to stand where your car will be, but the signs for ours were all wrong. It worked out in the end, and we luckily found space for our luggage (a coup as there was hardly any) and were seated close by so we could keep an eye on it. As we mentioned, there was no wifi and the air conditioning was pretty weak when we took the train in summer 2017.
Two days in Nice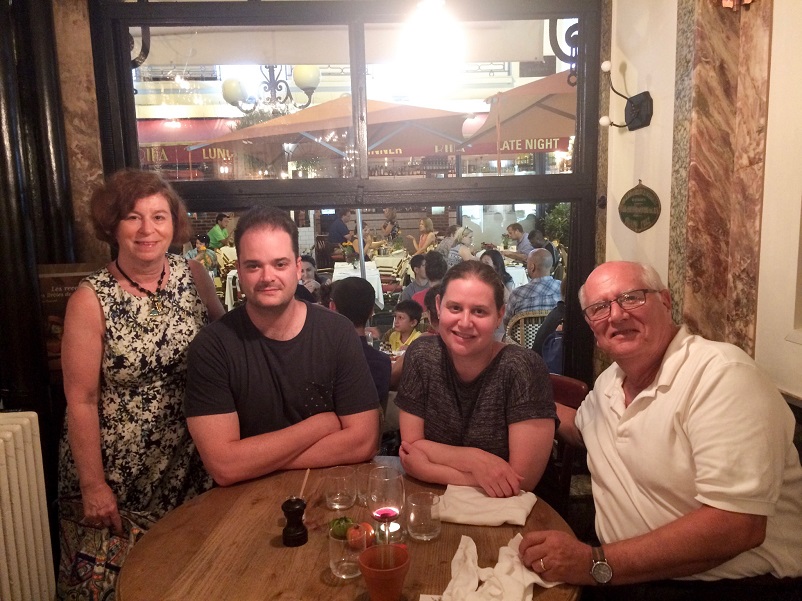 The reason for our trip to the South of France in general, and Nice specifically, was to meet family. Even after all of our travels, it is still really fun to meet people in a foreign land. It didn't hurt that Sarah's dad and his wife, Sally, are France experts. So we left most of the planning to them, which was a nice break.
We had two days in Nice and spent most of our time eating and strolling, taking in the city. The main train station, Gare de Nice Ville, is located at the top of a hill, but lucky for Sarah we just had to walk down to the center of the city where we were staying. When we arrive in a new city, we enjoy walking to our first stop, so we can get a feel for things. The buildings in that area were big and reminded us of Paris. There were bakeries all around. But it was still unbelievably hot. The heat wave was in full effect.
Things to do in Nice
Good thing the ocean is right around most corners in Nice! The famous Promenade des Anglais runs along the beach and is quite long. It's a nice place for a stroll, and we actually could feel a breeze coming off the water. If you turn in from the Promenade before you reach the Old Town, you'll find a small park called Jardin Albert 1er. It offers some shade, and is a good place for a rest.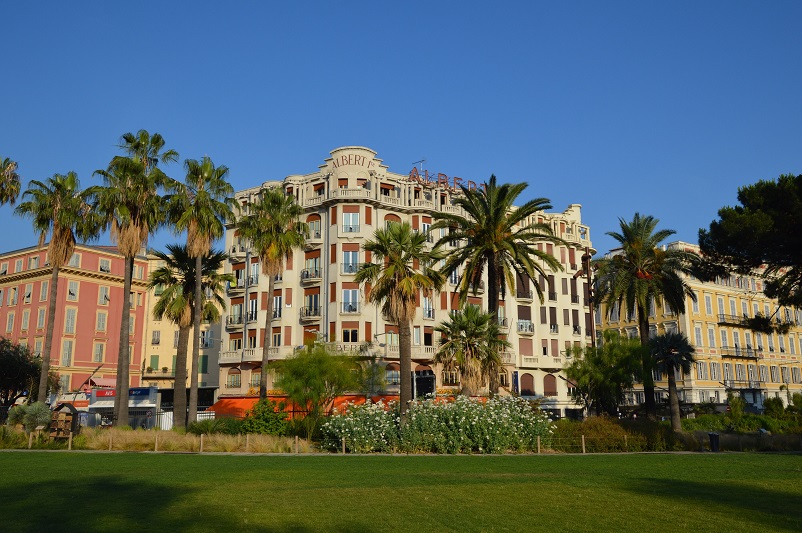 Nearby the park is Place Masséna. It's bustling and fun, but definitely over the top. The Fontaine du Soleil is surrounded by red buildings and sits atop black and white checkerboard tiles. It definitely reminded us of Las Vegas.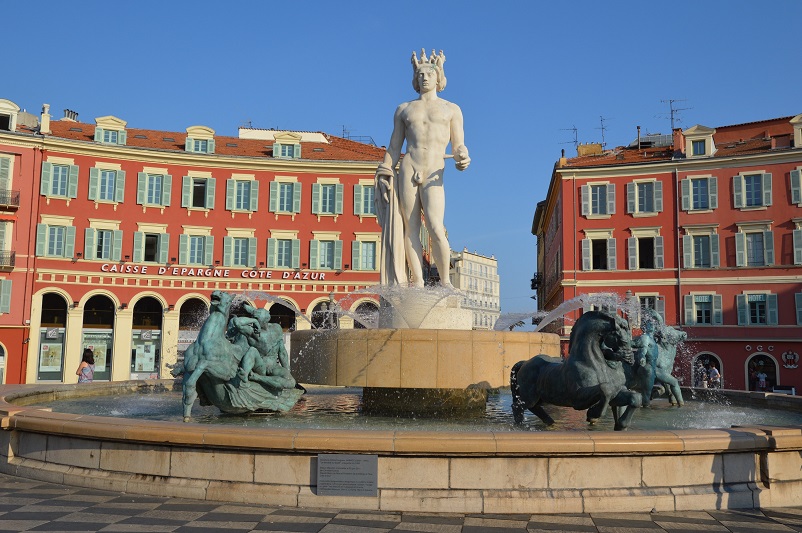 A few steps away, we saw families playing and splashing in the reflecting pool on the Promenade du Paillon (with the heat, we were tempted to join in). And along the Avenue Jean Médecin we loved the people-shaped sculptures, the Seven Statues, especially when they were all lit up at night.

And if you continue east and a bit back towards the water, you can explore Nice's Old Town (Vieux-Nice), which has the smaller old buildings and narrow streets you'd expect.
<< Planning a trip to Nice? Look for hotels now! >>
Nice to Monaco day trip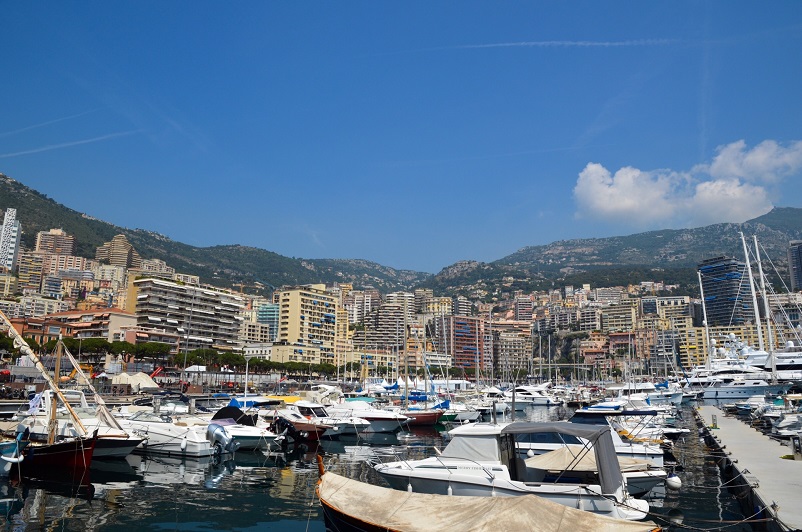 We never pass up the opportunity to visit a new country together, especially when it's a super quick trip like Nice to Monaco. We didn't do much in Monaco (remember, it was really, really hot), but we still enjoyed ourselves. We walked around a bit, marveling at all the luxurious boats and buildings and people, and ate a tasty lunch at the port.
Getting to Monaco from Nice is easy and inexpensive (which is good because once you get to Monaco you'll need all the money you can get!). We took two modes of transportation, taking the train there and the bus back.
Nice to Monaco train
We took the train from Gare de Nice Ville to Monaco-Monte Carlo. It cost us 3.90 EUR per person and took about 25 minutes. The train was very, very crowded. Jump on a seat if you see one and watch your belongings as pickpockets are rampant.
Monaco to Nice bus
The bus is the longer but more scenic option. Bus #100 goes along the coast so you'll get a truly beautiful view of the sea and different small towns. We loved it It cost 1.50 EUR per person and took about 45 minutes. It doesn't drop you off in the center of Nice, but there are buses nearby that can take you the rest of the way if you don't want to walk.
Restaurants in Nice
Given Nice's location, seafood is the thing to eat. There are many, many restaurants in Nice. Given the amount of time we had there, we by no means got a wide culinary view of the city. But we can highly recommend the places we dined.
Le Comptoir du Marche
Le Comptoir du Marche is a small bistro in Nice's old town. The menu changes daily, and if you don't speak French, the waiters will kindly read it to you from the chalkboard. We sat outside and enjoyed the atmosphere of the old town as we ate.
Franchin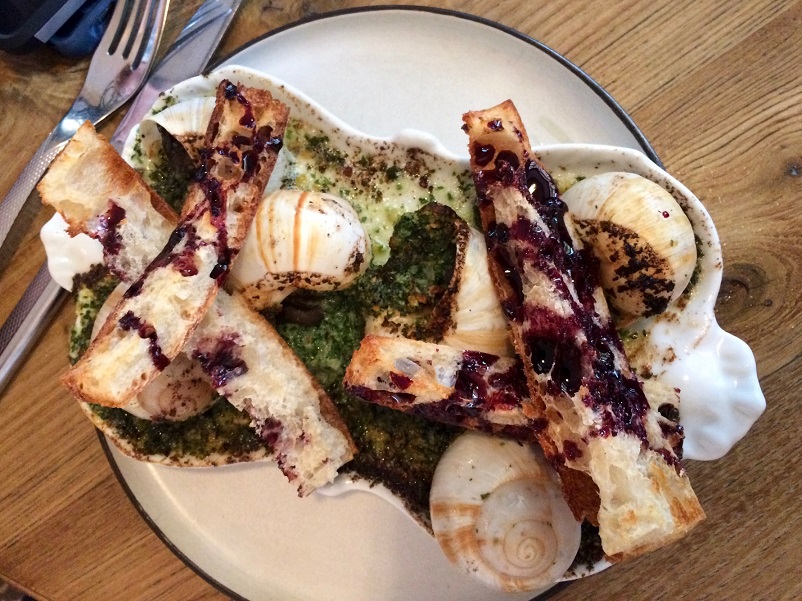 Franchin is in the newer part of the city. They too had great seafood dishes, but we also had some traditional French specialties like steak tartare and escargot. They also make a great Aperol spritz!
Two days in Provence
From Nice, we drove to Provence, specifically to a small town called Noves. Noves is close to Avignon, and the drive from Nice took about 2 1/2 hours. We watched the temperature tick up towards 100 degrees as we drove, happy with the knowledge that our accommodations in Noves included a pool. We stayed at Moulin de la Roque. The rooms are on the site of an old flour mill, surrounded by rocky hills. It's quite a gorgeous setting. People stay for weeks and sometimes months at a time, and we could understand why.
Exploring Provence
Though we could have spent the whole time hanging around Moulin de la Roque, we did explore more of Provence. We were lucky to be there on a Sunday, so we could go to the popular market in L'Isle-sur-la-Sorgue. It is one of the biggest markets we've ever been to and quite fun to walk through as it winds along the river and through all the streets of the old town. We would recommend getting there as early as possible. A few hours after opening, it was completely packed (with tourists).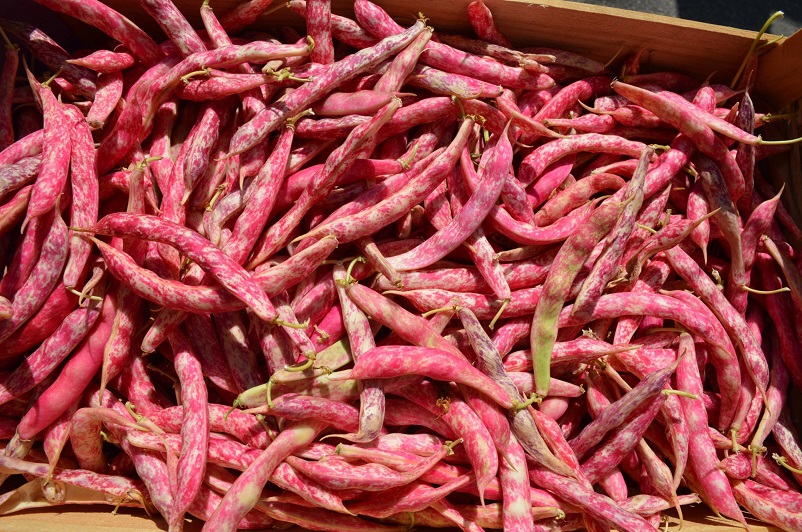 We also had the opportunity to stop into Sarah's friend's bakery in town, Boulangerie Patisserie Leyris. Even though they too were packed with customers (locals and tourists alike), they gave us a peek in the back where they bake all the bread. It smelled like heaven! And they generously gave us several loaves of their delicious bread which we definitely did not finish in one day (uh, yeah right).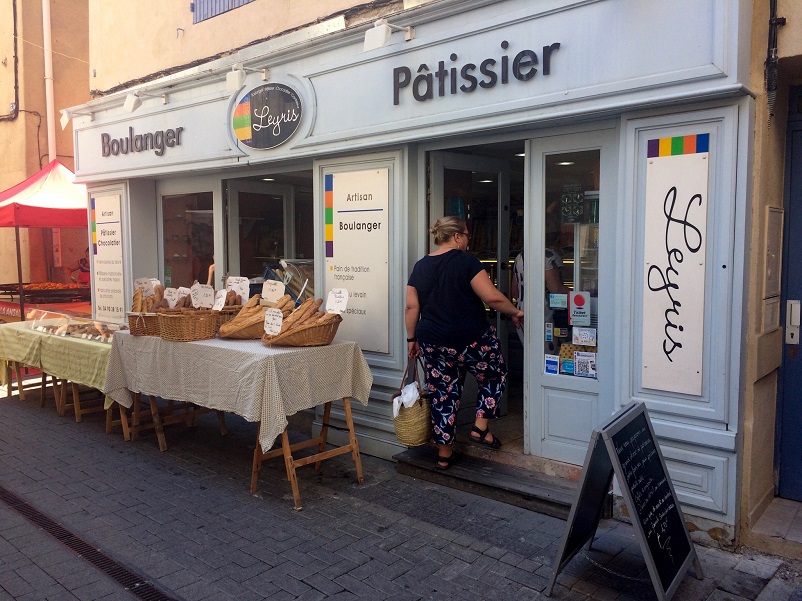 From L'Isle-sur-la-Sorgue, we drove through the hills, getting a lovely tour of the area supplemented with history by experts Sarah's dad and Sally (they should really just move to France to become tour guides). We passed through Fontaine-de-Vaucluse (it was too crowded to stop) and to Gordes. You can see the most incredible view of Gordes from a spot on the road when you're driving in. Sarah insisted that we pull over to take a gazillion pictures.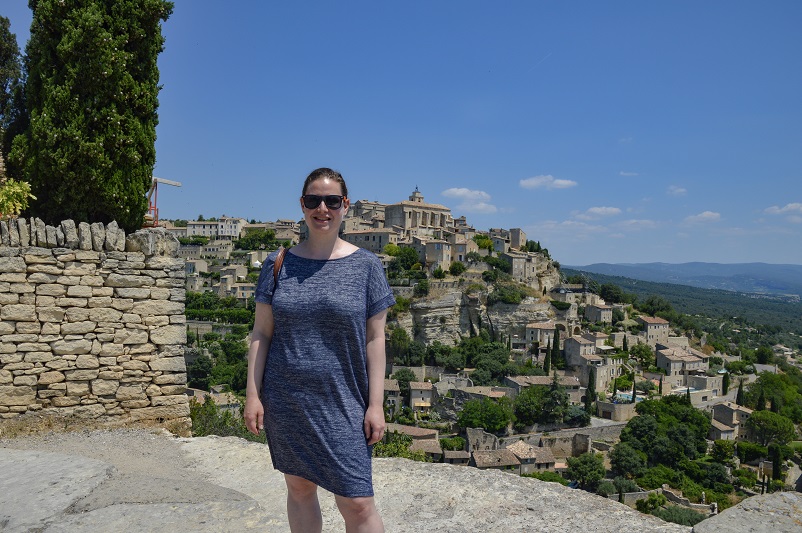 Before our departure to Dijon the next day we also thought about going to Avignon, but the pool at the hotel won out. Did we mention the heat wave?
Eating in Provence
We ate most of our meals in Provence at "home," enjoying the delicious provisions from the market and shops. Notably, different types of saucisson (sausage) and tapenade from Les Délices du Luberon. And of course we stocked up on essentials at the quaint, local shop in Noves!
We had a wonderful time in this area, but there's so much more for us to explore. We will definitely return one day.
Like this post? Pin it!