Last Updated on 3rd October 2020 by Sarah and Justin
Our latest accessible travel guest post has a touch of magic. Our guest author Gemma is sharing her wheelchair travel tips for visiting one of her favorite places in the world: Disneyland Paris. To be honest, we know next to nothing about visiting Disney parks (in Paris or elsewhere), so we're thrilled to get advice from an expert. This post is chock full of Disneyland Paris accessibility information, plus tips to help you plan your trip.
Meet Gemma – power wheelchair user and Disneyland Paris expert
I have a condition called Spinal Muscular Atrophy (type 2). This means I have very limited movement and strength, and require assistance with everyday living. I enjoy exploring the world around us and would be an avid traveller if it was more accessible to me. But life is what you make it, and you do with it what you can. So I go on as many adventures as possible, even if that doesn't involve travelling half way across the world. They say what's on our doorstep is what's least explored!
This summer I made what I think was my sixth trip to Disneyland Paris. You could call me a little bit of a fan; Disney is my guilty pleasure. I could say it was to take my nieces, and I did, they had a magical time. But I've also been to Disneyland Paris multiple times as an adult, so the nieces would just be an excuse really.
I am a full time power wheelchair user. I cannot get out of my wheelchair at all without assistance. You may assume going to Disneyland can be a little dull for somebody that cannot leave their wheelchair, that the holiday would be spent waiting for friends and family to depart from ride after ride. Yes, maybe there is the odd time I'm waiting around, but in no way am I bored. There is so much to see and do in Disneyland Paris for everyone.
Here is my list of tips for anyone planning a Disney trip. Or for those wheelchair users out there that have doubts and are nervous. Go do it!
Disneyland Paris wheelchair travel tips
Familiarize yourself with Disneyland Paris accessibility in advance
My first tip would be to download the Disneyland Paris app. It is full of useful information. I used it before the holiday to check out which rides are accessible, to get updates on refurbishments and just have a little browse of the parks really. I can be a bit of a child when the excitement is nearing!
This app gives details of Disneyland Paris accessibility including whether you'll need to transfer from your chair, if it is accessible for you in your wheelchair, plus other access information such as if the ride is recommended for people with autism, visual impairment, high blood pressure. The list goes on. So if you and your crew are unable to use an attraction then you will know before you plan on walking (or wheeling!) there.
Another bonus is that the wait time for each attraction is listed on the app, so if you've only got 30 minutes to spare before a planned show or dinner, then you'll know which rides you can just hop on quickly. Again saving time and energy wandering around to each ride if you don't want to.
The app also has a detailed map to help you find your way around Disneyland, Disney Studios and Disney Village. Detailing all attractions including restaurants, rides, shows, parades and character meet and greets.
Travel to Disneyland Paris by train – plan ahead to book a wheelchair space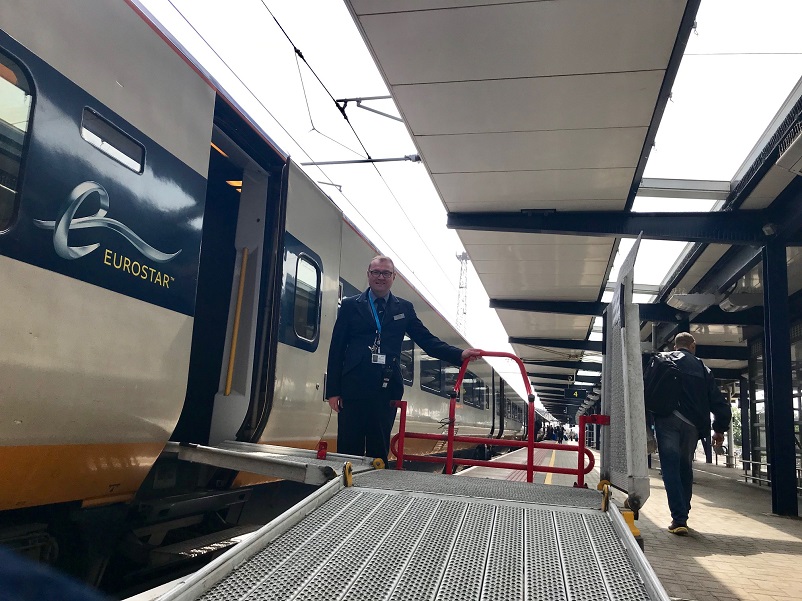 So before this app even gets some use you need to book your holiday. Planning obviously depends on your chosen method for travel. I used Eurostar. I cannot easily fly for multiple reasons: my chair, sitting, my health. Although we have driven there once (who doesn't love a road trip?!), my obvious method for travel is Eurostar. I live in the UK with easy access to London, so it's a direct route of travel for myself. Depending on your ability to fly and location, there may be more practical methods for you.
My main issue with Eurostar is that there are only two wheelchair spaces per Disney train. One direct train per day. There are other trains available, with changes in Paris etc. but I like things to be kept simple. The more trains and more connections means a higher chance of things going wrong. Broken lifts, delays, no ramp, you know. So I stick with the direct route.
Wanting a direct route, and limited wheelchair spaces, means booking my holiday as a package via a travel agent. You can book the train, and then book your hotel, but this is a little risky when needing specifics. A train space could be available on a certain day at one point, by the time you've booked an accessible hotel room, the trains wheelchair space could be gone, and vice versa.
<< Book your train to Disneyland Paris now >>
Packing tips
Travelling by train generally means no limit to luggage. This doesn't mean you can take the kitchen sick and your best friend squished in your suitcase. There is still limited space to a point, however weight restriction isn't an issue.
Wherever I go I always pack an extension lead. Making sure you have access to multiple plugs is crucial if you travel with various gadgets and equipment. There are never enough plug sockets to cater for modern life as it is with phones, e-readers, hair straighteners and the all important kettle for your morning brew. With disability there often comes added equipment. Wheelchair charger, ventilation etc. Also it seems the placement of plugs isn't always considered by the brightest spark. I need plug sockets close to by bed overnight, so an extension lead is also handy for this.
Another item I take everywhere, summer or winter, is my trusty hot water bottle. I easily get chilly, especially at night. You can't always guarantee a good room temperature in hotels, plus I use a hot water bottle most days at home anyway!
My suitcase was so big I even managed to take an inflatable camping mattress with me! I struggle to sleep on hard beds, and sleep is something you really need after a day of Disney!
Book Disney Express luggage service
A bonus for travelling with Eurostar and booking via Disney is the luggage service. Disney Express is a service you can book for a small fee (around 15 Euro return) to have your luggage taken straight to your chosen Disneyland Hotel from the train station. This means you don't have to carry everything all the way to your hotel or transport, which is great if you have a disability or just travel heavy. This service also allows you to hop straight off the train and into the parks, allowing you to start the magic sooner!
Again, when you leave you can enjoy the magic to the very last moment. Drop your luggage at the hotel reception on the morning of your departure and it will magically appear at the train station ready for you to pick up just before the train home is due in.
Hoist and equipment hire
Often having a disability can mean you need extra equipment to aid your stay. Although I hadn't in the past, for this recent trip I decided to hire a hoist. I cannot transfer from my chair to my bed without being lifted, which has become increasingly difficult and uncomfortable lately.
I highly recommend Mobility Equipment Hire Direct if you need to hire a hoist, or any equipment really. They organise mobility aids to be delivered to places all over the world. I only enquired a few days before my holiday about hiring a hoist. They were super friendly and organised. The hoist was in my room when I arrived and collected after I departed at the end of my holiday.
Get your Disneyland Paris Green Card
When you arrive in Disneyland the first thing I would recommend you doing is heading to City Hall and applying for a Green Card. You will need to take some form of disability proof with you, this could be a Blue Badge, DLA and equivalent, or doctors letter.
A Green Card will have your name on and the amount of people in your party. This golden ticket will allow you to be fast tracked at most rides and attractions. The card bearer does have to be partaking in the ride, so it won't work if you want to sit back while others in your party go on a ride that you cannot access.
When picking up a Green Card make sure you are also offered an accessibility guide. This is a fold out map that shows how accessible each ride is. It also shows the routes of parades and where allocated viewing areas are for those with disabilities.
You can read more about Disneyland Paris' services for people with disabilities here.
Enjoy the rides!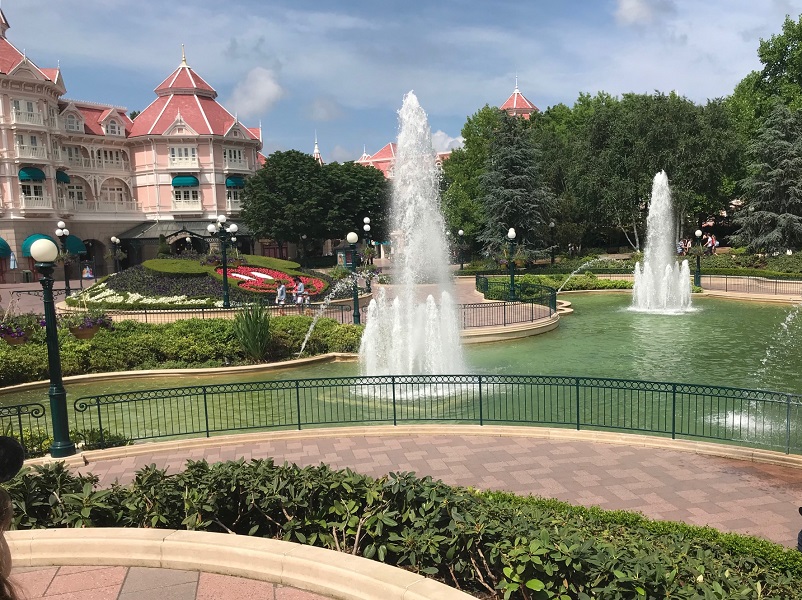 Like I've already said, just because you have poor mobility or cannot leave your wheelchair, don't assume this means you'll miss out on the fun or can't get involved.
There are actually quite a few rides you can access in a wheelchair. Yes, that's right, your wheelchair goes on the ride with you! One of my favourites, and a new one to me this year, was Ratatouille. The little french mouse. This was a cart style ride in which my wheelchair accessed via a ramp, I was then secured down and strapped in. Wearing 4D glasses you're whizzed around darting under virtual tables.
There are quite a few rides that can be accessed like this, including a Buzz Lightyear Laser Blast. You can check out more detailed info in my post about my trip to Disneyland Paris.
Arrive early for parades and shows
If rides aren't for you then there's is still plenty to see and do. Even just exploring the parks aesthetics is magical. There are also regular parades and shows in both Disneyland and Disney Studios daily. You can find all the info and times on the app you've downloaded.
Some are outdoor and some indoor, but all have allocated spaces for wheelchair users and those with disabilities. It isn't always obvious where the allocated areas are, but you can ask a staff member the best place to head. You can also check out the accessibility guide that comes with your Green Card.
I would suggest arriving early to any of these to get a good spot, but in particular the parades and late night fireworks. You will see some people lining the street well over an hour before the parade or show is due to start. This may sound a little extreme, but at peak times the place soon fills up!
Having allocated areas doesn't guarantee the best view, as these spaces still get busy. I would aim to arrive 30 minutes before showtime to get a decent view without feeling like you're wasting precious time hanging around the street.
Book meet and greets with your Green Card
You can't go to Disneyland and not catch a few selfies with the stars! You may be lucky enough to spot the odd character prancing around the parks, but mostly they will be in set locations at certain times. Again, this is information you can find on the app.
Having a Green Card doesn't entitle you to jump the queue, you can't have everything! It does however allow you to book a time slot and return later. On my recent trip I found these time slots get booked up pretty quick; I'm guessing people arrive early and go book all their character meets before they start to explore. This isn't always practical as it could mean walking/wheeling long distances just to make a booking.
I would advise to take your time, but when you see a character spot get booked on, and ask who's there in the afternoon, as they may let you book for them too. Another tip would be to hang around in your hotel foyer areas around breakfast time, as characters do pop up here for photo opportunities.
Be ready for lots of wheeling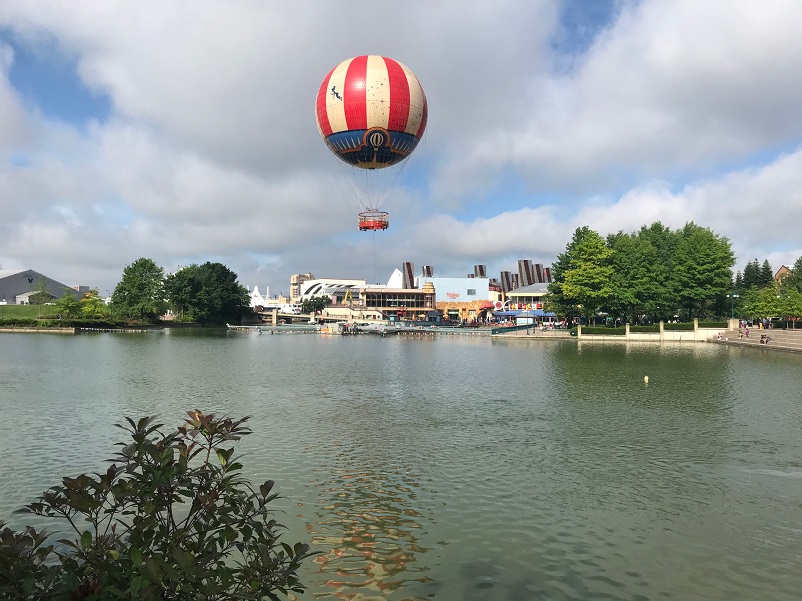 I mean A LOT. We always choose one of the Disney Hotels. Though this can put the price up a little, it's worth it for the small perks. You get bonus hours in the Parks, plus a free shuttle bus. There are accessible buses, but I've only used them once. Unless it's raining heavy it's actually quite a nice walk/wheel. From Sequoia Lodge Hotel, my personal favourite, you walk through a forest, past a lake, and through Disney Village. Disney Village is full of shops, restaurants, a cinema and nightclub.
Disneyland Park and Disney Studios are both spread out through acres of ground. They are like being transported to different worlds. The architecture, scenery and all surroundings are created so well that you can find yourself wandering around just taking it all in.
About Gemma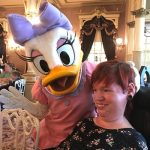 I'm is a massive tea drinker that never says no to a brew. It goes without saying, I'm a huge fan of afternoon tea, tea and cake, what more could a person want?! On my blog, Wheelescapades, I write a lot about these obsessions, but also write about my life with wheels. I am a full time wheelchair user and have a condition called Spinal Muscular Atrophy (type 2). This means I have very limited movement and strength, and require assistance with everyday living.
Follow Gemma on Twitter, Facebook, and Instagram.
Like this post? Pin it!