We met Melanie at an accessible tourism conference last year. She really inspired us, so we begged her to write a guest post. Melanie has a rare genetic muscular disorder called limb-girdle muscular dystrophy and has been in a wheelchair since she was six years old. On her blog and social media accounts, Melanie shares her experiences traveling the world, offering detailed accounts and many tips to inspire and help others travel as well. In this post, she's offering her expertise on how to plan a wheelchair accessible trip yourself.
Melanie's wheelchair accessible trip planning advice
Planning a wheelchair accessible trip can be tricky. Depending on your travel plans you often find either no info about the accessibility of the place you want to visit or only vague descriptions. If you are, like me, a wheelchair user with little to no self-independence, then you might have already experienced situations where you traveled to a place and had to find out that the accessibility does not meet your expectations.
Whether traveling through Japan by train, soaking in the sun in South Africa or exploring Banff National Park, to only name a few, I love to travel and, even more, I love to immaculately prepare my trips. Throughout the years I've become pretty experienced in planning wheelchair accessible vacations without using travel agencies. Surely, there is nothing wrong with asking an accessible travel agent for help. However, being your own travel agent is a budget-friendly alternative to make sure that your specific accessibility needs are met. Let me show you how I prepare for a wheelchair accessible trip!
Research the accessibility of your chosen destination
After choosing a destination, I begin with the accessibility research. Firstly, I ask Google about the accessibility of my preferred place. I also read blogs of fellow disabled traveler bloggers to get a better global view of what to expect – if someone already wrote about the destination. Then I use Google Maps to create a map with the sights I'd like to visit. Of course, I also try to find out if the sights are wheelchair-accessible. If the destination isn't accessible at all, I change my plans.
Finding wheelchair-accessible accommodations
Before booking flights I generally start searching for wheelchair-accessible accommodation. Many wheelchair users seem to love Airbnb, however, I prefer to stay at wheelchair-accessible hotels. Hotel reservation platforms like Booking.com and Hotels.com offer great filter functions in regard to accessibility needs. Sometimes you can even select the wheelchair-accessible room right in the booking process. If that's not the case, I choose a regular room with free cancellation.
Once the hotel is booked, I immediately send an email to the hotel to ask for confirmation of a wheelchair-accessible room. This technique works pretty well, at least from my travel experience during the last years. If the hotel, however, can't assign an accessible room you just cancel your reservation and start searching for a different hotel. Of course, you could also make a reservation directly with the hotel. Keep in mind that this option isn't always the cheapest if you travel on a budget. A big advantage of hotel reservation platforms are the rewards programs, where you can get free hotel nights or other nice extras. Also, these reservation platforms regularly publish great discount codes, which can help save money.
And here's one of my top hotel stay tips! Bring an inflatable air-mattress, in case the hotel mattress is too hard. I couldn't travel without mine as I'm very pressure sensitive.
Booking flights
Once you've found an accessible hotel that suits you, it is time to book flights. Generally, I compare airfares using Google Flights, Skyscanner, Hopper and I also check on the airline's website. Being flexible with travel dates and booking way in advance will increase your chance of lower flight fares.
Arranging airline special assistance
The next step once the booking is completed is to call the airline to tell them about your disability and your mobility device (manual wheelchair, power wheelchair, scooter, etc.). The airline will set up a special assistance request for you. They will also provide an onboard wheelchair during the flight, if necessary and if the aircraft cabin allows so. You have to inform the airline about your assistance needs no later than 48 hours prior to your flight. Most airlines offer seat reservations for you and one travel companion.
The special assistance service provides help for wheelchair users from the check-in to the cabin seat. The staff helps you board the plane using an aisle chair. Wheelchair users generally board first and leave the aircraft after all other passengers. It is important to know that it is your right to stay in your own wheelchair until you get to the aircraft door! Throughout all the years of traveling it only happened to me once that I had to transfer to an aisle chair right at the check-in counter.
Preparing information about your accessories
If you use a power wheelchair or another powered mobility device you should have information on the batteries ready. Some manufacturers, like Alber for example, have battery certificates that can be downloaded from their website. You should also know the weight and dimensions of your wheelchair. Just ask your provider about the details or look it up on the internet.
If you use a ventilatory aid (eg, BiPAP, CPAP, or ventilator) you have to inform the airline about the (potential) on-board use. Having limb-girdle muscular dystrophy, I always use my respiratory aid on long haul flights. This helps to minimize fatigue and gives me the possibility to sleep without having a headache.
In case you use supplemental oxygen, you should read the fantastic guide Sarah wrote about flying with oxygen. Medical equipment doesn't count as baggage, which means you can bring it on board. It is always a good idea to travel with a doctor's letter stating your disability and your specific medical needs.
Tips for flying in a wheelchair
Many of my readers ask about how I use the tiny lavatory during a flight. Most planes aren't equipped with accessible toilets yet. However, I have come across spacious wheelchair-accessible lavatories twice on Air France flights! But typically my husband usually asks the cabin crew to bring the aisle wheelchair. He transfers me, pushes me to the most convenient lavatory, and back to the seat. Other wheelchair users prefer to control their fluid and food intake, and some others use catheters or diapers.
Here is a short list of my in-flight travel tips for wheelchair users:
Wear comfortable clothes and shoes.
Wear compression stockings to prevent deep vein thrombosis.
Always keep your medication in your hand luggage.
Wear comfy headphones or earplugs to cancel the noise.
Sit on your wheelchair cushion and try to change position as often as possible. If you use a Roho Quadtro Select, do let some air out before take-off!
I hope you enjoyed reading this short guide on how to self-plan a wheelchair-accessible trip and that it will be useful for your next vacation.
About Melanie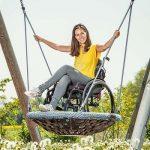 Melanie is a 31-year-old travel lover on wheels. She writes about her wheelchair travel adventures on her blog, Little Miss Turtle. You can also follow Little Miss Turtle on Facebook, Instagram, and Twitter.
Like this post? Pin it!