Last Updated on 8th January 2019 by Sarah and Justin
Though we try not to only spend only one night in any place we visit, we've actually spent one night in Kaunas, Lithuania twice. The first time was three years ago on a road trip that included Poland, Lithuania, Latvia, Estonia, and Finland. We really enjoyed ourselves during our 18 hours in the city, so always looked for opportunities to return. One recently presented itself, and we returned to further explore Kaunas before getting to see more of Lithuania as well. So now that we've officially spent 36 hours in Kaunas, we wanted to provide our guide to this great, cheap city break destination.
A little about Kaunas
Kaunas is the second biggest city in Lithuania, after the capital of Vilnius. Between WWI and WWII, after Vilnius was occupied, Kaunas served as the temporary capital of Lithuania. The city benefited from this and saw significant growth and modernization.
Why take a city break in Kaunas
Kaunas is easy to get to from many European destinations by plane, train, or bus. It's not as popular a tourist destination as Vilnius, but we see that as a good thing. Though Vilnius is a truly wonderful city (which we'll write about soon!), we definitely think Kaunas is worth visiting. It's cheaper, less crowded, and you feel a little less like a tourist. Kaunas was chosen as one of the 2022 European Capitals of Culture, so we're sure its popularity will grow. So visit soon!
Things to do in Kaunas
Much of Kaunas' charm can be experienced enjoying a drink sitting outdoors on a street in the Old Town. But there are a bunch of things to see in the city. Here are our recommendations for things to do in Kaunas if you're there on a short visit.
Kaunas Old Town
The Old Town in Kaunas is the most charming area of the city. There are restaurants and cafes and churches and lovely looking old buildings all in this small neighborhood.
The central parts of the Old Town are the main pedestrian street, Vilniaus gatve, and Town Hall Square. The latter is of course home to Town Hall, an impressive white building also known as the White Swan, and a beautiful pink baroque church. But like in most old towns, it's most fun to wander through its narrow streets and stumble on interesting buildings and monuments like this one.
You can also take a hot air balloon to see the Old Town (and the rest of Kaunas) from above. Lithuania is one of the best destinations in Europe for hot air ballooning. When we first visited, we delighted in seeing balloons flying over the city. We didn't actually go up in one ourselves (we had hoped to do it in Vilnius, but got unlucky with the weather).
Kaunas Castle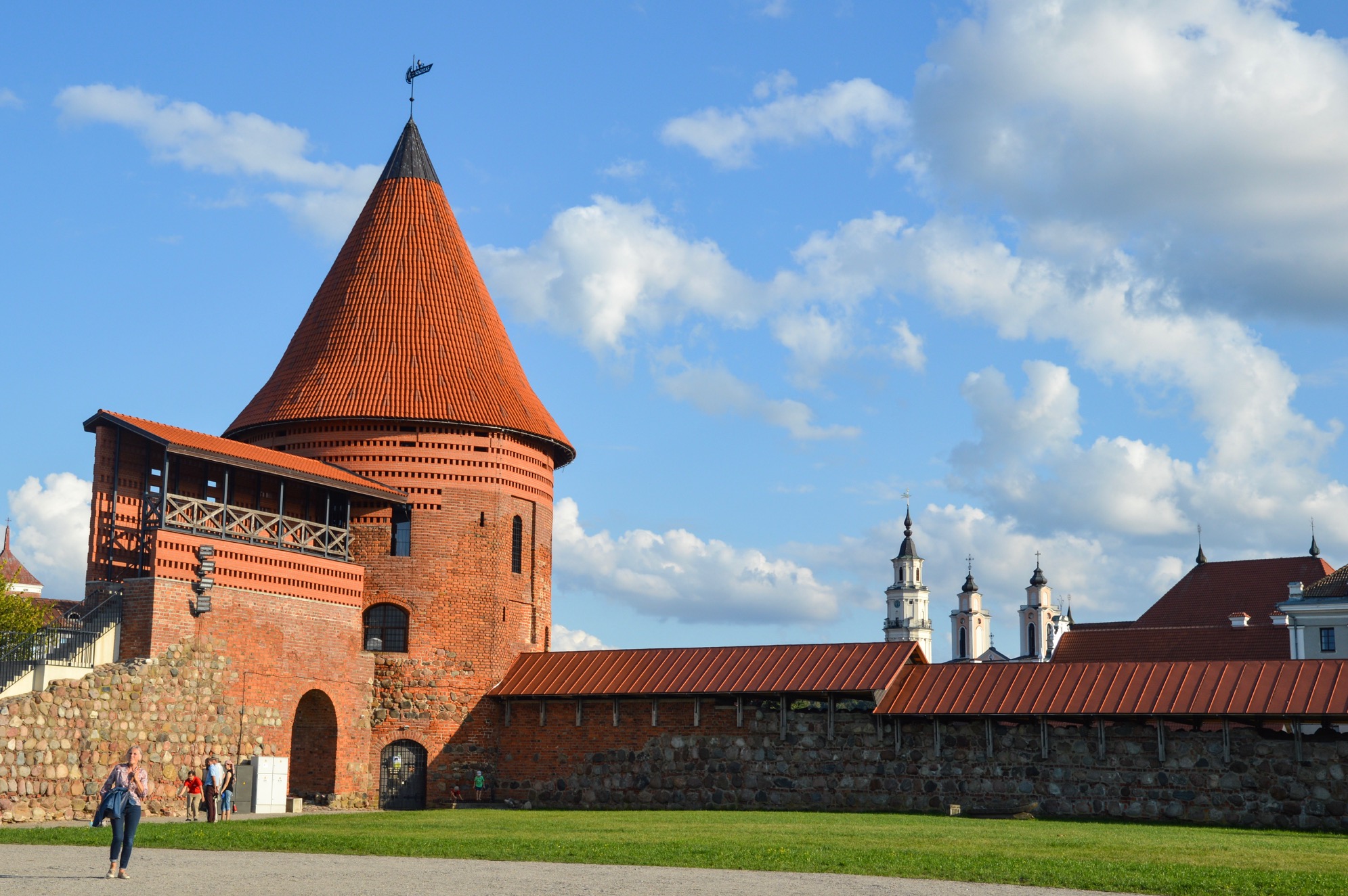 This 14th century castle sits at the edge of the Old Town, close to one of Kaunas' rivers, the Neris. It was one of the first stone castles in Lithuania. It has a museum inside, but we didn't visit it, instead just admiring the castle from outside.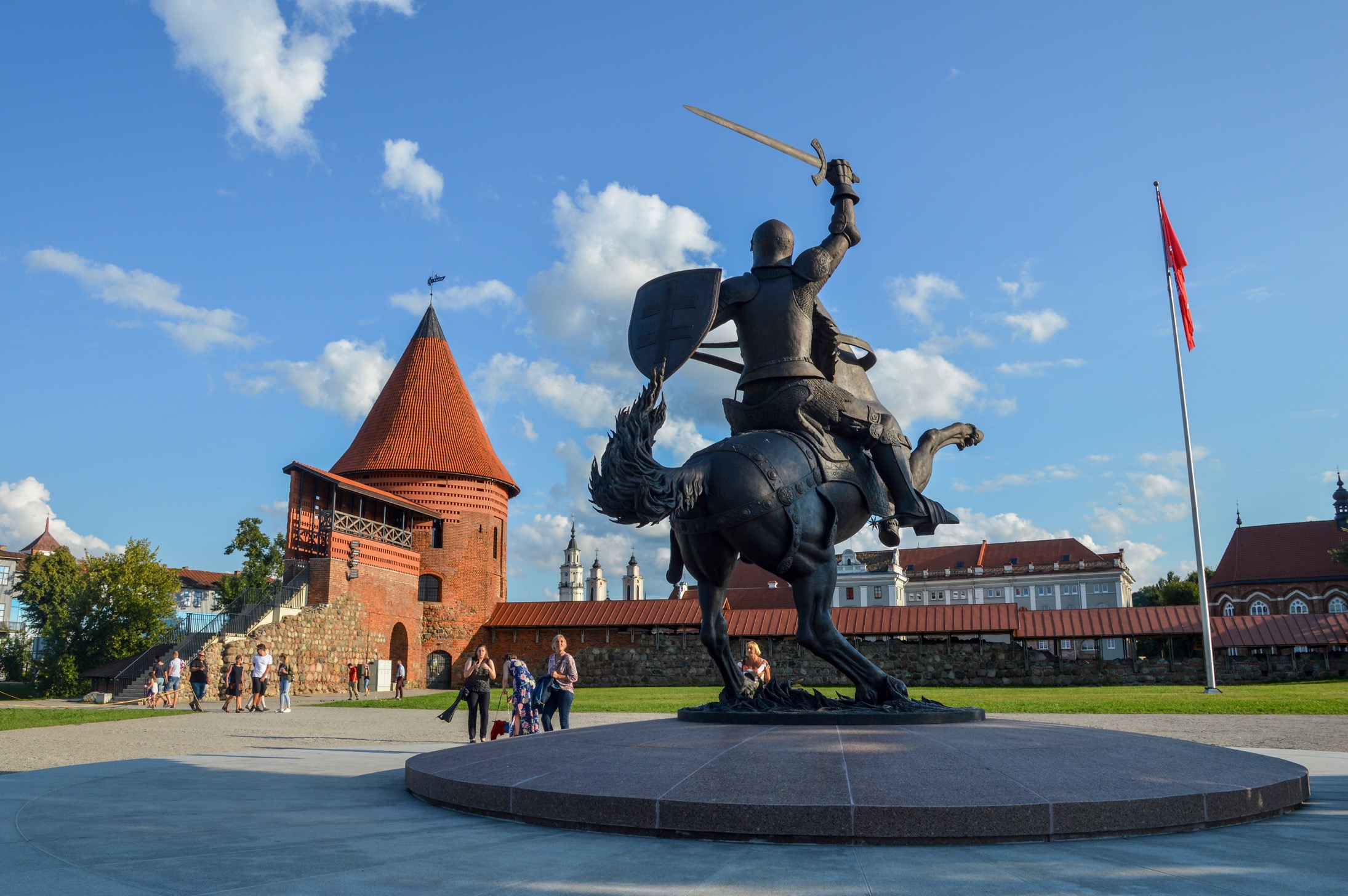 If you want to experience a little green space, take a stroll through Santaka Park after your visit. At the end of the park, you'll reach the confluence of both of Kaunas' rivers, the Neris and the Nemunas.
Laisvės alėja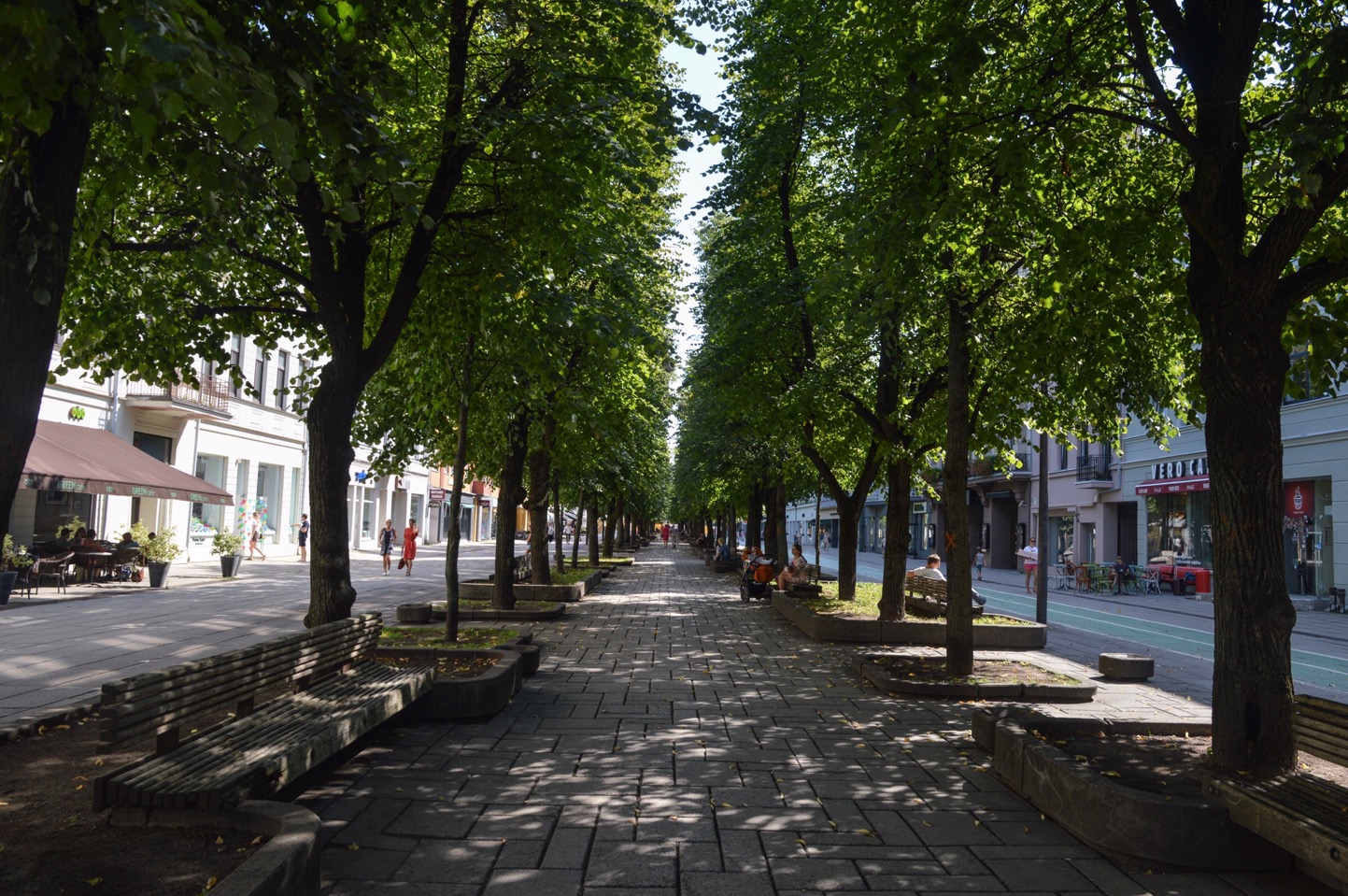 Laisvės alėja is the main street in the center of Kaunas. Most of it is pedestrian-only. Its center walkway is lined with trees making for the most delightful stroll. It's also dotted with benches so you can sit and relax as well. Cafes and restaurants and stores are on either side of the street so it's also bustling, but is definitely not overwhelming or overly touristic. We were romanced by the street on our first trip to Kaunas three years ago, and enjoyed walking arm in arm as the evening fell. Unfortunately, on our latest visit, much of the street was undergoing heavy construction and the only part of the street that resembled what we remembered was the portion closest to St. Michael the Archangel's Church.
But on the positive side, we also stumbled upon a new, very cool art installation in the middle of the street. The modern, light-based art exhibit is in fact a memorial to Jan Zwartendijk. We were particularly intrigued reading the plaque on the ground that said he was from the Netherlands (being that we live in Rotterdam and all). We researched his story and learned he worked for Philips, but was appointed part of the Dutch government-in-exile during WWII. He used his position and contacts to save the lives of many Jewish people during that time. It's really an interesting story, which you can read more about here.
St. Michael the Archangel's Church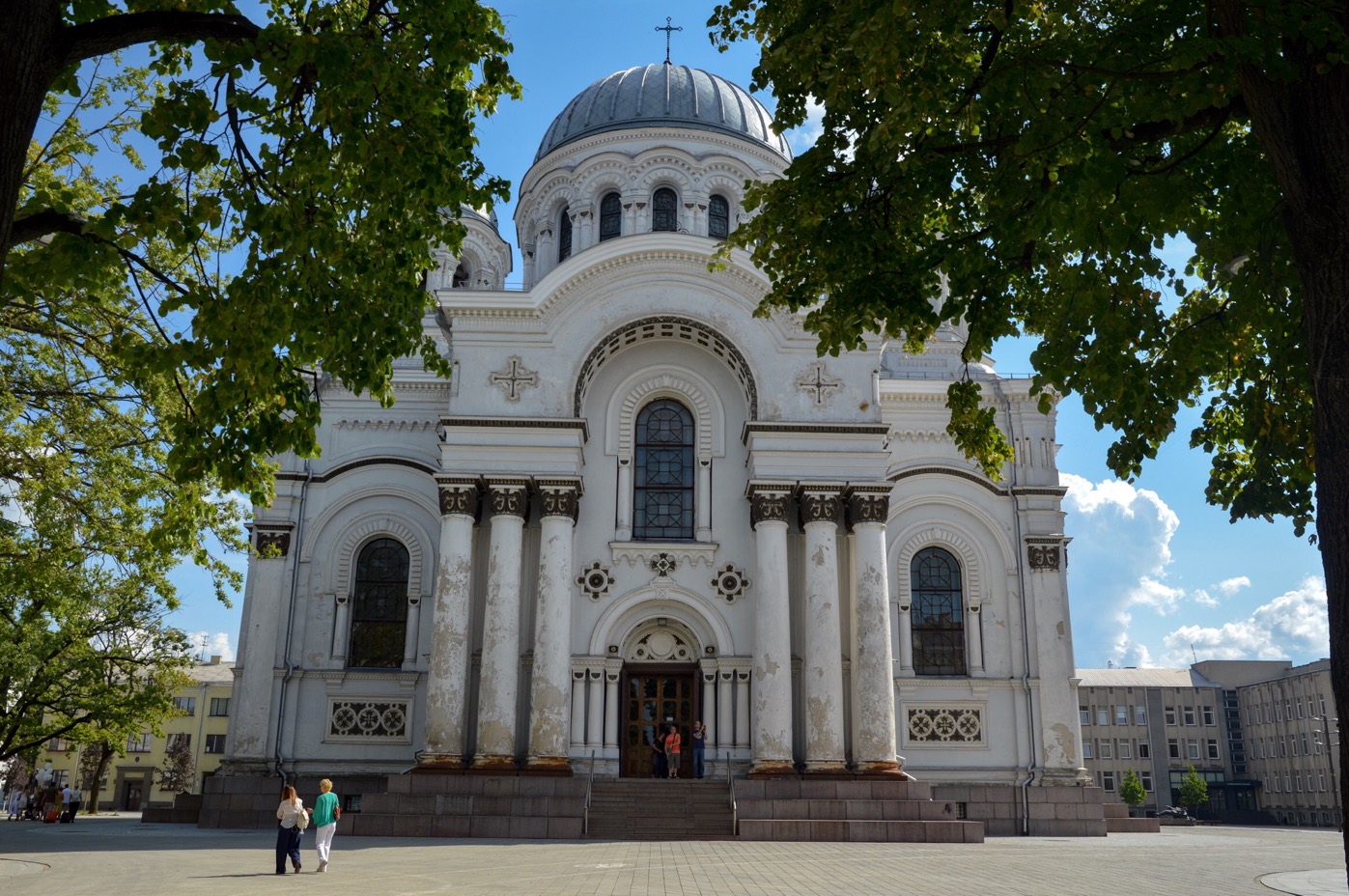 St. Michael the Archaengel's Church is located at the eastern end of the pedestrian portion of Laisvės alėja. This orthodox cathedral is quite impressive from afar, and fun to take pictures of up close. And if you like catacombs, it has some of those too.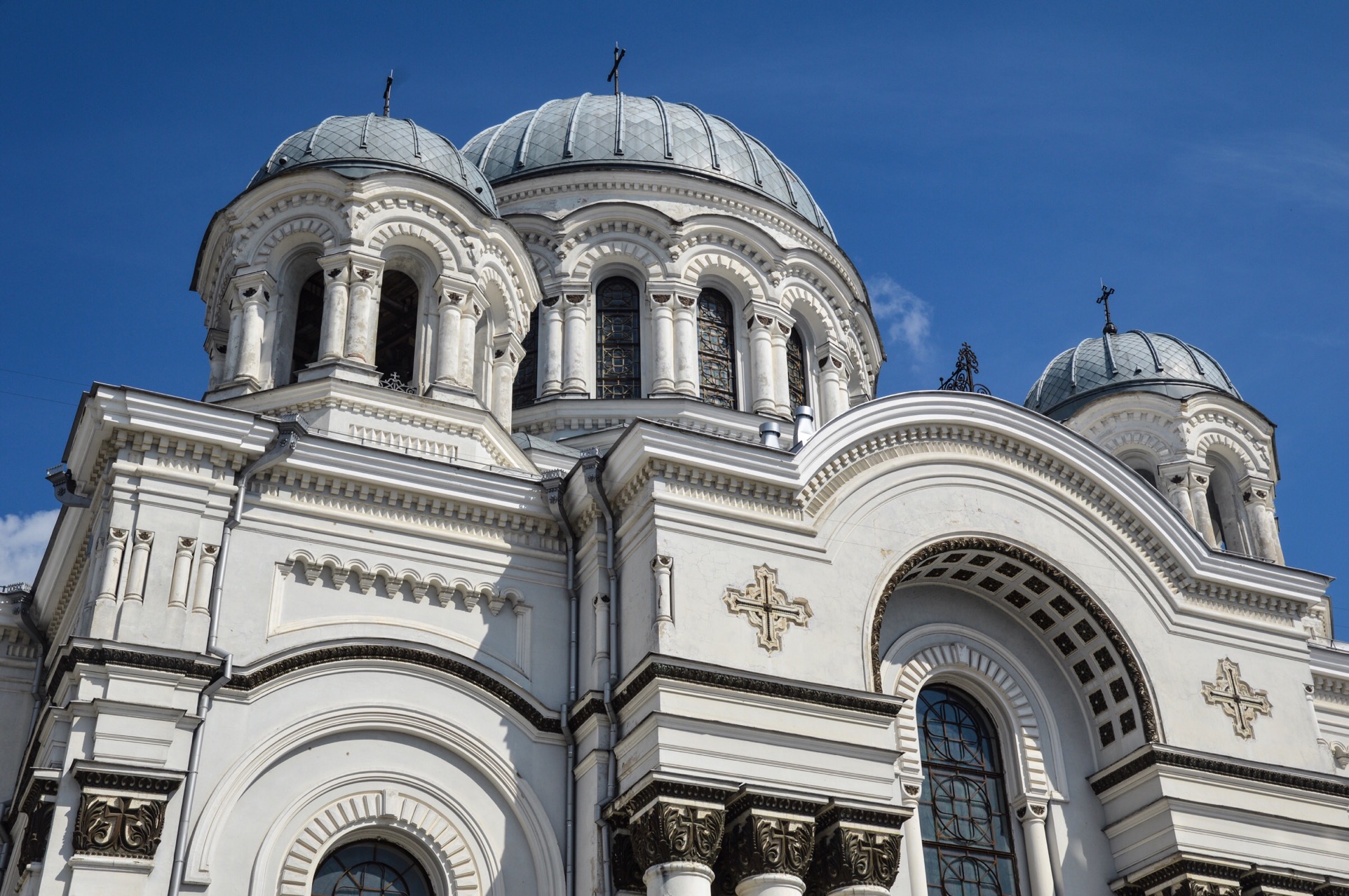 The funiculars of Kaunas
Kaunas has two funiculars which will take you up some steep hills to see some nice views. Aleksotas Funicular is across the Nemunas River from the Old Town, and will therefore give you a great view of the Old Town. We didn't go on this one, though. We did ride the Žaliakalnio Funicular which is in the city center. It takes you up to the Christ's Resurrection Church, from which you can see a sweeping view of the city.
Christ's Resurrection Church
We rode the funicular to get up to Christ's Resurrection Church to see a great view. The church itself is pretty cool, with severe and imposing architecture. But the highlight for us was the roof. You must pay to enter, and you can either climb the stairs to the roof or pay a little more to take the lift. We did the latter.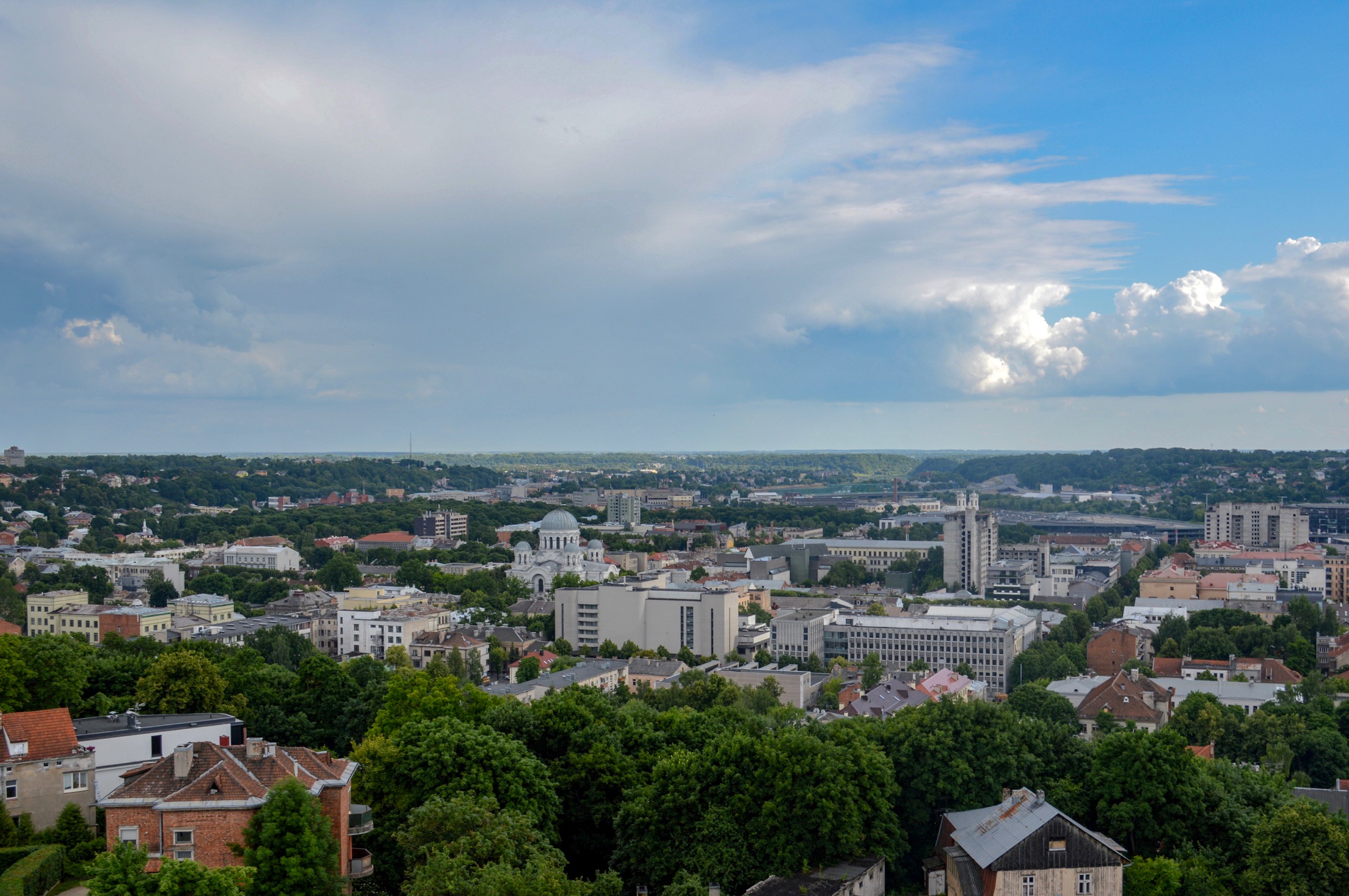 The view was spectacular, as was the feeling of being on top of the church. We did this when we visited three years ago and loved it so much, we actually considered going back up again this year, but ended up not having time.
Street art in Kaunas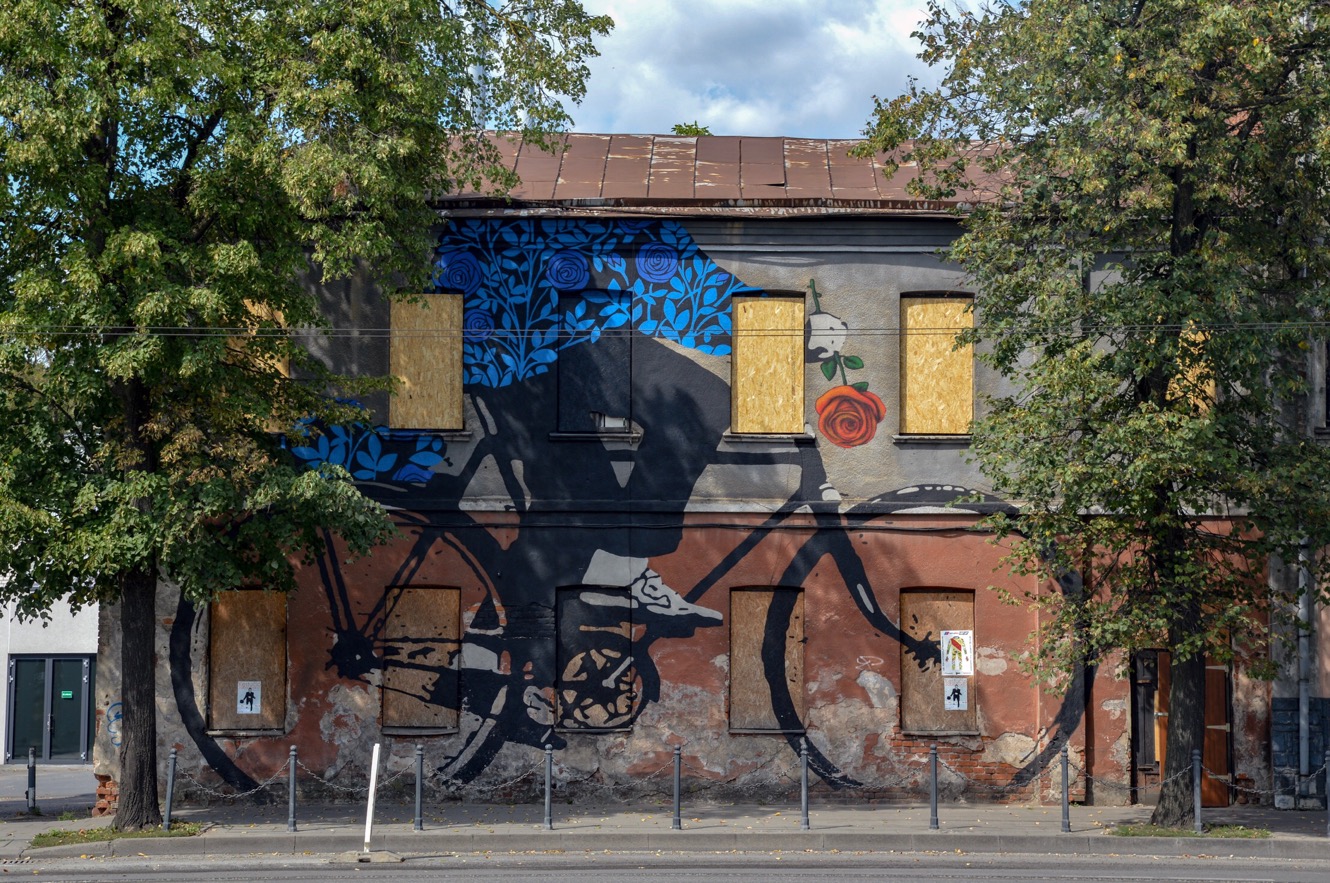 Kaunas has a pretty cool street art scene. There's a map you can follow, or you can do like we did and just happily stumble upon things.
Lithuanian food to try in Kaunas
Lithuanian food is carb and cheese-laden. It's heavy. But some of it is oh so tasty. Here are two recommendations for must-try Lithuanian dishes and where to find them in Kaunas.
Spurgos
Spurgos are Lithuanian donuts. The standard variety are balls of fried goodness, dusted with powdered sugar. You can also get them filled with jam, or flattened and filled with meat (our preference). When in Kaunas, the best breakfast is at Spurginė, an old-timey donut shop on the pedestrian street in the city center. We were so wowed by their offerings during our first trip, we knew a return visit was a must (and we captured both moments for posterity)!
They have a large selection fresh from the fryer, made by women in the back room (if you catch a glance of it, you'll see an enormous mixer and women working away). You can order your donuts or meat patties to go or dine the counter, where the coffee is cheap (but definitely not the reason to visit). The menu has English translations so you can easily place your order. Each piece will set you back around 0.75 EUR. It's not the healthiest breakfast but is delicious and filling.
Kepta Duona (garlic bread)
Our other favorite Lithuanian food, Kepta Duona, is also fried. And it's also pretty simple. Dark rye bread is cut into sticks, fried in oil, and covered in garlic. It can be served with a garlicky cheesy dipping sauce or covered in melted cheese (this is a newer accoutrement). We're garlic lovers, and dark bread lovers, and cheese lovers, so find the dish irresistible. You'll be able to find it pretty much anywhere you go. It's a great bar snack but quite the filling appetizer. Most recently we enjoyed it with beers at a bar we found in the Old Town. But more on that in a bit…
Restaurants and bars in Kaunas
We only spent two nights (on different trips) in Kaunas, so clearly did not fully explore the eating and drinking options in the city. But we hit a few places we can definitely recommend (in addition to Spurginė of course!).
BO baras
BO baras is a dive-y bar in the Old Town. It attracts a cool, young crowd (we were definitely the oldest customers by at least a decade). But it was chill and fun and we thoroughly enjoyed ourselves. They have a great tap list and yummy bar snacks. We especially enjoyed the Kepta Duona.
HOP DOC Gastropub
HOP DOC Gastropub is a hip, modern looking bar and restaurant a couple blocks off the main street in the Old Town. We enjoyed a (local) beer here, but the food (mainly burgers) looked solid and gets great reviews.
Forto Dvaras
Forto Dvaras is a chain, with outposts all over Lithuania. Full disclosure, we didn't eat at the one in Kaunas, but we did in Vilnius. Their specialty are their cepelinai, which as their name implies, look like zeppelins. They are enormous potato dumplings filled with meat or cheese. You can eat a wide variety of types with different sauces here. Just come hungry and know you'll leave (very) full.
Avilys
Avilys is located on the main street in the Old Town. Grab a seat on the terrace outside and enjoy the people-watching. They brew their own beer, which is honey-flavored, and have solid beer snacks.
Flights to Kaunas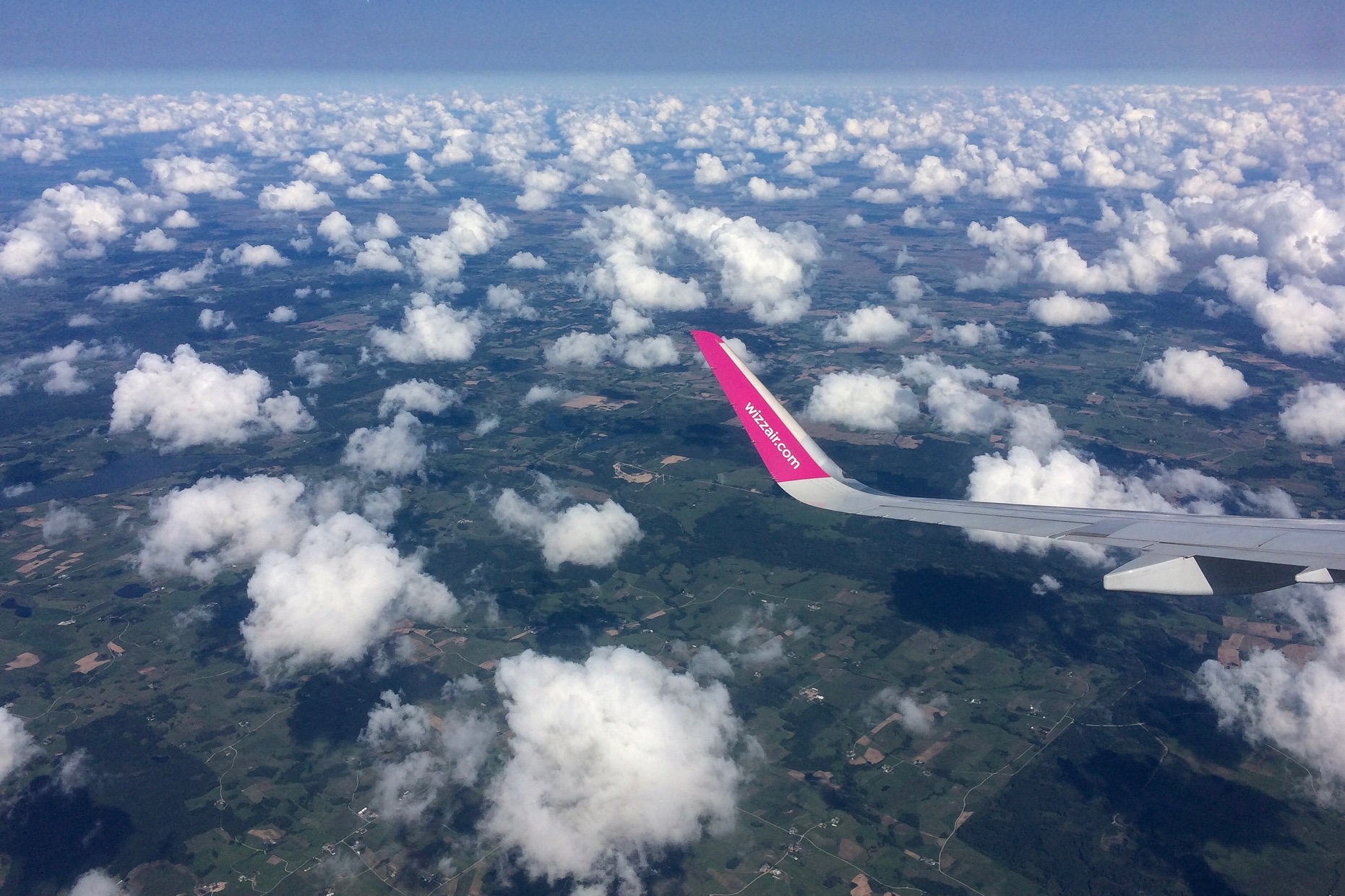 We flew Wizz Air from Eindhoven in the Netherlands to Kaunas. Our one-way flight (not including a checked bag) cost 34 EUR each. Ryanair and LOT Polish Airlines also fly direct to Kaunas, so you have a bunch of budget options to work with.
Where to stay in Kaunas
On both our trips to Kaunas, we stayed at the Kaunas City Hotel. The rooms are basic, but well-sized, and they have air conditioning. We like the location as it's not too far from the Old Town, but it's right on Laisvės alėja, the pedestrian street that runs down the middle of the city. Oh, and it's just a block away from Spurginė. We paid 49 EUR for our double room, not including breakfast, since those delicious donuts are just a couple doors down.
Public transportation in Kaunas
Kaunas has a system of buses, trams, and minibuses. We took the bus twice with no problem. The first was from the airport and at 1 EUR, we definitely think it's the best way to get into the city. You buy your ticket from the bus driver, so make sure to have cash in relatively small denominations (they do give change). We also took the bus to the train station, which again was the best way to go. The bus system is integrated with Google Maps so it's easy to figure out.
Accessibility in Kaunas
Honestly, Kaunas isn't the most accessible city we've visited. The pedestrian street, Laisvės alėja, should be nice, but most of it is currently undergoing major construction, which makes it difficult to walk around. And the Old Town is full of cobblestones. The bus system is partially accessible. Only "low end buses" are wheelchair-accessible. You can find out which lines they run on via the schedule here. And unfortunately the funiculars are not wheelchair-accessible as it is necessary to climb some steps to get to and from them. However, some of the museums and other attractions in Kaunas are accessible, including the M.K. Čiurlionis National Art Museum, the Historical President Palace, one of the part of 9th Fort, the zoological museum, the Pažaislis monastery, the zoo, and the Botanical Garden. We are grateful to the Kaunas tourism board for providing this information to us.
The Kaunas City Hotel (which we recommended above) has two wheelchair-accessible rooms and one of their parking spots is reserved for people with disabilities.
Like this post? Pin it!