For Worldwide LAM Awareness Month (WWLAM) 2021, we're sharing stories from women who were diagnosed within the past year. These women faced a life-changing diagnosis during one of the most difficult years in history. Though their individual stories are unique, they share a sense of fortitude and a strong commitment to the LAM community.
Sarah, an ocean engineer living in Florida, shares how her LAM diagnosis actually helped her overcome an incredibly difficult period in her life.
I was diagnosed with LAM last year. I lost my brother approximately six months prior to that and my mom a couple of years prior to that.
They both had long illnesses that took their lung function. Both were on oxygen. I used to say "I wish I could breathe for you with my strong healthy lungs." It is a mixed blessing that they are gone before I started my own battle. I miss them terribly, but I am so thankful I was healthy and could be there for them during their fight.
Marshall, my brother, was an extremely hard loss. All that moving we did from place to place as kids. Our shared experiences. He was the yin to my yang. He was all light and sunshine. I was all seriousness and insecurity.
I spent years advocating for him and raising money for his treatments and watching him go through various clinical trials. I have a zebra in every room of my house because he had a rare cancer (MEN-1).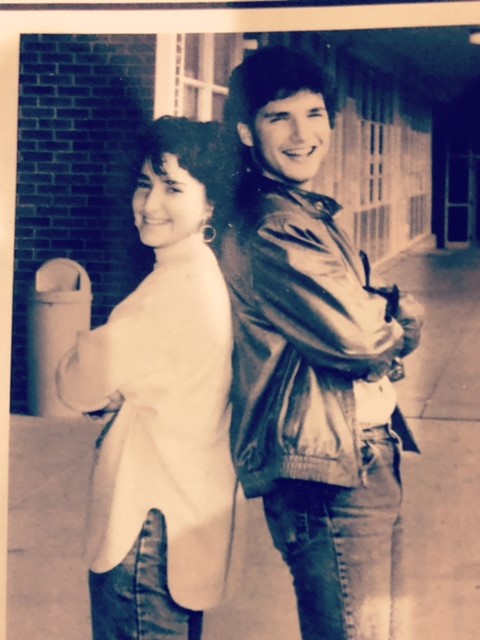 When my brother was fighting, I let him tell me when it sucked and I did not turn away from that. I talked to him about the things that he missed the most. What I have found since I have had a rare disease is that people ask me how I'm doing, but I think they want the easy answer. They want to hear I'm fine. Sometimes, I want them to ask me more, to face the hard stuff with me and not just brush over it. I didn't know how important it was for me to face those things with my brother, now I do.
I lost my cause and purpose when I lost my brother. The few years before my LAM diagnosis I was not treating myself with kindness. I drank too much. I think I was thumbing my nose at cancer. I would still run all the time, but I was slowing down and get short of breath. I went to the doctor about chest pain. They said, and I believed, that it was tension and bad choices.
For the new year of 2020, I resolved to pick myself back up. I could still mourn and be sad, but I needed to start taking care of my body while my head was still sorting out how to handle a world without my brother. Then one night in February, I fainted when I went into the kitchen to take headache medicine. Turns out my oxygen dips at night when I sleep. That started the long journey to a LAM diagnosis in August.
Daily exercise leaves me gasping. I live in a three-story town house. The stairs are a constant reminder. Some days, I push through it. Some days, I give myself grace.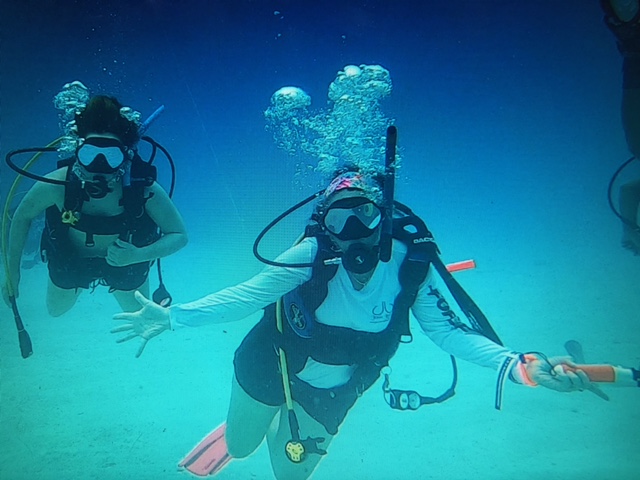 My passion is the ocean. I have a degree in Ocean Engineering. I have spent my career on design and tests for underwater systems and I love to SCUBA dive. So, I keep diving, against recommendations, but I have modified to stay shallow. I haven't had a lung collapse yet and I know if I do, I will have to stick to snorkeling. But I can't stay out of the water.
I was struggling to find my ground after losing my mom and then my brother. So much emotional energy focused on their fight left me focused on grief. When I was diagnosed with LAM, the pulmonologist told me "it's rare, but it has a fantastic group that supports the patients."
Not only has the LAM community provided me with a support group, it has provided knowledge and gave me a way to engage in the fight. That empowerment is huge! LAM gave me a fight and a cause and a reason to live.
I read the feed for the LAM groups daily. I don't post often, but when I do, the responses come fast and with knowledge, positivity, and great support. I feel connected to everyone reading the post and the responses. I feel the support. I am a thirsty participant of LAMposiums.
Knowledge is power and I feel so much more powerful to battle the more I know. The icing on the cake is that I get to be an active participant in the fight. The community has allowed me to speak at a LAMposium. They have allowed me to be a part of a clinical trial. To be given the opportunity to know so many wonderful women and be able to take up a shield and sword for these people who I have grown to care for… that is a wonderful gift.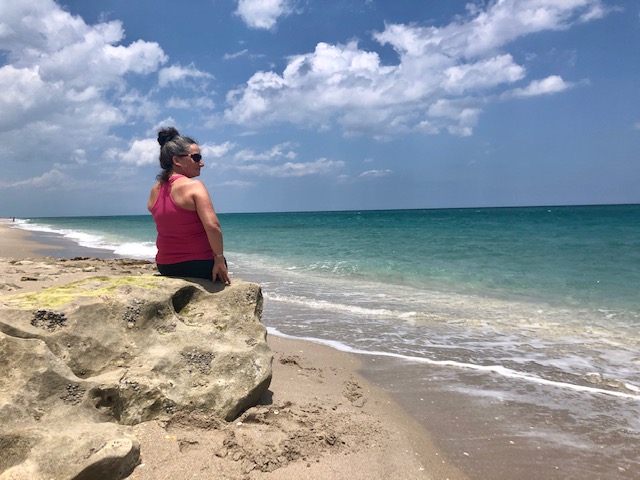 Author Bio
Sarah is originally from Alabama, lived half her adult life in Virginia, and now lives in Florida. Her passions are the ocean, her two children and grandchild, her boyfriend Stephen, and travel. Sarah majored in mathematical physics during her undergrad and has a graduate degree in ocean engineering, specializing in underwater sound. She has worked for almost 25 years for Lockeed Martin as an engineer.
---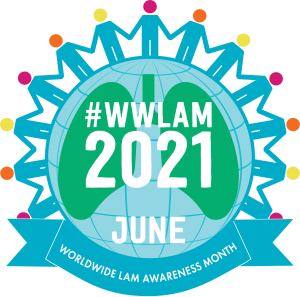 << Read more inspiring stories from women with LAM for WWLAM 2021 >>