Last Updated on 22nd December 2019 by Sarah and Justin
We always try to find some free things to see and do on our trips – and in our everyday life! After living in Rotterdam for over a year, we have explored this city extensively. It's a great walking city and you can see a lot (for free) just by taking a stroll in its different neighborhoods. But that's a topic for another post (which we will write soon!). This post is all about free things to do in Rotterdam – like actual attractions where you can see and learn and taste new things. We hope you find something that piques your interest.
7 free things to do in Rotterdam
Rotterdam Markthal (Market Hall)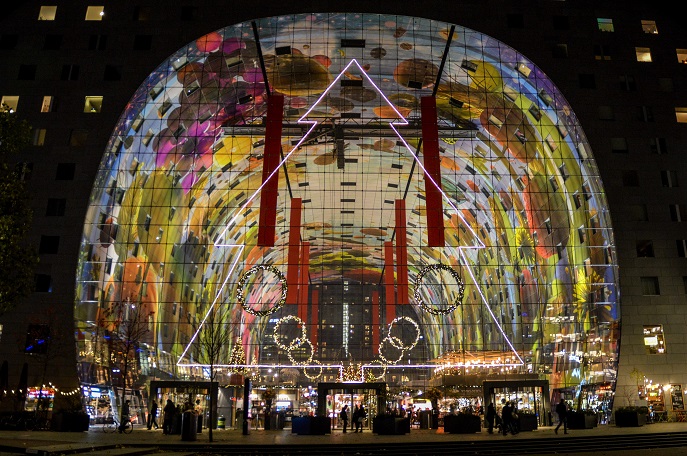 We've written about it before and for good reason. The Market Hall in Rotterdam (aka the Markthal) is still our favorite place in the city. And, it's free! The Markthal is an architectural marvel in the city center – an enormous horseshoe-shaped building like you've never seen before. It's great to look at from the outside – especially during the winter months when it's all lit up and decorated for the holidays. But inside is where the action is.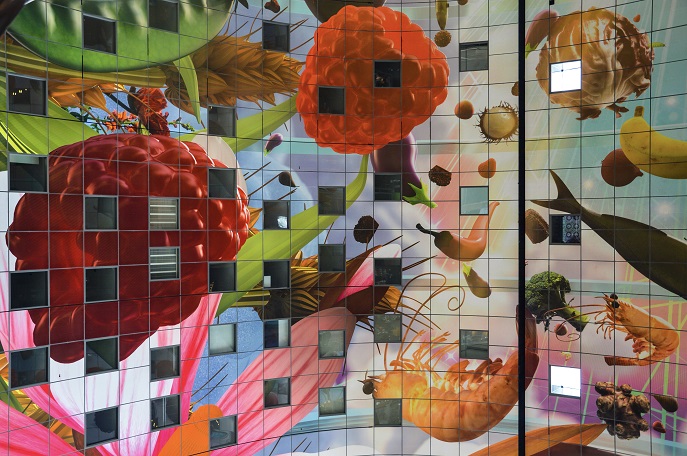 Super fun, brightly colored murals tower over and around you. And of course there's the food. Stall upon stall of delicious smelling and beautiful looking local and international delights beckon you to come closer. Luckily, most stalls offer free samples. But do note, you will be tempted to spend some money on actually buying some of their tasty treats… and you definitely should!
Cubic Houses
The Cubic Houses are another attraction completely unique to Rotterdam. And the best part of visiting them (in our opinion) is free. If you've seen pictures of Rotterdam on Instagram, chances are you've seen the Cubic Houses. These bright yellow tilted cubes (that people actually live in!) make for perfect pictures. They were built in 1977 and were designed by Dutch architect, Piet Blom, to optimize space. We love walking under the Cubic Houses from Blaak to Oudehaven, where you can stare up at the cubes seeing the different shapes they create against the sky and wonder how people actually live in them. (For the answer, you can always visit the Kijk-Kubus Museum House, but that will cost you a few euros).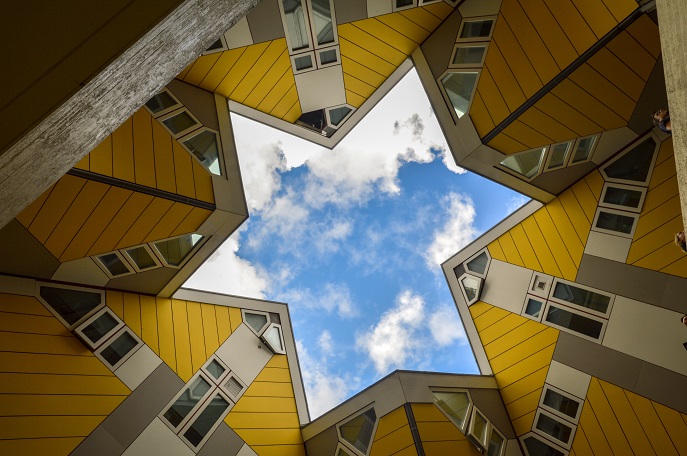 Rotterdam City Hall inner courtyard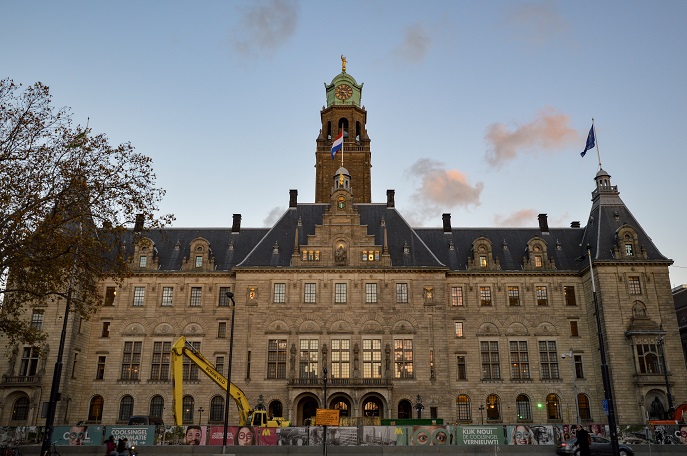 The Rotterdam Stadhius (City Hall) is great to look at from the front, but our favorite part of the building is the (somewhat hidden) inner courtyard. We're kind of proud of ourselves because we found this super peaceful and lovely spot on our first trip to Rotterdam all on our own! We wandered through an archway on a side street and found ourselves in another world. You can escape the hustle and bustle of the busy city and relax in the small outdoor courtyard. It's beautifully manicured, has a fountain and two impressive sculptures, and is surrounded by walls lined with ivy.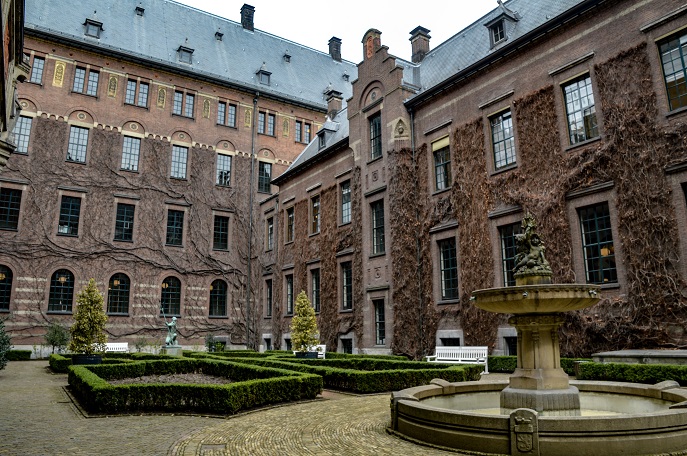 Leuvehaven, an outdoor maritime museum
Leuvehaven is one of a few small ports in Rotterdam. The Maritime Museum is located here, and though you have to pay to see its exhibits, there are plenty of cool things to see for free outside in Leuvehaven. There are old ships, giant cranes, reconstructions of trains, and a lot of information about the history of the port and the importance of the shipping industry in Rotterdam. It's both fun for kids and interesting for adults.
Rotterdam Tourist Information
We don't always visit tourist information shops when we travel. But we absolutely love the one in Rotterdam. First, it's located in one of the oldest buildings in the city. Schielandshuis is the only preserved building from the 17th century in the city. Second (and really our main reason for recommending it), it has a free exhibit all about the history and future of Rotterdam. It's really quite cool and something we'd never seen in a TI before. It's a great way to get a quick introduction to Rotterdam so we recommend visiting early during your trip.
Museum Rotterdam (first Saturday of the month)
If you're in Rotterdam on the first Saturday of the month, go visit Museum Rotterdam. Their permanent exhibit is fantastic, and will teach you quite a lot about the history and culture of the city. And they have unique temporary exhibits as well. There are two locations, but we like the one that's most central. It's located right off a hip street called Meent which has lots of stores and cafes, so you can easily pop in before or after you enjoy a fun meal or do some shopping.
Nolet Distillery Tour
So the Nolet Distillery is actually in Schiedam. It's its own city but is part of the Rotterdam metropolitan area, so we felt we could include it in this list. And we haven't seen too many free distillery tours (or any, really), so we think it's pretty unique. The Nolet Distillery has been in business, in Schiedam, since 1691. They started out making genever (jenever in Dutch). This Dutch spirit was actually popular worldwide before WWII, but then lost international favor and is now primarily loved locally. At Nolet, they pride themselves on using copper pot stills. Pot still number one has been around for centuries and is the inspiration for one of their brand names. They make Ketel 1 jenever for the local market and Ketel One vodka for the international market. We knew this brand well when we were vodka drinkers, but had no idea it was actually made in the Netherlands. These days they also make an award-winning gin, as well as some other new and interesting products.
The Nolet Distillery offers free tours for visitors every weekday. We asked our guide why. Apparently people often didn't believe that they were still distilling using their old copper still and so they invited people to visit the distillery to see for themselves. And if you look at the label on the back of their bottles, it does in fact say this!
Their tours are quite popular, and we had to wait a few months for ours, so we recommend booking well in advance. And we think it's worth the wait. We learned about jenever and the distilling process, as well as some history about Schiedam and the Nolet family. The tour was quite extensive (and lasted several hours), walking us through the entire process that goes into distilling and bottling and shipping out a bottle of their product.
Do you know of any other free things to do in Rotterdam? Share them in the comments!
Like this post? Pin it!