Trieste is a unique Italian city. It's located near the Slovenian border and has Austrian influences as well. We first visited Trieste two years ago and fell in love with its architecture, food, and overall relaxed atmosphere. So this year, we decided to pay it a repeat visit on the way from Vicenza to Ljubljana, Slovenia. Over the two trips, we spent a total of five days in Trieste, and even though we'd love to spend more, we feel like we got to know it pretty well. So without further ado, here is our…
Ultimate Trieste city guide
Piazza Unità d'Italia
The Piazza Unità d'Italia is the heart of Trieste. It's considered the largest sea-facing city square in Europe, which is kind of a funny distinction. Lined with massive, ornate white buildings on the three non-sea-facing sides, we think it's definitely one of the most beautiful.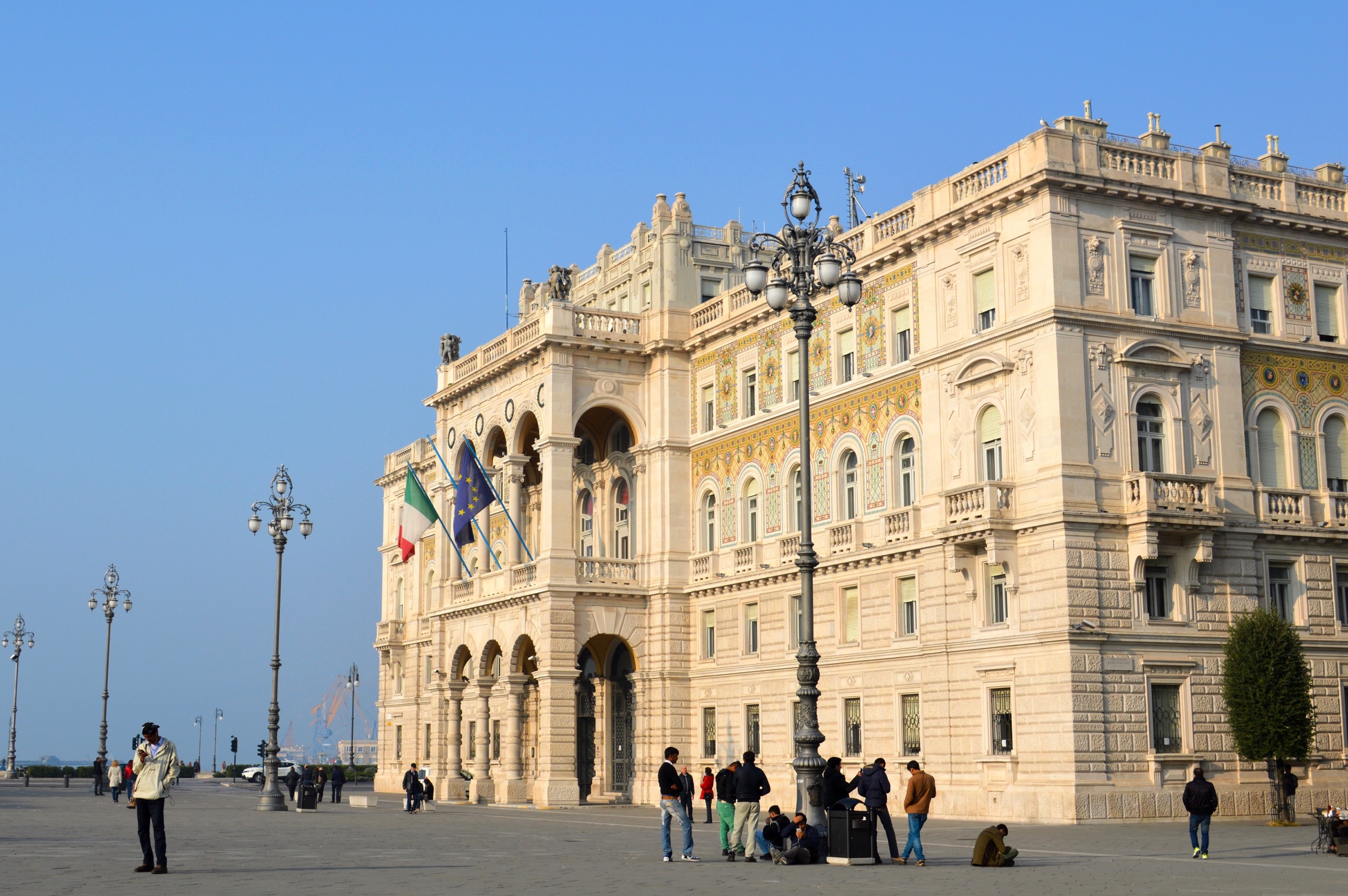 There's a pier leading out into the sea from the piazza, which is a great place to watch the sunset and take in views of the rest of the city.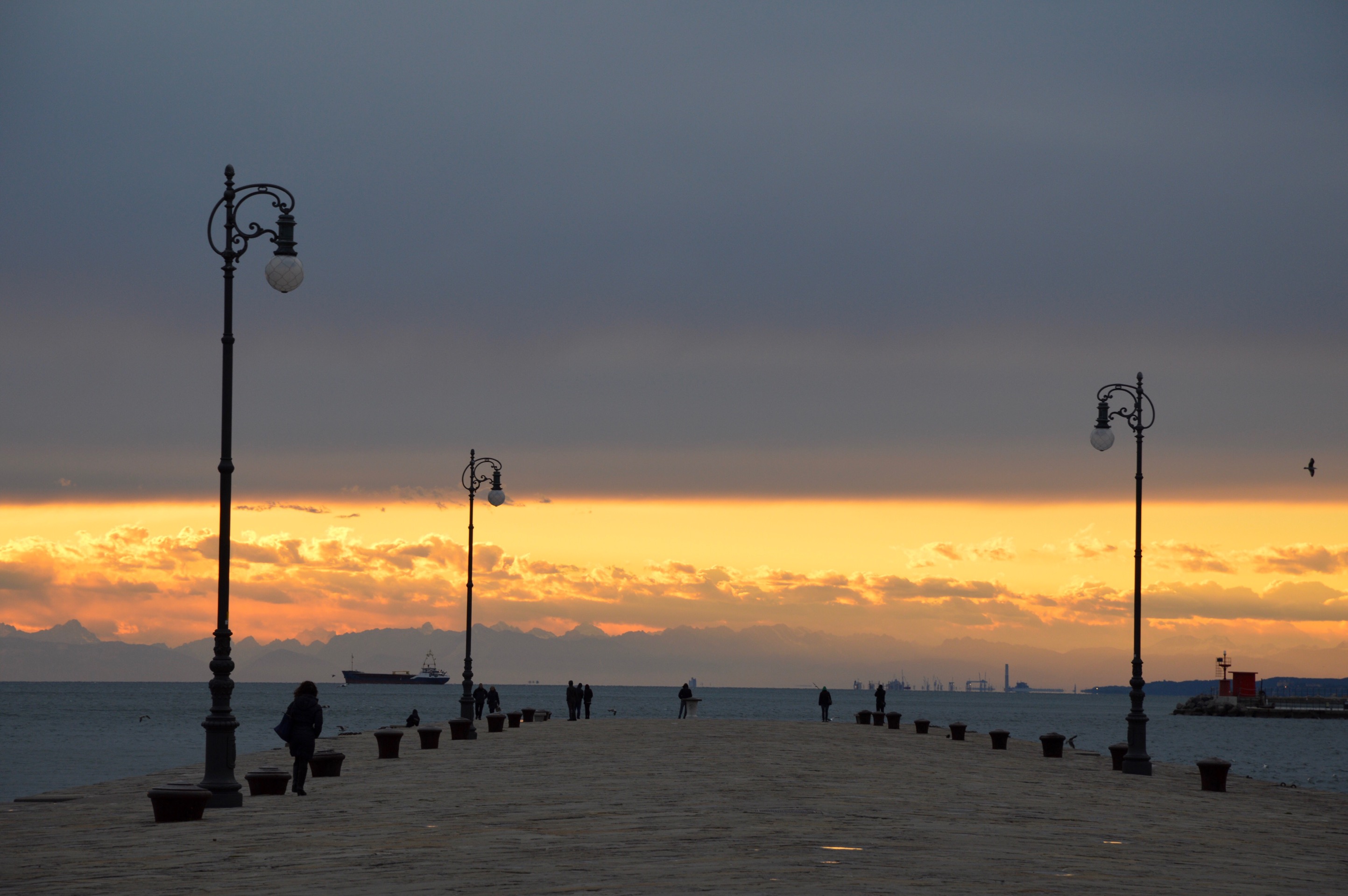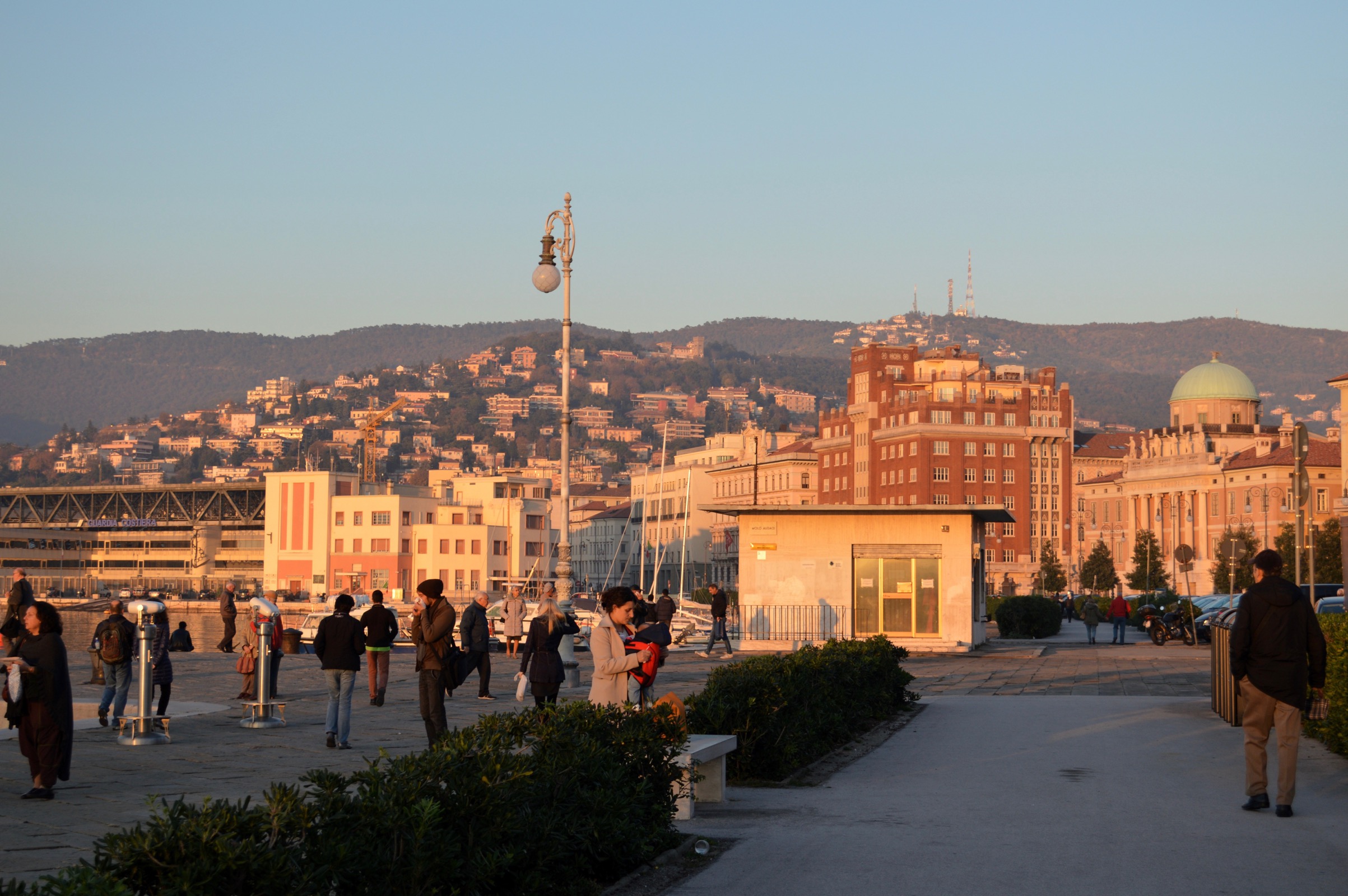 Teatro Romano
Right smack in the middle of the city are the ruins of an ancient Roman amphitheater (Teatro Romano). The theater is set just a couple blocks back from the Piazza Unità d'Italia, and at the bottom of San Giusto hill. It's a really cool, easy must-see in the city.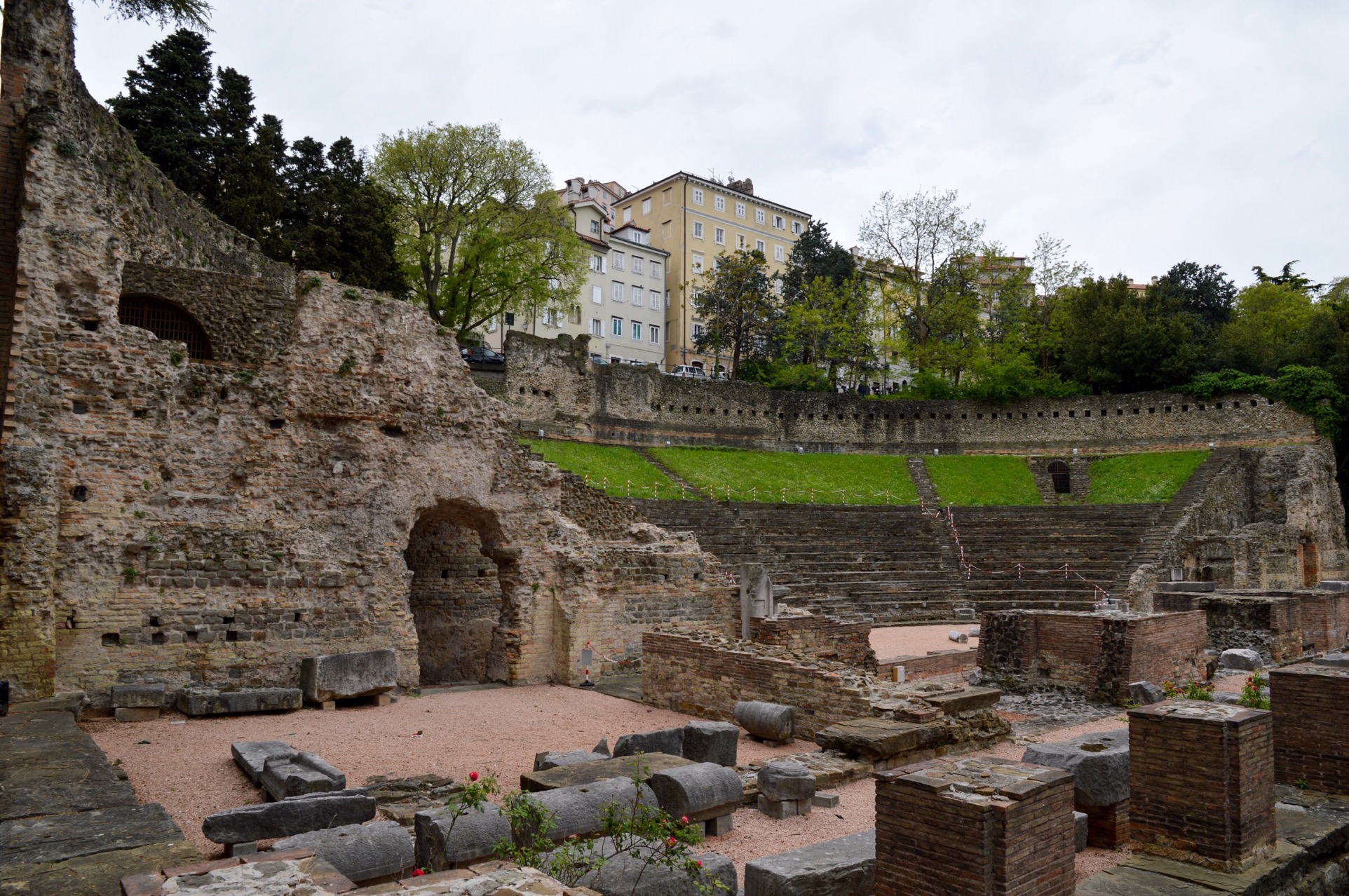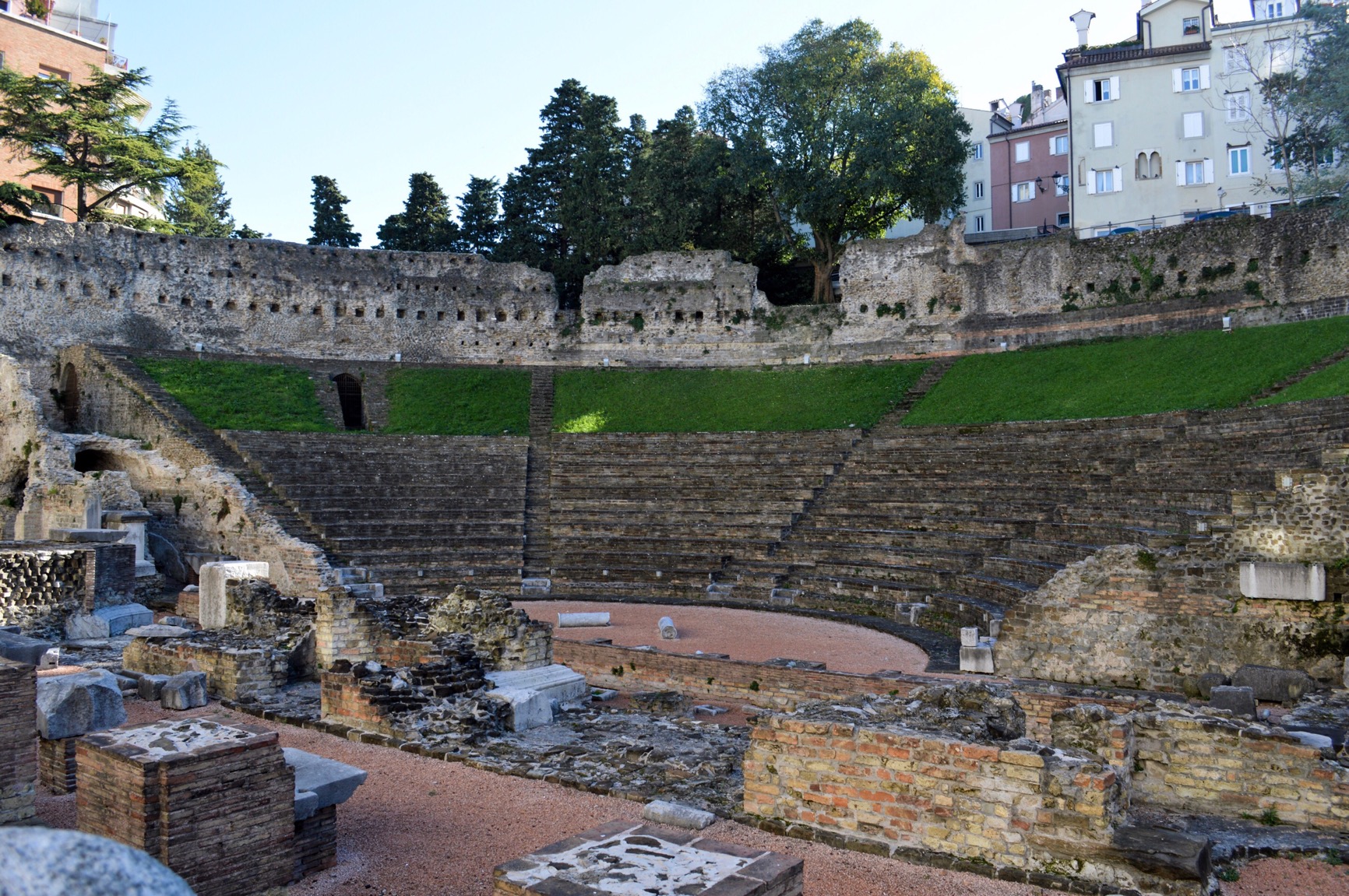 San Giusto Castle and Cathedral
There are more Roman ruins, and more incredible views, to be seen from the top of San Guisto hill. We took public bus 24 up to the top to see San Guisto Castle and San Guisto Cathedral and walked back down (catching a view of the Roman theater in the process). The Roman ruins and the view of the city from the top (even though it was a bit foggy) were the highlights. The armory inside the castle was pretty cool too.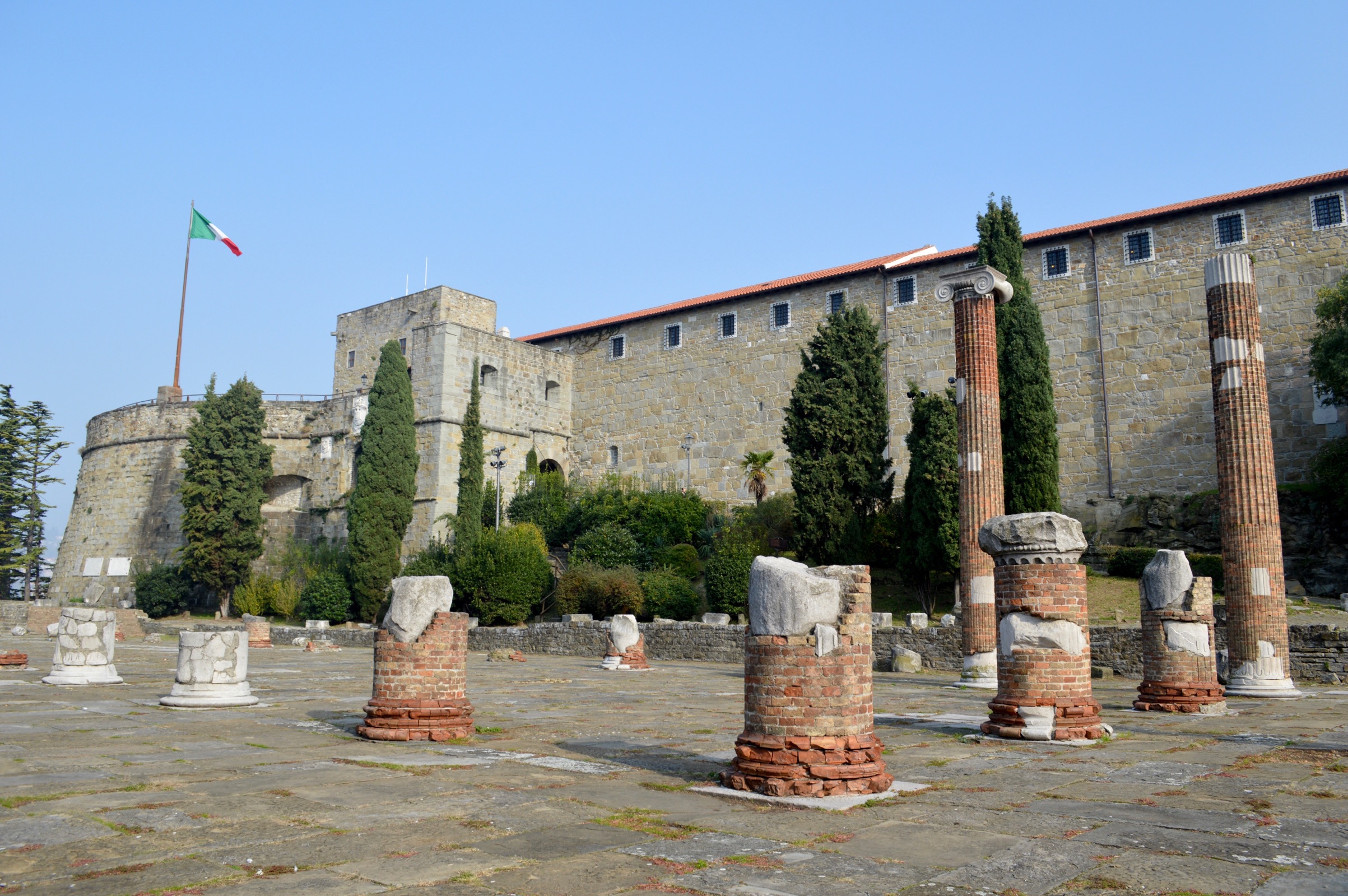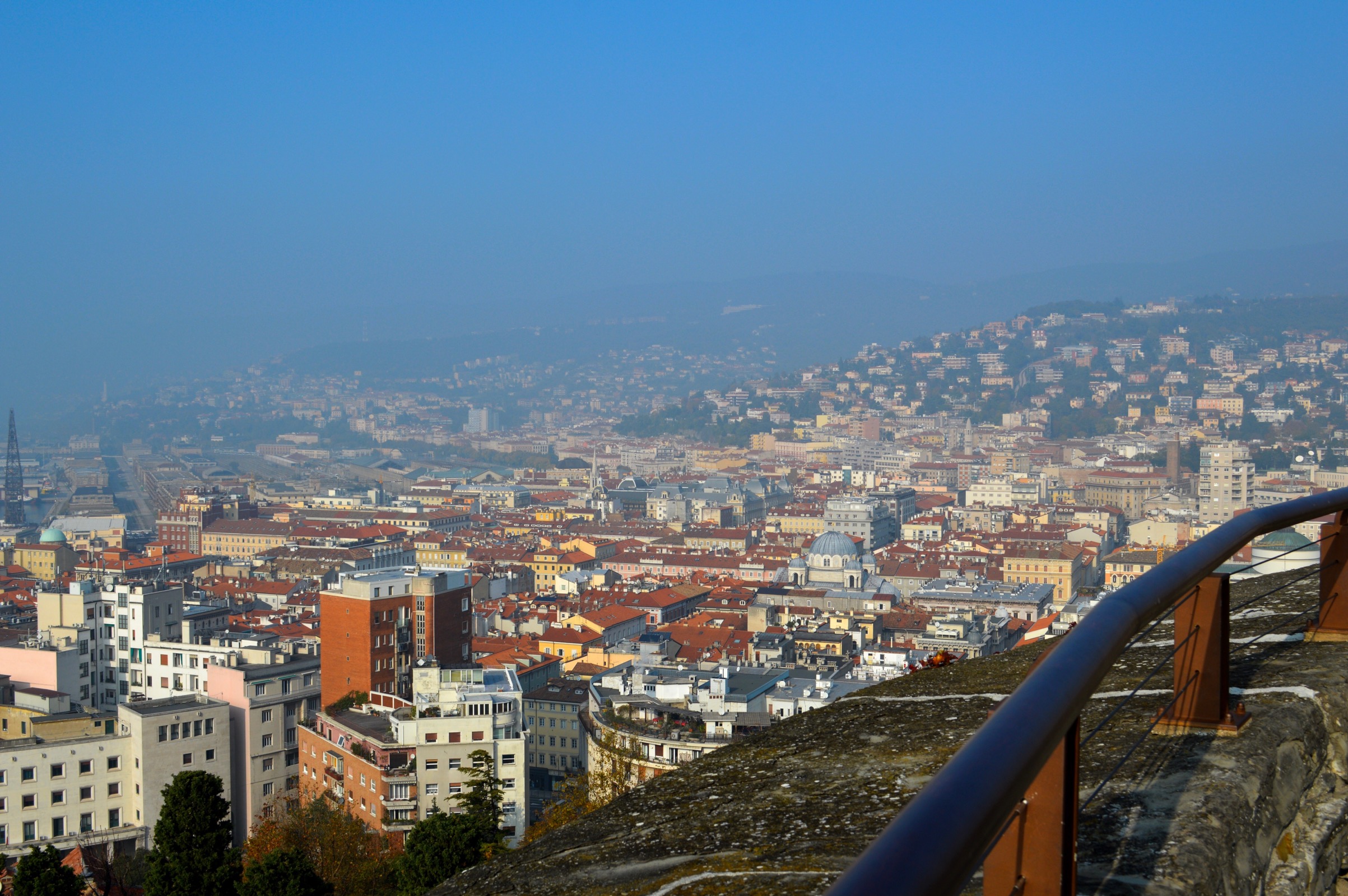 Miramare Castle
Just outside the city is Miramare Castle. And it's absolutely, definitely, 100% something you want to see on a trip to Trieste. You can take the train, but we took the public bus (6 or 36) instead. The castle is surrounded by a forest, which we walked through.



The castle itself is gorgeous. We visited in November, and the fall colors contrasted beautifully with the bright white castle.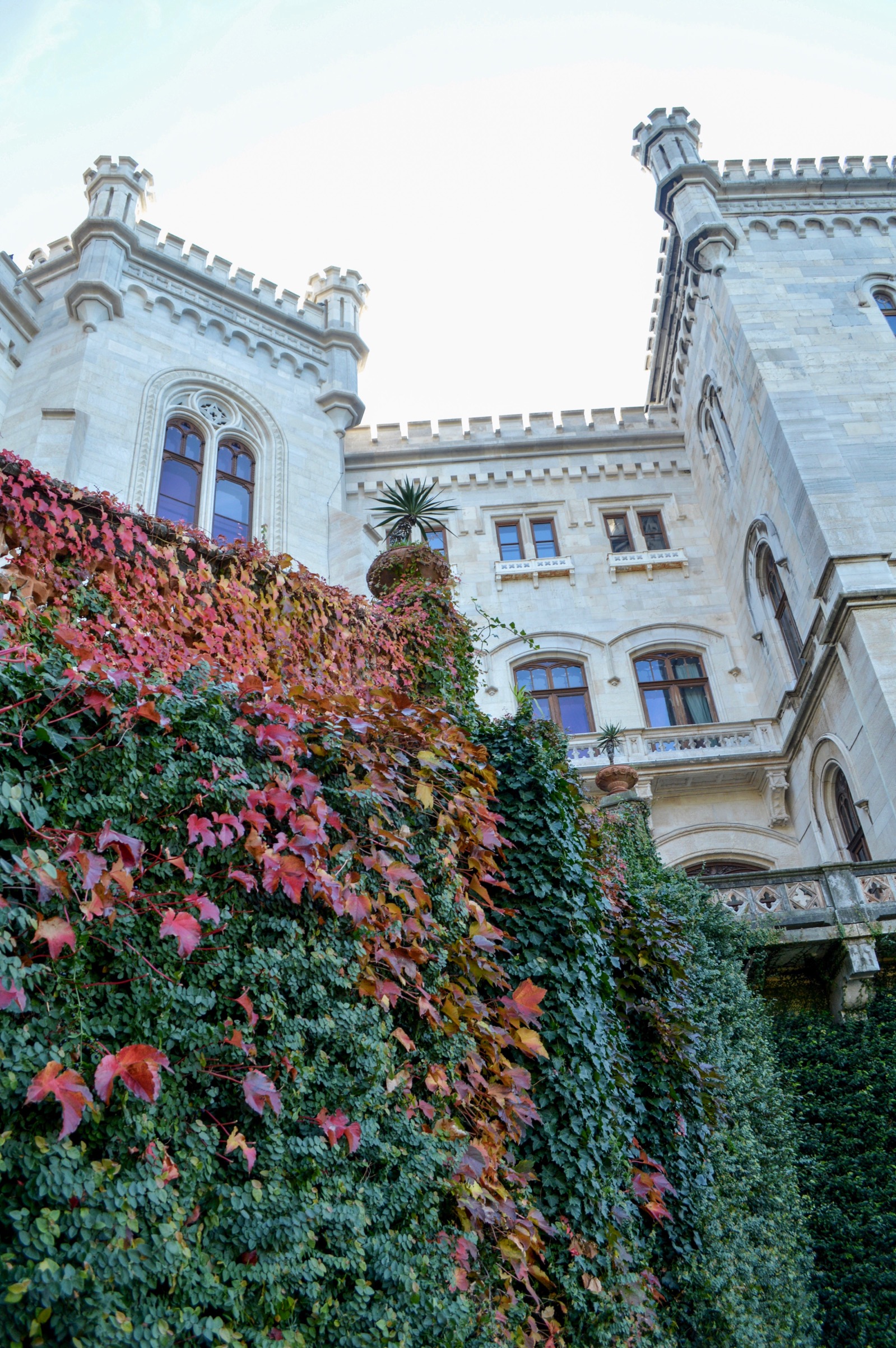 The castle is set right on the water, so the grounds are lovely and peaceful.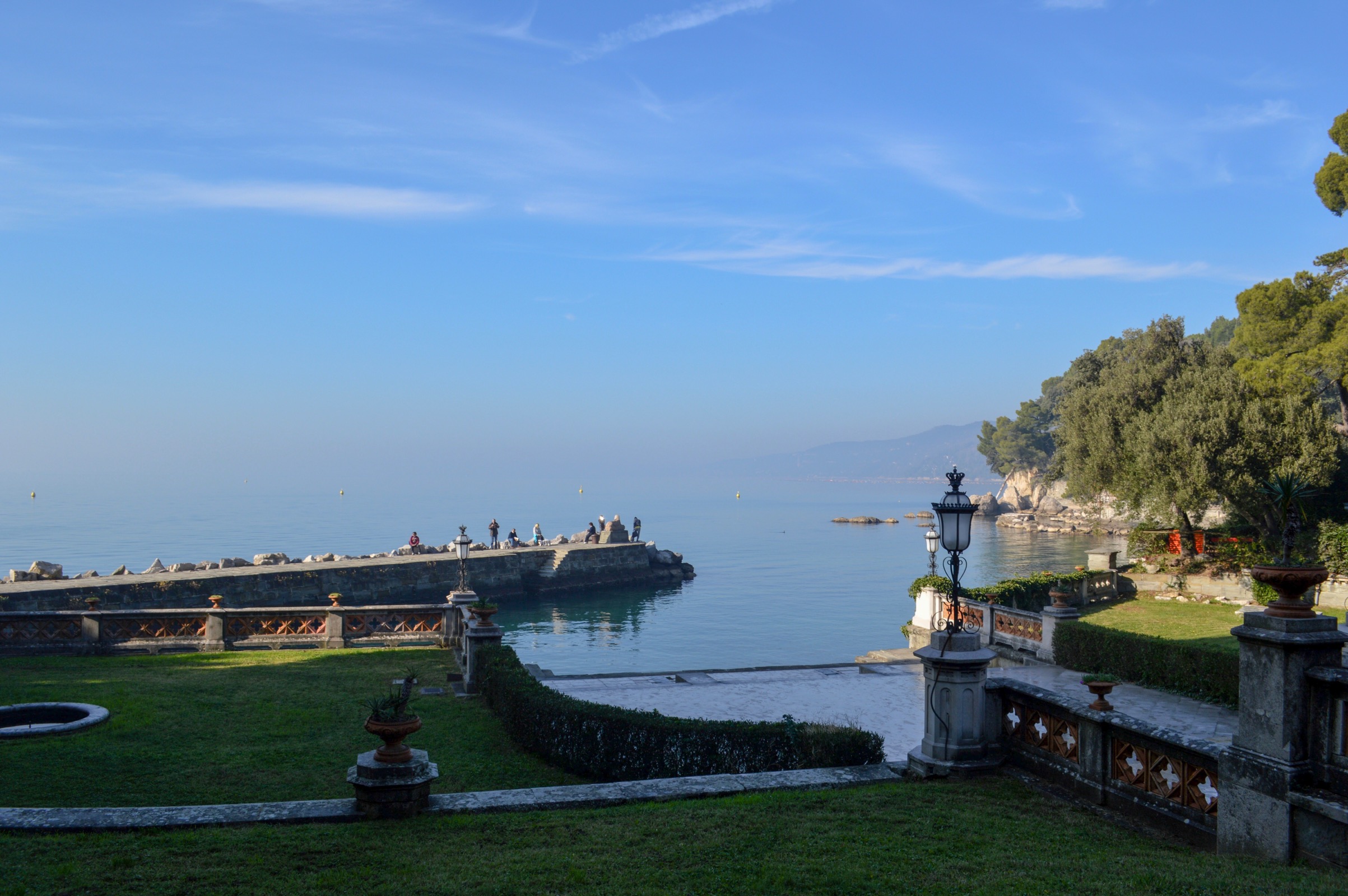 On the walk down to the main road from the castle, you can enjoy some really great views as well.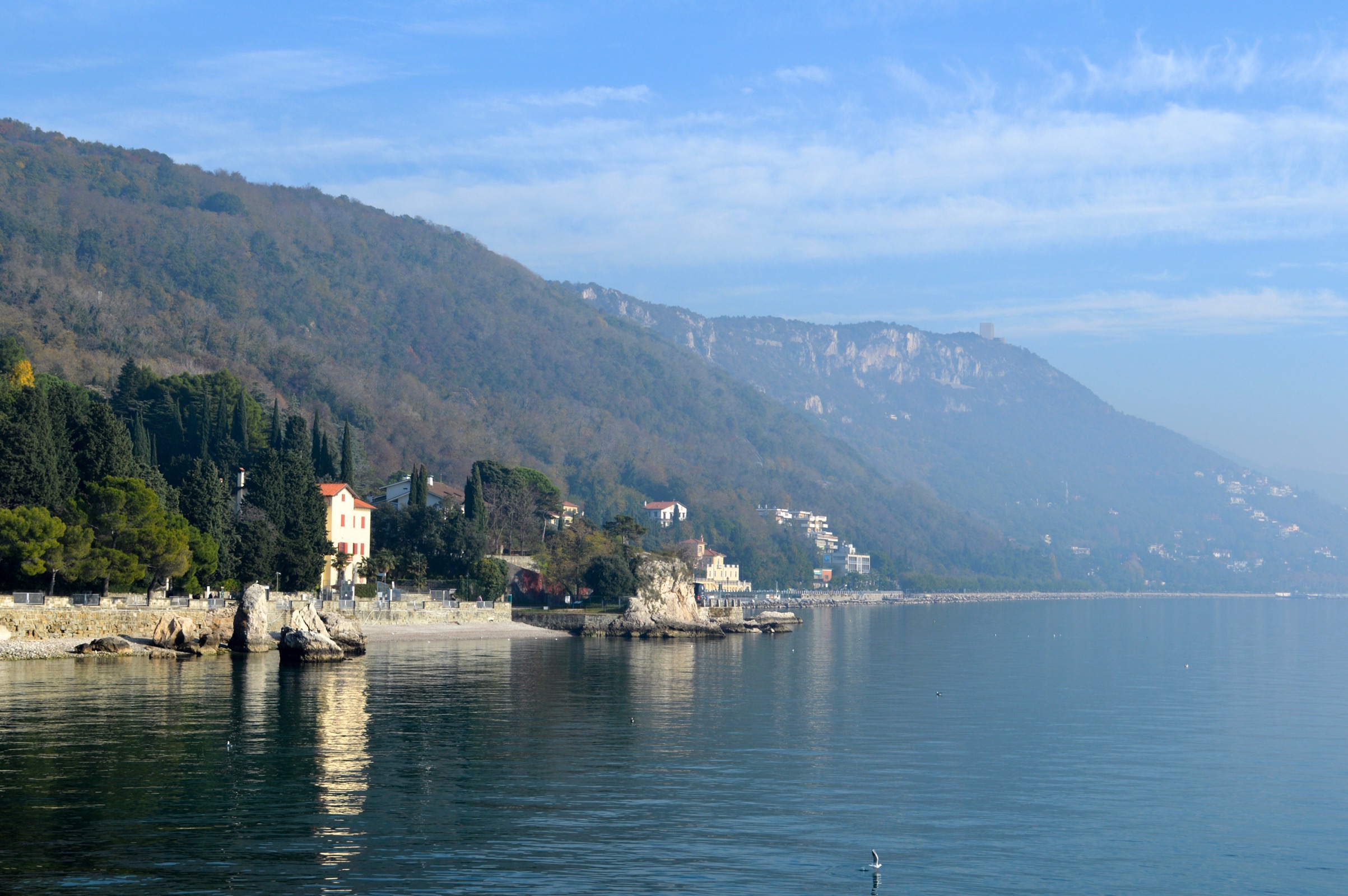 Opicina
Another short trip out of the city is to Opicina. When we visited two years ago, we took tram 2 (which turned into a funicular at its steepest stretch) to the Obelisk stop. Unfortunately, when we visited this year, the tram was closed, and we're not sure when it will reopen. But there is a bus you can take there instead. Once you get to Opicina, there is a lovely view of the city. And there's a walk you can take to Prosecco.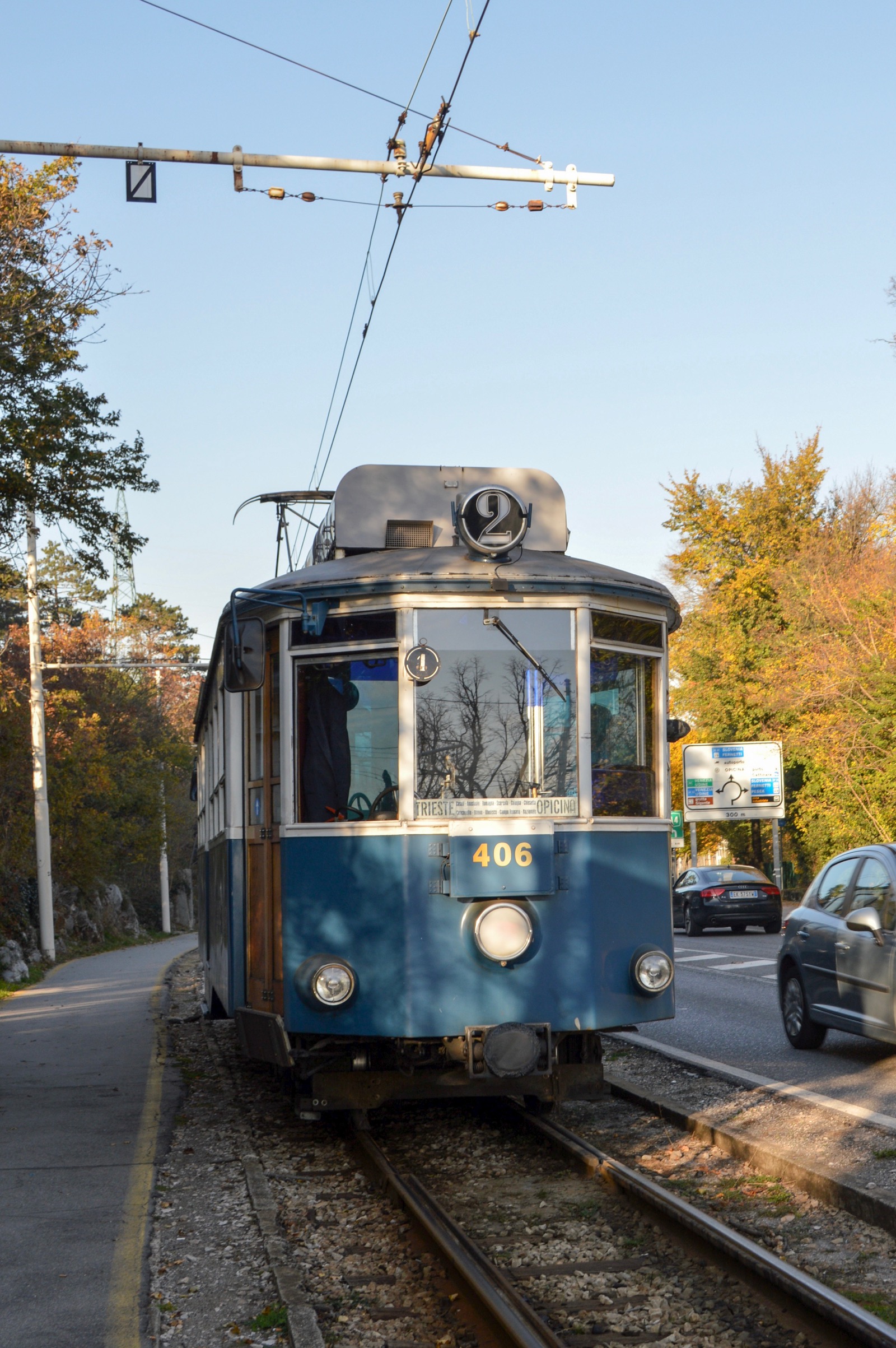 Canal Grande
Back in the city center, is a big canal called, fittingly, Canal Grande.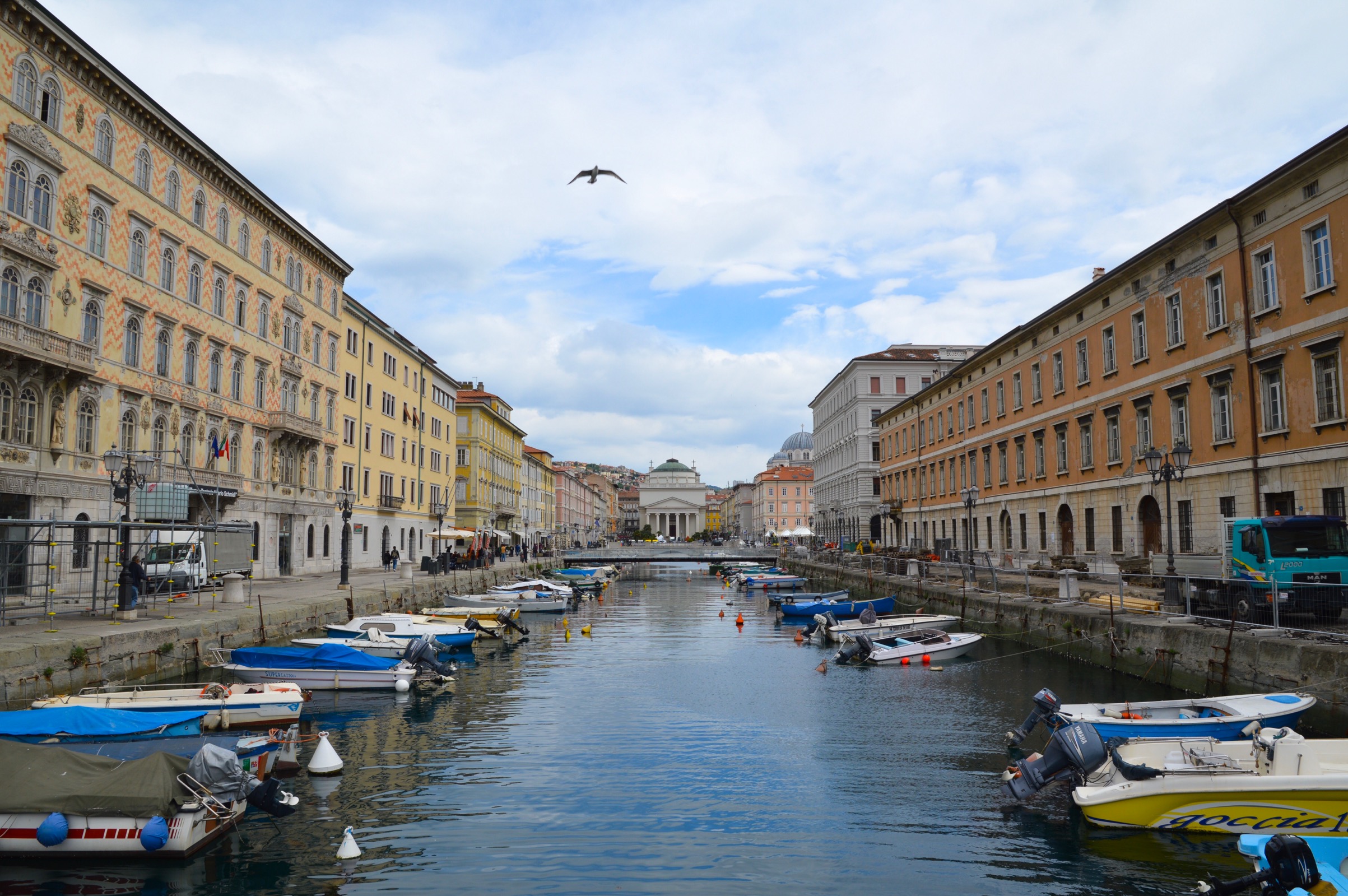 At the end is the impressive Church of Sant'Antonio Taumaturgo. It stands behind a piazza of the same name, which often hosts food markets. Along the way is also the beautiful Serbian Orthodox Church, the Temple of Holy Trinity and Saint Spyridon. And on the Ponte Rosso, is the famous statue of James Joyce, who spent more than 15 years living and writing in the city.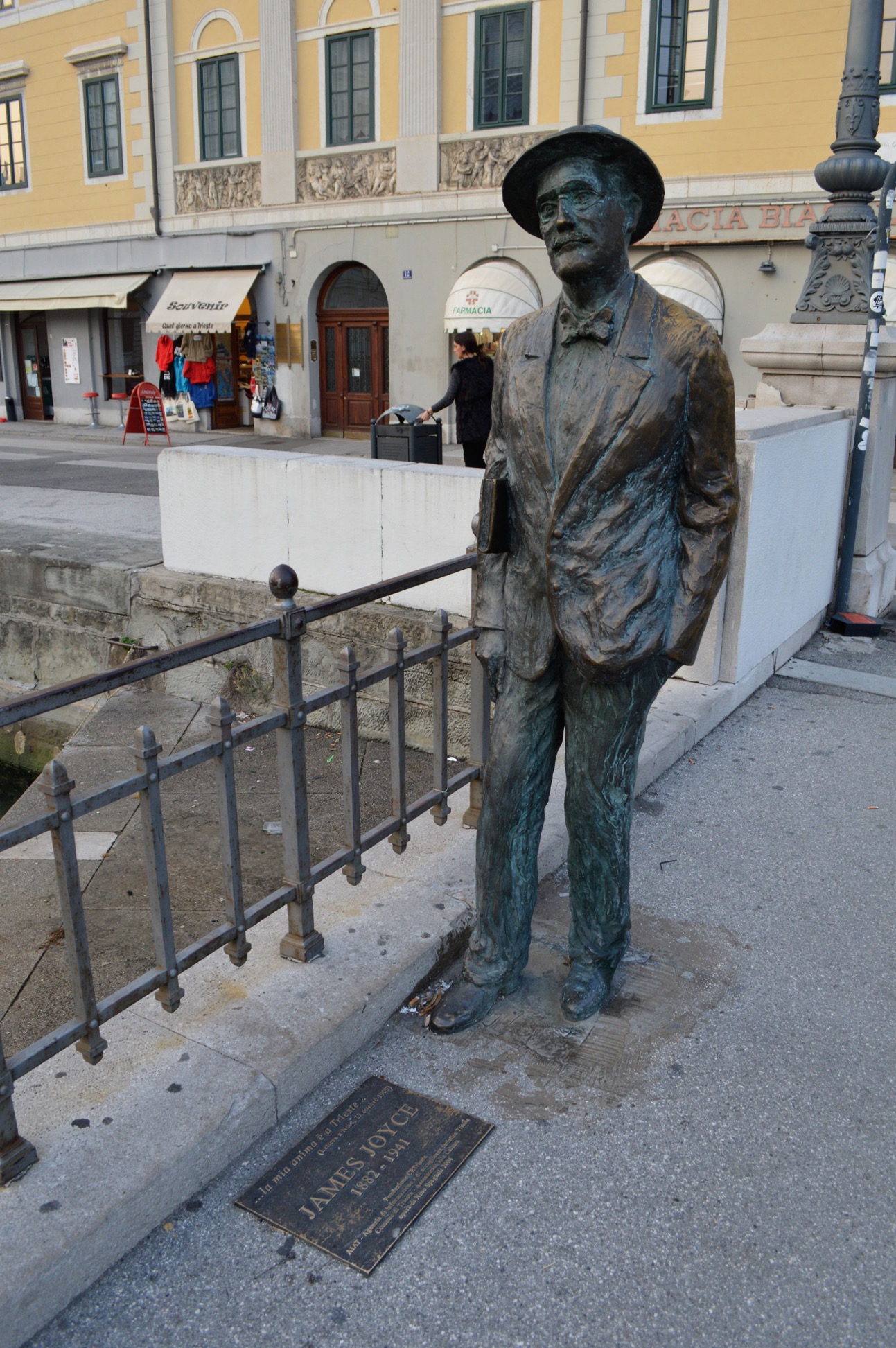 Revoltella Museum
The Revoltella Museum is half 19th century palace, half modern art museum. It's a really interesting place to visit and there is an extraordinary amount of art present. You could easily spend several hours there.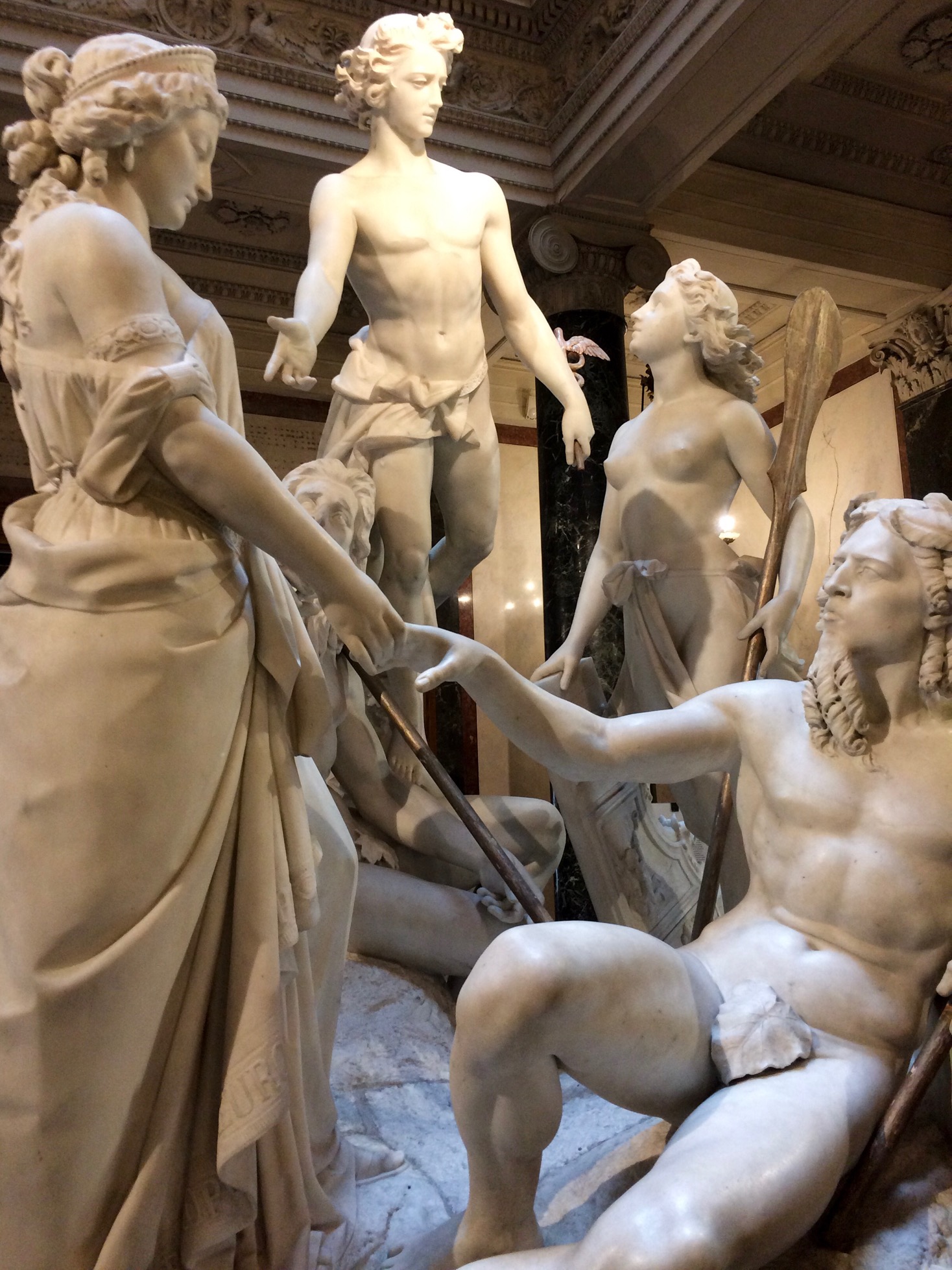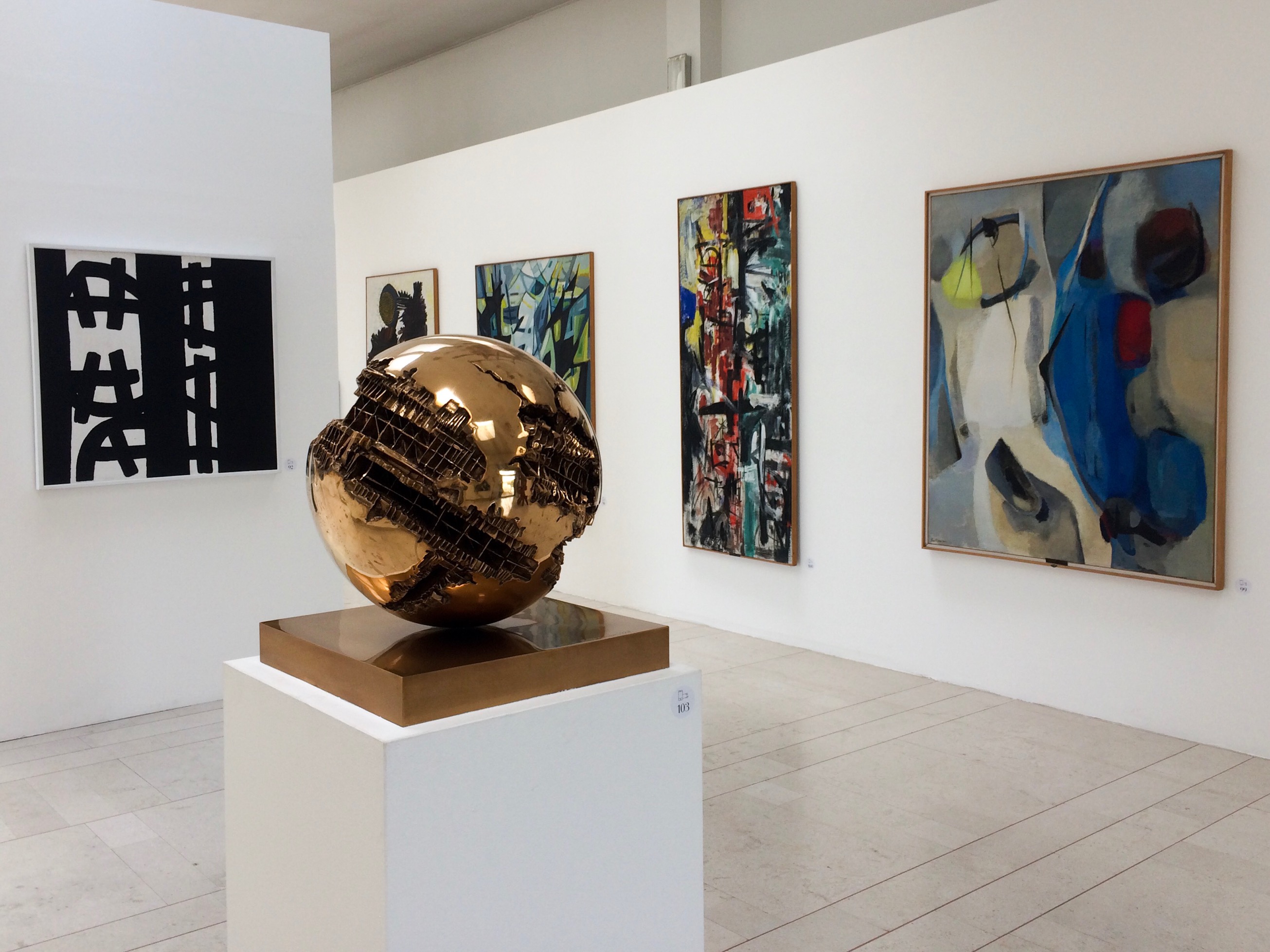 The museum also has a nice outdoor space with great views where they serve aperitivo.


Walking and wandering
We usually make it super clear in our blog posts – we love just walking and wandering around cities. Trieste is a great place to do that since it offers quite a variety of things to look at. There's the water, with its gorgeous, relaxing views (especially at sunset).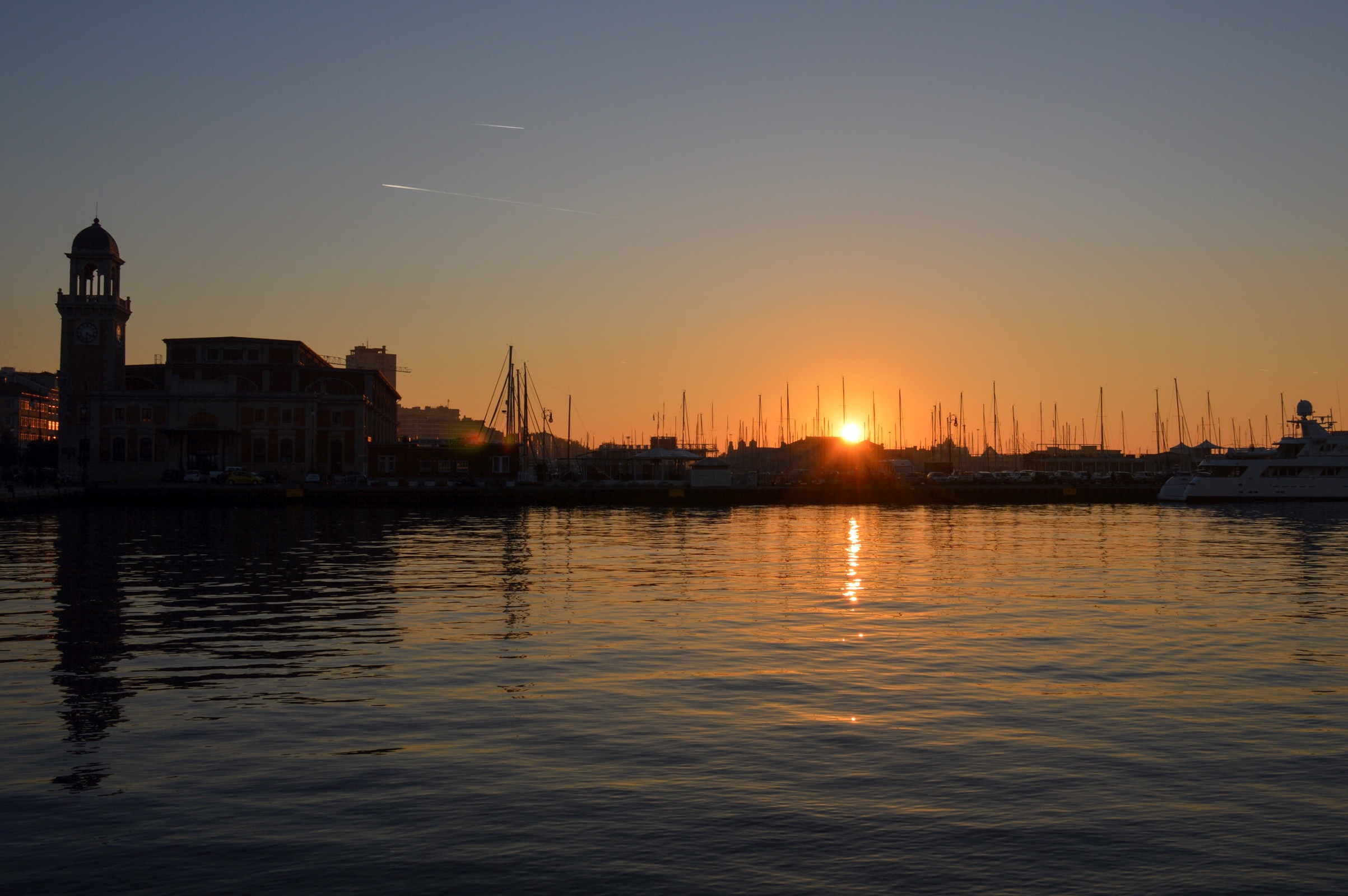 There are hills all around, so just a peek down a side street can offer an interesting perspective.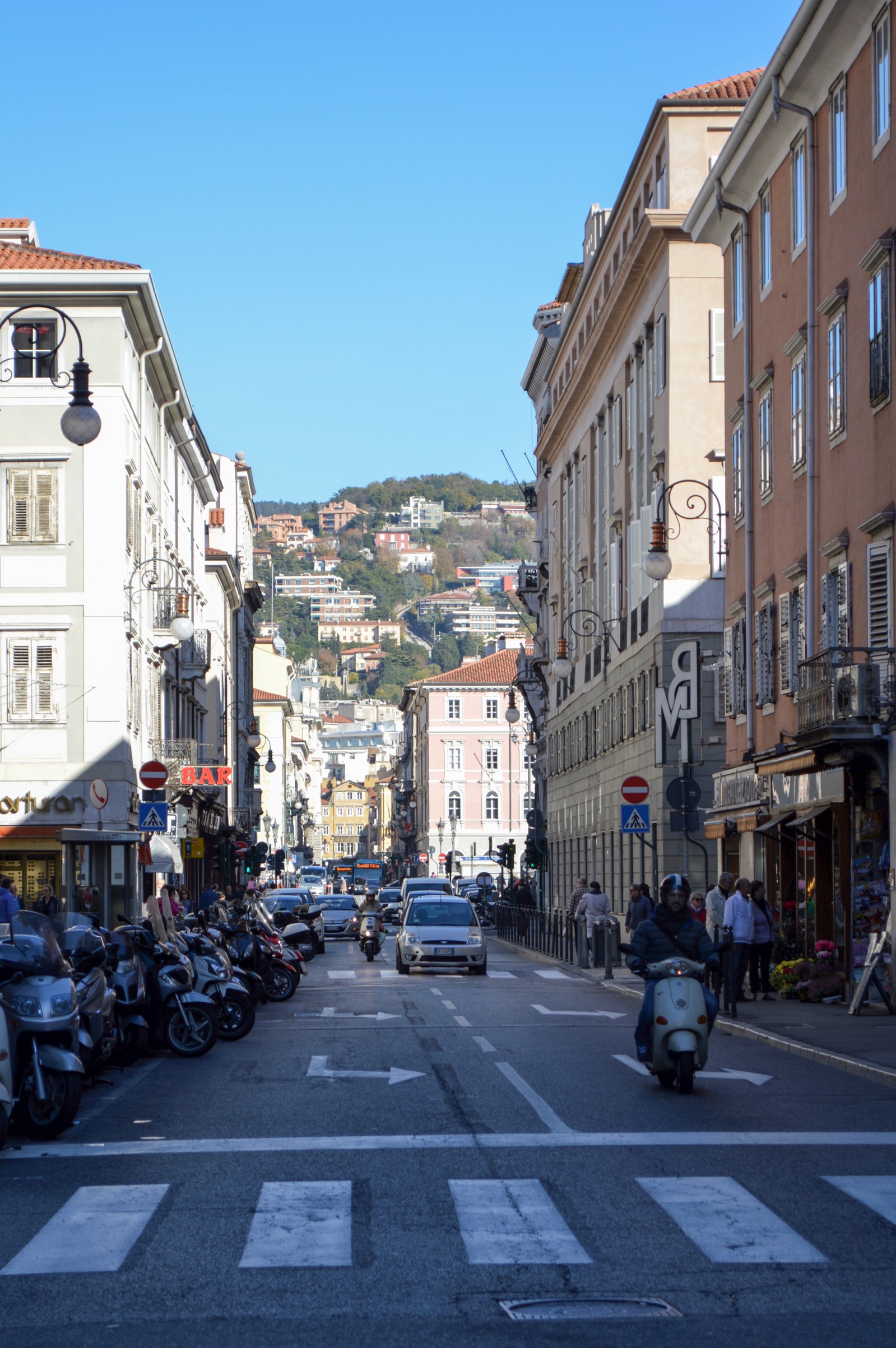 There are also really big beautiful buildings you may not expect.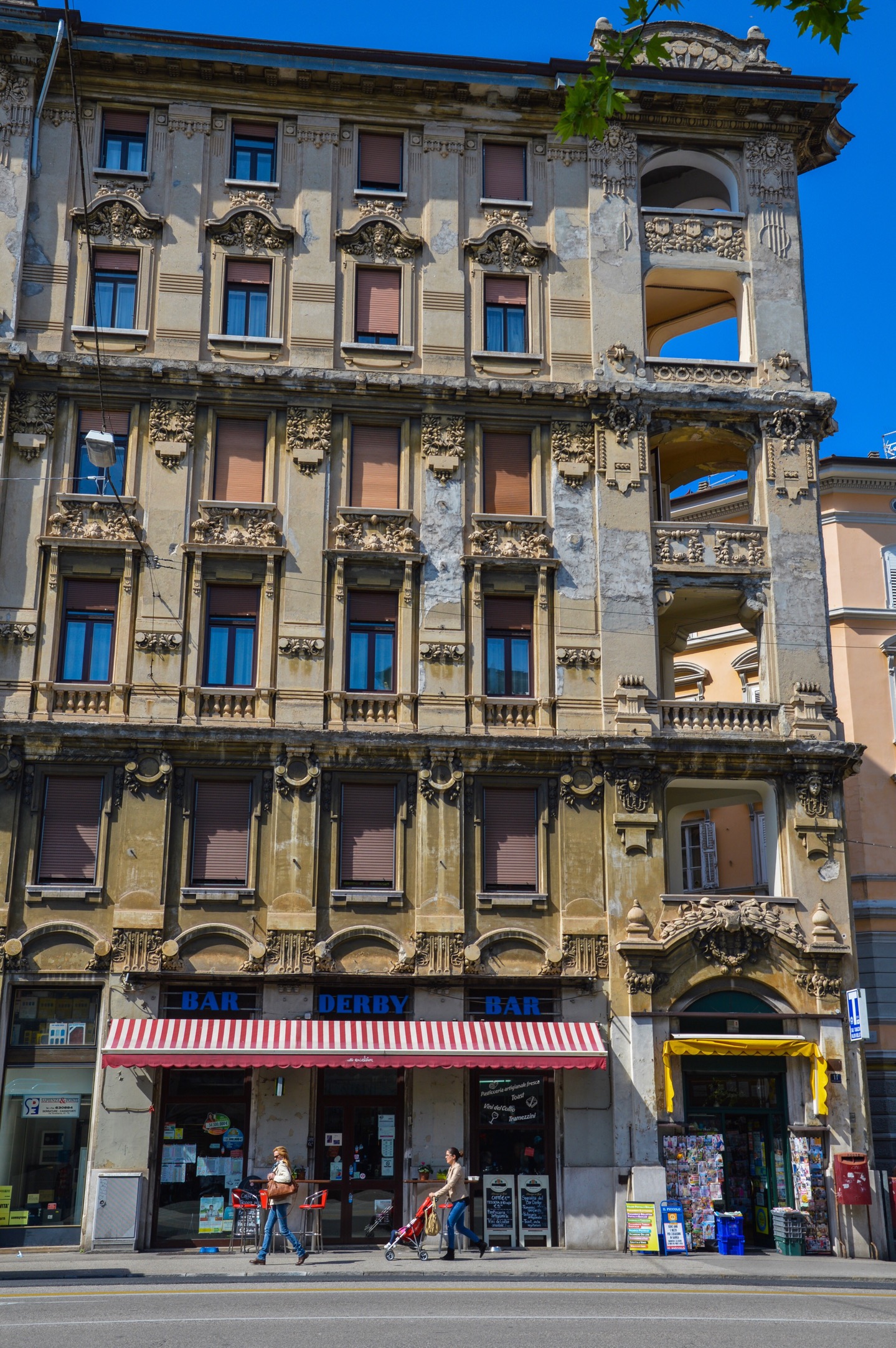 The feel of the city is very different from other Italian cities we've visited, but that's what makes it unique and why we love it.
Eats and drinks
When we visited Trieste for the first time two years ago, it was as part of a Northern Italy trip where we visited four other cities, including Bologna. Bologna is known for its food, but our most delicious, memorable meal was at a small restaurant in Trieste.
Baracca E Burattini is a homey, laid back restaurant with amazing food. Of course we returned this year and weren't disappointed. Our favorite dishes on their menu are the fried zucchini flowers served with prosciutto and mozzarella and their homemade pastas. Memorably, two years ago, we had a lasagne with pumpkin.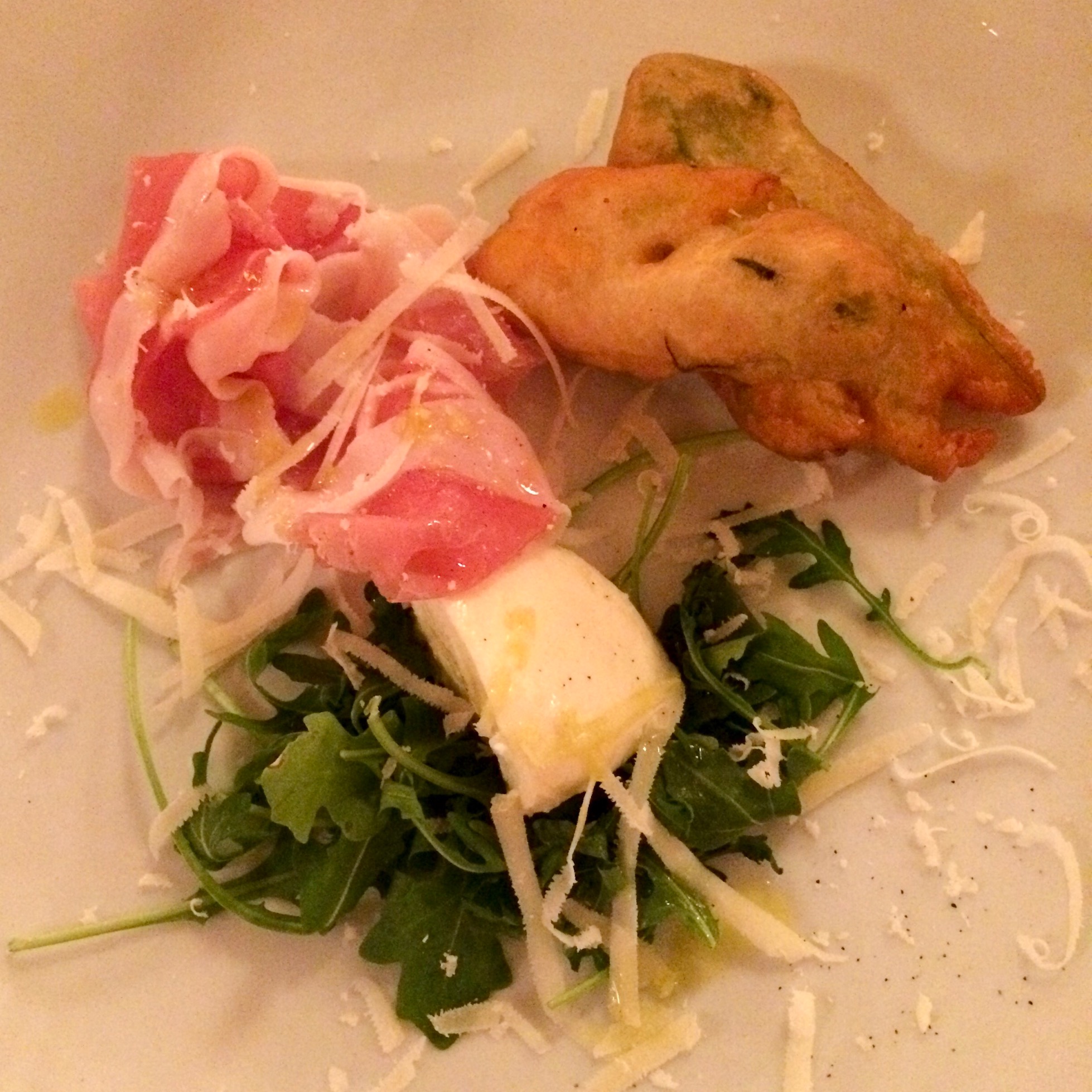 Trieste is also known for its buffets, which have an Eastern European influence. This last visit, we had a great, big, ridiculously cheap meal at one of them.
Siora Rosa is in guide books and recommended by most hotels, so it gets busy, but it's the opposite of touristy. The staff is really friendly and helpful since there are so many different things to order. Our plates were filled with vegetables, heavy delicious pasta, and ham that reminded us of Prague.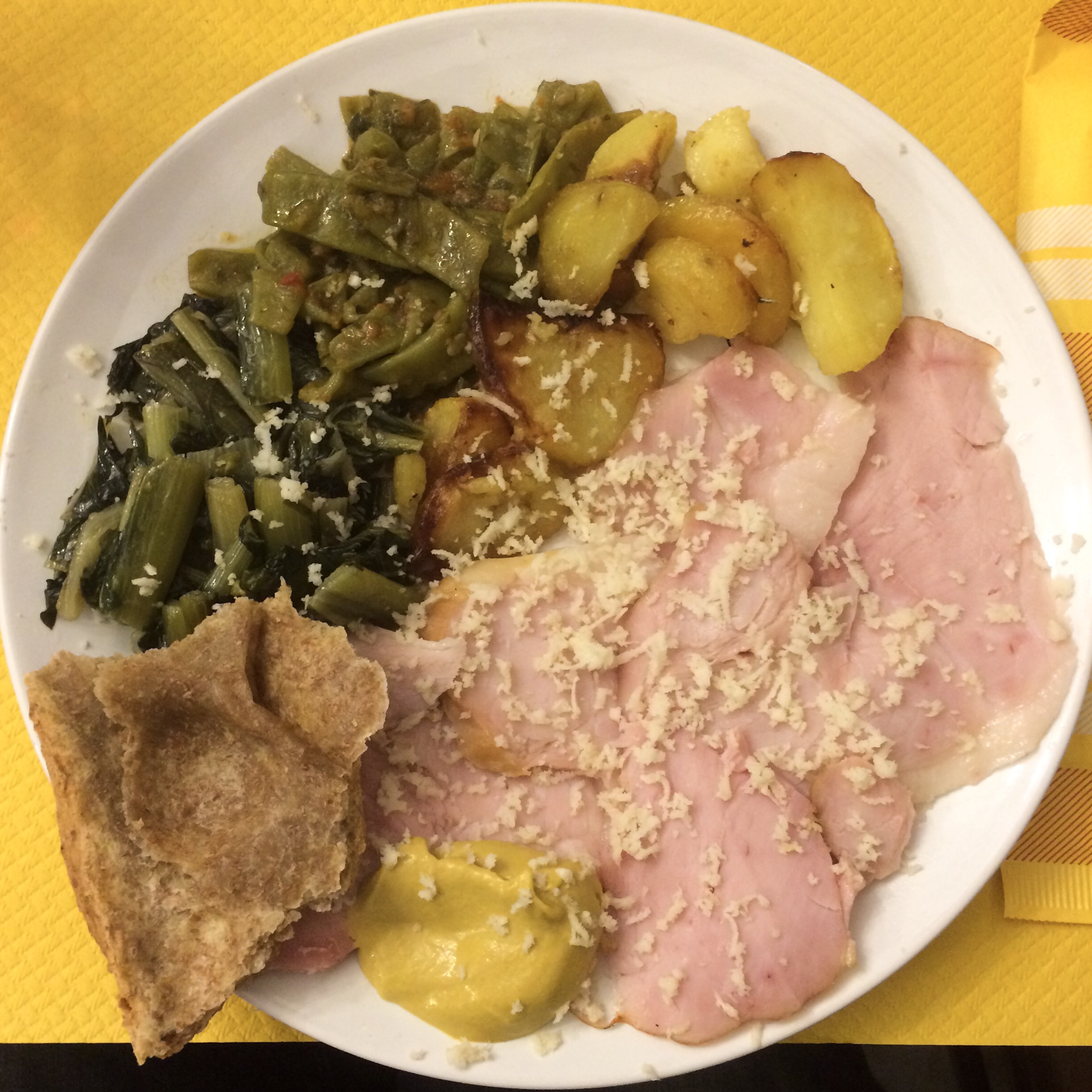 Given its position, Trieste is also known for its fish. We didn't go to any of the more famous spots, but did enjoy some seafood dishes.
Osteria Marise is a more modern restaurant with a variety of food including homemade pastas and delicious seafood.
There are a gazillion gelato shops throughout Trieste. Our favorites are:
Gelateria Marco: behind the Piazza Unità d'Italia, near the Roman Theater.
Gelateria Zampolli: close to the main train station, with a ridiculously large selection.
Trieste is in the Friuli-Venezia Giulia wine region of Italy. We think these wines are pretty delicious. While we didn't have the chance to do any wine tasting outside the city, we didn't feel like we missed out too much given all that's on offer in the city's restaurants.
Gran Malabar is the best place in Trieste to try local wines – especially during aperitivo. We did our wine tasting here, along with really yummy slices of meats and cheese, as well as olives. It's a super local spot, with everyone just hanging out, chatting and enjoying the wine.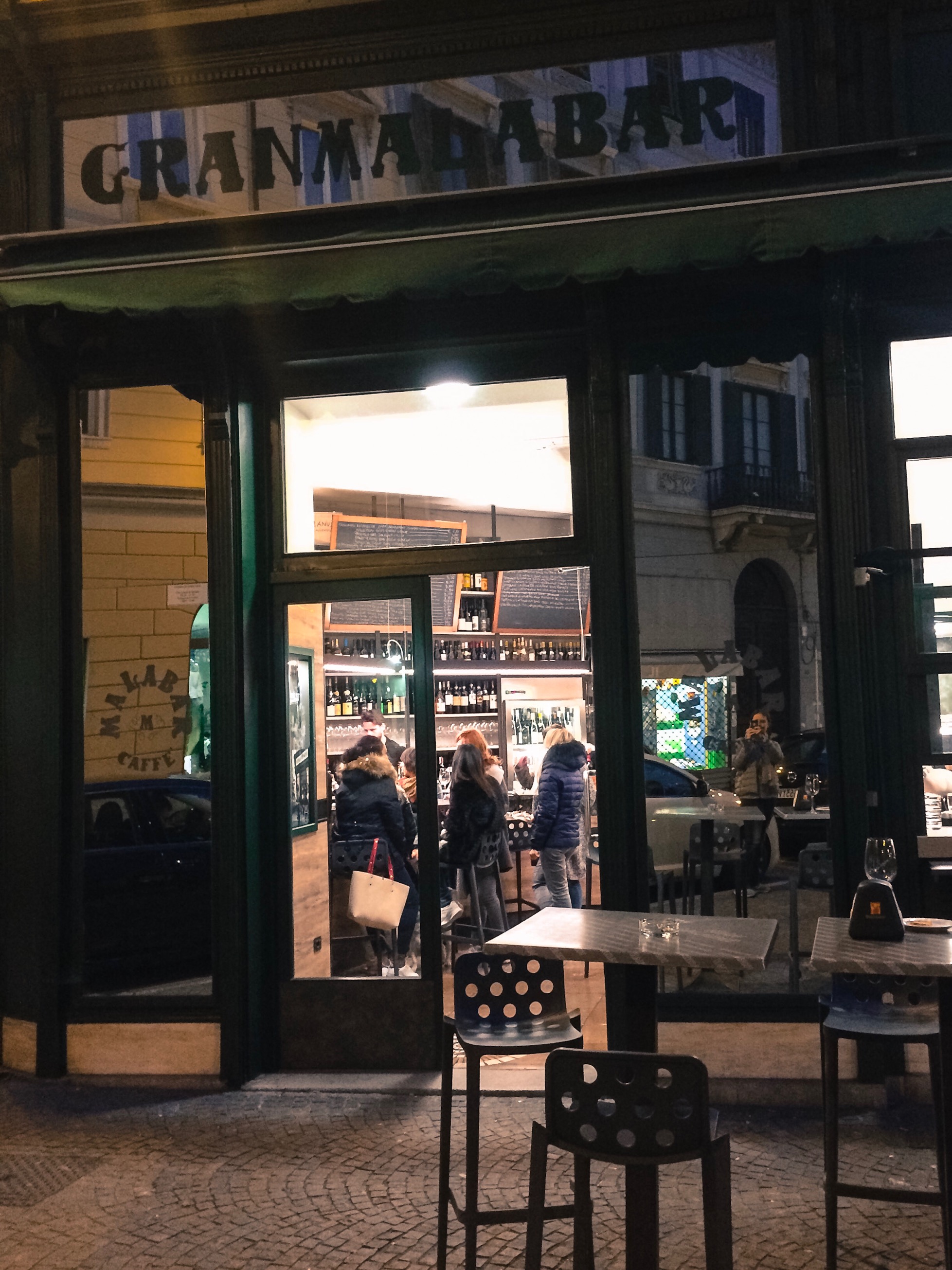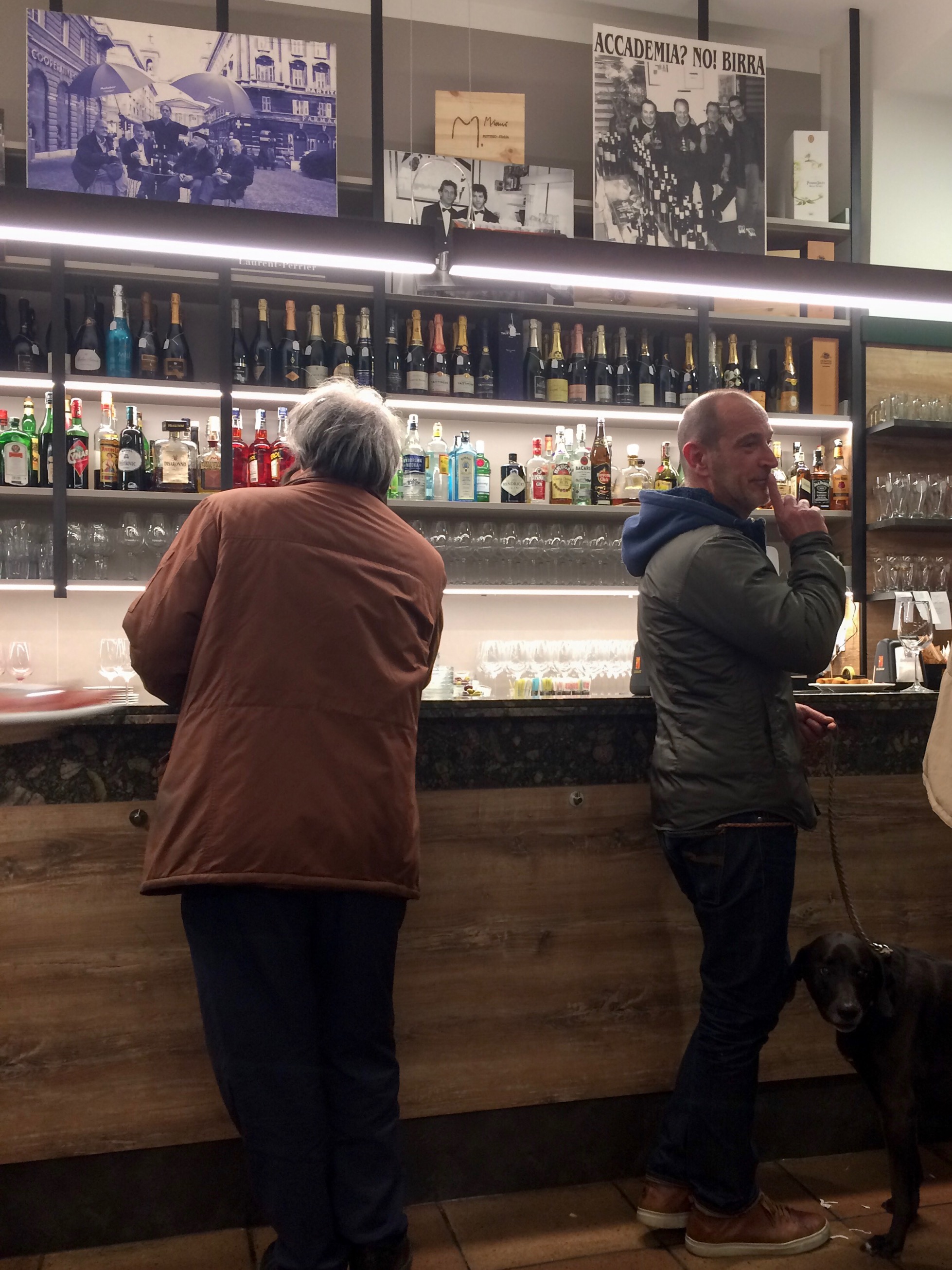 If you want to enjoy a spritz or something else with your aperitivo, you can hit up one of the bigger spots near the Piazza Unità d'Italia or make your way over to the Old Town (Città Vecchia). It's a cool area to explore with its small winding streets, pretty buildings, and in some places, no cars. There are a ton of bars to just pop into for aperitivo, so walk around and see what appeals to you!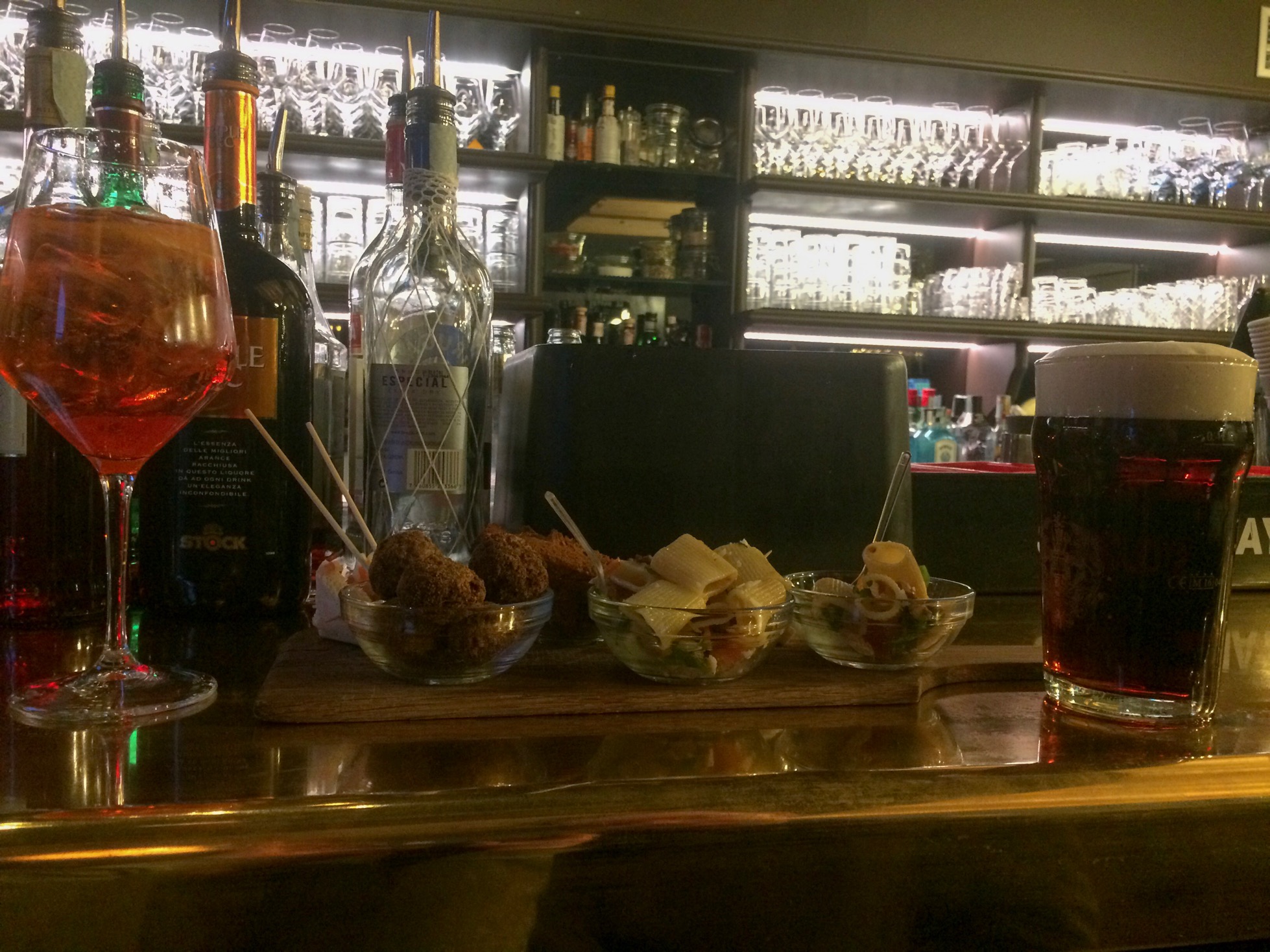 Our number one, can't miss spot in Trieste, however, is… a beer bar. We said Trieste was a unique place!
Mastro Birraio is one of the best beer bars we've been to in the world… and given the amount of time we've spent in the Netherlands and Belgium, that's saying something. The owner, Daniele, is a super friendly guy who loves giving recommendations (for beer and his city!). They have an awesome selection of bottles from all over the world. And only on tap, he features a local brewery, Zanna, which has beers made from Slovenian hops. It made such a big impression on us two years ago we couldn't wait to return this trip.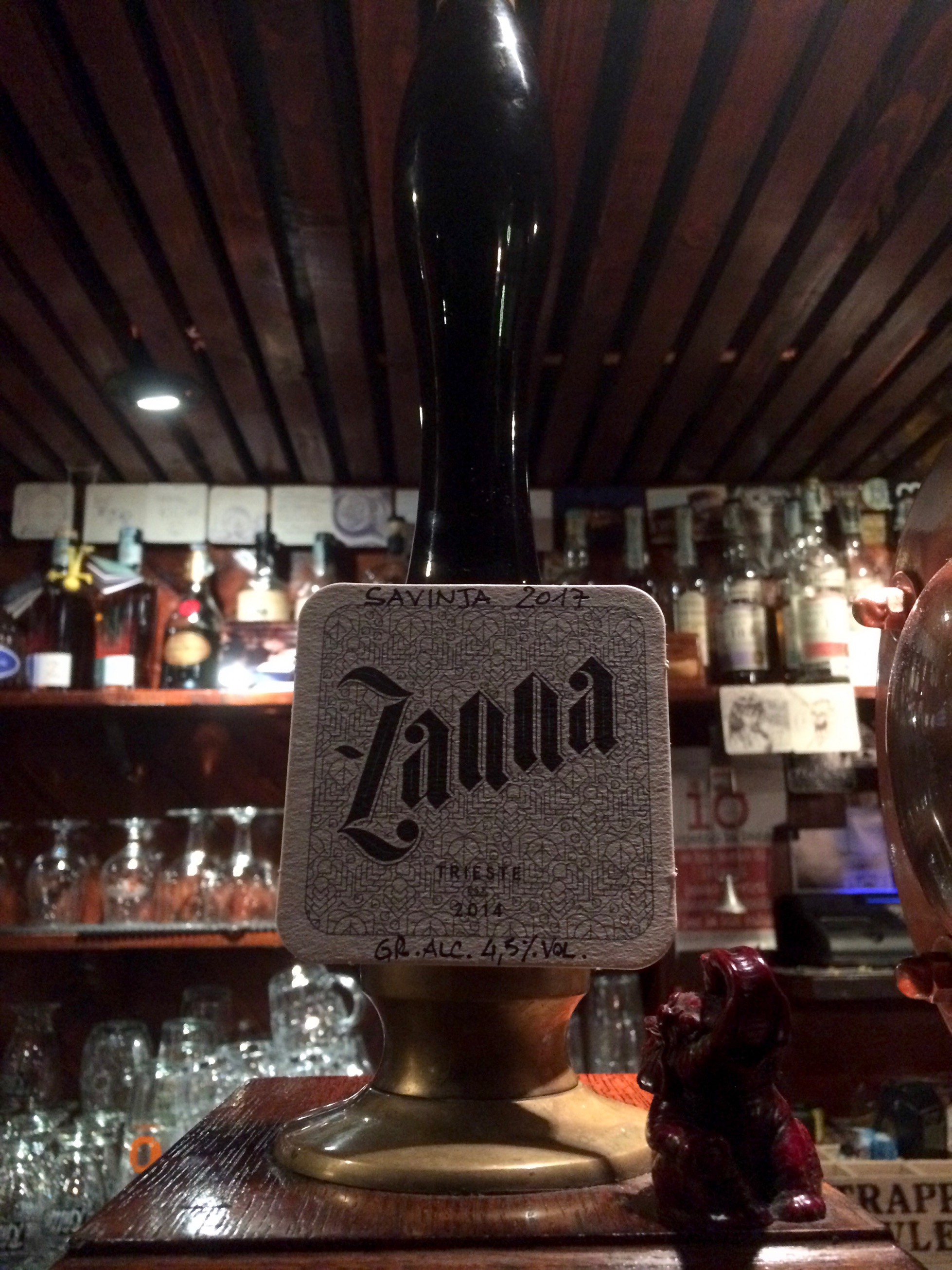 Where to stay in Trieste
When we first visited Trieste, we decided to spend the money to stay at the most centrally located hotel, the Savoia Excelsior Palace, which is right next to the Piazza Unità d'Italia. We had a big cushy room, with its own atrium! The breakfast buffet was massive and absolutely delicious and, as we ate, we were treated to a view of the water through the breakfast room's floor to ceiling windows. We paid about $130 per night and definitely got more than our money's worth.
This year, however, we were operating on a slightly different budget. So we opted to stay at the less pricey B&B, Rooms Boutique Carducci. A small, family-run place, it's a 10-minute walk from the main train station and even closer to the Canal Grande. Our room was small, but clean and airy. We enjoyed the typical European-style breakfast with meat and cheese and fruit and veg, but especially the fresh croissants our proprietors bought every morning. And it was only around $80 per night.
We would recommend either accommodation for a stay in Trieste (and don't get paid to say that)!
———
A meld of Italy and Eastern Europe, Trieste is such a unique, delicious, and lovely city. It's definitely a place we can see ourselves coming back to over the years.
Want to save this post? Pin it!