Meg is sharing her story of hope and resilience as part of our "Thriving with LAM" series for Worldwide LAM Awareness Month 2020. Lymphangioleiomyomatosis (LAM) is a rare lung disease without a cure.
Meg was diagnosed in 2017. We're grateful to her for telling her story and offering her advice for living and thriving with LAM.
Meg's story
My name is Meg Talley Dyer, and I am a business leader, a board member for the NBIA Disorders Association, a mother, a wife, a friend, a neighbor, and three years ago I also became a rare disease patient.
Despite the new way I identify myself, my disease does not define me. My life's purpose is to advocate for my daughter and all of those with an NBIA disorder. Now I also advocate for the women around the world like me who have LAM.
My life has not turned out the way I expected it would. I've always been highly independent, full of energy, tenacity, and enthusiasm for just about everything. My mom loves to tell anyone who will listen, that from the moment I could crawl, I was running toward something. I was a head strong child, full of energy, always ready to tackle a new adventure. What I couldn't have known then was that this enthusiastic approach to life would prepare me for what was to come.
Dylan was born in 2014, and instantly she became the light of my life, teaching me about unconditional love. She is quite possibly the most charismatic (and strong willed) person I've ever met. She is filled with a love for life and adventure.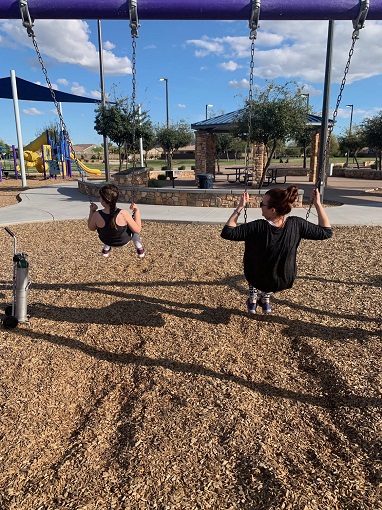 She is also quick to tell you when she wants something, especially when you aren't delivering. She has an incredible desire to be heard, and always has a story to tell. But as she missed milestone after milestone, I learned what it meant to be a mama bear and a fierce advocate. Dylan had been suffering from seizures, aggressive behaviors, and was severely behind developmentally.
After years of searching, we finally found a doctor who agreed that there was a problem and the new chapter in our lives began. We had finally gotten our answer – Neurodegeneration with Brain Iron Accumulation – or NBIA, a life threatening degenerative disease with no treatment or cure.
My world shifted on its axis that day, and I had to learn to balance what had become a highly demanding career with my role as a mother, an advocate, and a partner to my husband. As the feeling of hopelessness began, I decided to take action. I became the Chair of the NBIA Disorders Association, where I combined the talents and skills I'd learned as a professional with my uncontrollable desire to help my daughter, and put them to work so that I could make a difference for Dylan and all those affected by an NBIA disorder.
I was so focused on my daughter and maintaining my professional momentum that I was distracted from what was going on with my own health. Something was very, very wrong.
By the time 2017 rolled around, I had begun to think I had "figured it out," so to speak. I was leading a business, making a difference in the NBIA community, and Dylan had settled into an incredible school for children like her. We took some time off for the holidays, visiting my dad who lives on a mountain and where we can enjoy a beautiful white Christmas with family.
Each year we visited, I had suffered from increasingly challenging elevation sickness (or so I thought), which had become progressively worse. This time it had gotten scary. I could not stay awake, passing out over and over again. Worried, my husband packed us up and got us off the mountain and I immediately began to feel normal (or as normal as I can be).
Although feeling better, a persistent cough kept me from sleeping, so I went to an urgent care doctor, who thankfully paused to ask questions, learned about my extensive travel habits, and ordered an x-ray. Although he thought it was likely pneumonia, he directed me to the ER to rule out a pulmonary embolism.
Five days later, I went home with a diagnosis that scared the hell out of me (what are the odds that both Dylan and I have rare diseases?) – lymphangioleiomyomatosis (LAM), an extremely rare lung disease that affects approximately 3,500 women around the world.
This disease causes my lungs to be riddled with "innumerable" cysts which obstruct my airways and make it impossible to breathe normally. I was told I would need supplemental oxygen 24/7. I was told I wouldn't be able to travel by plane. I was told that a double lung transplant was inevitable, and soon. I was overwhelmed.
My world shifted on its axis yet again. What was I going to do? I'd just accepted this new job. Would they even want me now? I'd have countless hours of tests and appointments as my medical team prepared me for the reality that I might need a transplant, and soon.
Then the vain part of me set in. I was going back to work, in a new department with people I don't know, and I'd be wearing oxygen…on my face. Nowhere to hide. I was terrified! How many times was I going to have to tell the story?
I'd barely begun getting comfortable with the idea of having LAM myself, and did not feel equipped to comfort those around me as they dealt with my new reality. I'd begun experiencing the stares when my family was out. Would these new colleagues stare or judge me, thinking I had done this to myself somehow? Would they think I was contagious and avoid me?
Instead, I was shown nothing but care and support. Everyone was wonderful. What I learned during this time was that when you have the courage to open up about what you need, people willingly and enthusiastically offer their help.
It's been more than three years since my diagnosis, and I can confidently say that I've truly accepted my new reality and have found my rhythm. I now find myself enjoying and appreciating activities I had once taken for granted.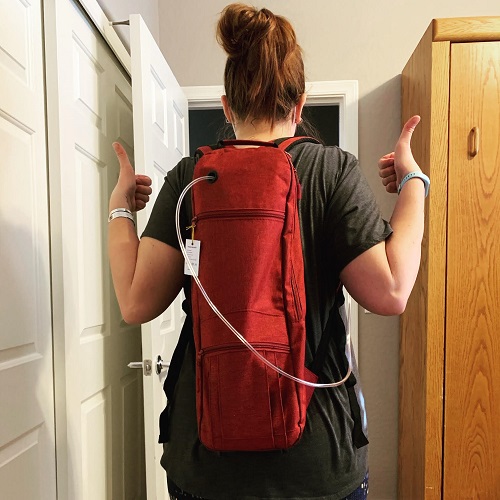 While I could spend hours fixating on the countless activities I can no longer do, or excessively worrying about what I may become exposed to that will put me in the hospital, I re-center myself and focus on being present in the moment and find joy in the things I CAN do. The joy of being a mom, the joy of being a wife, and the joy of advocating for a better future for Dylan, myself, and all of those with rare diseases like ours.
Dylan is still my sweet, charismatic little girl, trying desperately to be understood and fight her own disease. I am still the mama bear fiercely advocating for her every need, and learning to advocate for my own.
I have a stellar medical team, and am afforded the opportunity to speak at conferences with my doctor, raising awareness for LAM and all rare disease patients. Transplant isn't something we expect next week or next month, or next year.
My circle of friends, while much smaller, is stronger than ever. For now, I am grateful for every moment and I'm grateful for all of the people who have been there and offered support, encouragement, and sometimes a swift kick in the behind.
When the tough days happen, and they do happen, I repeat my mantra, "Keep on keepin' on." I put a brave face on for the world.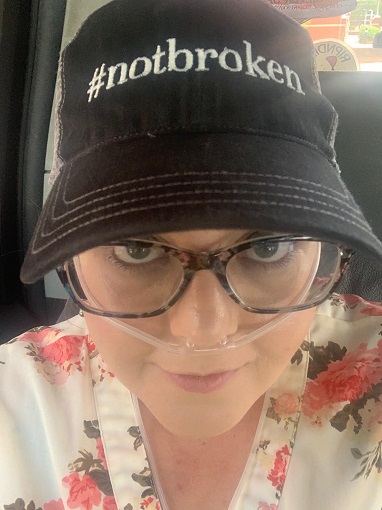 My advice to others facing their own battle? Be candid about what you need. Work for a company that values you and where you can be part of a community that will support you along your own journey.
Remember that you have the power to find joy in even the worst situations. Finally, take a breath, put one foot in front of the other, and "Keep on keepin' on."
About Meg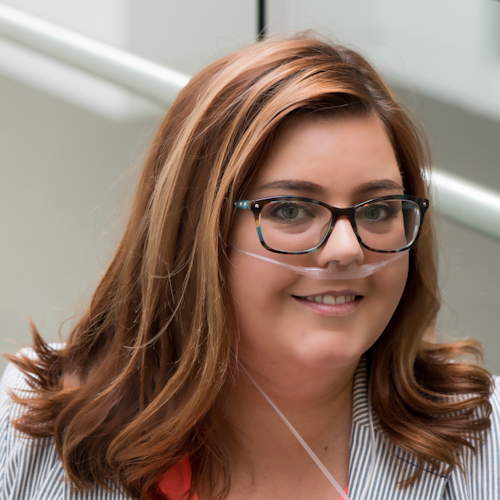 Meg Talley Dyer has worked in the financial services industry for over 15 years and currently serves as a leader for a large financial institution where she is responsible for a multi-site contact center. Outside of work, Meg serves on the board for the NBIA Disorders Association, a non-profit close to her heart. She is also pursuing her MBA from Drexel's LeBow College of Business, has a bachelor's degree in business management from the University of Phoenix, holds her Series 7, 24, 65, and 63 securities licenses from the Financial Industry Regulatory Authority (FINRA), and her Series 51 from the Municipal Securities Rulemaking Board (MSRB).
In their spare time, Meg and her husband can often be found with their daughter Dylan hosting morning dance parties in their living room, playing at the park, or participating in a Special Olympics event.
---