Last Updated on 8th January 2019 by Sarah and Justin
Singapore surprised us. We had relatively low expectations for what we assumed would be a sterile city where you can't chew gum. We were proven wrong during our first stay and scheduled even more time there on our return trip. The thing we liked best about Singapore was how much green space there is throughout the city. The architecture is pretty spectacular as well, and the combination of the two makes the city quite special.
Gardens by the Bay
The Gardens by the Bay are a must-do in Singapore. The whole park is really nice, but the Super Trees are the highlight. Like many many others, we went at night to see the light show where the Super Trees light up to music.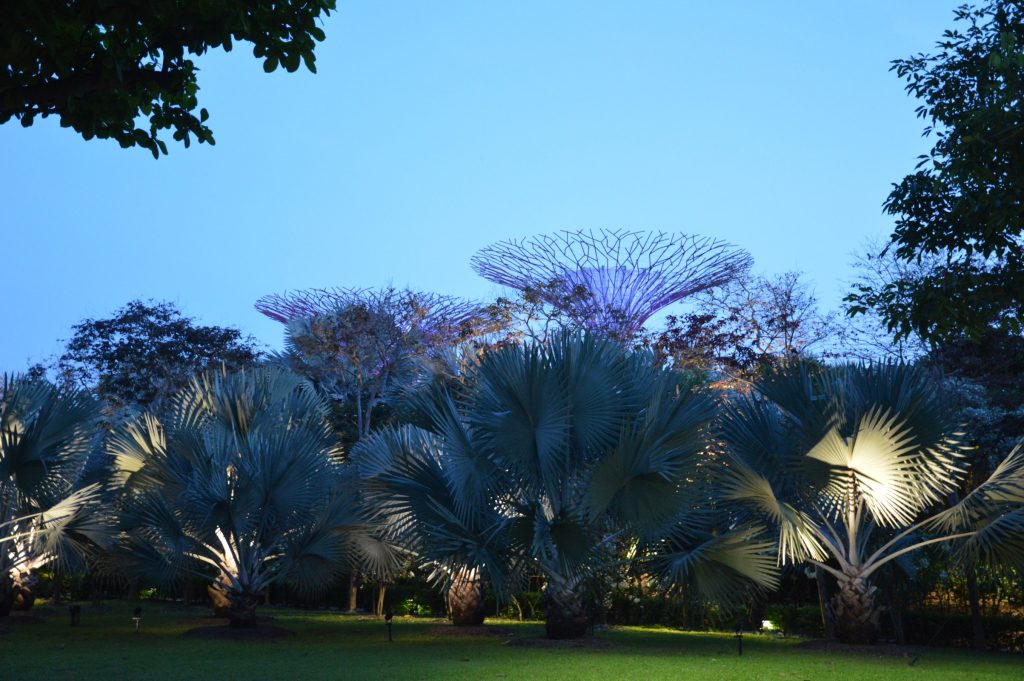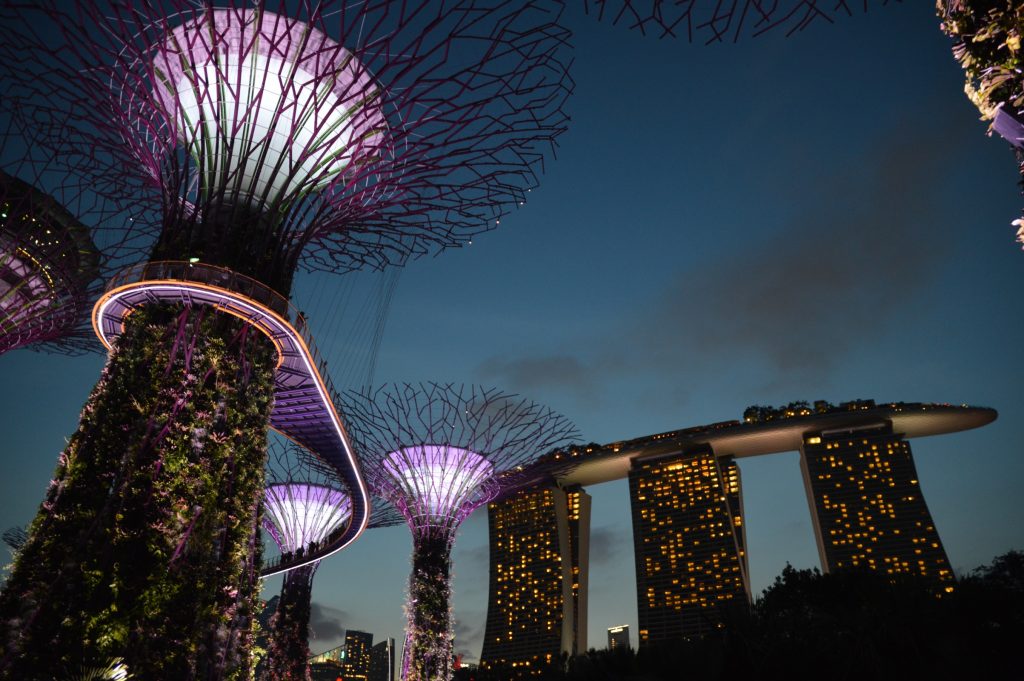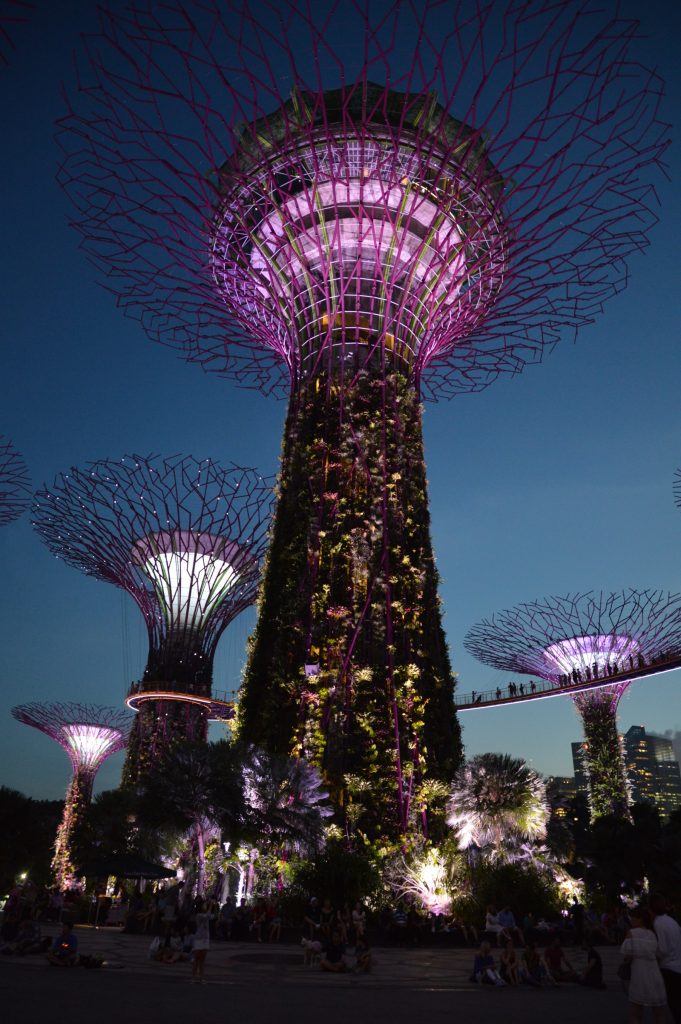 Marina Bay
Leading to Gardens by the Bay is Marina Bay, where we entertained ourselves taking pictures of the skyline, the absurd battleship hotel Marina Bay Sands, (and ourselves) on the Helix Bridge.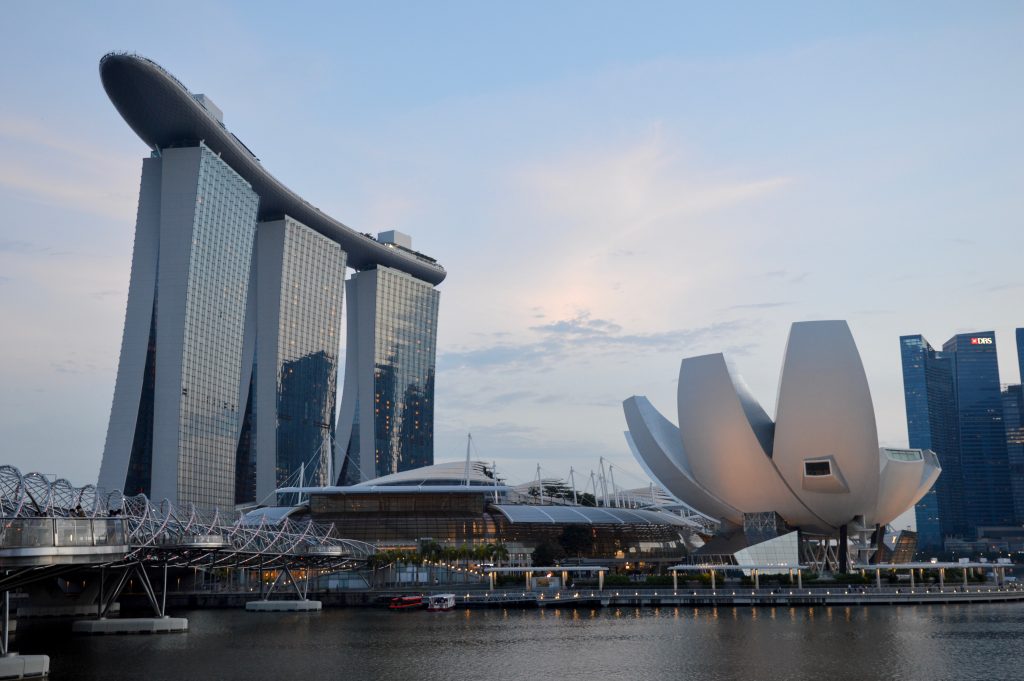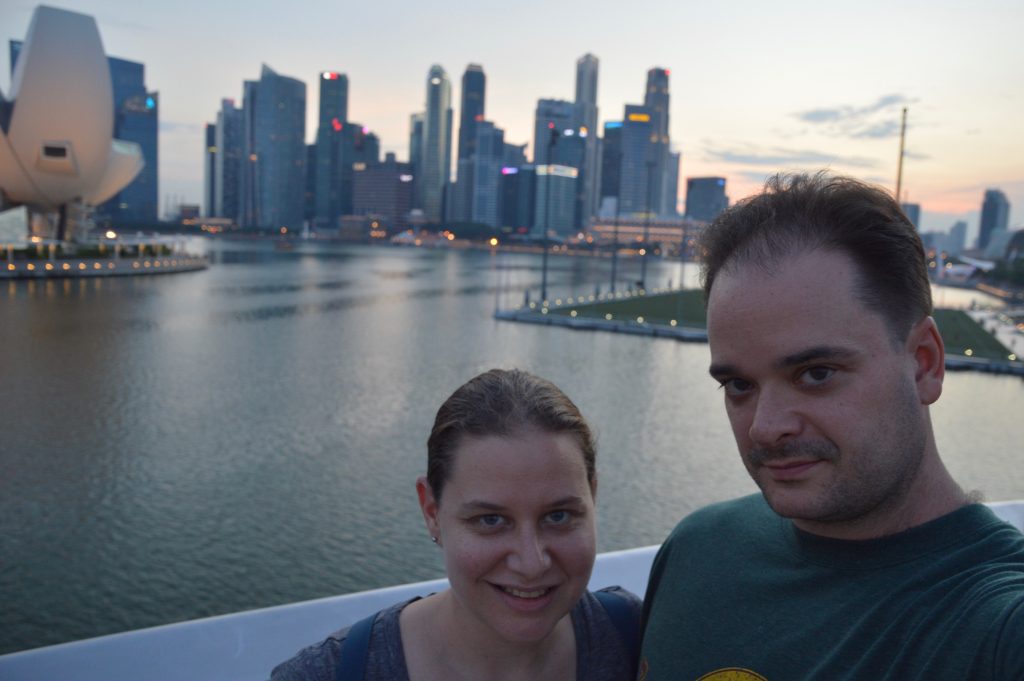 The Southern Ridges
The coolest thing we did in Singapore was "hike" part of the Southern Ridges. Much of the trail is raised way above the ground and spans several parks. It's pretty easy to get to by public transportation, although it takes about 45 minutes from the center of the city. But it's worth it. We walked the Forest Walk from Alexandra Arch bridge in Hort Park to the Henderson Waves Bridge (the highest pedestrian bridge in Singapore) in Mount Faber Park. You get fantastic views of the city while feeling like you're in nature. It's a really cool, unique experience.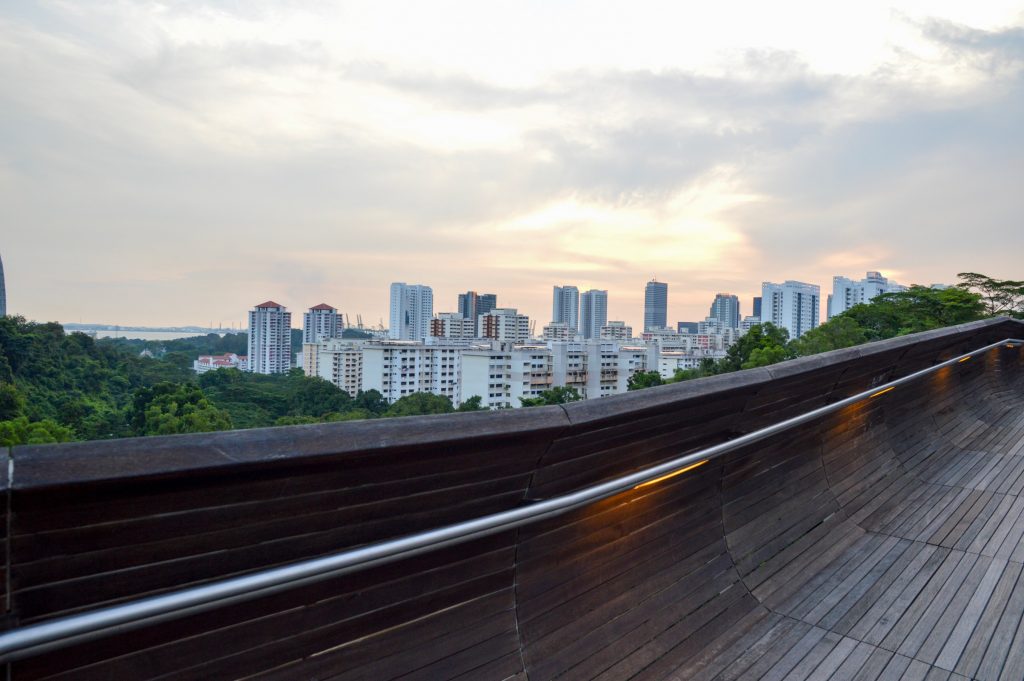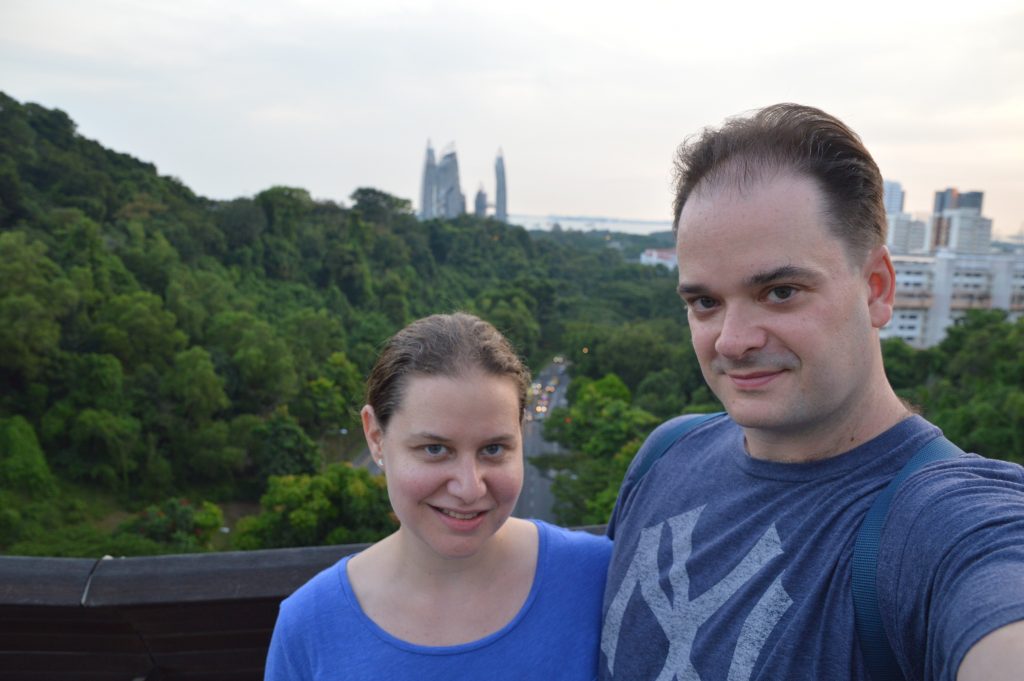 Botanic Gardens
The Botanic Gardens are big! There are all sorts of places to walk around and explore. And you may end up seeing a large lizard!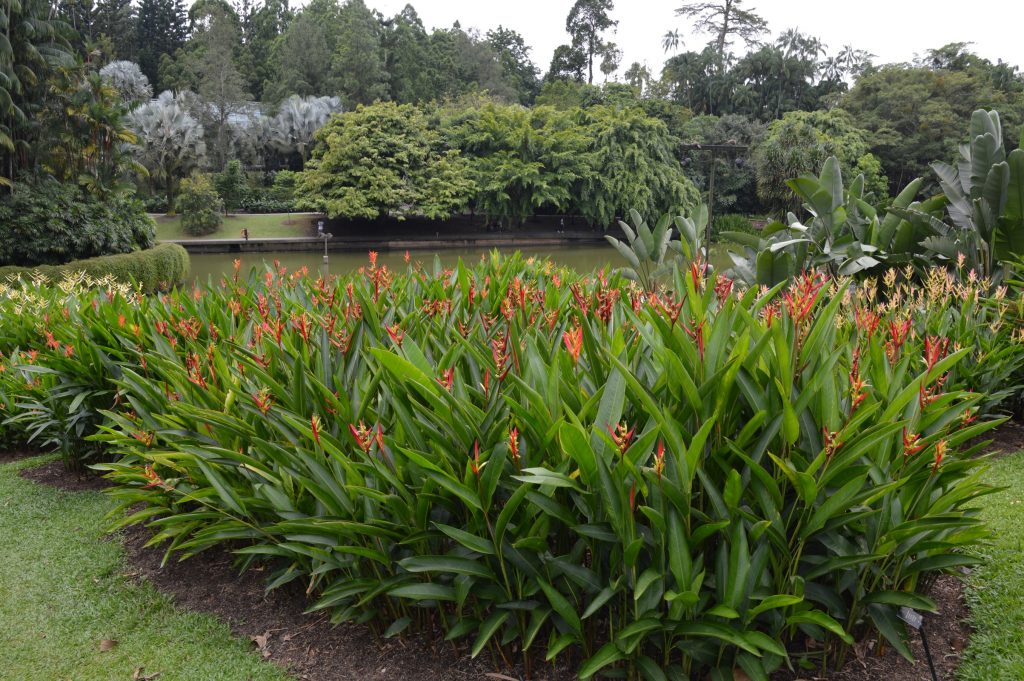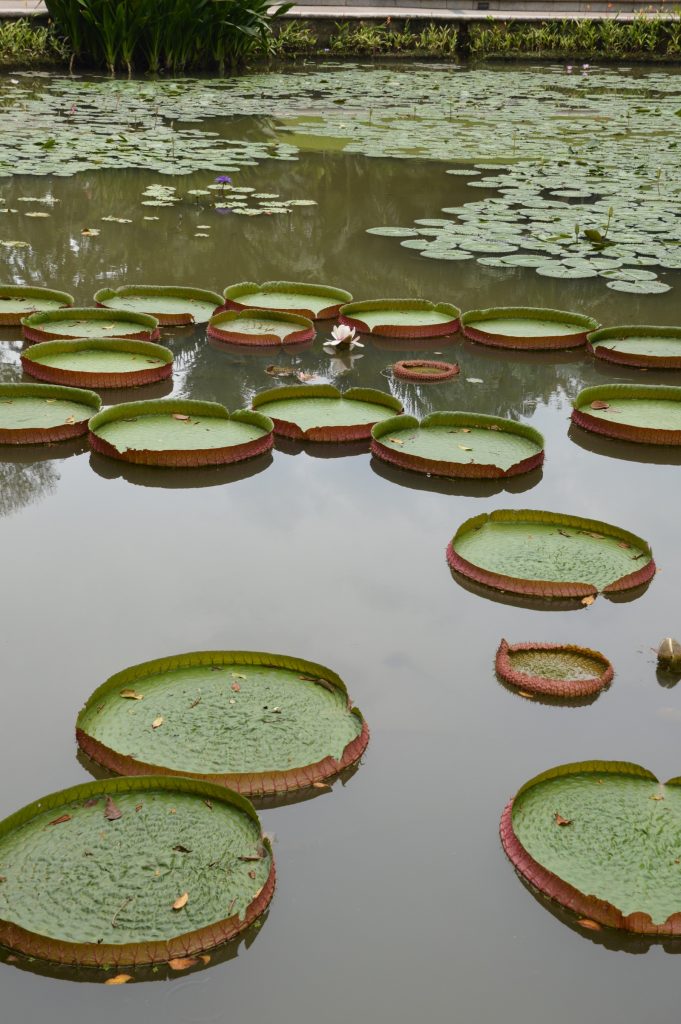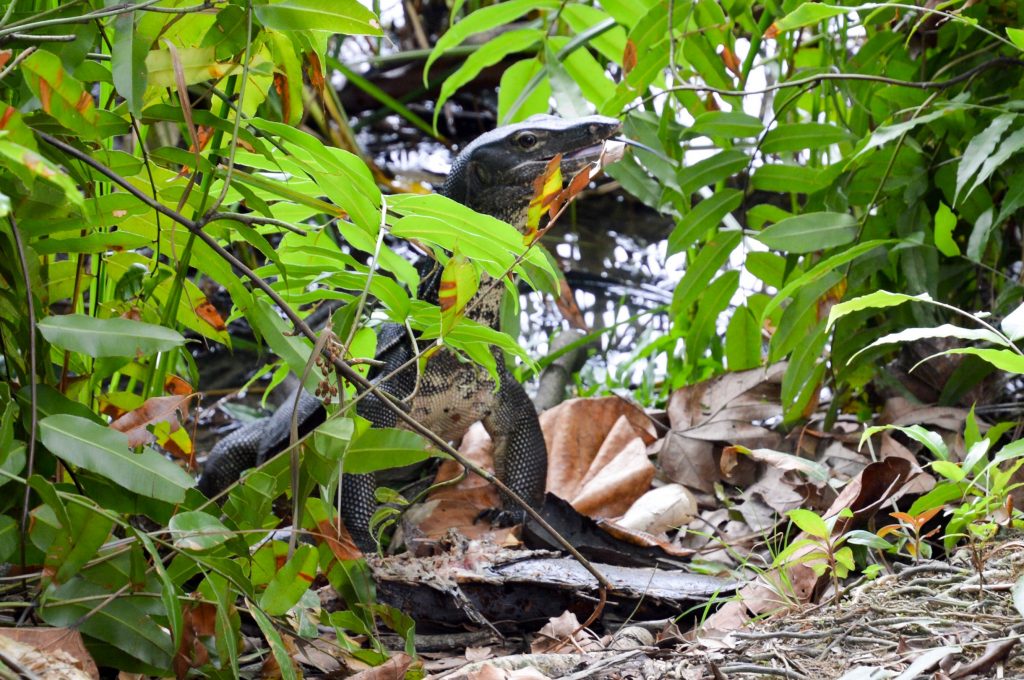 The highlight really is the National Orchid Garden. It's a massive collection of stunning orchids. It's a flower-lover's and photographer's dream!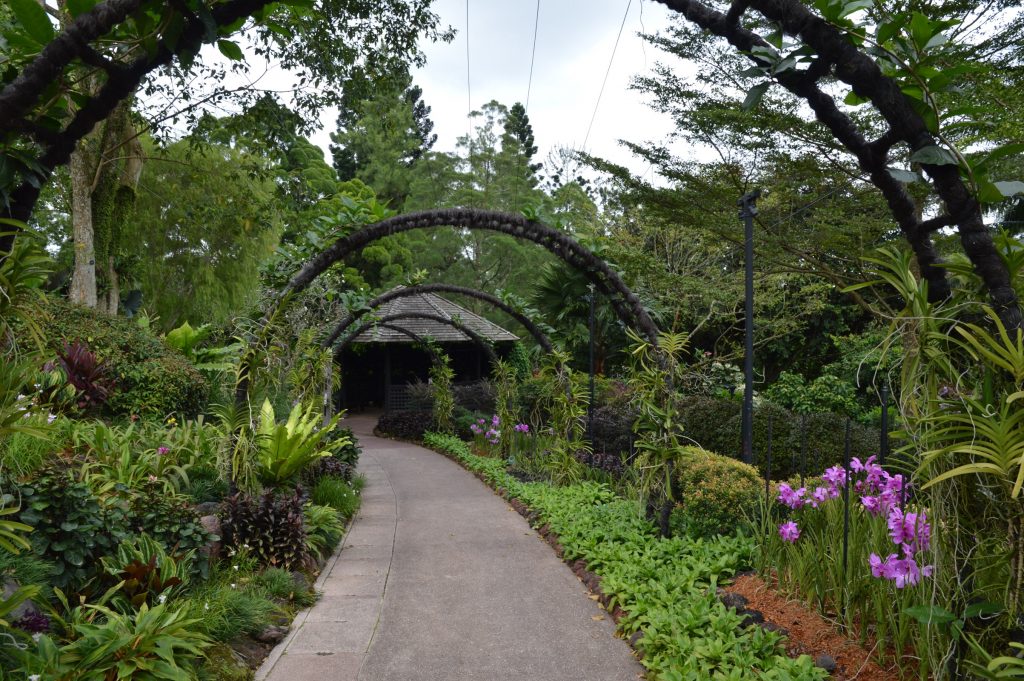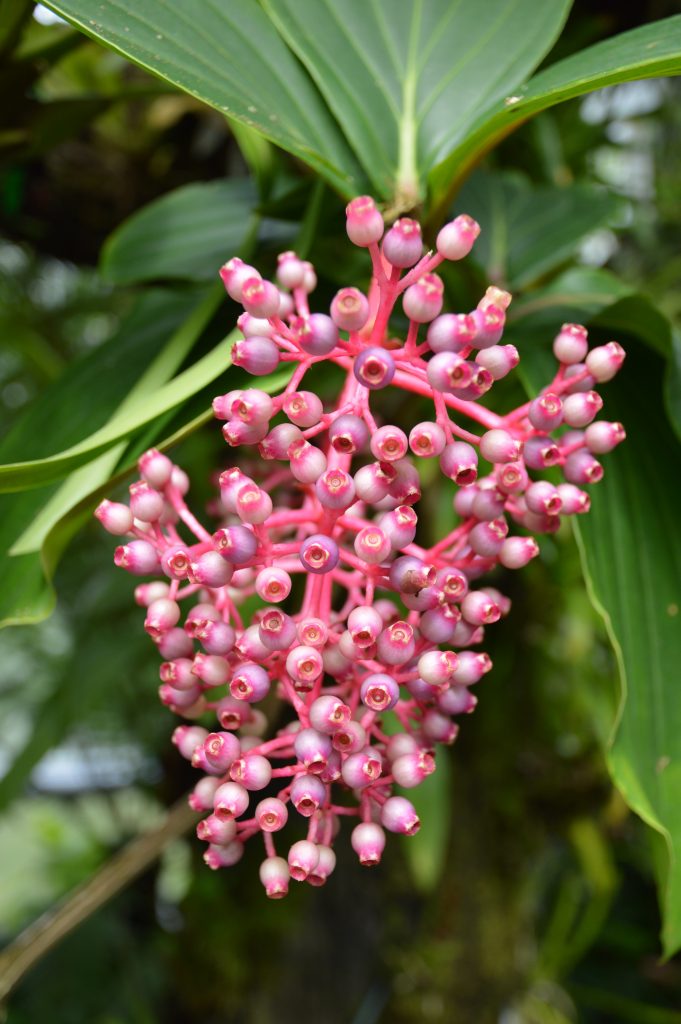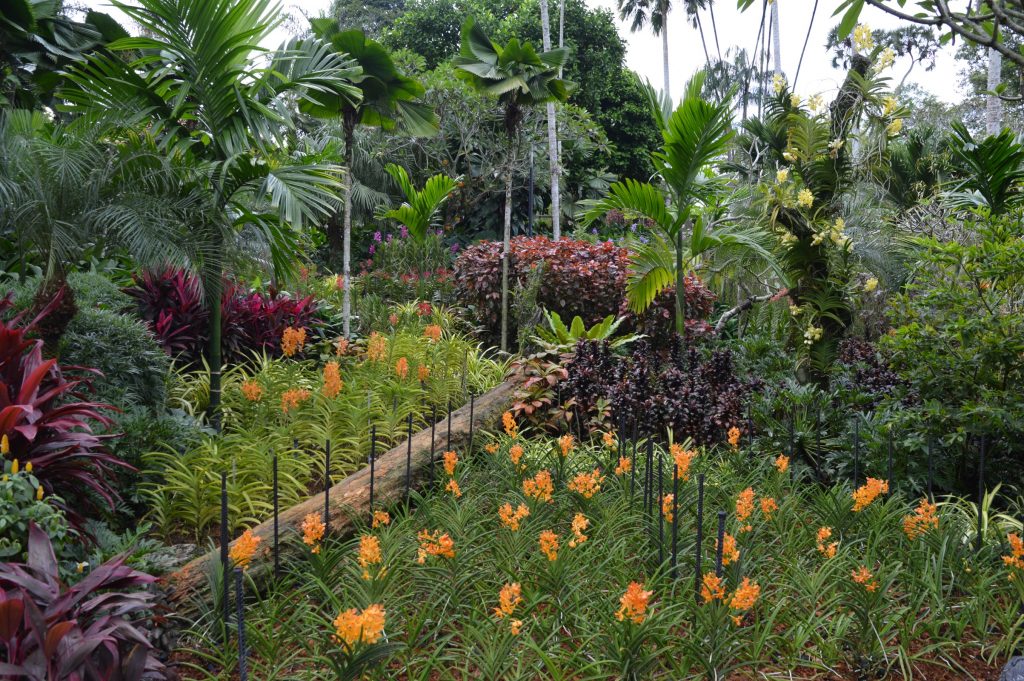 Miscellaneous green around our neighborhood
We stayed at the Rendezvous Hotel Singapore, and would highly recommend both the hotel and the neighborhood. We couldn't walk more than a few steps without being treated to some more green views. The School of the Arts (a high school!) is housed in a gorgeous building with trees growing out of it.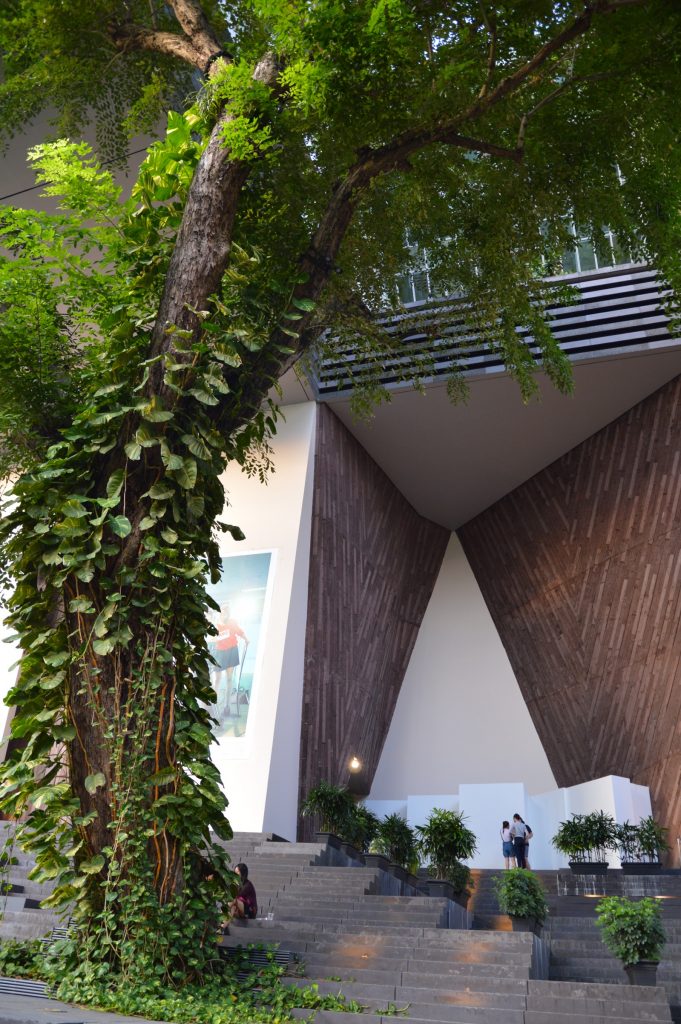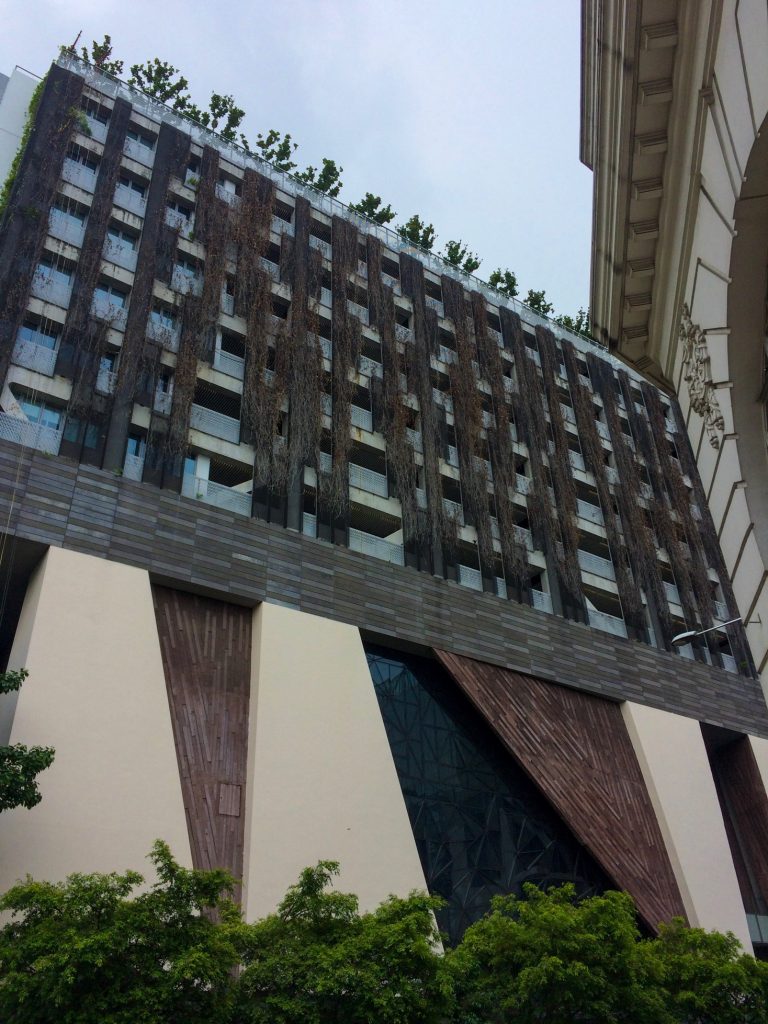 It's also located along the Civic District Tree Trail.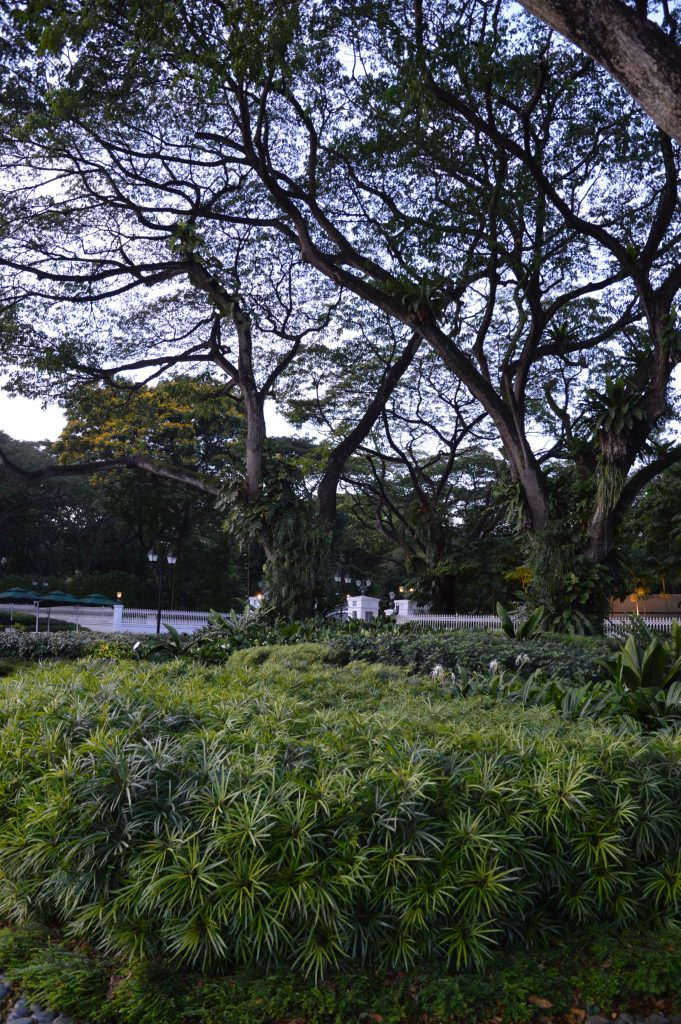 And just a few minutes away was Fort Canning Park (which, note to those with mobility issues out there, is a very hilly park!).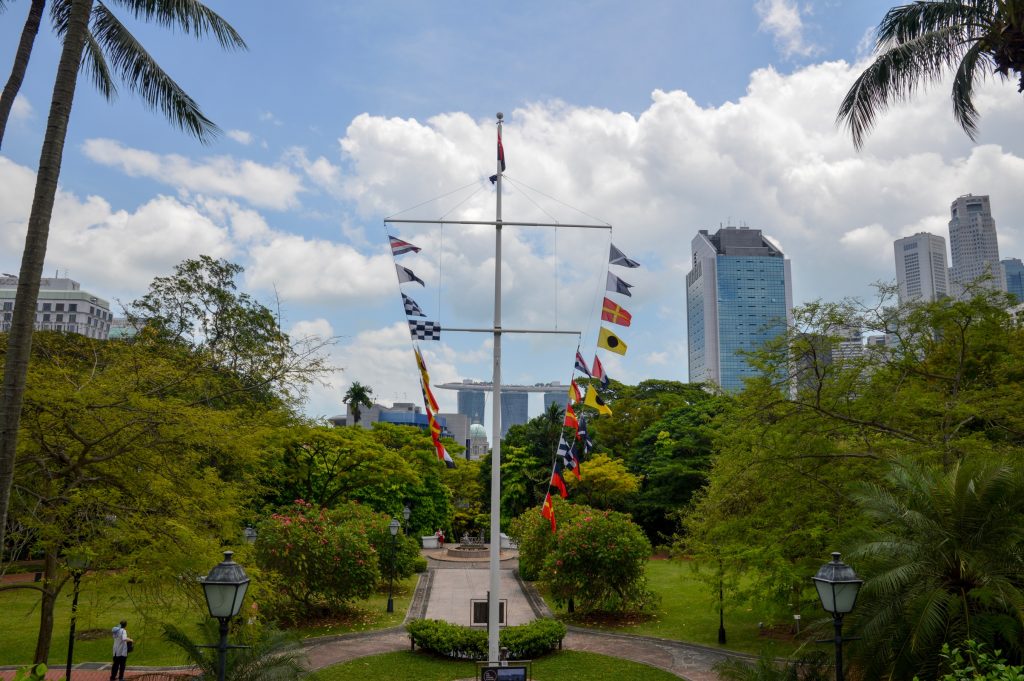 Other interesting buildings
You'll find interesting architecture pretty much anywhere you walk in Singapore. From Clarke Quay to Emerald Hill Road to Parliament to Chinatown to Orchard Road, just wander and you'll see cool stuff.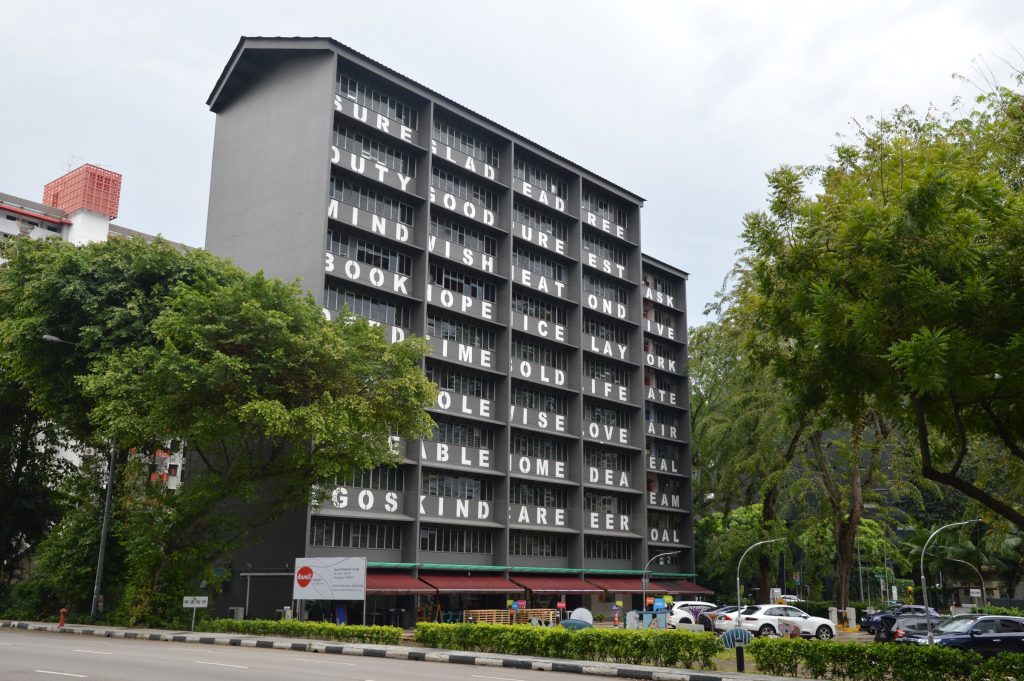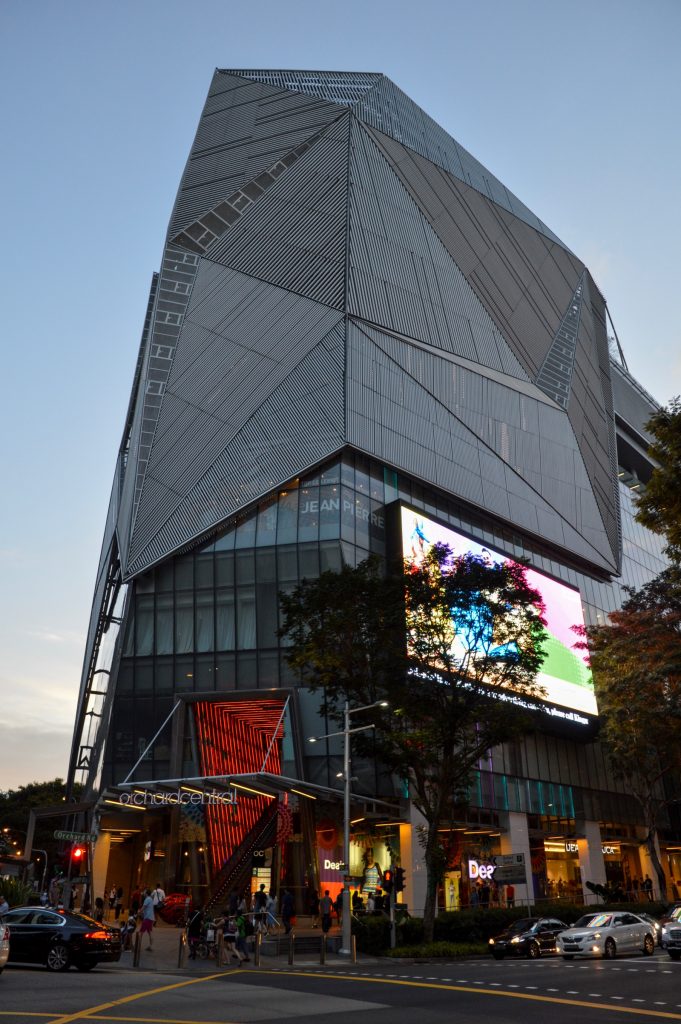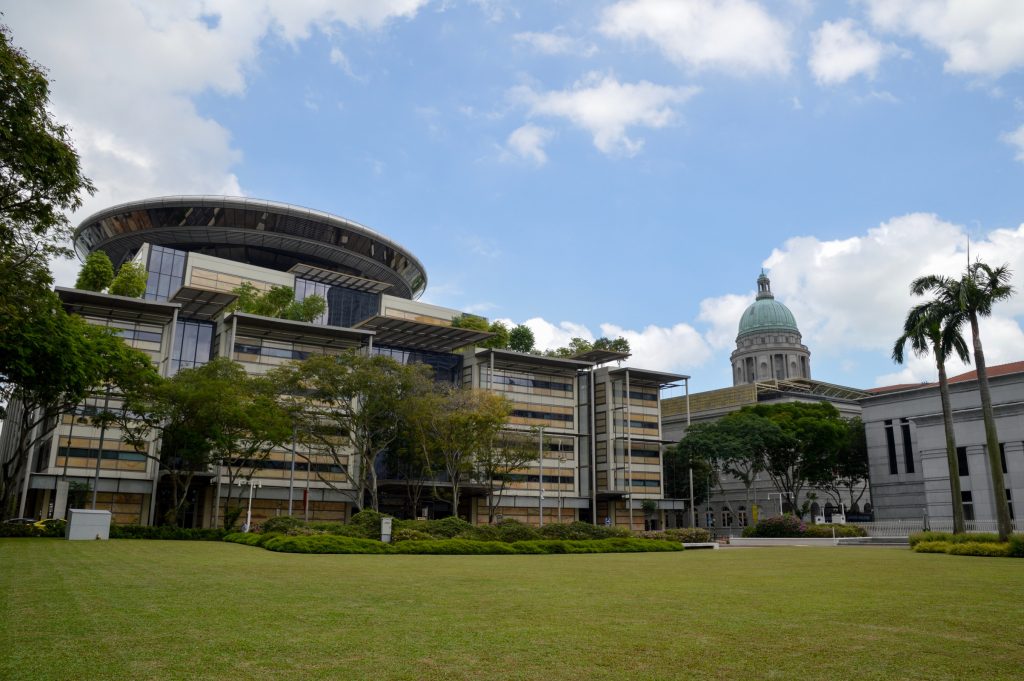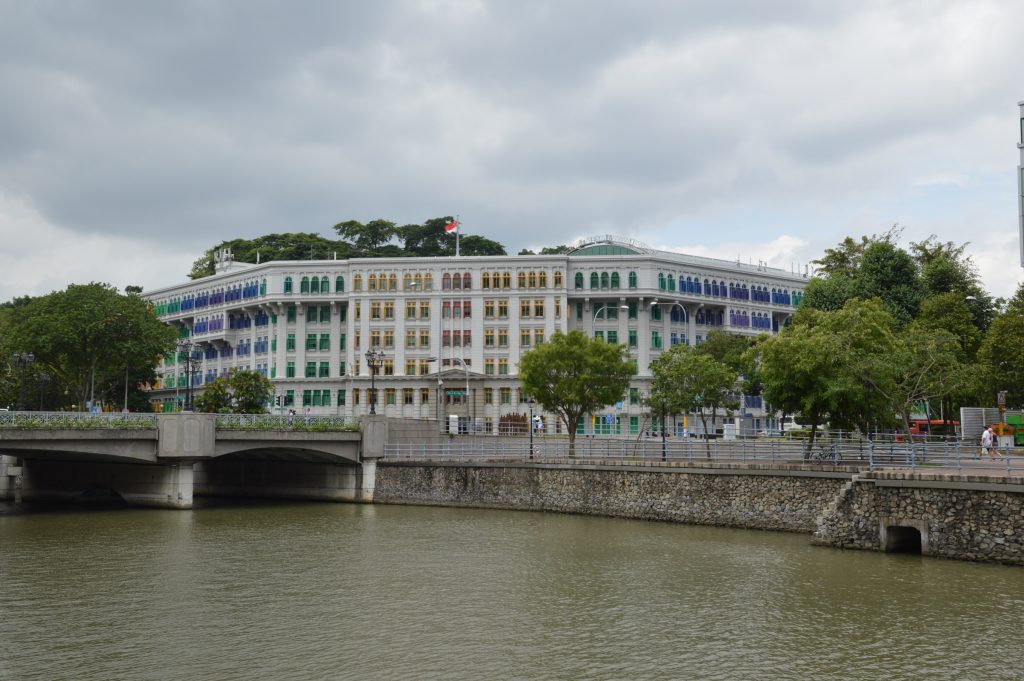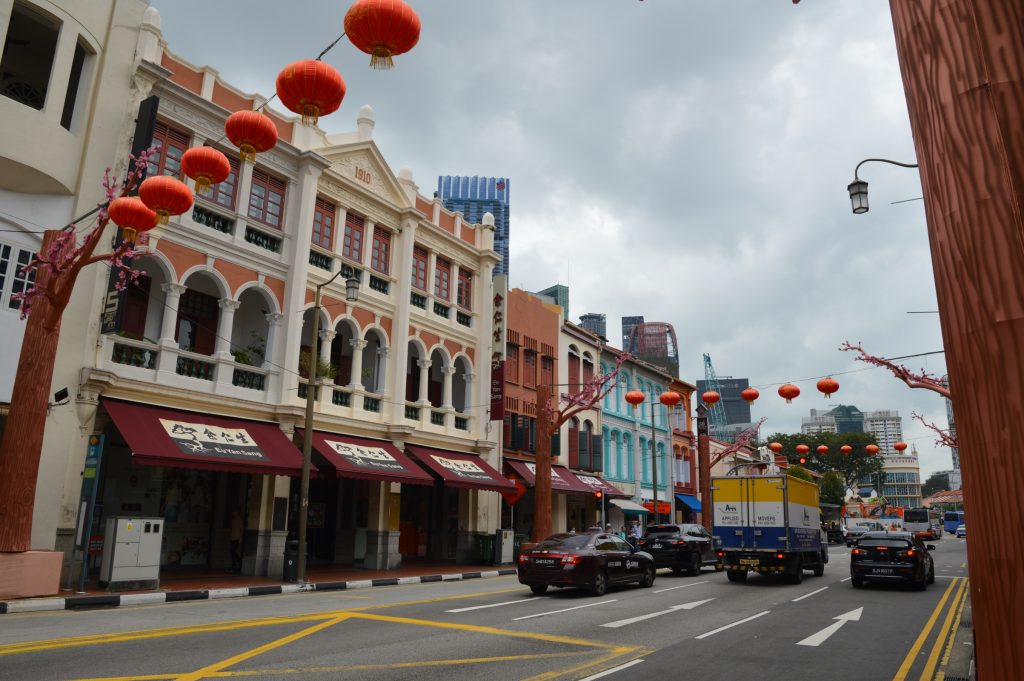 And of course, there are beautiful temples and mosques and churches scattered throughout the city too.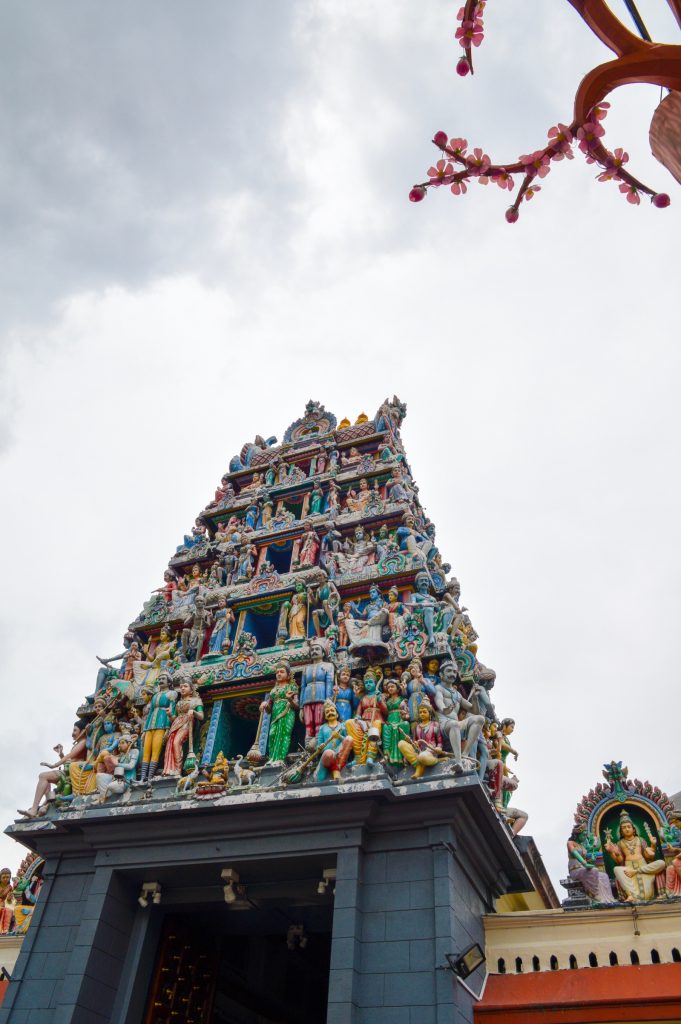 The Singapore Biennale
We were lucky to be in the city during the Singapore Biennale and our hotel was just a couple blocks away from one of the venues, the Singapore Art Museum (SAM). This year's theme was An Atlas of Mirrors. It was a wonderful exhibit and if you find yourself in Singapore during the next one in 2018, we'd highly recommend going.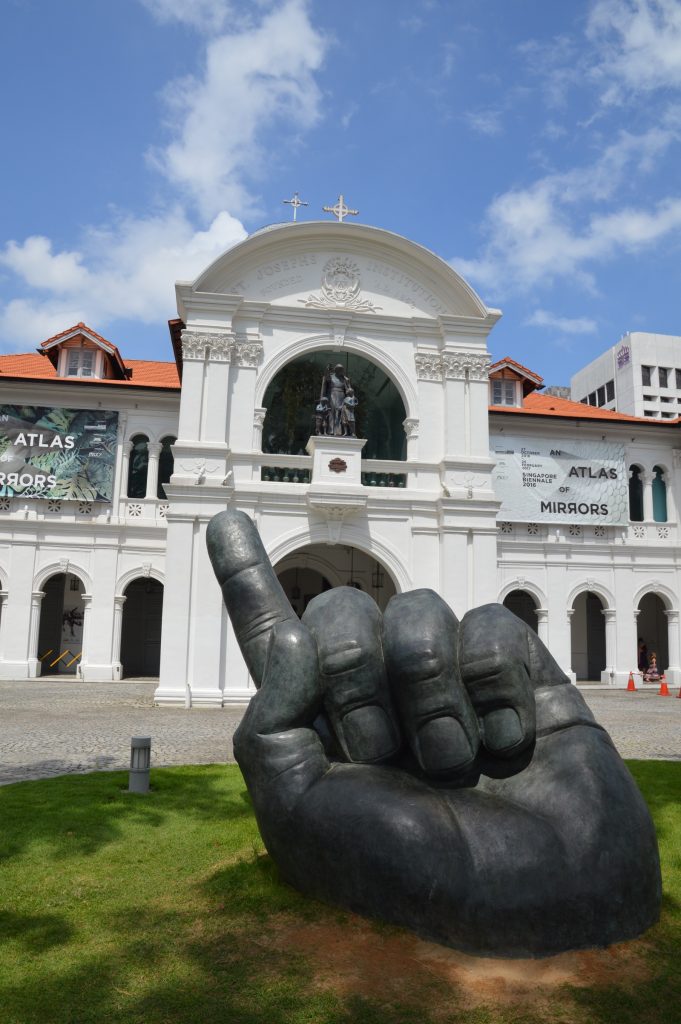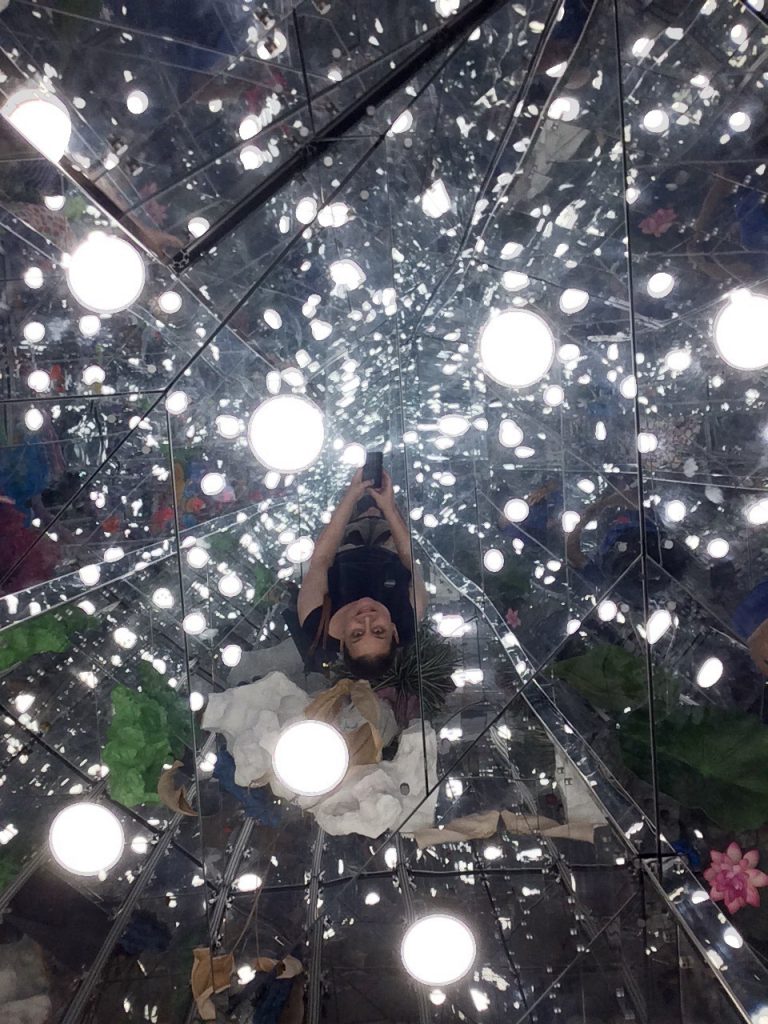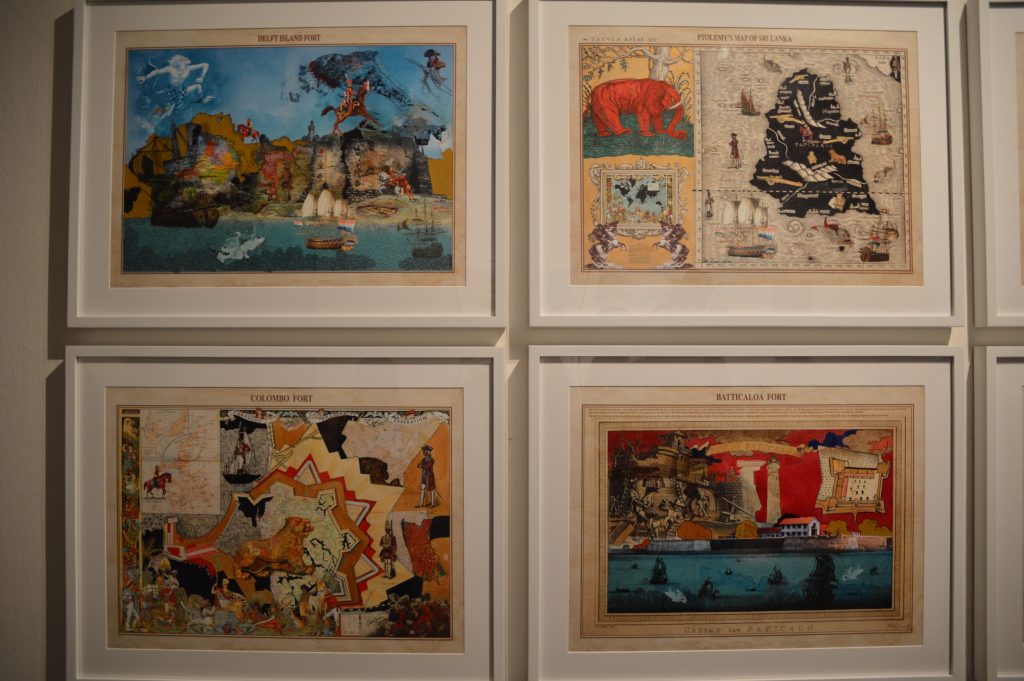 Eating well in Singapore
We ate so incredibly well in Singapore. Of course the hawker centres are famous. Anthony Bourdain's new venture is one big hawker centre in NYC, complete with hawkers poached from Singapore. (But obviously, he'll be charging more.) The best thing about hawker centres is that they serve a huge variety of absolutely delicious food at ridiculously low prices. But really you can get absolutely anything you want to eat in Singapore quite easily. It's most definitely a foodie heaven.
Maxwell Food Centre
The first hawker centre we visited was Maxwell Food Centre in Chinatown. It was jam-packed for Sunday brunch – just like in New York, it was hard to get a table. It was also unbelievably hot. But that didn't stop us from enjoying our first taste of chicken rice and peanut pancakes.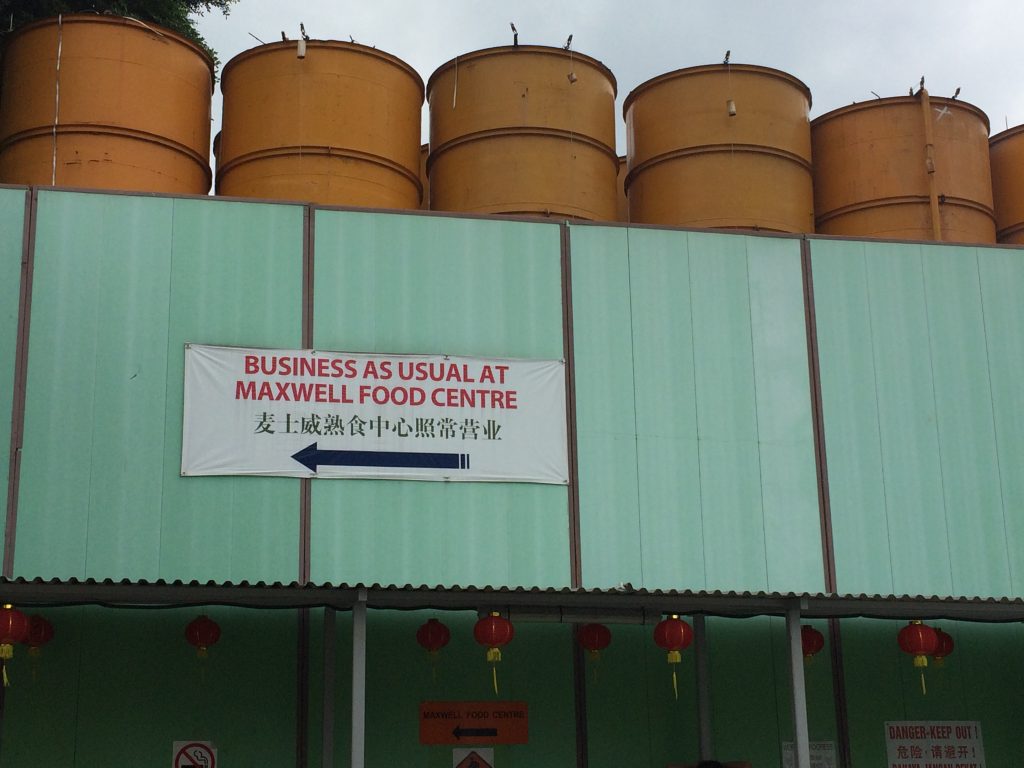 There was a very long line for a clearly famous chicken rice stall, but we were impatient and got ours at Hong Xiang Hainanese Chicken Rice instead. It was delicious.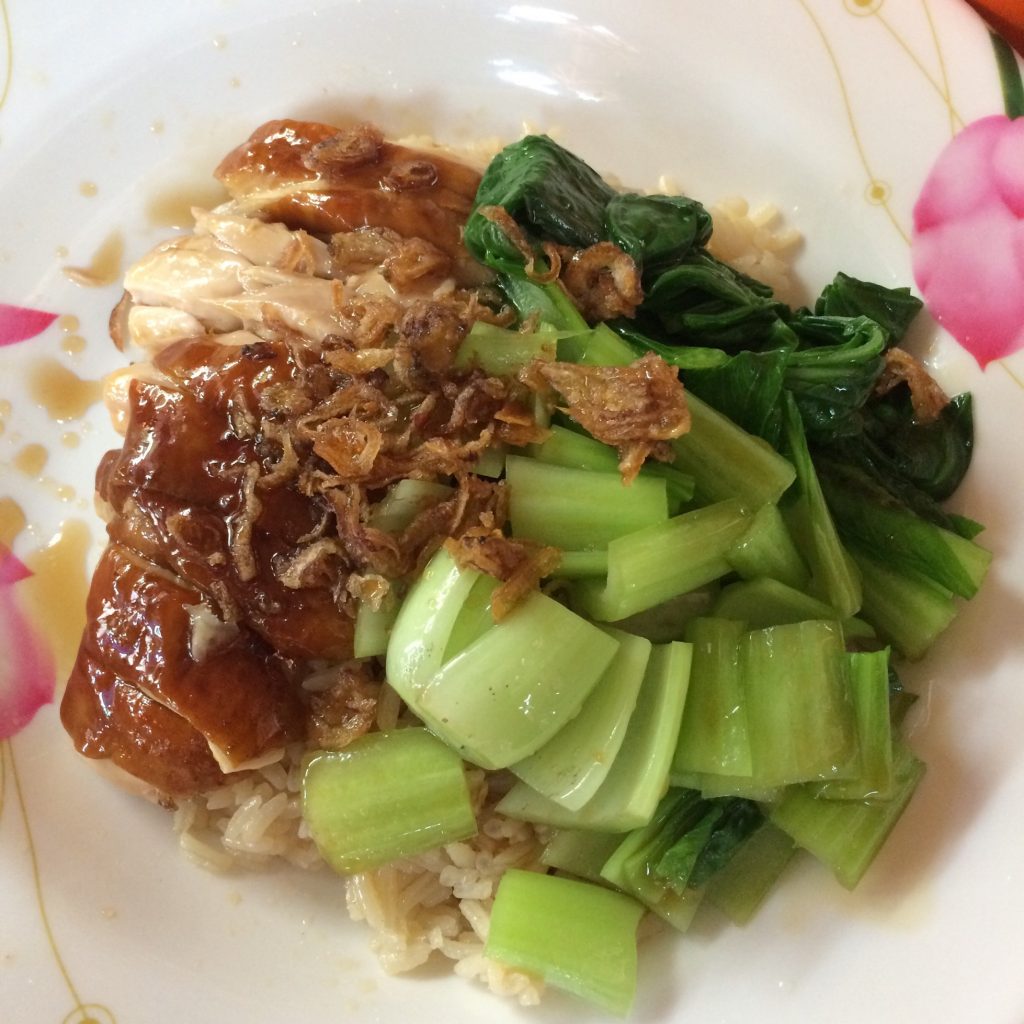 Tekka Centre
We also went to Tekka Centre, a hawker centre in little India. As to be expected, the food here was more Indian in nature. Although, one of the best dishes was duck rice.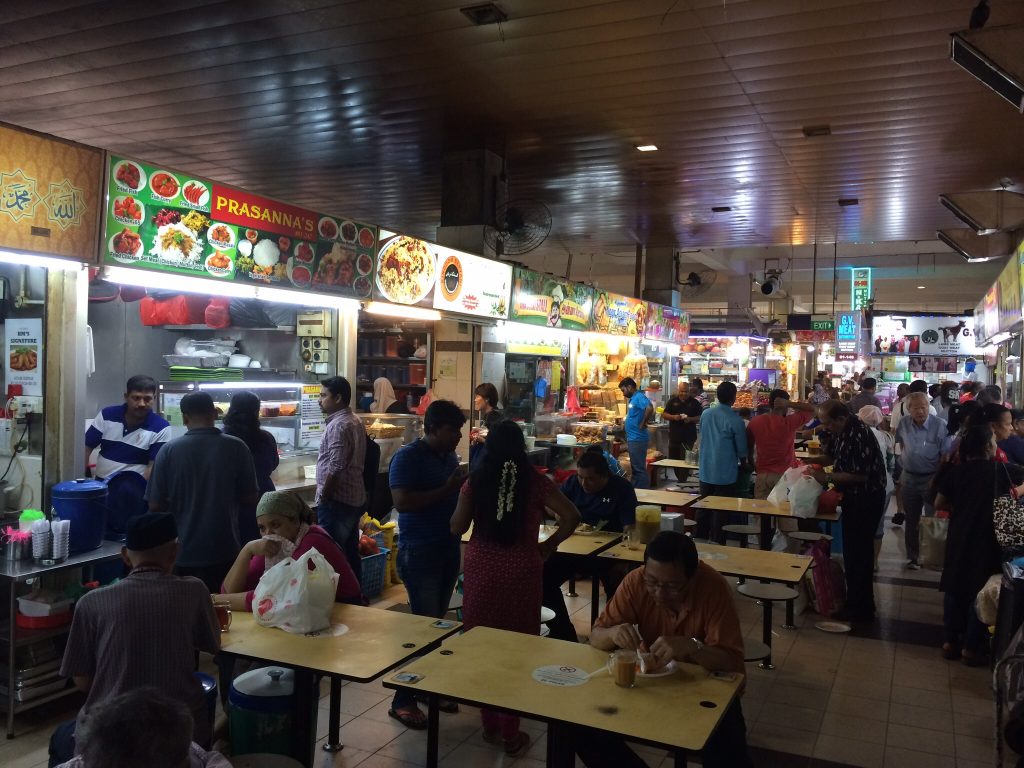 Duck rice with the most delicious five-spice soup from Heng Gi Goose and Duck Rice.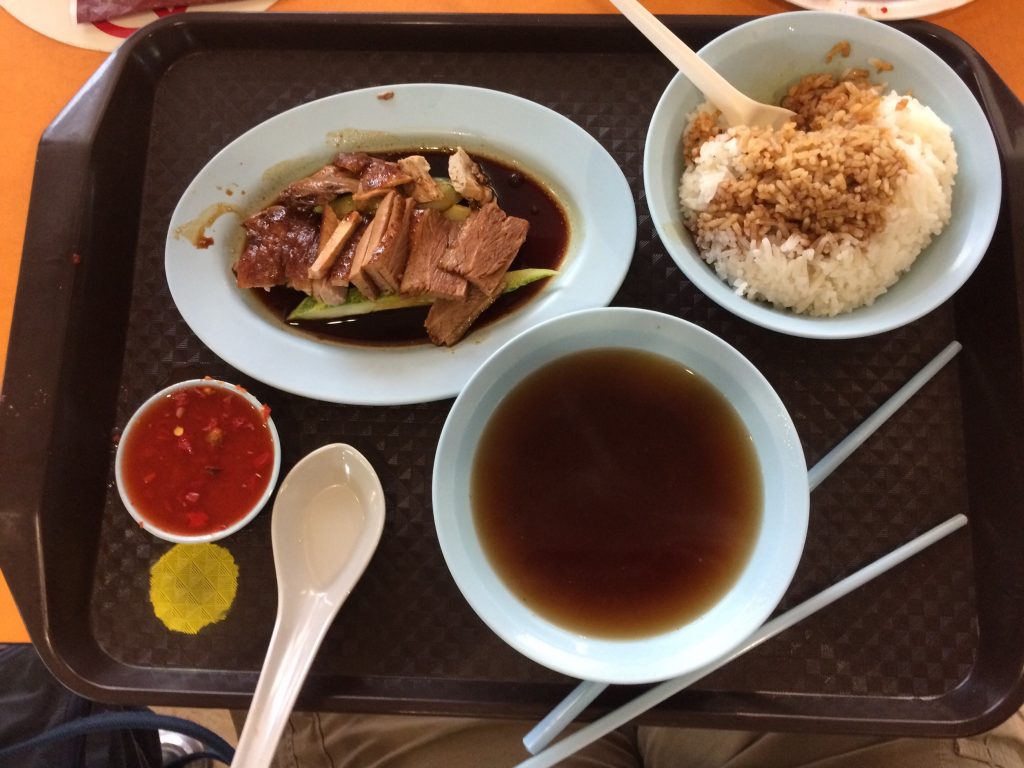 Naan and tandoori chicken from Al Medina.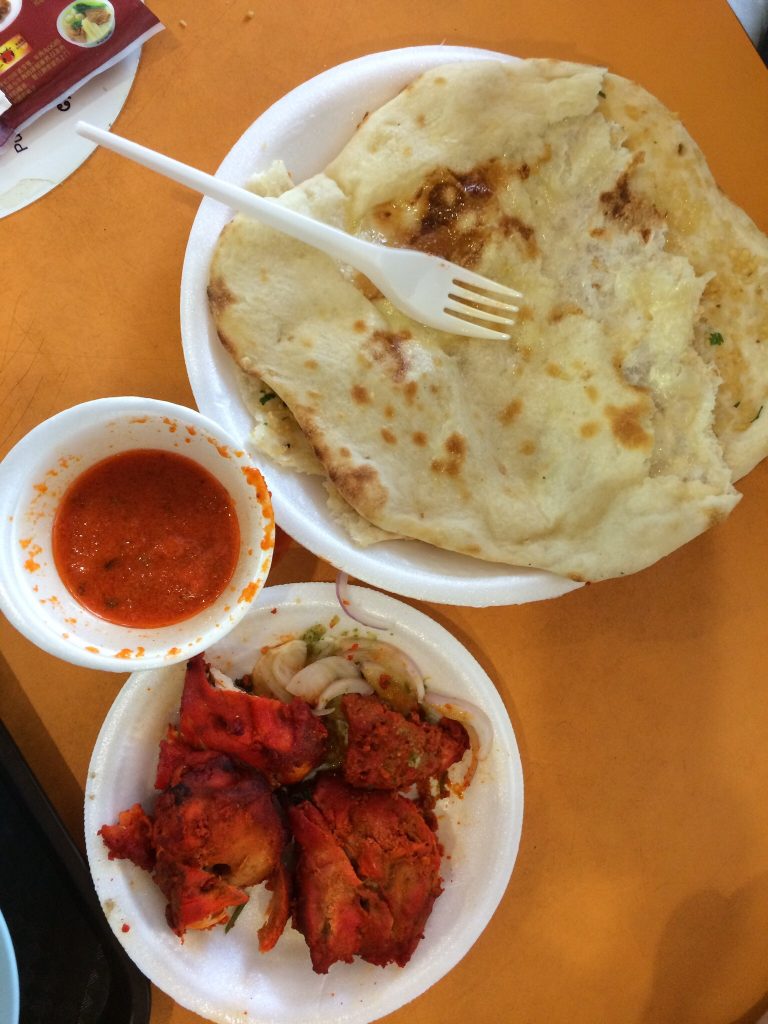 Not really sure what this was, but we got it from Anna Dosai. It was crispy and oddly full of peppercorns…. but the dipping sauces were great.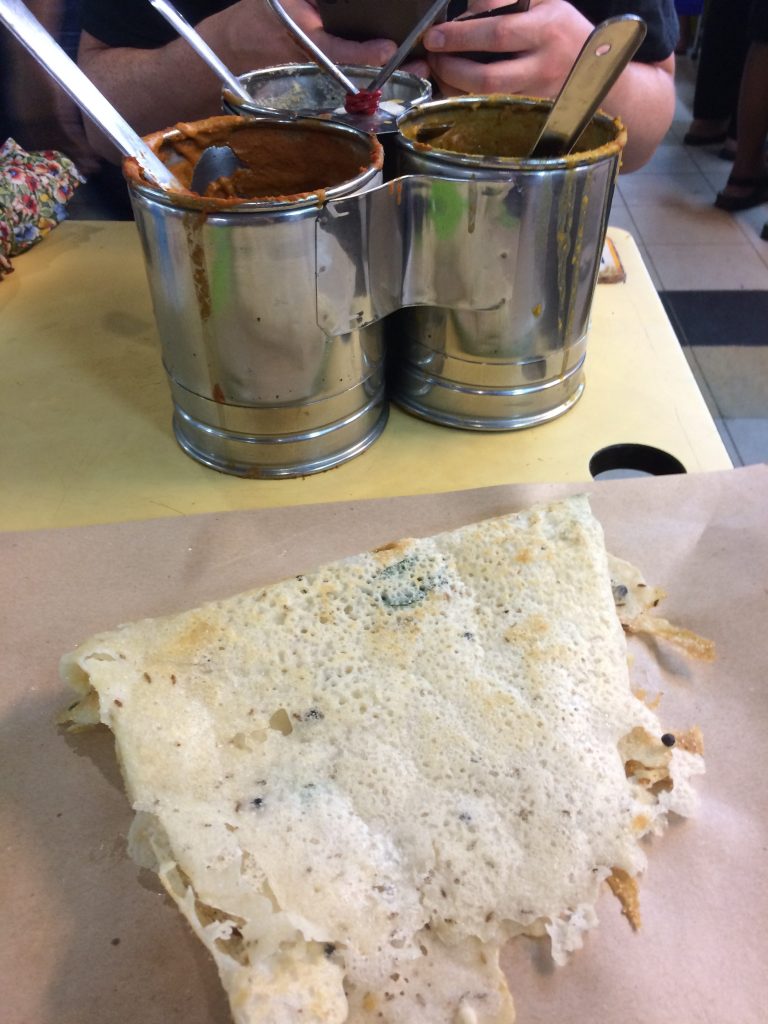 Food Republic
Food Republic is more food court than hawker centre, but it still has some of the same food you'd find in the latter. It's a chain of restaurants and is a bit cleaner and more tourist-friendly (it's air conditioned!). There was one right next to our hotel, so it was a go-to when we didn't want to go too far to get great food.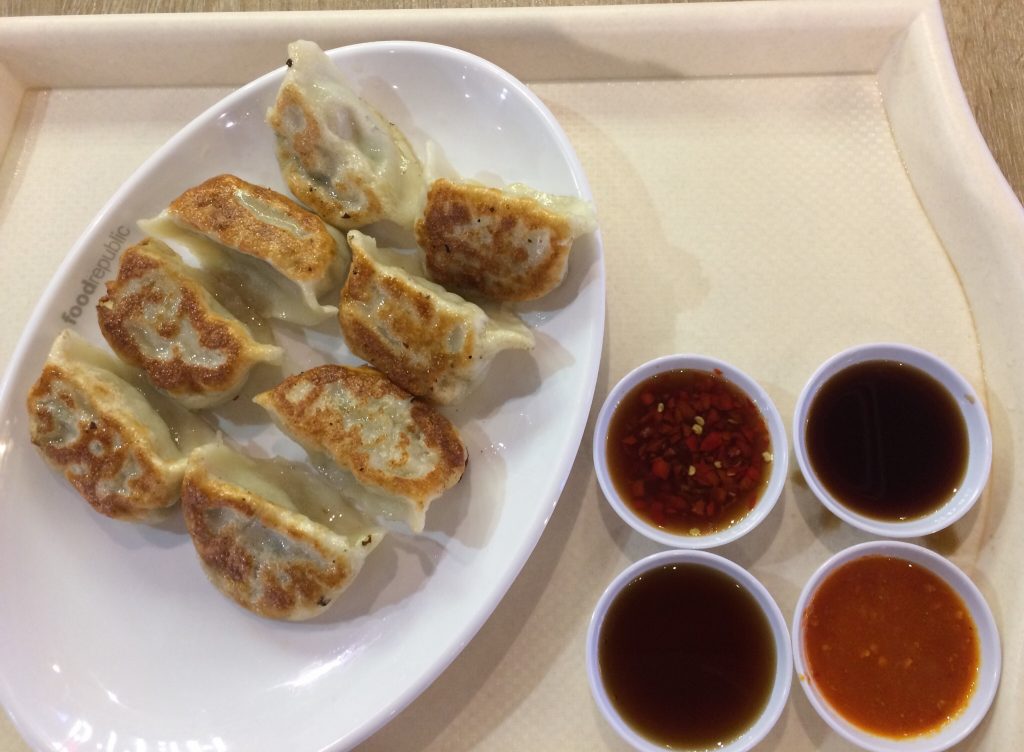 Rasapura Masters in Marina Bay Sands
If you don't want to eat at Satay by the Bay after visiting Gardens at the Bay, head to the Marina Bay Sands where there are a ton of restaurants. Rasapura Masters is like a hawker centre, but in a mall. There were so many options it was hard to choose. It's hard to go wrong at these places though. Among other things (like beef noodle soup and naan), the KL-style Hokkien Mee with prawns was delicious.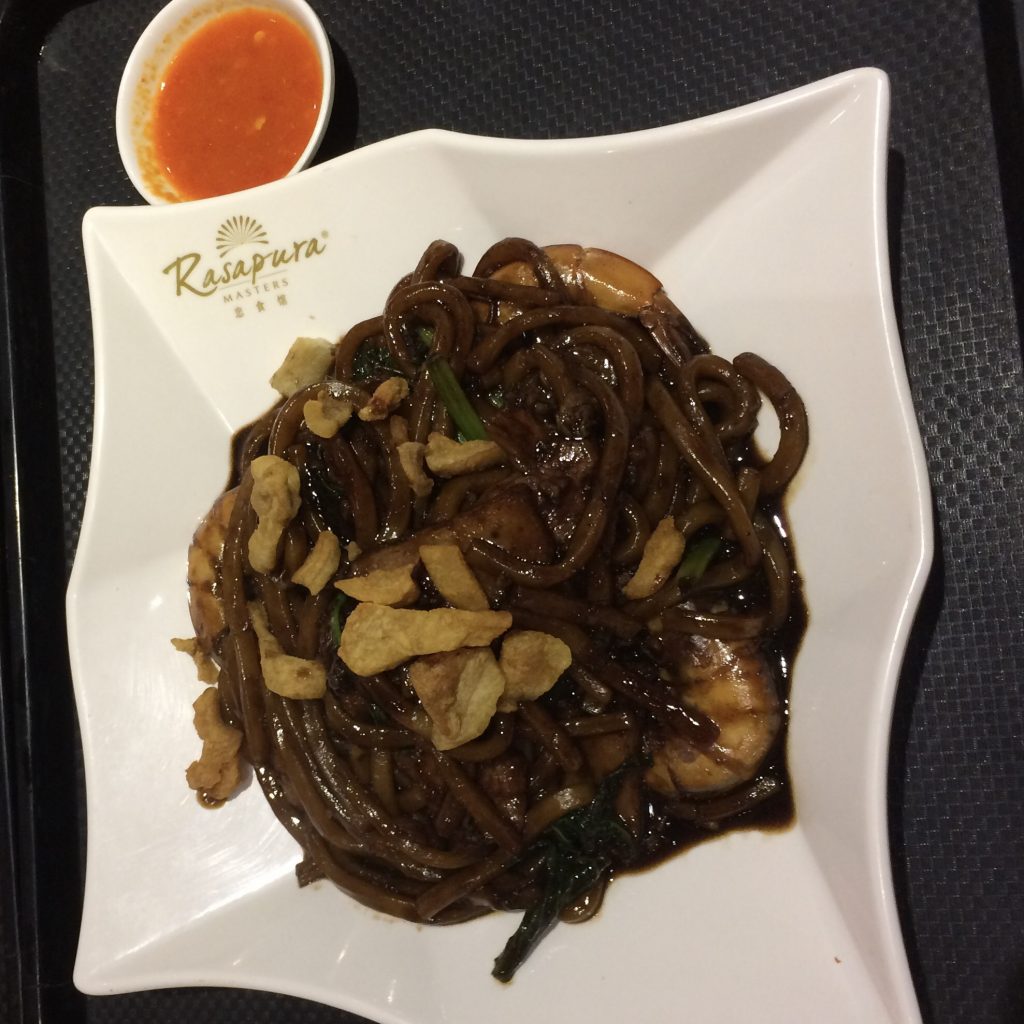 Tip! At all the above hawker centres/food courts, bring your own napkins!
Pho at NamNam Noodle Bar
If you've been paying attention, you know we like pho. Our love for the fragrant, delicate noodle soup was solidified during our trip to Hanoi, where we ate it for breakfast nearly every morning. And since then, if we see a place with pho, we must try it. We found a great pho place in Singapore – NamNam Noodle Bar. Their lunch special comes with spring rolls and real Vietnamese coffee. We would have gone back every day if we hadn't felt like we needed to try other things.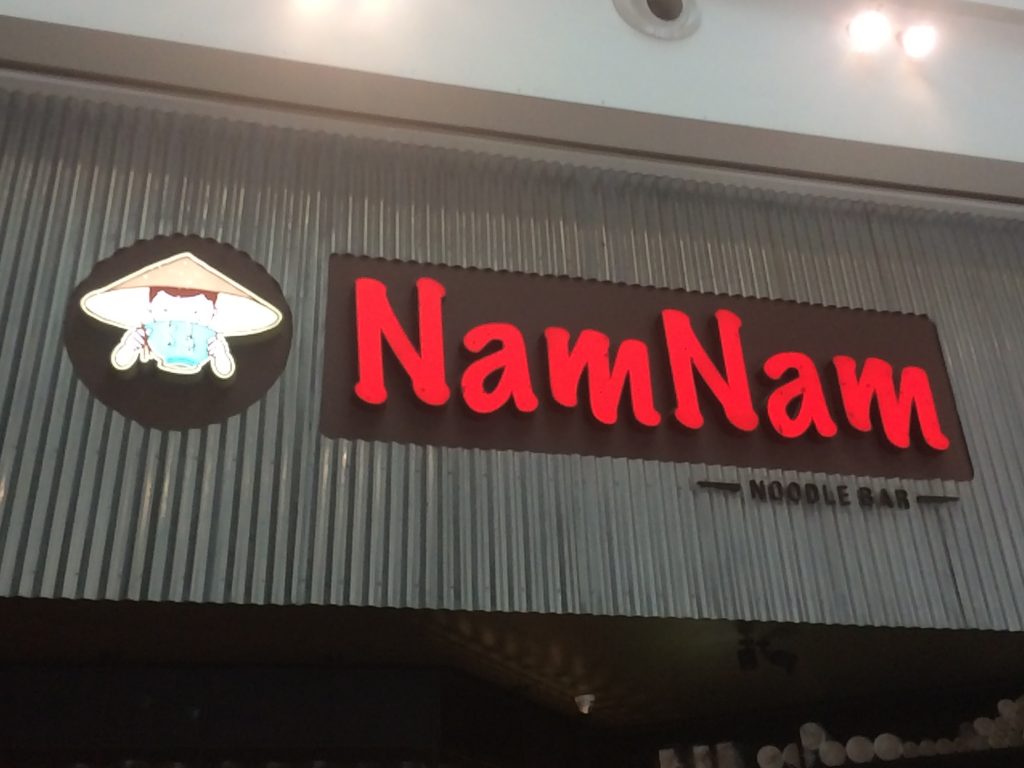 Sushi buffet at Ikoi
The all-you-can-eat sushi buffet is a thing in Singapore. And after both of us learning to love sushi even more in Japan, we had to try it out. After much research, we settled on Ikoi Japanese Restaurant (the freshness of the fish was touted). Entering the small space we were a bit nervous and didn't really know what to expect. We were the only non-Asian customers and it seemed like the only first-timers. You get two hours to eat and we had read that it was necessary to order a lot of food in the beginning because the waitresses get annoyed if they have to keep coming back to you to take your order. But what is a lot? Turns out it's A LOT. Sushi, sashimi (boats!), tempura, ramen, udon, edamame, etc. etc. etc. We can put away a fair amount of food, but the people around us put us to shame. It was all delicious and quite fun (although the waitresses looked a bit haggard at the end).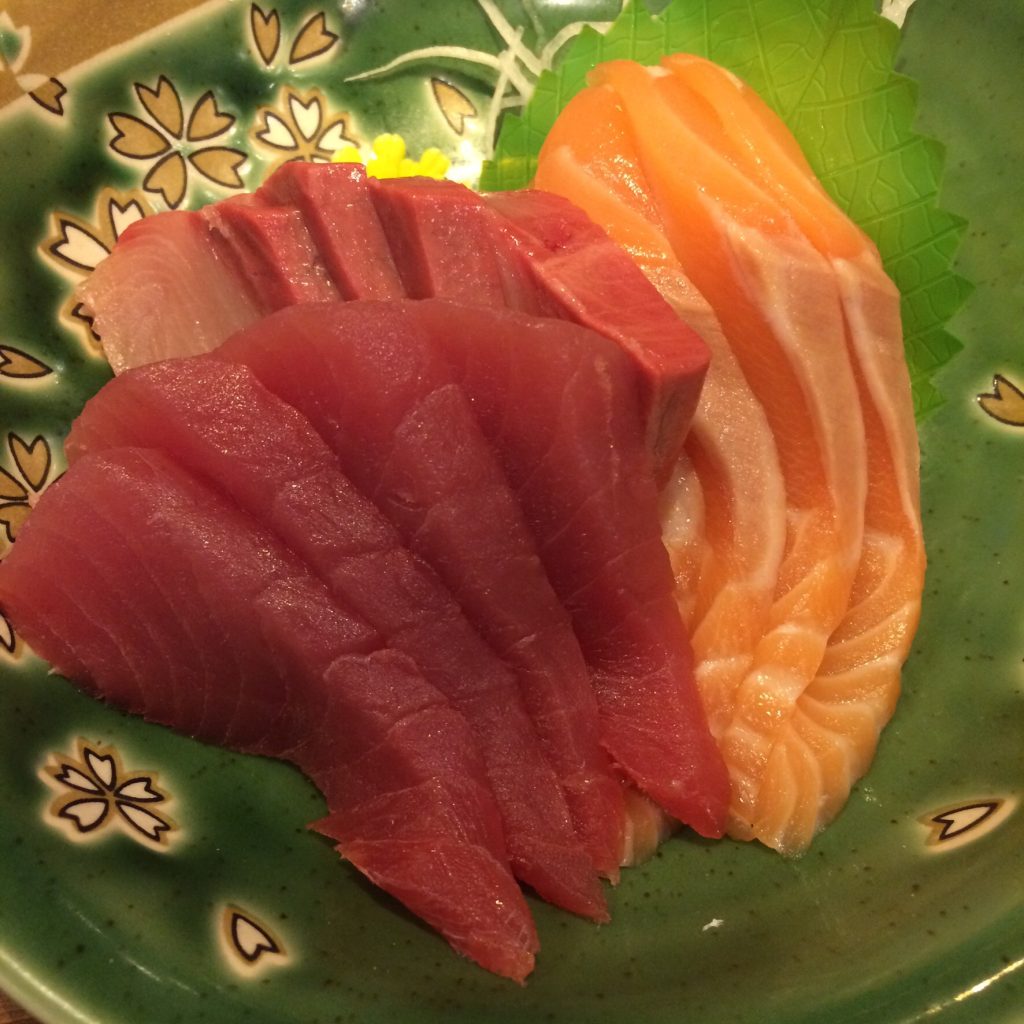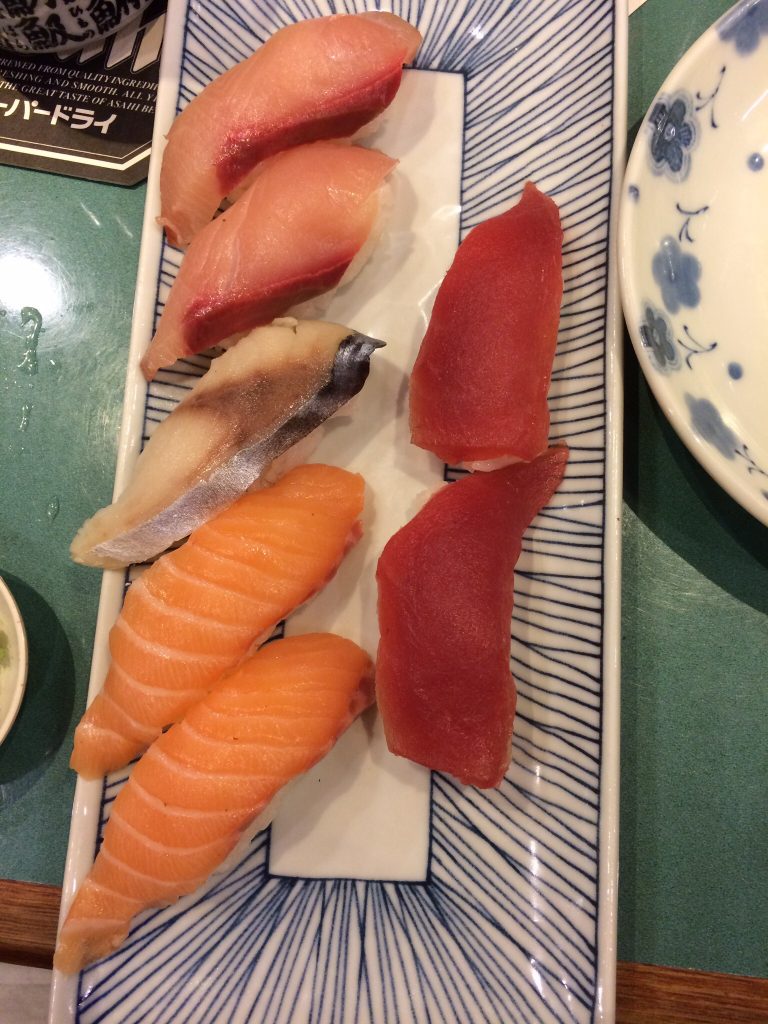 Ramen at Hokkaido Ramen Santouka
Speaking of ramen, of course we went out for ramen too! The bowls at Hokkaido Ramen Santouka did the job.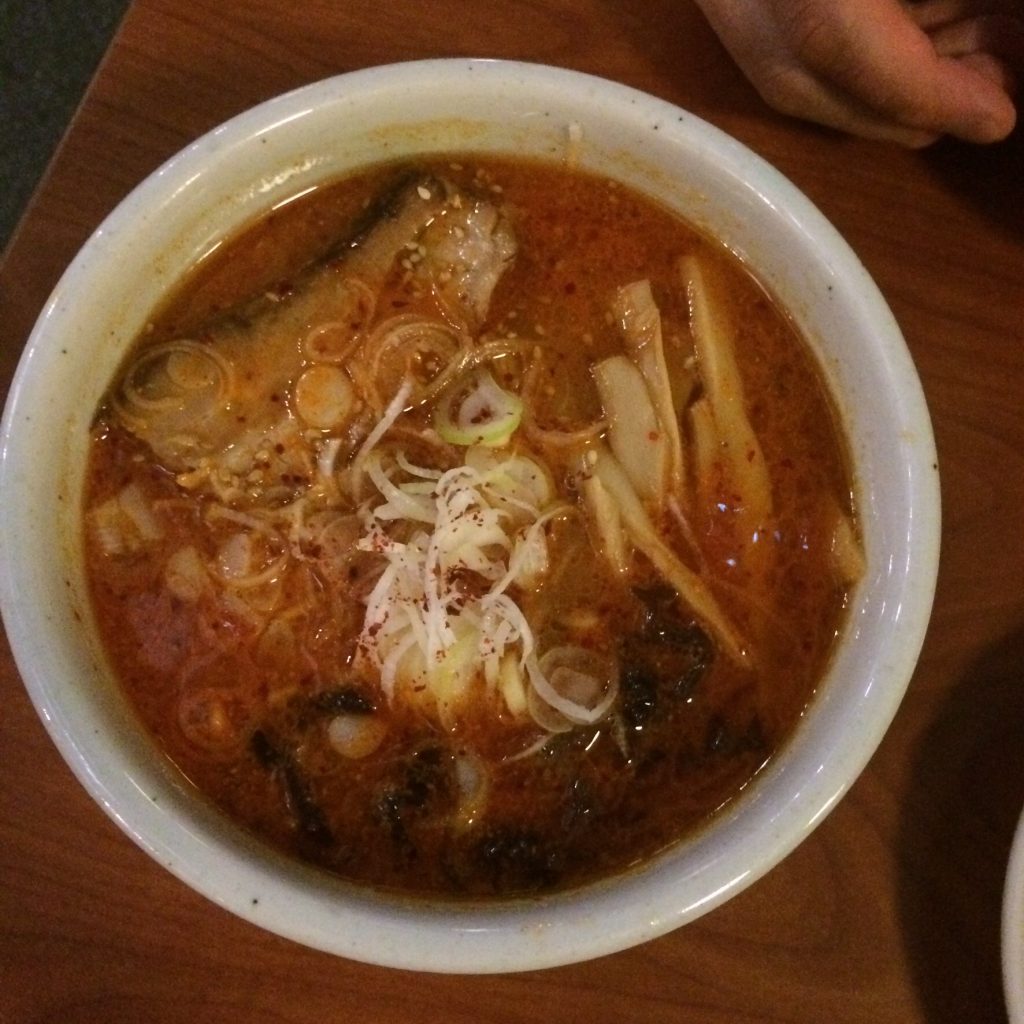 Korean BBQ at Don Dae Bak
To complete our culinary trip down memory lane in Singapore, we went out for Korean BBQ. Don Dae Bak Restaurant in Chinatown is a small spot with really delicious food. You get an unlimited supply of yummy side dishes (mostly pickled) and all the meat you desire. They had beef, pork, and chicken, both marinated and naked. And they even help you grill your food if you start getting tired but still want to eat more! Like most drinks in Singapore, the soju is a little pricey, but as we learned in Seoul, you can't have Korean BBQ without soju!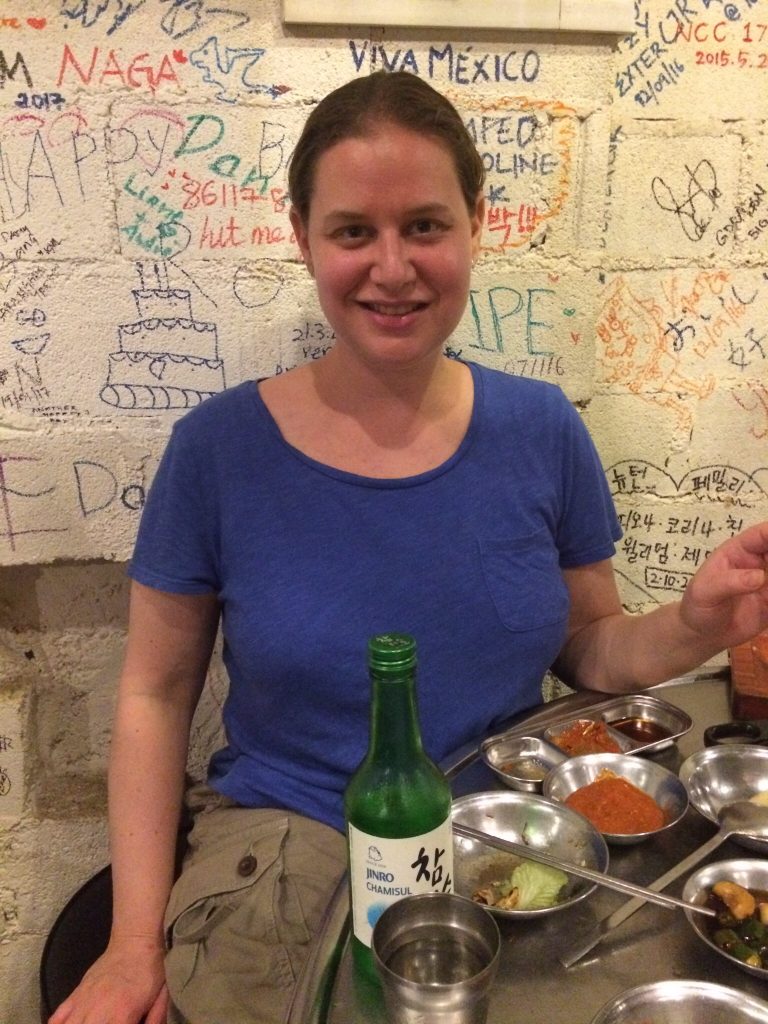 Korean lunch at Manna Story
We couldn't get enough kimchi so also had a Korean lunch at a place called Manna Story. We ordered bibimbap, and while the ingredients were authentic, the serving vessel was simply a plate vs. a hot stone bowl that the rice could get all crispy on.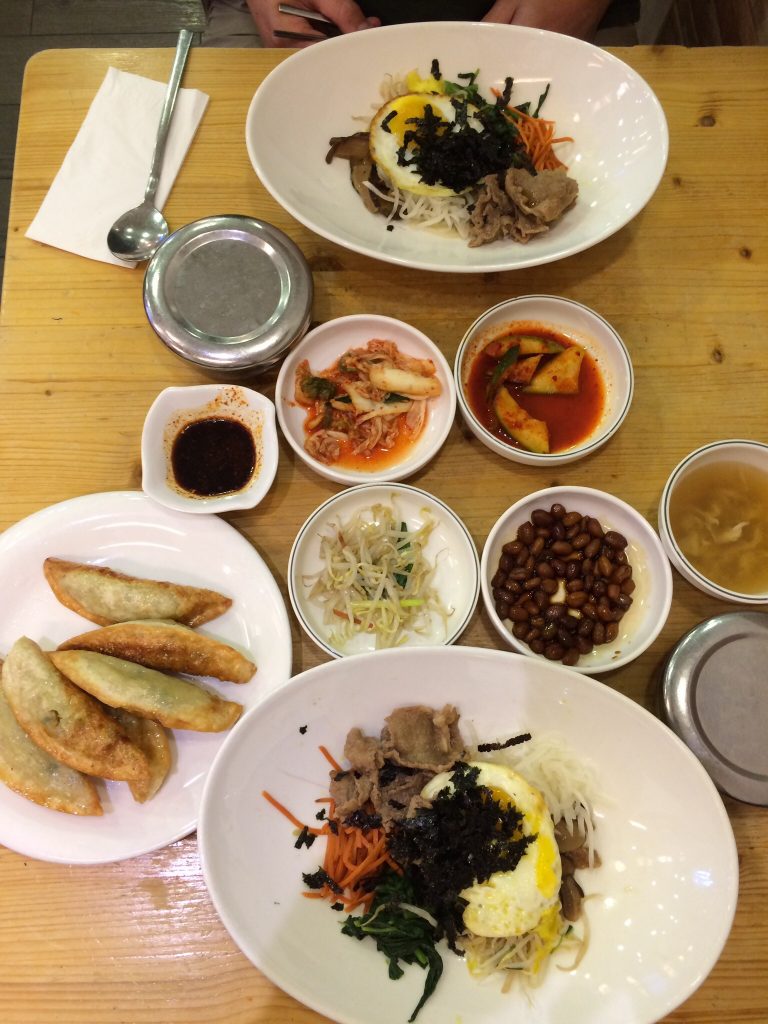 Kaya Toast at Ya Kun
Sarah loves sweet things and runny eggs so she had to try the Singapore specialty kaya toast. The set consists of toast slathered with butter and kaya jam, an egg that's probably been cooked for all of ten seconds, and a cup of coffee. You're meant to dip the toast in the egg (which you've already seasoned with soy sauce). It was weird and not something Sarah felt like she needed to repeat.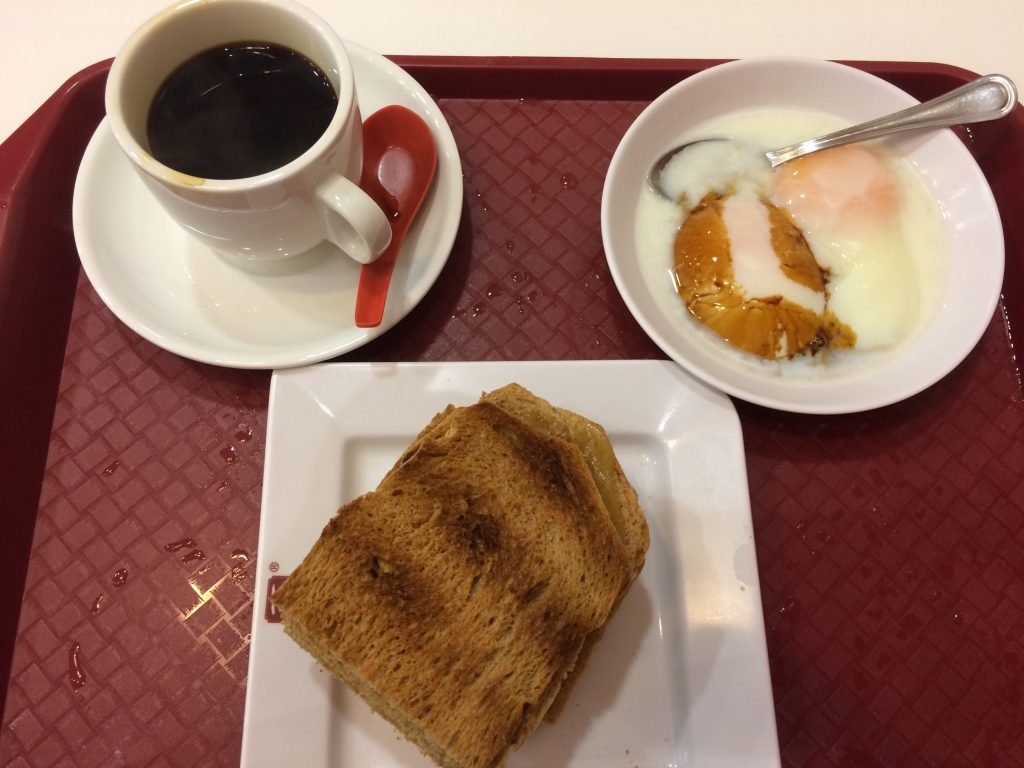 Stuttgart Blackforest Boutique S-Café
As we've traveled we've noticed more and more German restaurants all over the world. So we weren't super shocked to find one attached to our hotel in Singapore. We got in late the first night and just gave in. The food was fine, but the beer and black forest cake were the winners. Prost!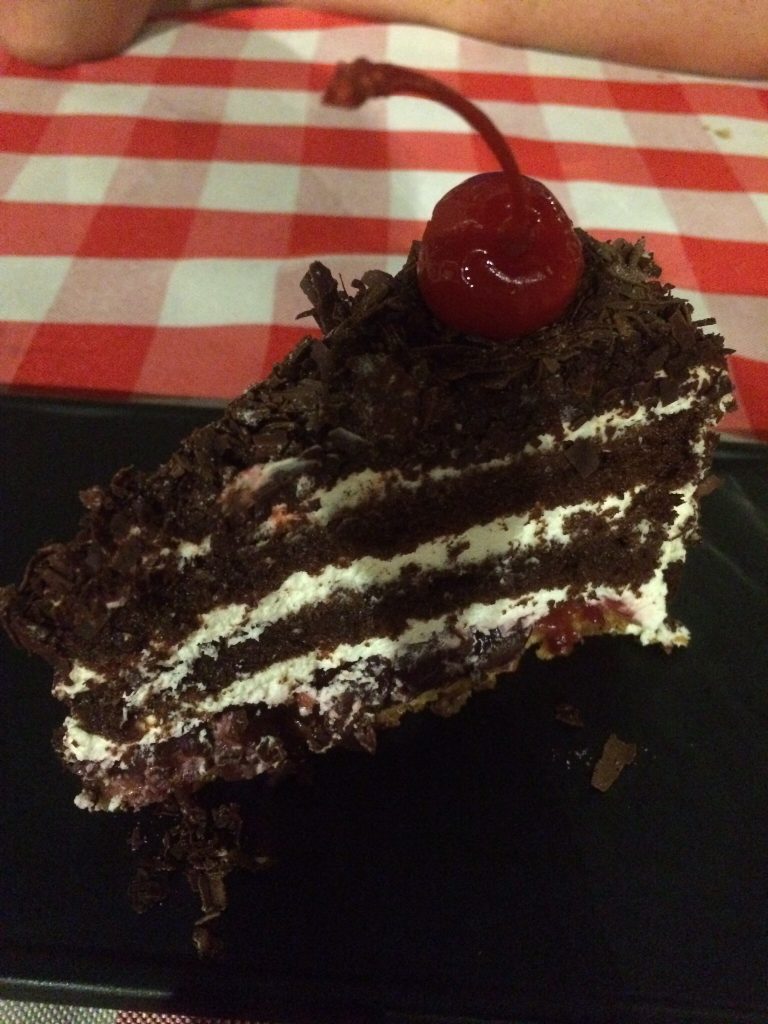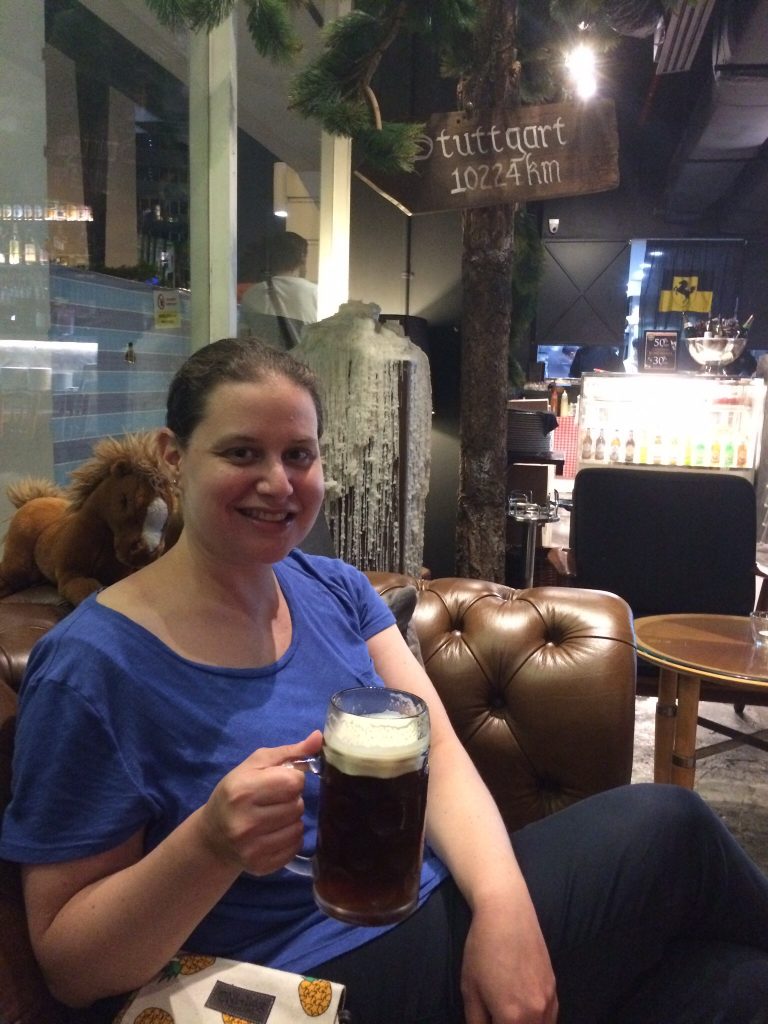 Getting around Singapore
Public transportation is unbelievably inexpensive in a relatively pricey city. Fares are so low – they actually recently reduced them! And the system of buses and subways is pretty easy to navigate. You have to buy a transport card. The standard card locals use is called EZ-Link. You can buy them from any station kiosk. When you leave the city, you can get back any remaining balance plus the card deposit. There's a kiosk at the airport. You can also buy a tourist card if you prefer to not worry about your card balance as it gives you unlimited rides for a specified time, but it costs more.
In general, we found Singapore to be a pretty easy to get around place. There were many accessible subway entrances and most of the city was pretty flat. The heat and humidity could definitely be an issue for people with breathing issues, but Sarah didn't have too hard a time when we were there in February and April.
Want to save this post? Pin it!