Hi my name is Bree and I live in the coastal town of Capel Sound on the Mornington Peninsula in Victoria, Australia. I was diagnosed with LAM at the ripe old age of 58, five years ago. I had been diagnosed with tuberous sclerosis when I was 26 after the birth of my second child. I suffered over the years with chronic asthma and chest infections that often turned in pneumonia. So to get an actual diagnosis of LAM was scary to start with, but to know what it is and how to manage it made it all okay. I also have other chronic illnesses: Hashimoto's thyroid disease, Meniere's, osteoporosis, osteoarthithis, rheumatoid arthritis, high blood pressure, and eczema.
When I was first diagnosed with LAM I was quite sick. Not from the LAM but my other chronic illnesses. My lung doctor organized for me to be in pulmonary rehabilitation classes. I would go there twice a week and gradually I began to feel so much better. I also have dogs and I began long walks with the girls. I lost quite a bit of weight and started to feel so much better than I had in a long time. I found the walks with the dogs in the fresh air helped my breathing and my stress levels as well.
Six months ago I found myself back at physiotherapy due to an injury to my right knee. You can laugh at this! I did my ACL, MCL and a small fracture at the back of the knee on a flight home from France. Getting back into my seat from a toilet break, my leg slipped and bang. The pain was excruciating.
The physiotherapist has taken into account the LAM and my other chronic conditions with regards to what I can do. I attend two physio sessions a week along with a hydrotherapy class. In between each individual exercise I sit down and rest. It's not like a gym where you go from one to the other with no rests in between. Each one I usually do 3×8 with a small rest in between as well. My physiotherapist says a lot of people try and go gung-ho and end up stopping because the body hurts too much. There is no truth to the saying that there is no gain without pain in a physiotherapy room. For that I am thankful. If there is any pain he then changes the way that exercise is done.
I also have a exercise bike, a stepper a medicine ball and hand weights. So on the days I don't have a class I can do some at home. This has helped me manage my LAM by improving my breathing and getting my body to be as strong as I possible can.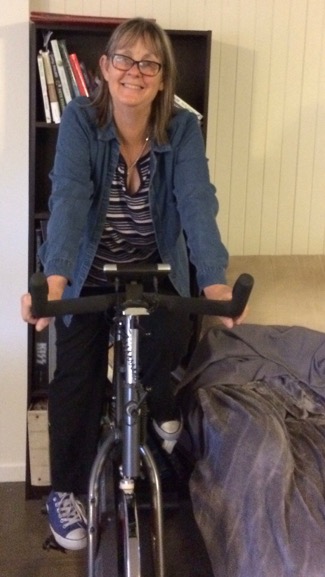 Bree also writes 3 Sisters Abroad, a blog about traveling with her sisters. Check it out!