Last Updated on 8th January 2019 by Sarah and Justin
How does one pack to leave one's home for an extended period of time and travel in a somewhat nimble way? To be honest, what to pack was one of the things that stressed Sarah out most about going on this adventure. And how much to pack was something Justin was concerned about (which of course makes sense given that there are times Justin has to carry both of our bags).
Good thing, everyone who blogs about "quitting their job to travel around the world" inevitably writes a post about what they packed. We found these extremely helpful during our own planning, especially the details on luggage size. But our packing plan and list was a little different since Sarah has a lung disease which requires traveling with a portable oxygen concentrator (POC) and medication.
Sarah's POC, two batteries (the minimum required), and A/C adapter weighs ~7 lbs. A third battery is required for the second two legs of our journey, bringing the approximate weight up to ~8lbs. Lithium batteries cannot be checked on flights, so even on shorter flights, we must carry all of them on. We bought the backpack specifically made for my POC to help carry everything.

After 3+ months on the road, we can say we were initially pretty successful. And since we made a stop home, we had the opportunity to correct a few things too. Here's what we learned, and what we packed…
We tried to pack for about 1 week since we knew we could do laundry that frequently
Every ounce counts when you're moving around a lot. Even if you're not backpacking, rolling a suitcase for 20 minutes or carrying 2 suitcases up and down stairs (Sarah says "thank you Justin") takes a toll. This is of course made more complicated/worse by the fact that Sarah travels with a POC (see above)
We didn't need any of the "extra" or "just in case" items we packed. This goes for clothes (2 dresses), toiletry items (2 nail clippers), and leisure items (2 decks of cards)
Clothing will (and did) get stained, so it was best not to pack things we really cared about
But it's nice to have at least once nicer thing to wear to feel good and not like a nomad all the time
We should have worn everything a bit before taking it with us. We each had 1 pair of shoes that could have used some wearing in before we hit the road and had to wear them often
Essential items included:

Packing cubes (with clothing rolled within), including extras for laundry
Ziploc bags – great to store lots of things including toiletries and condiments
Sleeping masks and earplugs
Reusable shopping bags, especially in Europe
Hanging toiletry bag with adjustable clip which can hang anywhere since sometimes bathrooms don't have much shelf-space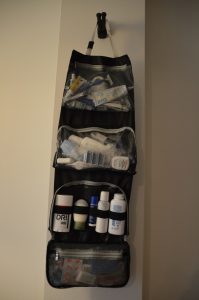 Luggage
Justin: 1 60-L rolling duffel
Sarah: 1 60-L rolling duffel/convertable to backpack (note, Sarah will most likely never use her bag as a backpack, but likes it anyway)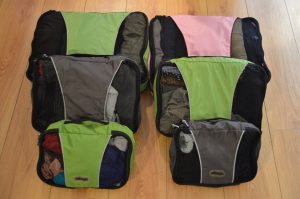 *Note, this is a picture of our clothing for leg 1 – we were able to fit all of our clothing for leg 2 into just 2 packing cubes each!
Detailed packing lists: