Last Updated on 14th March 2019 by Sarah and Justin
Having seen so many beautiful pictures on Google Images and read so many positive trip reports, we've wanted to go to Slovenia for years. So when we were planning the final leg of our trip – three months back in Europe – we made absolutely sure to include it. We spent just over one week in the capital, Ljubljana. It's definitely our type of city. Not only is it quite pretty and easy to get around, but the symbol of the city is the dragon!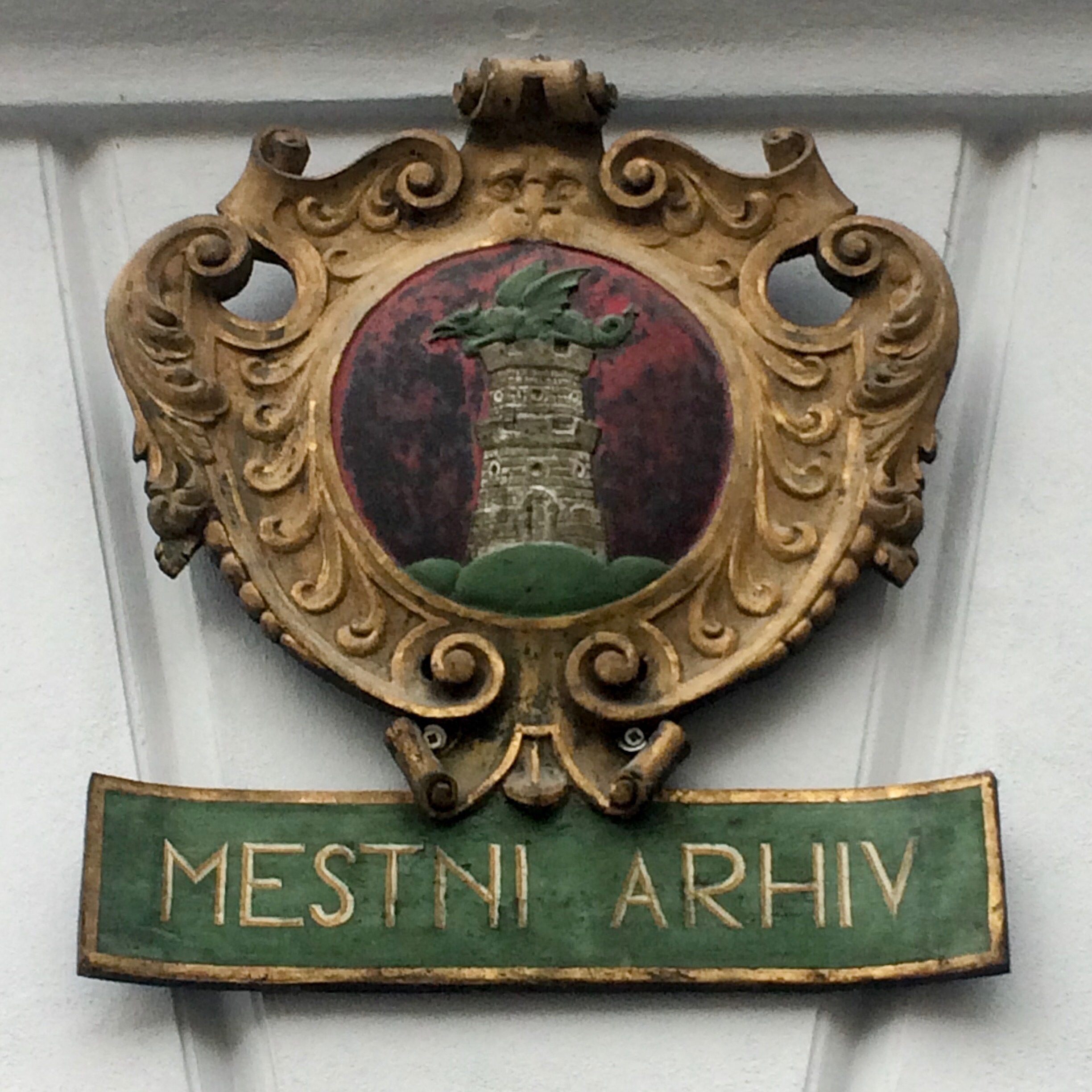 Greeted by the Julian Alps
We took the bus from Trieste, Italy, an easy trip which took about two hours. And upon arrival, we were welcomed by a gorgeous sight of the Julian Alps. It's a good thing we snapped this picture when we did because the sky wasn't this clear the entire rest of our stay.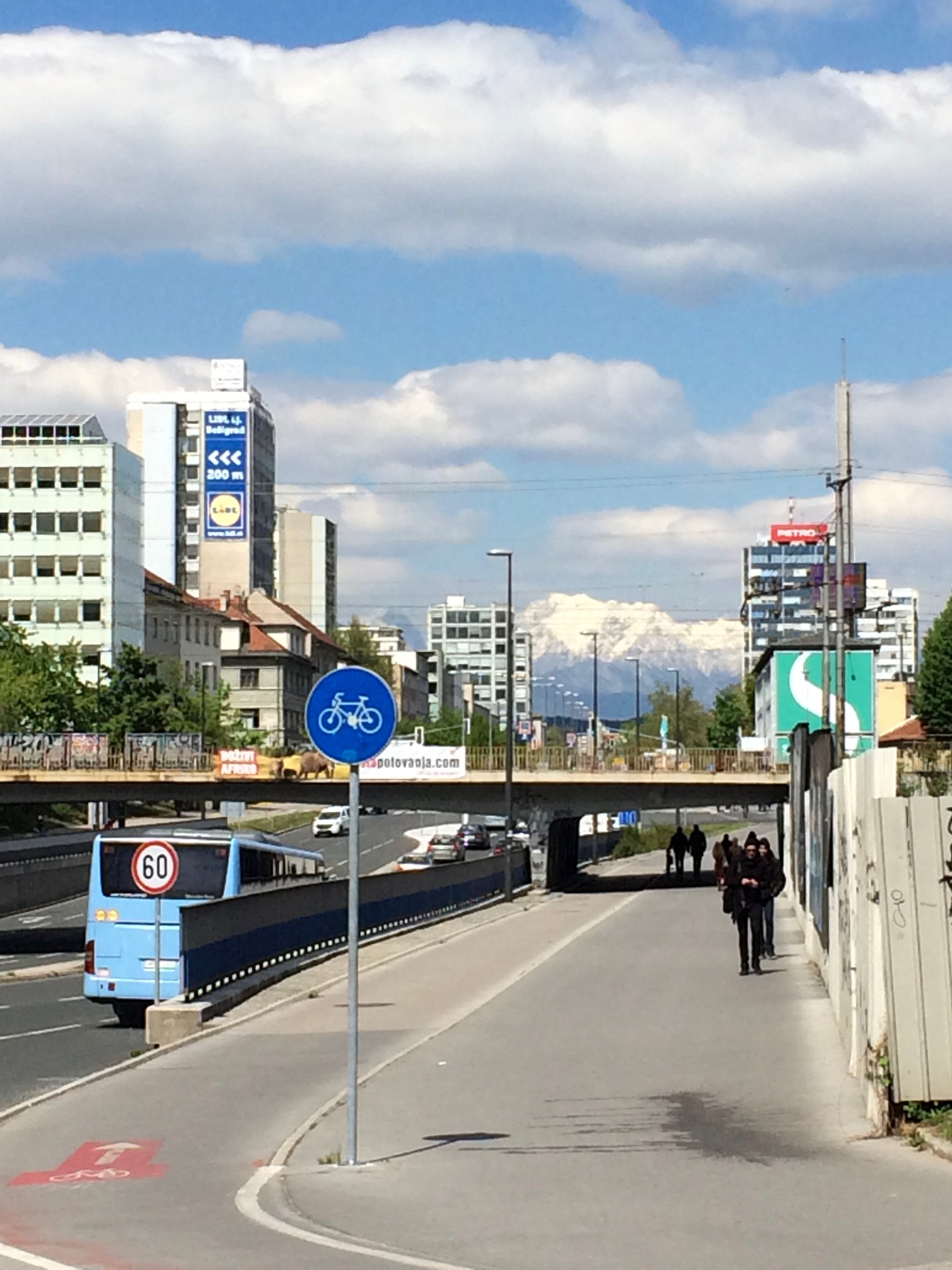 Republic Square
We stayed at an apartment right off Republic Square. It was on the edge of a residential neighborhood, but within walking distance to major sights and landmarks. We'd definitely recommend staying in the area.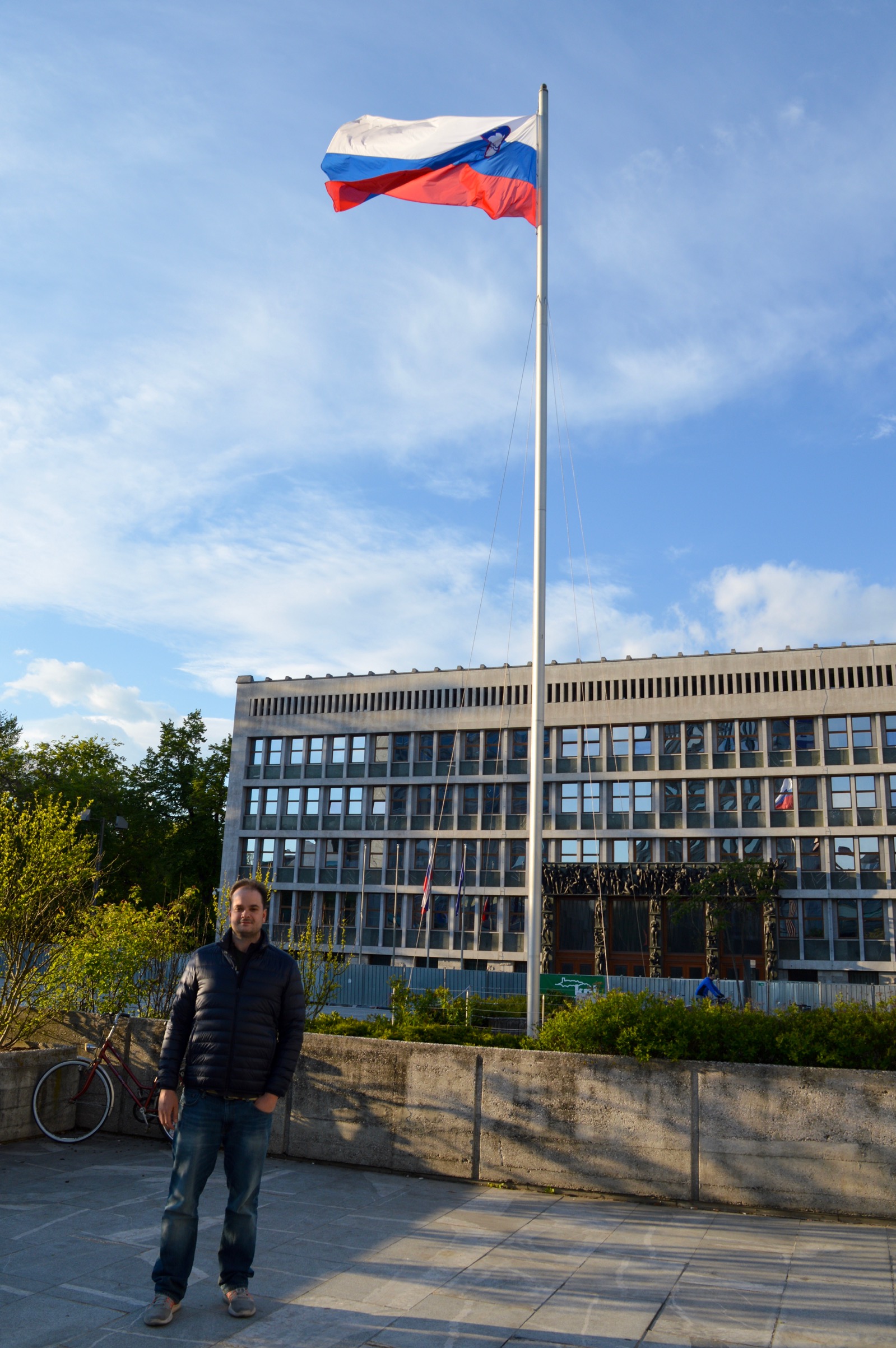 Congress Square
A major point in the center of the city is Congress Square. It's got a big park and pretty buildings and a nice view of Ljubljana Castle. Also nearby are the remains of the walls of the ancient Roman town, Emona.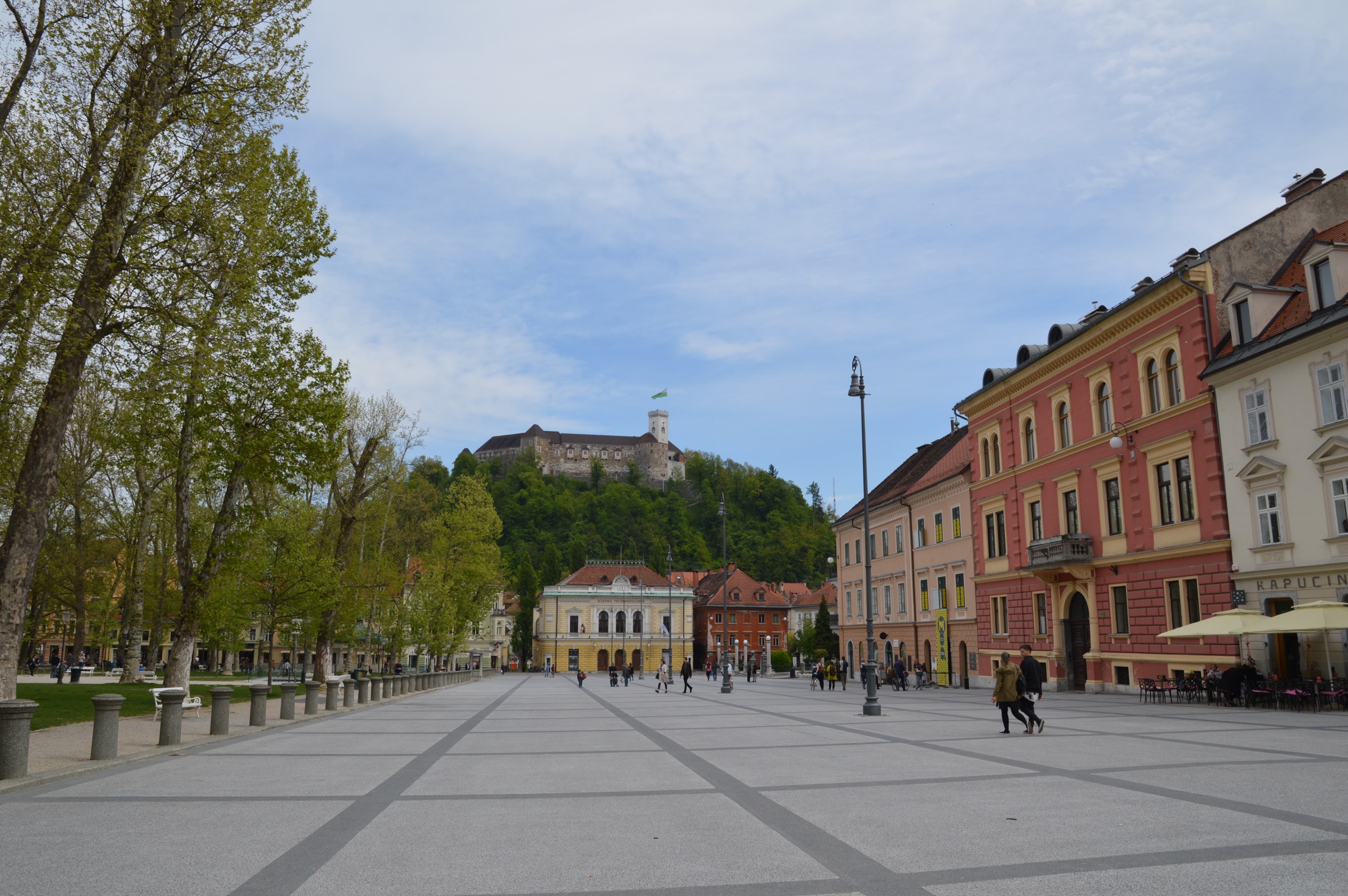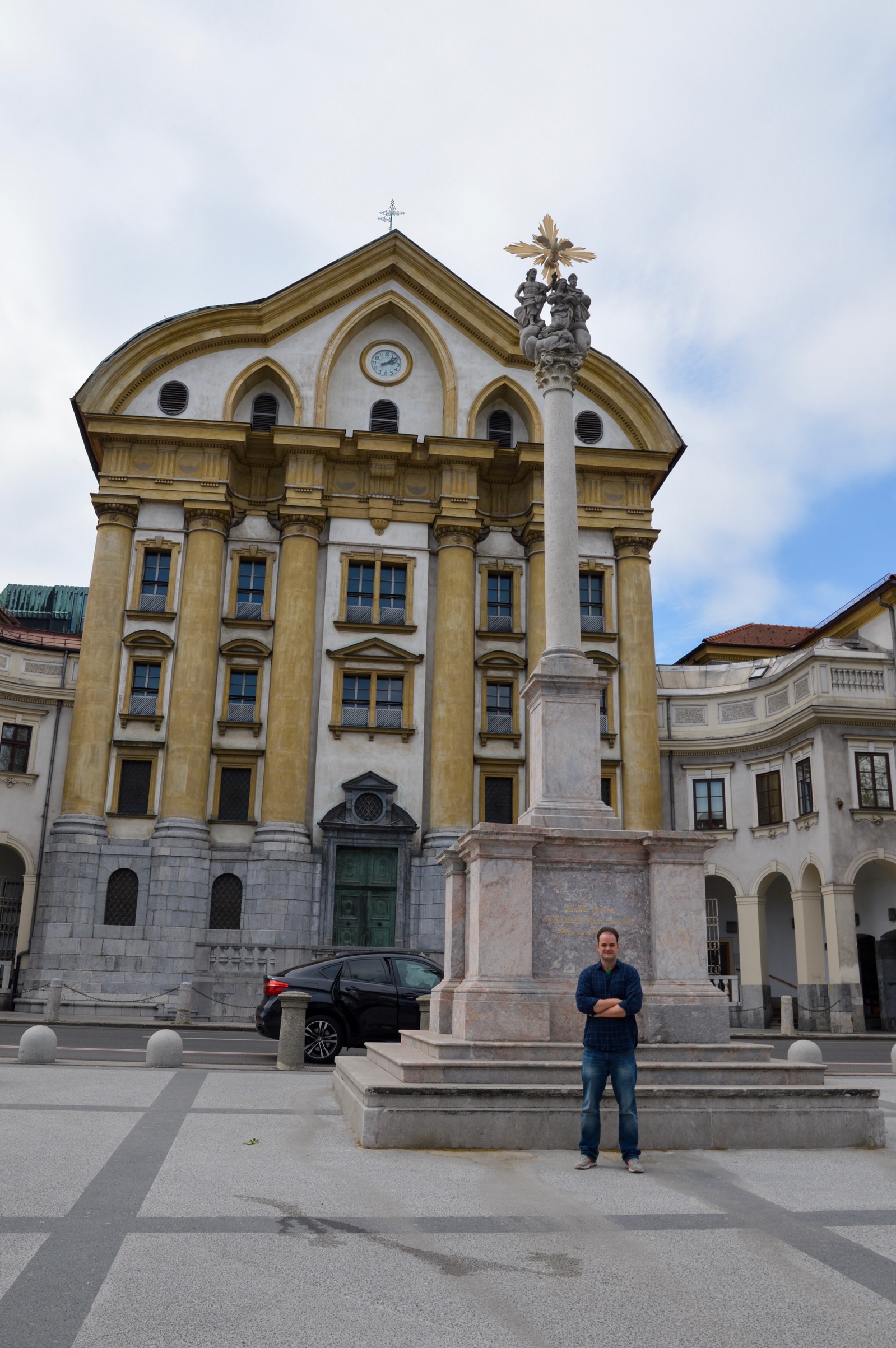 Ljubljana Old Town
Ljubljana Old Town is quaint and colorful and lovely – like many European Old Towns.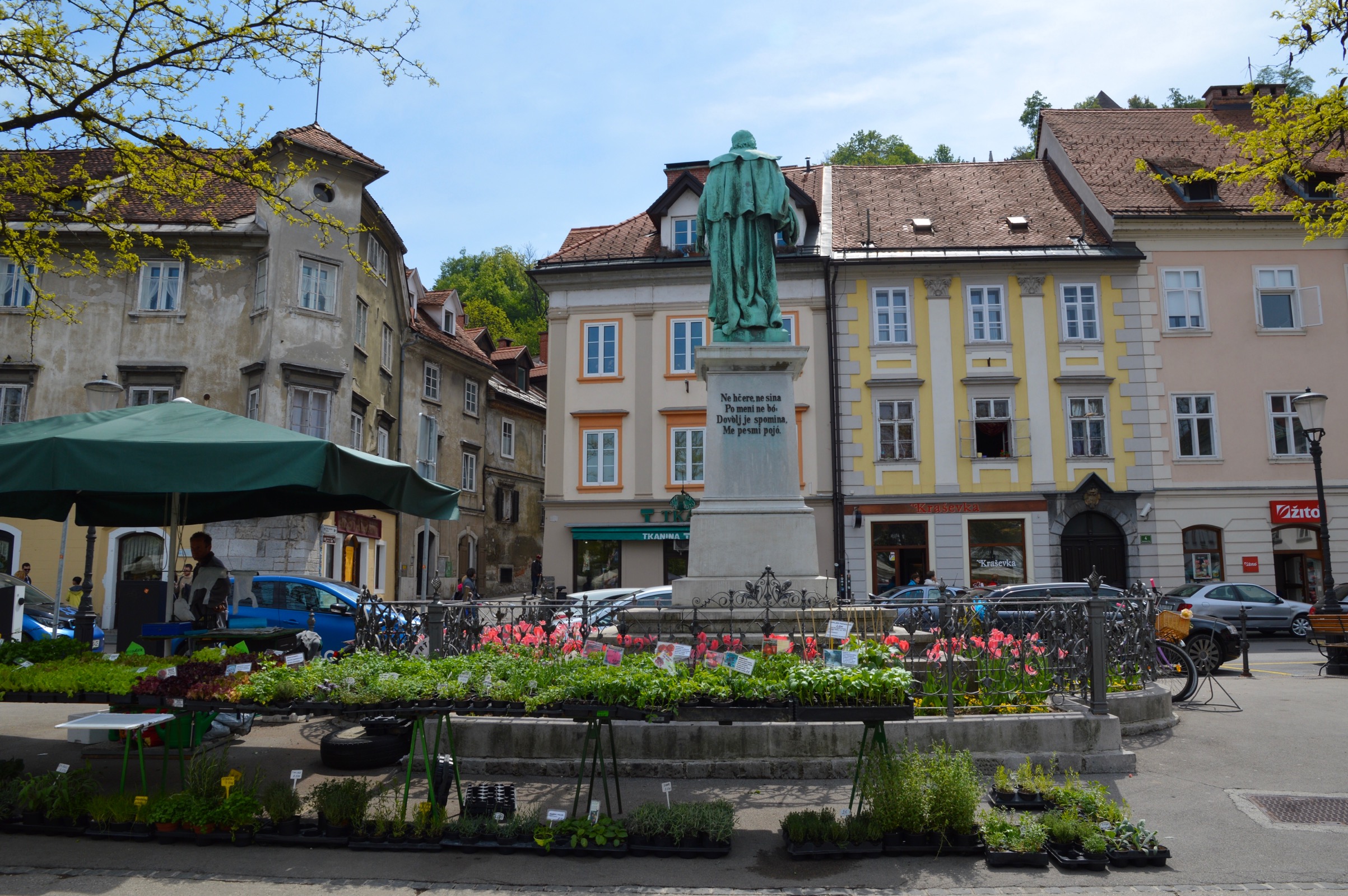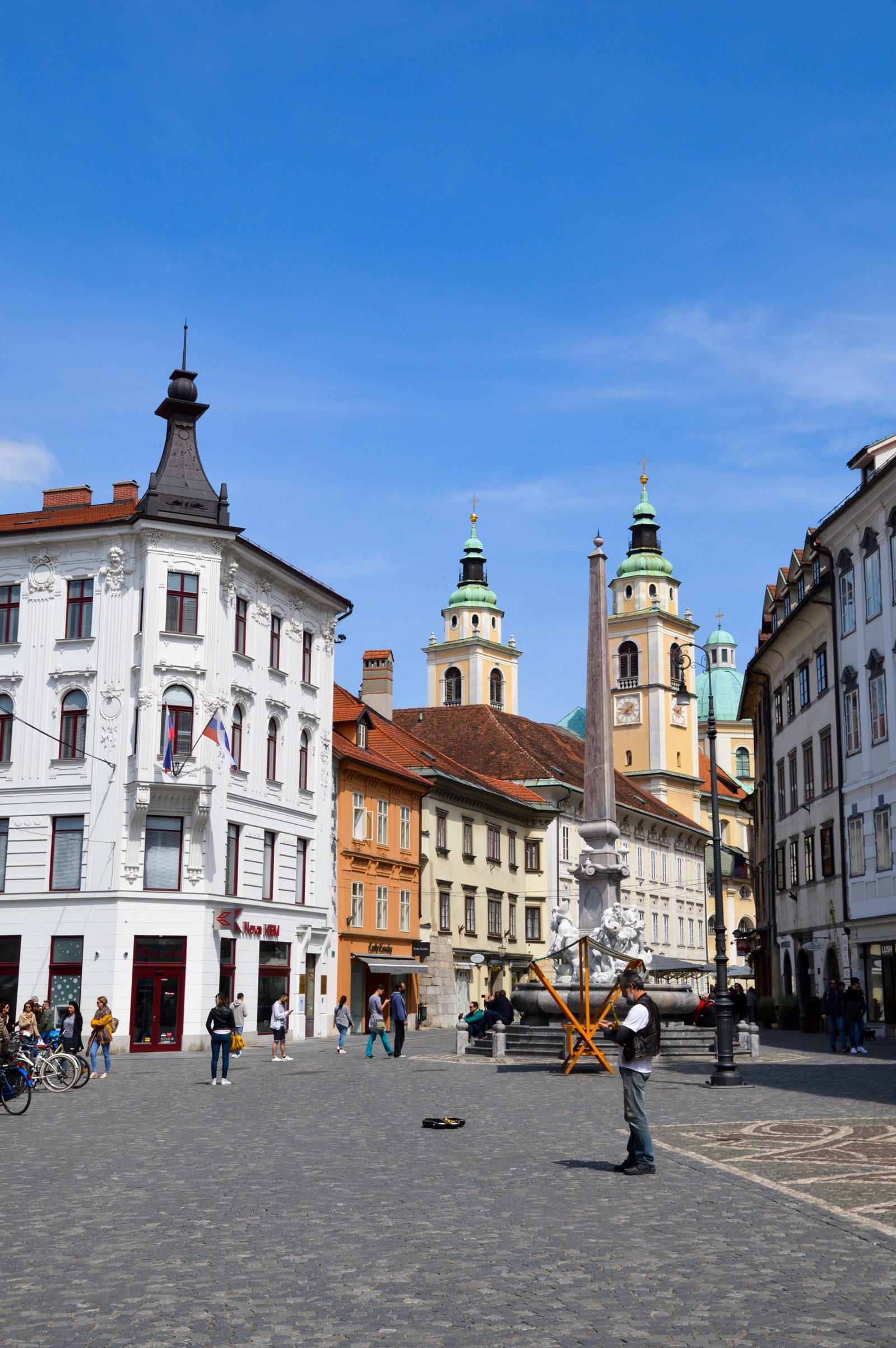 Separating the Old Town from the rest of the city is the Lubljanica River. Ljubljana's bridges are attractions in and of themselves There's the Triple Bridge – three bridges set together where the river curves.

And the Dragon Bridge is flanked by these great dragon statues.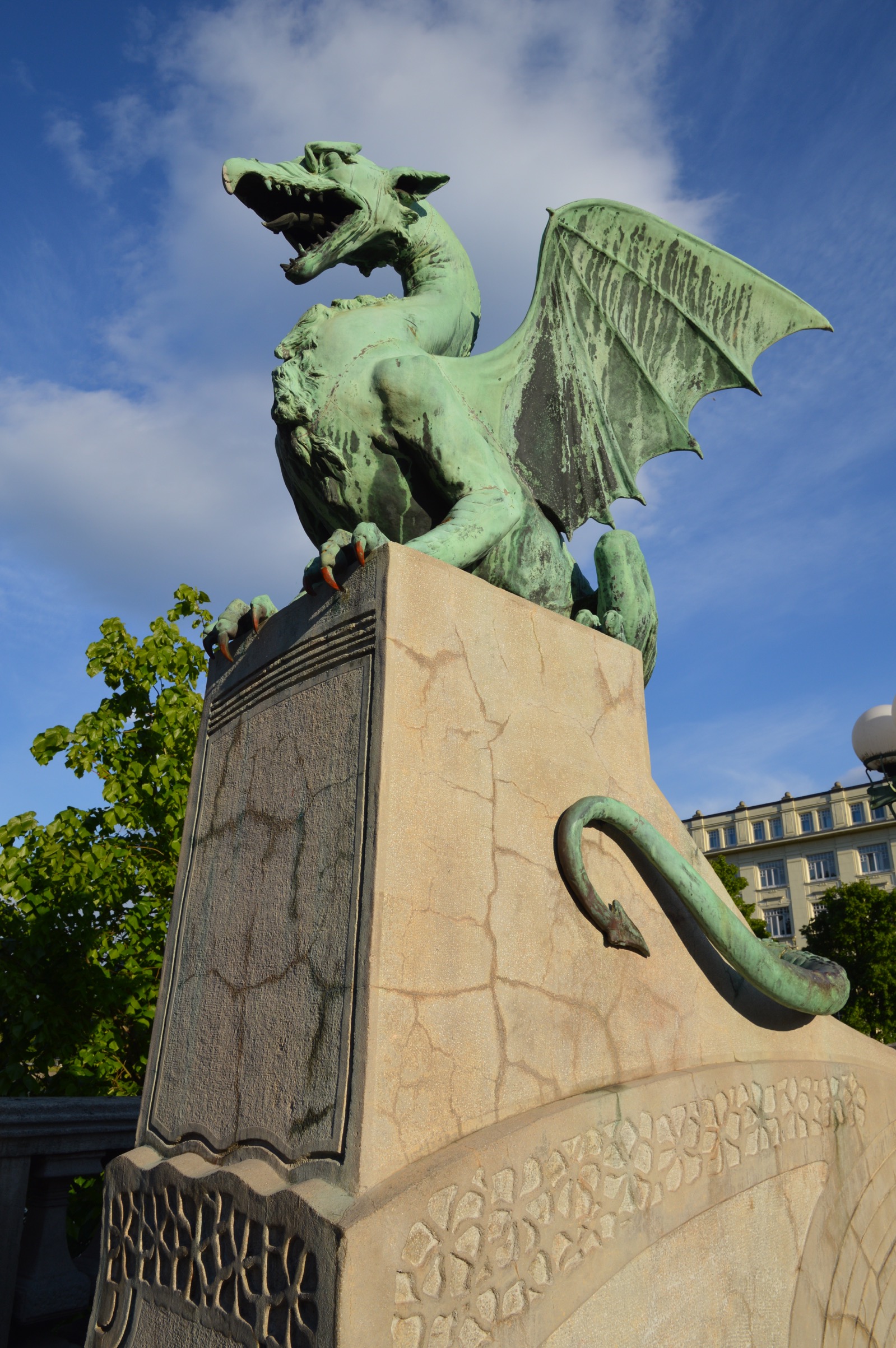 Central Market
One of the main attractions in the Old Town is Central Market. The indoor and outdoor market is open every day except Sunday, but it's biggest and busiest on Saturday. We wandered through all the stalls checking out all the delicious looking food and souvenirs.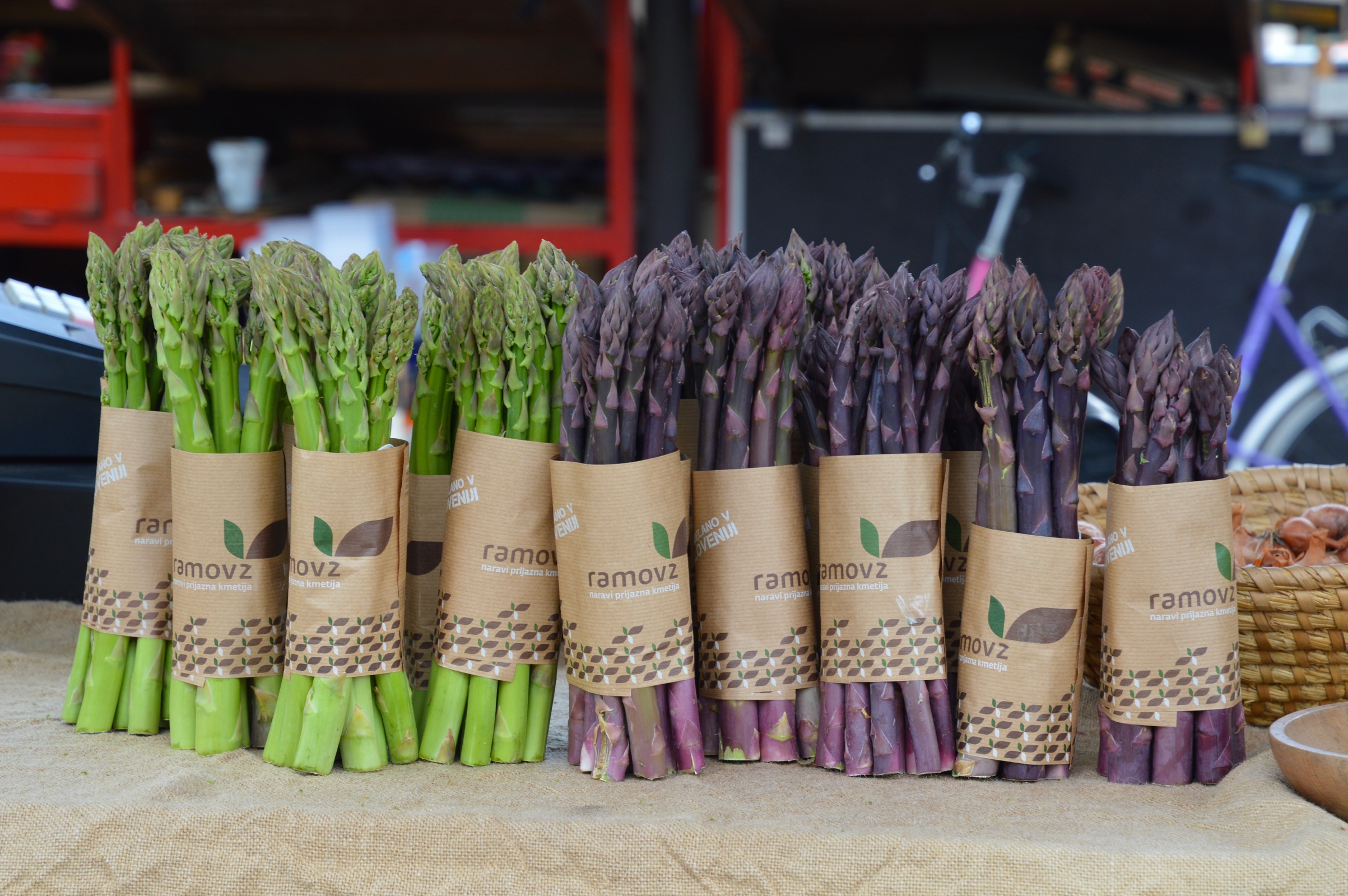 Ljubljana Castle
High above the Old Town sits Ljubljana Castle as well as the big, green Castle Hill Park. To get up to it you can take one of many paths or set of stairs or a funicular. While we love a good funicular, this time Sarah strapped on the portable oxygen concentrator and we made the climb. There are beautiful views of the city along the way and from the top. We had high hopes, but even though it was a pretty clear day, we still couldn't see those snow-capped Julian Alps!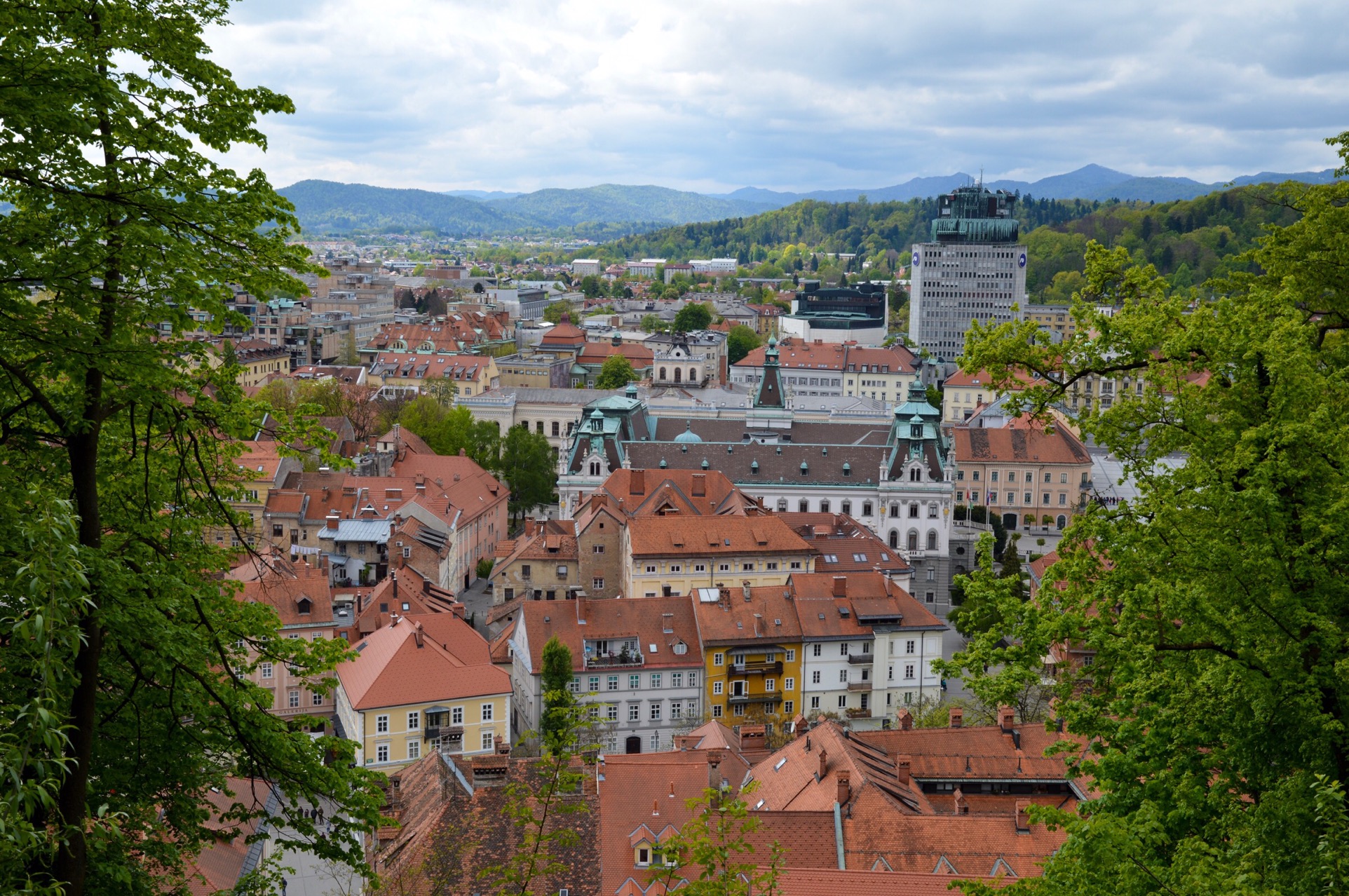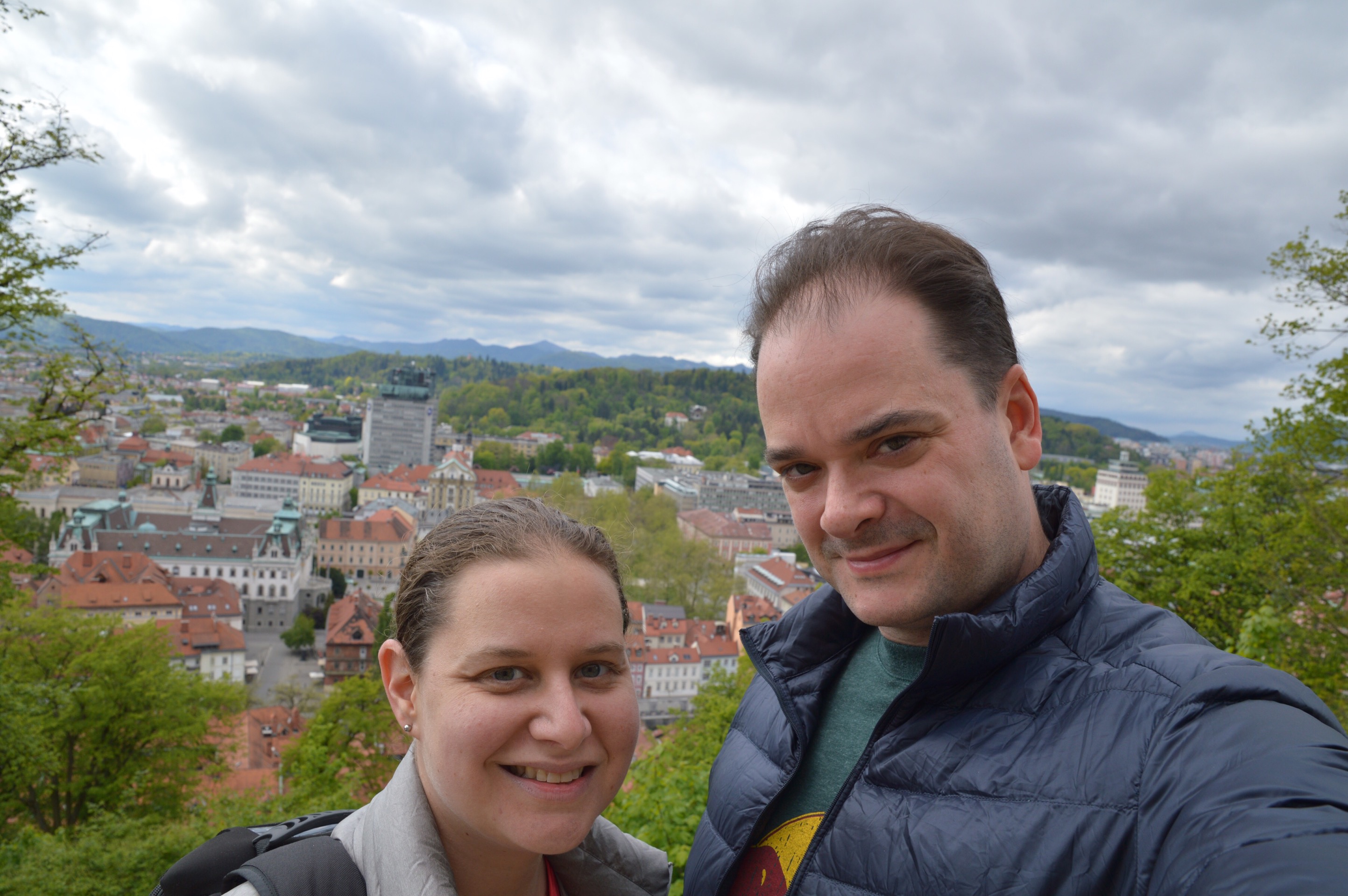 You can pay to go inside the castle, but walking around the castle grounds outside is free. Guess which one we did?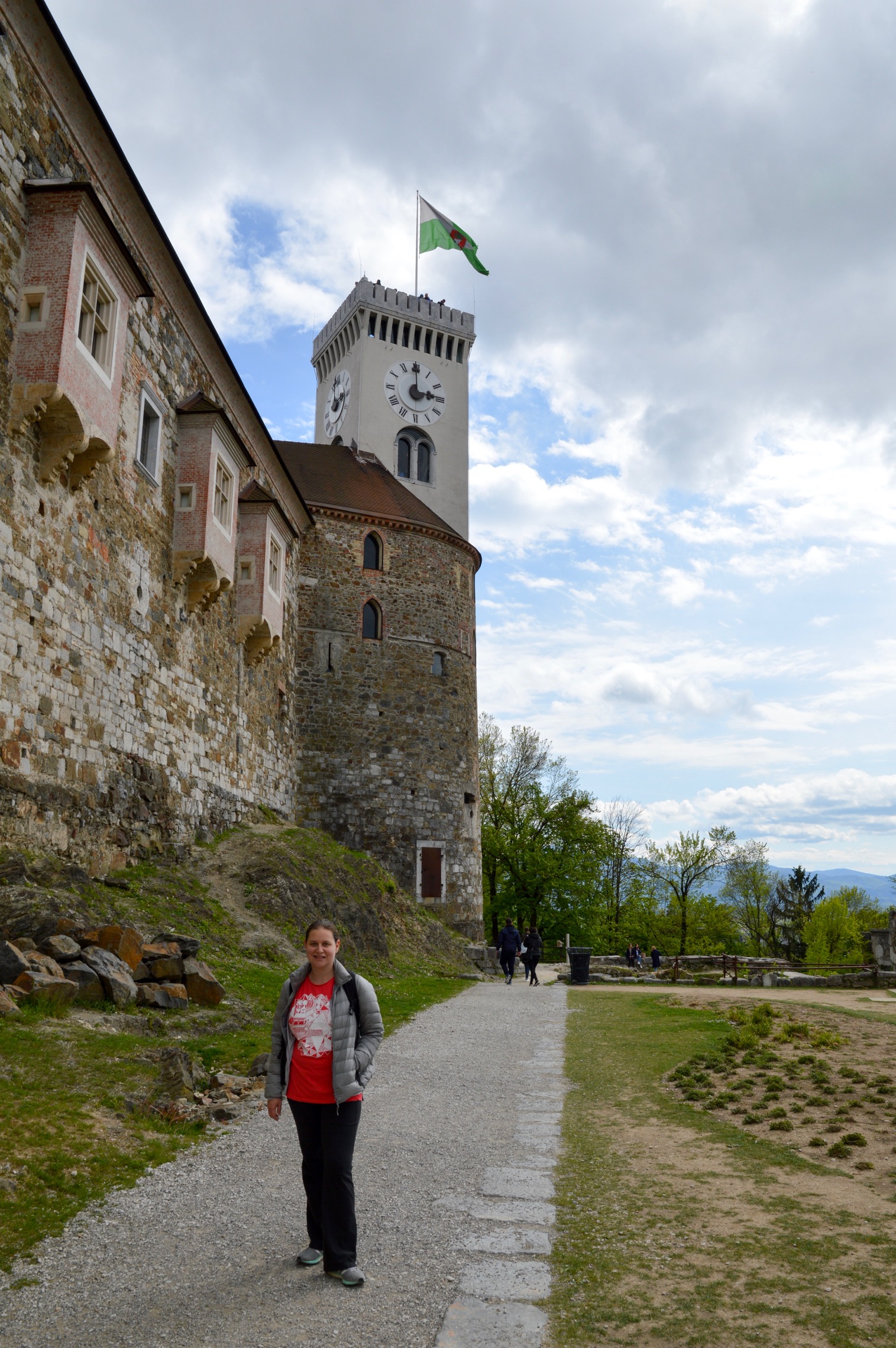 Park Tivoli
Ljubljana is also home to the massive Park Tivoli. It has running trails and hiking trails (up the substantial Roznik Hill) and playgrounds and an art museum and a whole bunch of statues. It's pretty incredible.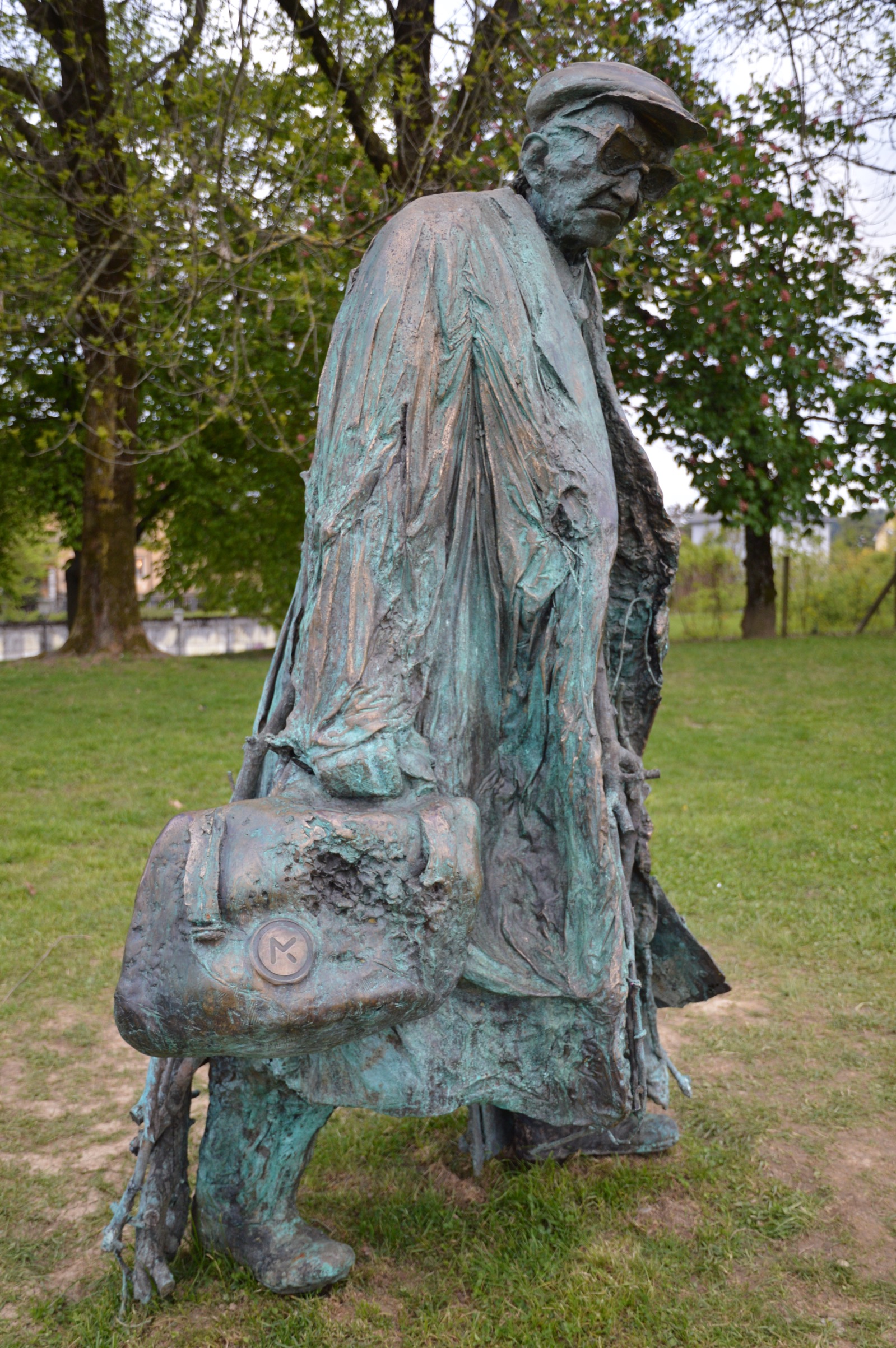 Art in Ljubljana
There are quite a few museums in the city. We visited the National Gallery of Slovenia and were introduced to the Slovenian artist Albert Sirk. He mainly painted maritime-themed works, but we particularly loved his paintings of Trieste and Miramare Castle.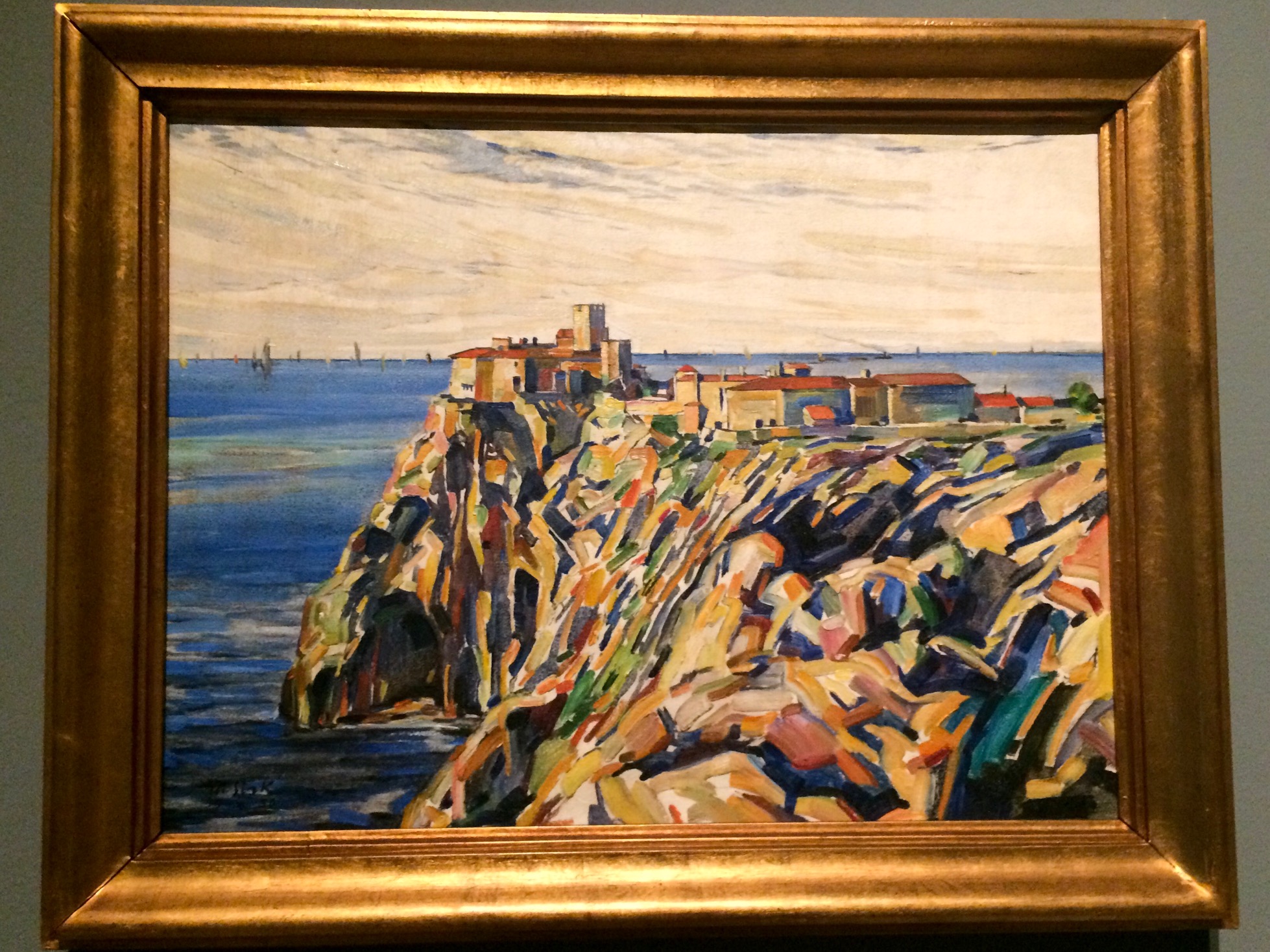 We also went to an exhibition of photographer Robert Capa at the Culture and Congress Centre. It was right across the street from our apartment, so were able to run right over one day when it was pouring rain.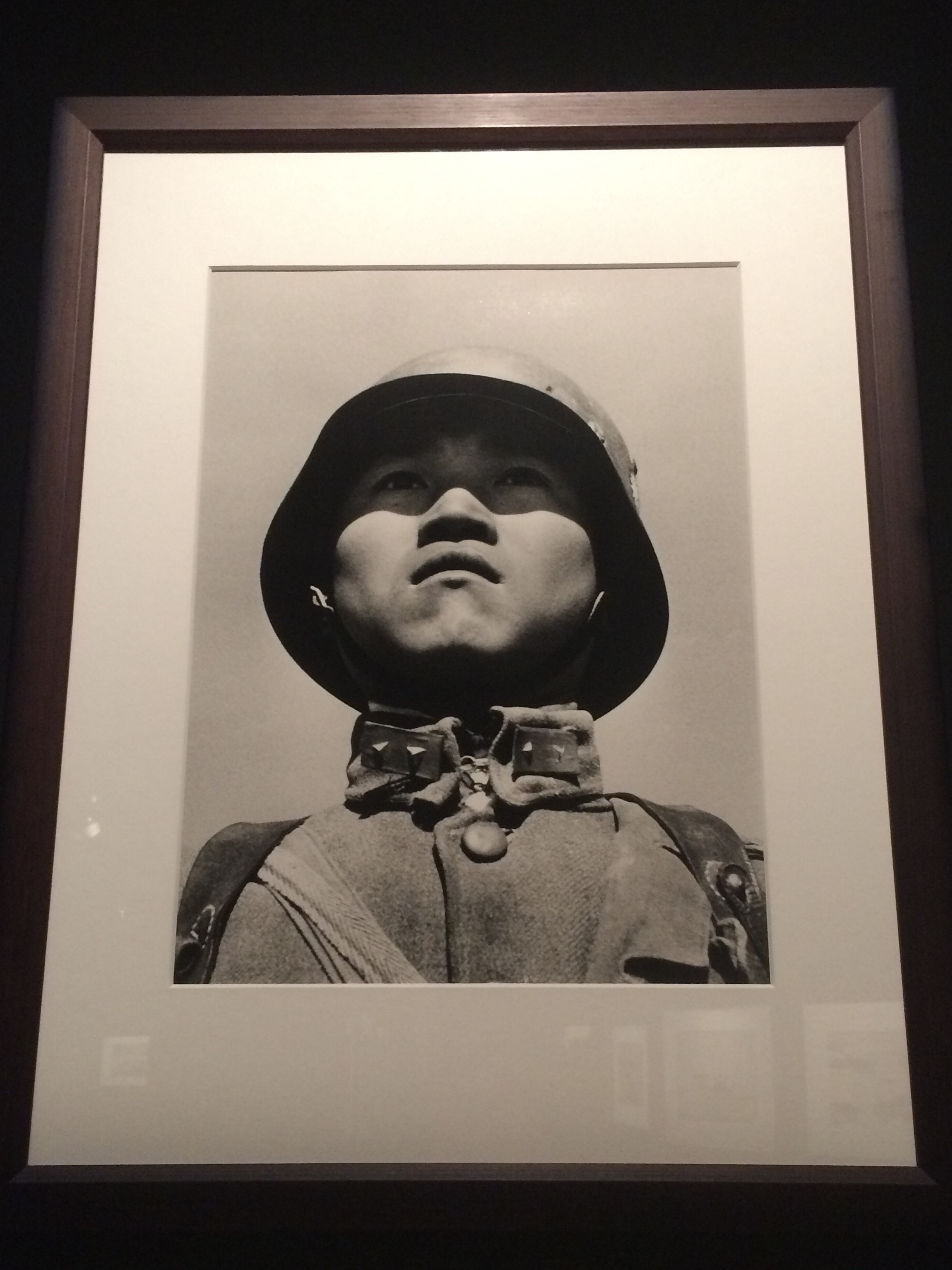 And there are statues and street art to stumble on throughout the city as well.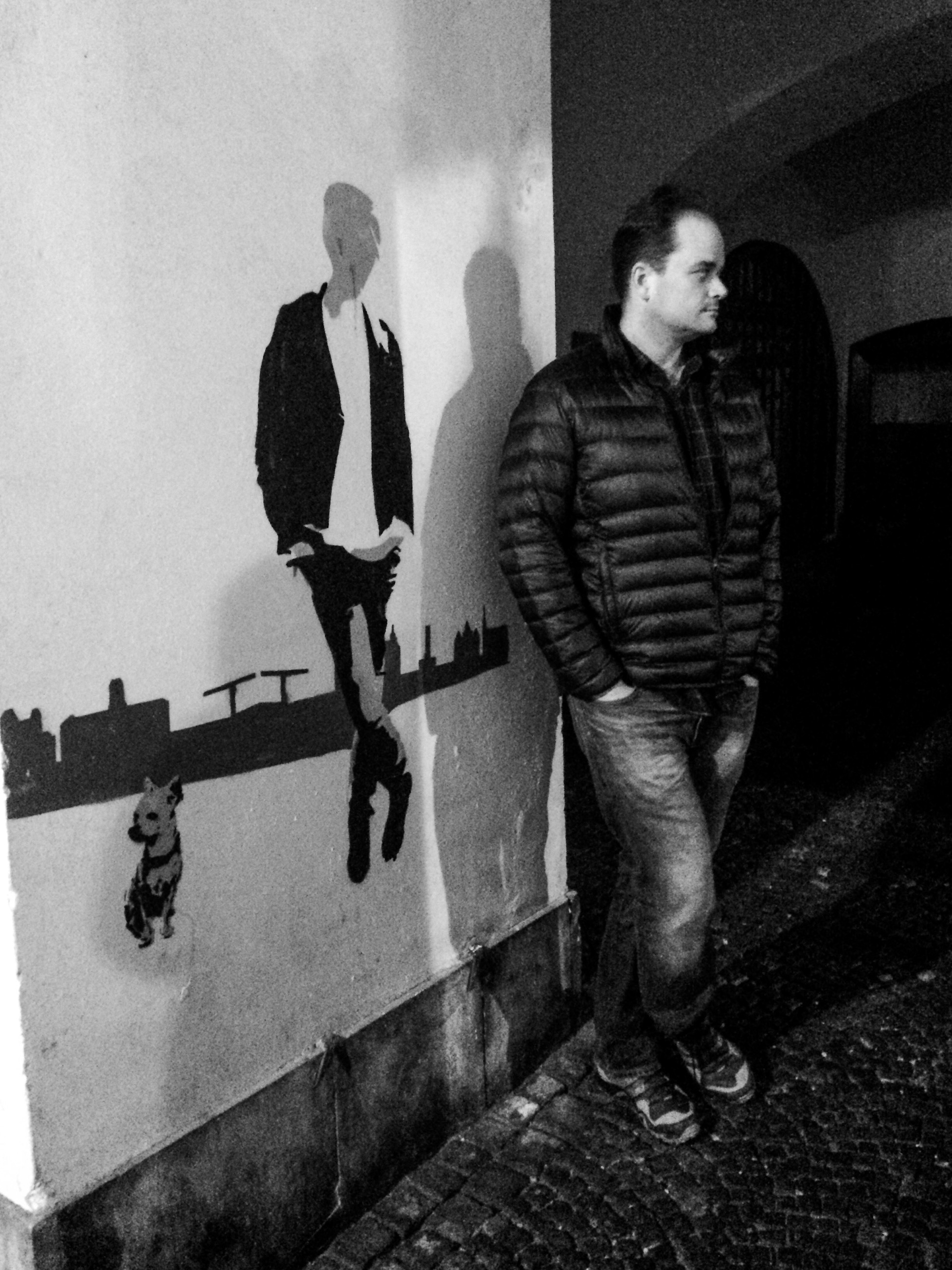 Day trips from Ljubljana
We spent eight days in Ljubljana and during that time took two day trips.
Lake Bled
Lake Bled is a little over an hour from Ljubljana by bus. It's as breathtaking as it looks in pictures, but you must visit on a clear day. Hiking enthusiasts should consider staying over for multiple days. Read more about our day trip to Lake Bled here.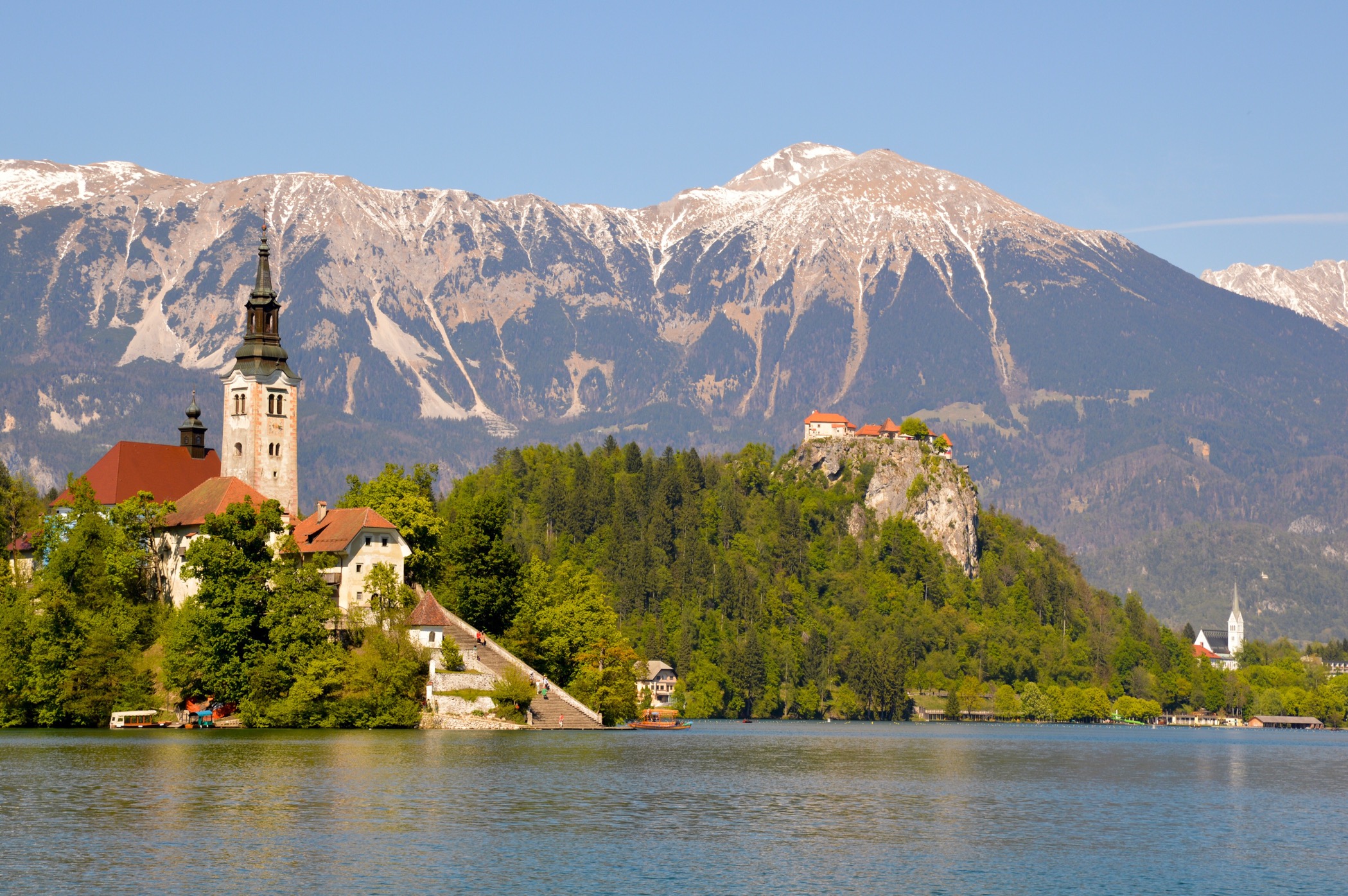 Zagreb, Croatia
Zagreb, Croatia is about two and a half hours from Ljubljana by train. It would probably make for a better stopover than day trip – there is quite a lot to see and do and eat! Read more about our awesome day in Zagreb here.

Digital nomad tip!
Every now and then this year, we had to print something. In Ljubljana, we needed to print our onward tickets to Salzburg, Austria. We discovered the most amazing self-service printer: Printbox! There were several throughout the city, but fortuitously there was one just across the street from our apartment. All we had to do was set up an online account, upload our documents, go to the Printbox, feed it some coins, and voila! We even got free credits since we were new customers. It was super easy and inexpensive.

Eats and drinks
Our apartment had a well-stocked kitchen, and there was an awesome (and cheap!) supermarket nearby, so we cooked a lot during our week in Ljubljana. We went out a few times, and while we're definitely not experts on the Ljubljana food and drink scene, here are our thoughts.
Union is the local beer brand. You can buy it at any supermarket or bar, but the most fun place to get the widest variety is their brewpub, Pivnica Union. It's a little bit outside the center of the city, but walkable. Our favorite was their unfiltered beer.
The only Slovenian meal we had was at Druga Violina. It's in the Old Town and its mission is to help people with disabilities, who it employs. The food was hearty and super cheap.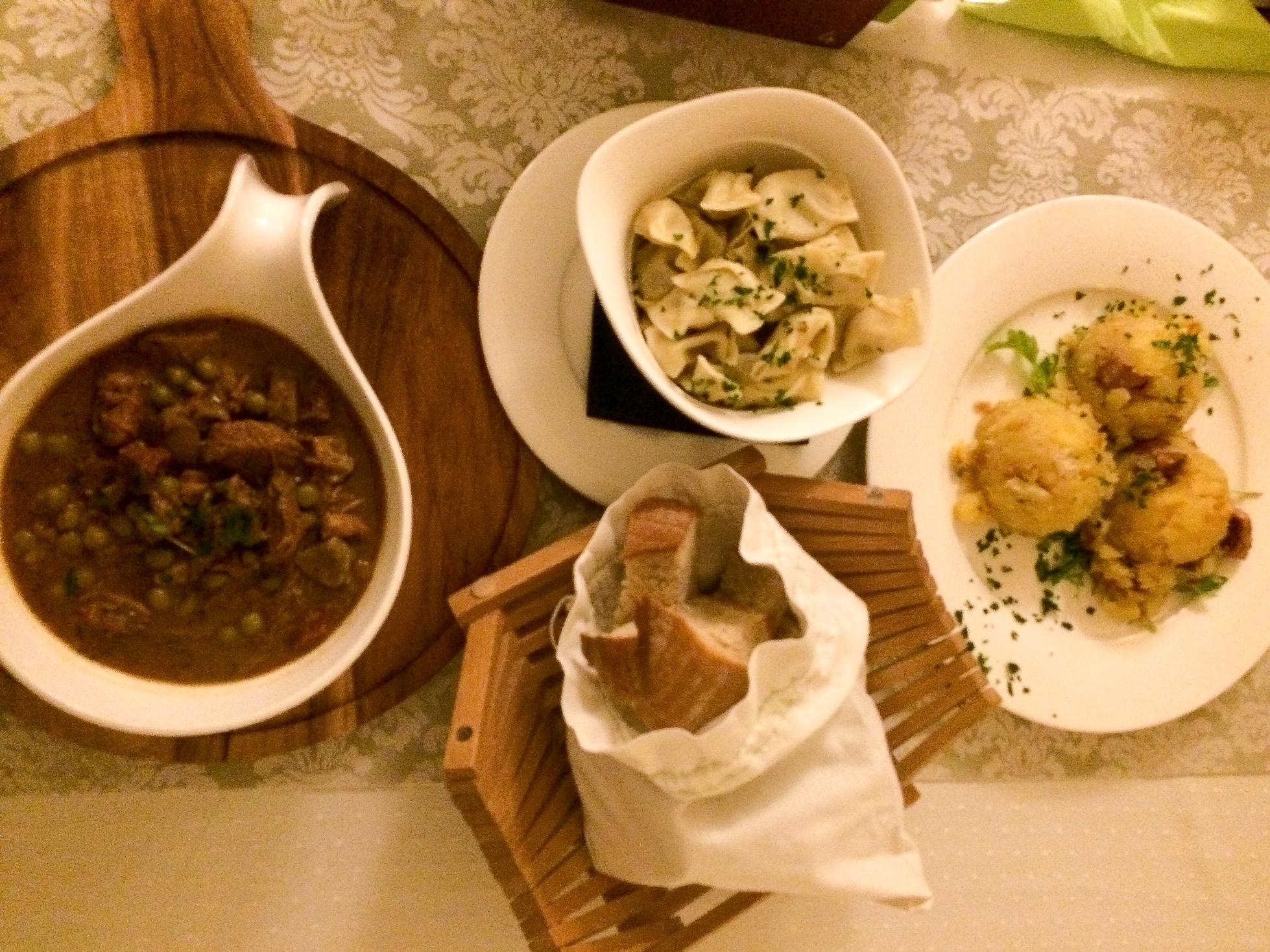 We ordered take-out from a nearby bar/Thai food restaurant, Thai Inn Pub. It was some of the best Thai food we've had outside Thailand. So good, in fact, we ate it twice. Devastating news, however… per Google Maps, it's permanently closed! We're leaving it in this post in the hope that it reopens.
We also did as we are prone to do and ate ramen. We're not even going to mention the name of the place in this post because it wasn't that good (corn in ramen?). We're just being honest with our readers. We have a ramen addiction. Someone should just send us back to Japan right now.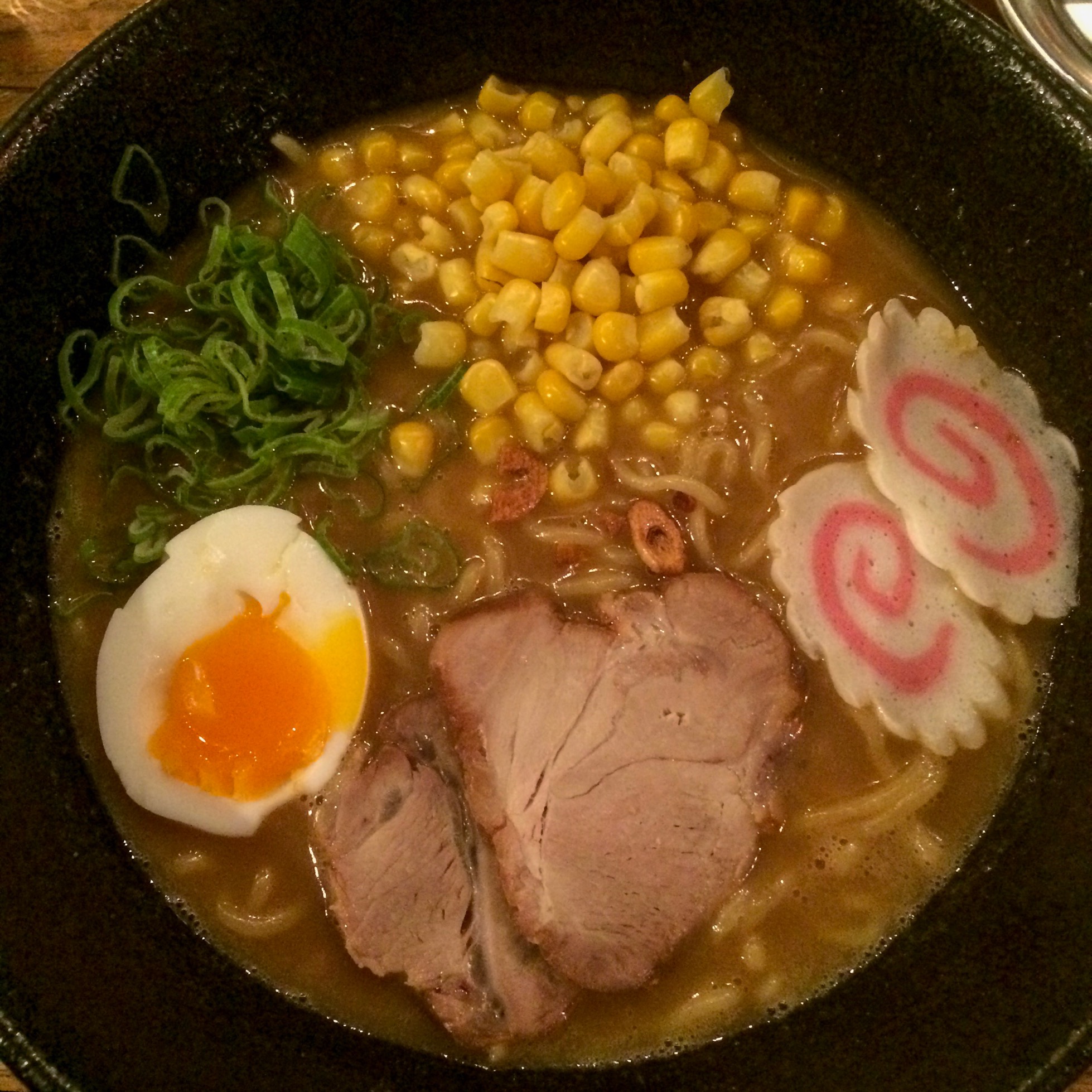 Final thoughts
We had a really relaxed and happy week in Ljubljana. It was easy to feel at home there, which we relished. And it was also, as we had hoped, really quite pretty. So we'll end with just a few more pictures to inspire you to visit.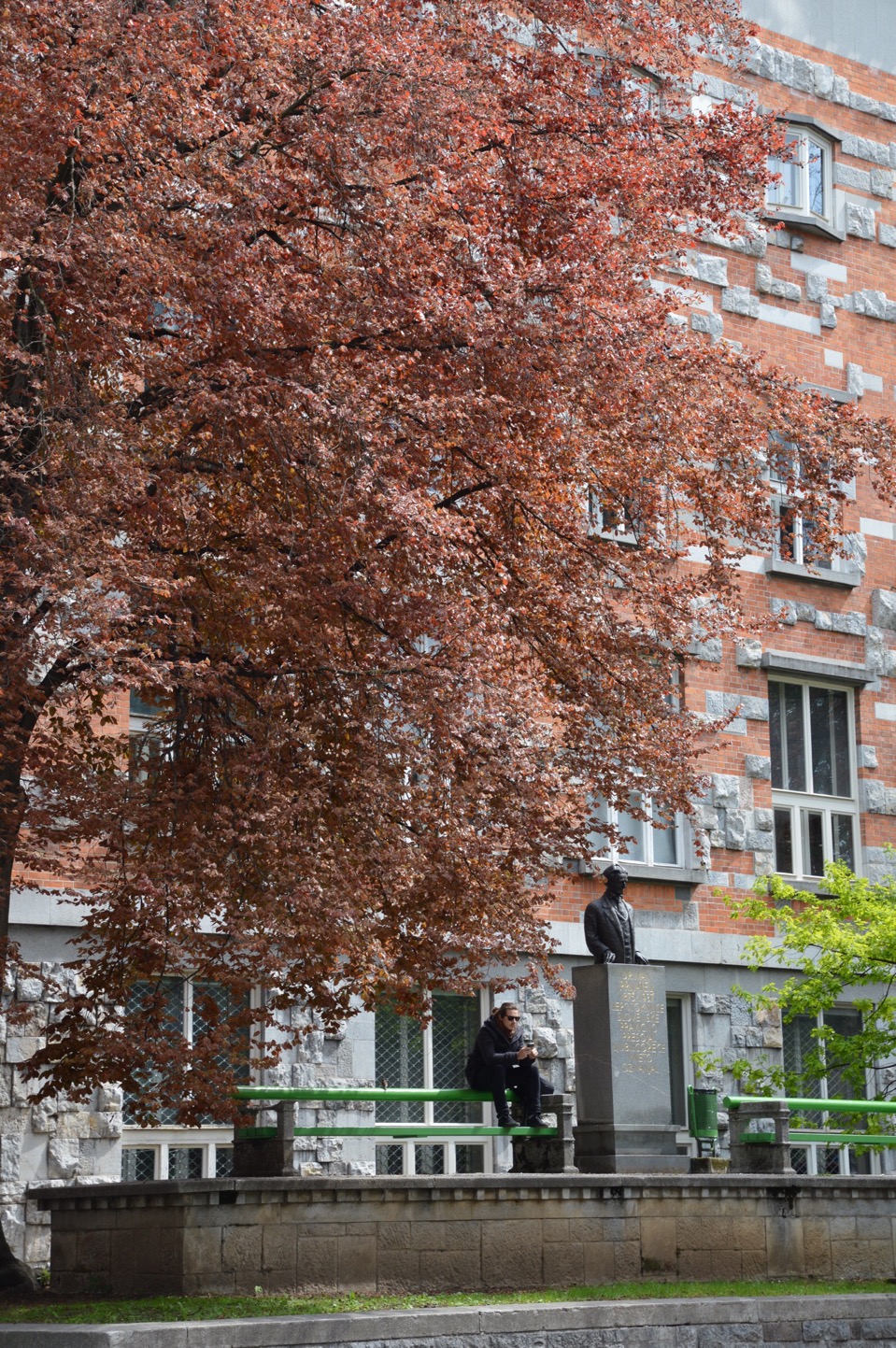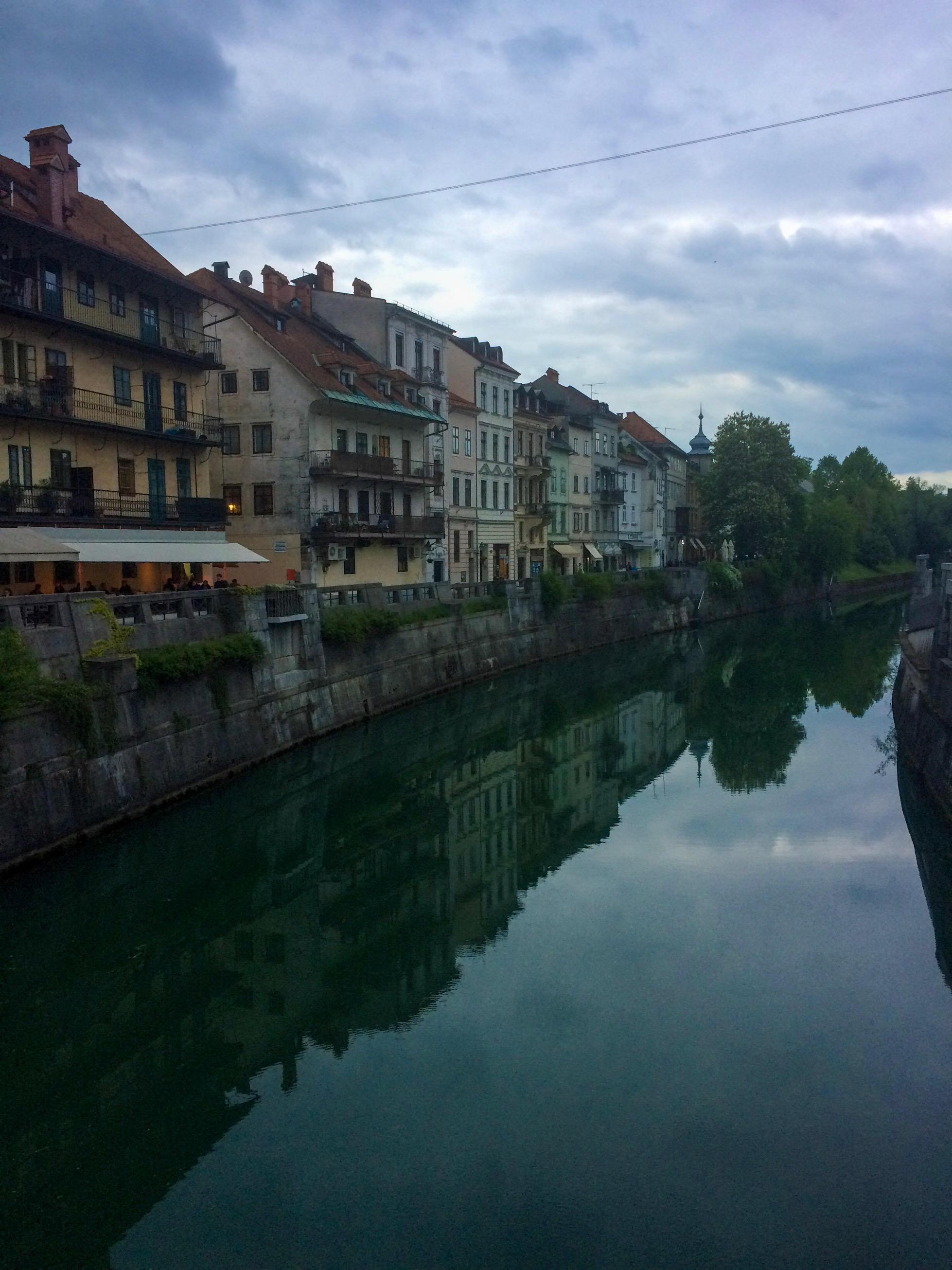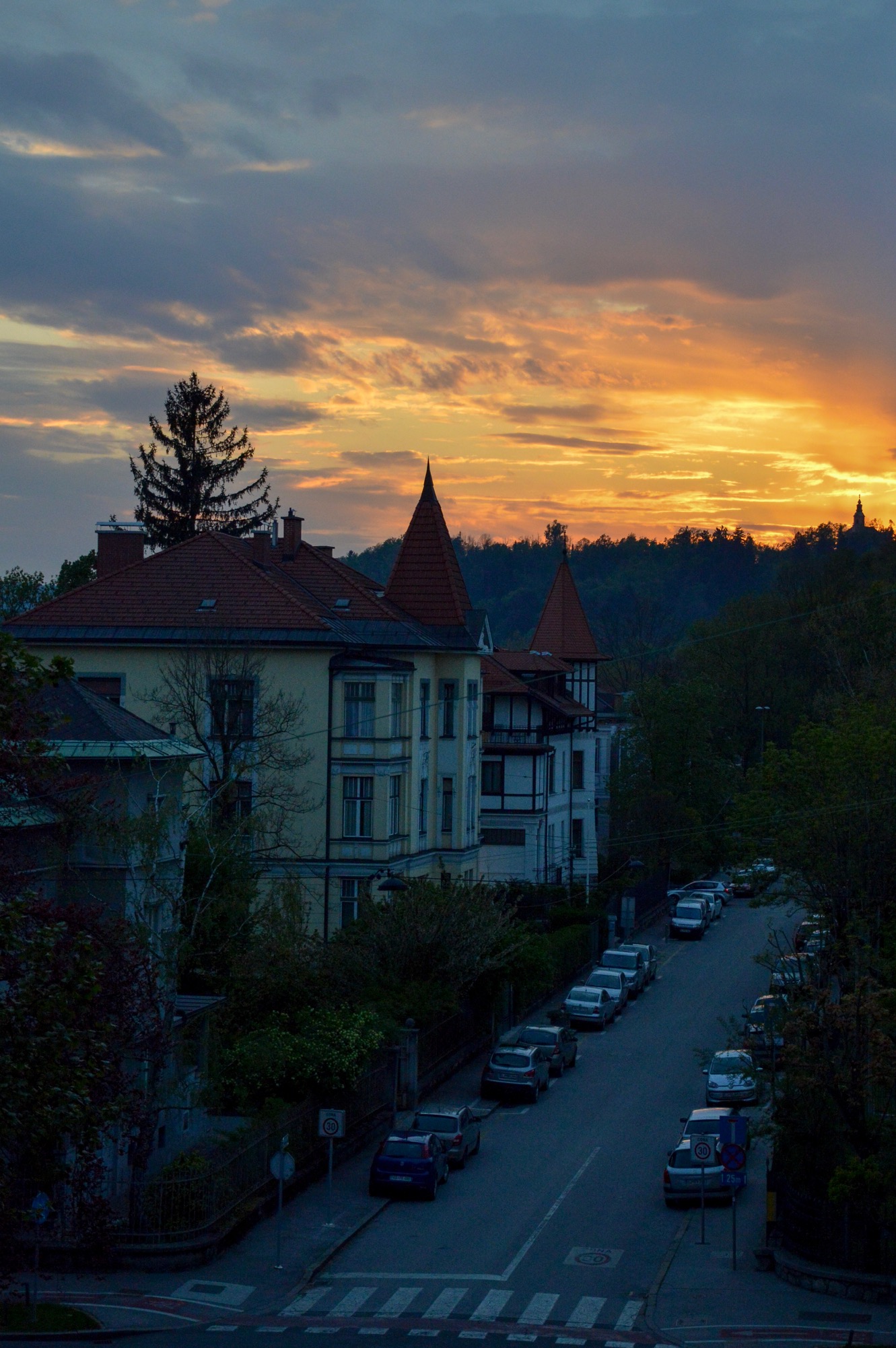 Like this post? Pin it!