Last Updated on 8th January 2019 by Sarah and Justin
Chiang Mai, Thailand is a haven to backpackers and bloggers with its great offering of cheap (good) accommodations and cheap (really good) food in a relatively built up city that is still beautiful. We read about lots of people visiting and never leaving, setting up shop as digital nomads. We wanted to see what all the fuss was about. After almost a week there, we can totally understand the allure and hope to find ourselves back some day.
Chiang Mai's temples
Chiang Mai's picturesqueness mainly comes from the fact that it's got temples seemingly everywhere. It's relatively small and it has over 300 temples! You can easily just wander the streets looking for a gate or a chedi sticking up somewhere and pop in to admire the gorgeous buildings and feel zen in pretty gardens. There are so many it's hard to keep track of all their names.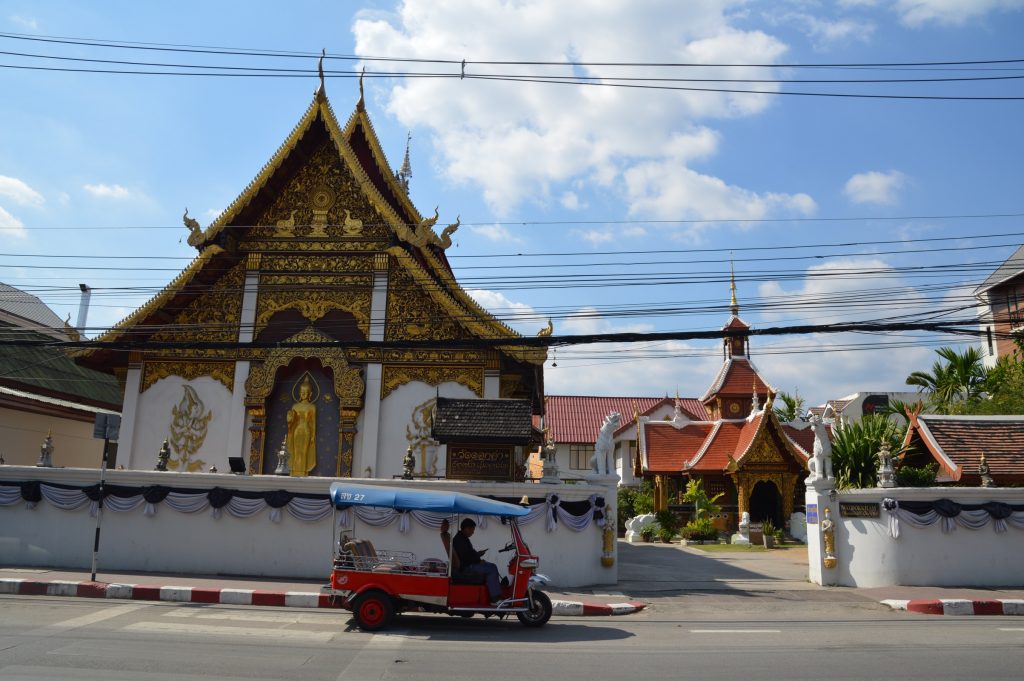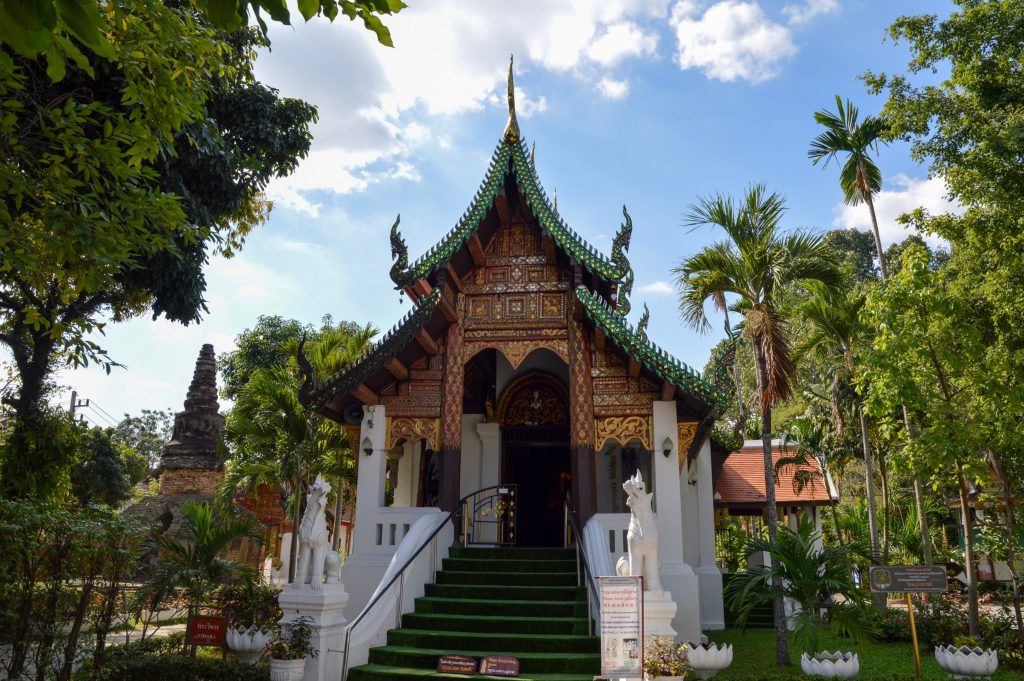 A walled city
The old center of Chiang Mai is a walled city surrounded by a moat. Exploring the outside walls, water, and gates makes for a nice walk or bike ride (easily rentable throughout the city). There are also food stalls set up at the gates.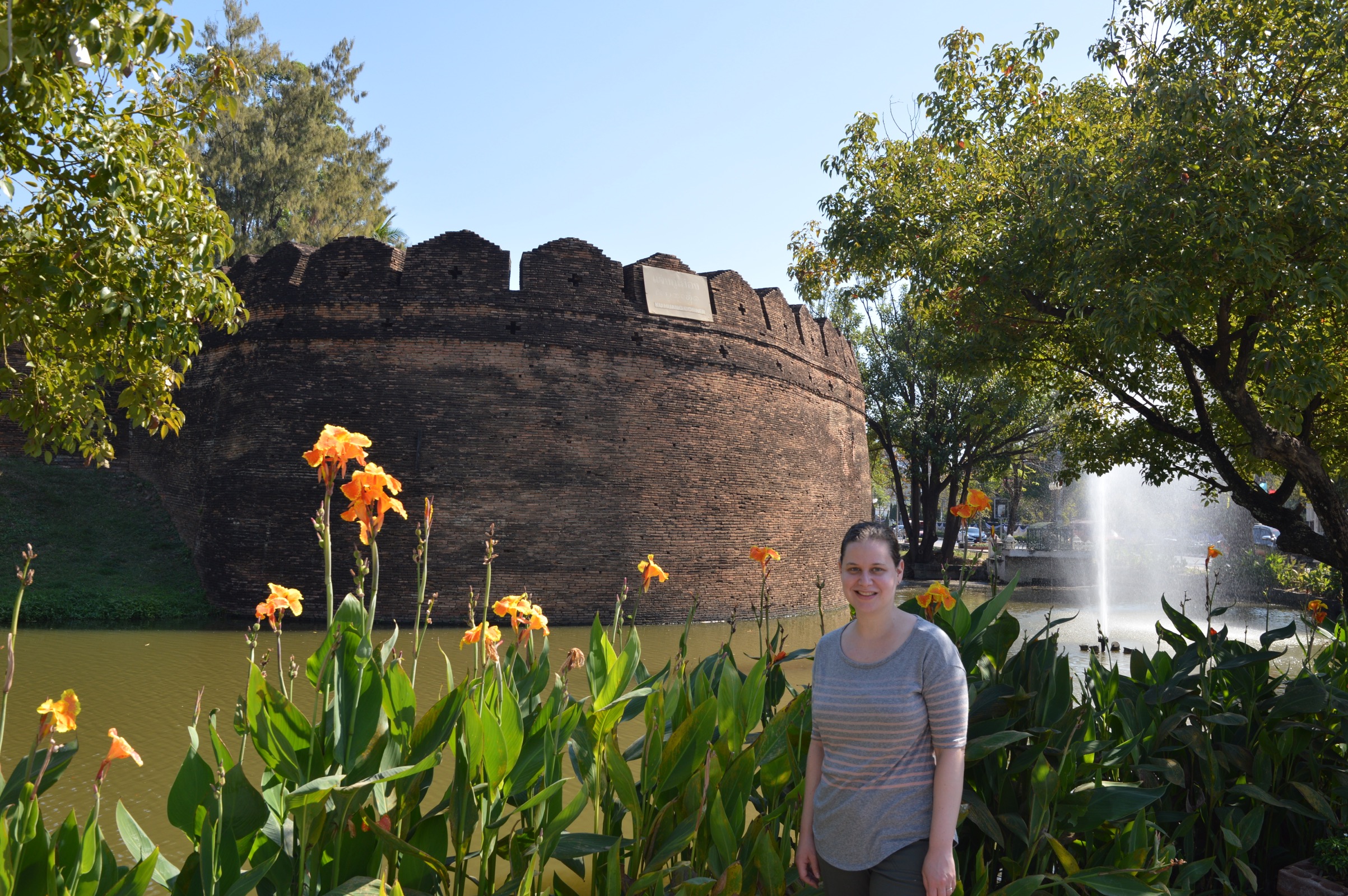 Inside, the streets themselves are lined with small buildings and trees and you are always treated to views of mountains in the distance.
A shopping extravaganza
Chiang Mai has numerous night markets where you can find every possible t-shirt or souvenir your heart desires. If you're in Chiang Mai over the weekend, you should check out the Saturday and Sunday Walking Street Night Markets. The streets are shut down to traffic and the stalls seem to go on forever. We went on Saturday and even though we had read it was calmer than the Sunday market, that's not what we found! There were more people walking the streets, shopping, eating, and having fun than we had ever seen! We're not sure if it's because it was the night before Chinese New Year or if that's how it always is now…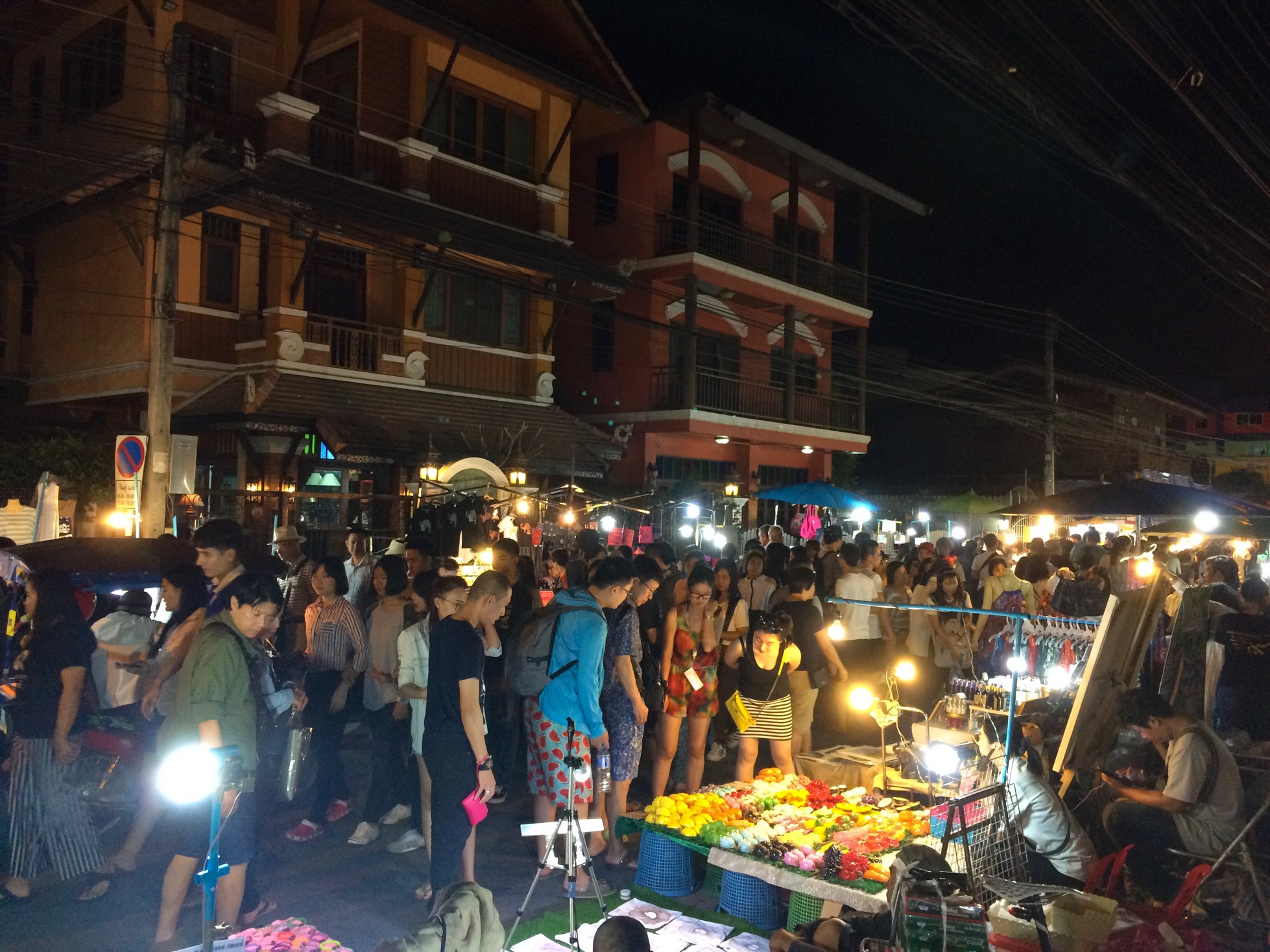 On other nights, the covered areas of the regular markets are a bit more relaxed than on the street outside. But you still need to bring your haggling skills.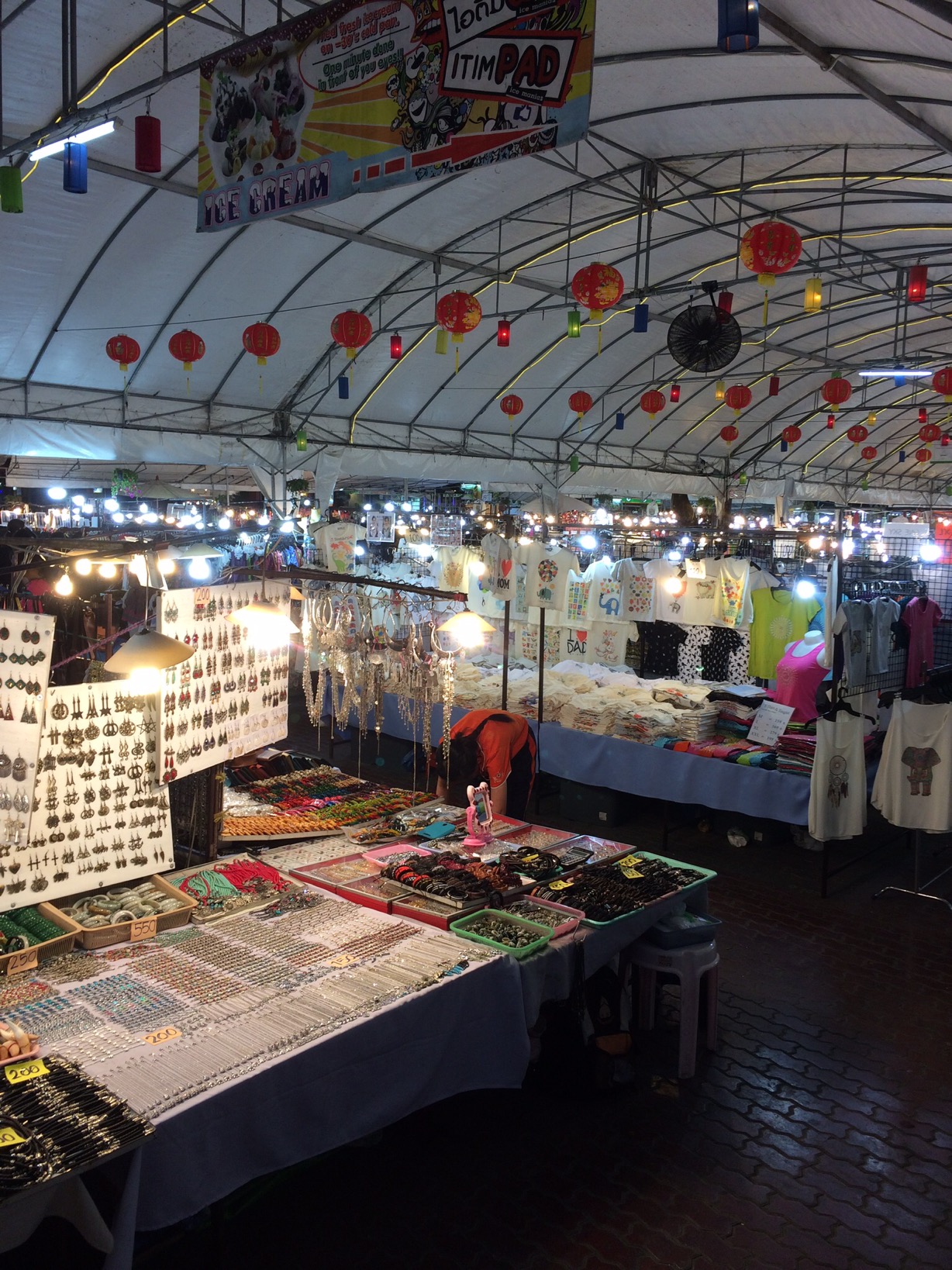 Visiting the elephants
Quite a lot of people visit Chiang Mai specifically to interact with elephants. We absolutely love elephants (especially Sarah). A few years ago we went on a safari in Botswana and were overjoyed spending hours each day watching them interact in the wild. We were lucky to secure a day at the renowned Elephant Nature Park at the last minute. Tip! If they are all booked up on their website, go to their office in the city ASAP! They save spaces for walk-ins.
The Elephant Nature Park is famous in the area for trying to change how people in Thailand treat and view elephants. Their park is home to many elephants rescued from the tourism and logging industries and they also actively work with other elephant camps to change their practices. Elephant Nature Park doesn't facilitate elephant riding (which we have never ever ever wanted to do). Even riding bareback, which is touted as better for the elephant, is a great strain. We had the most wonderful day watching and feeding and getting up close to so many elephants! It was an honor to be in their presence.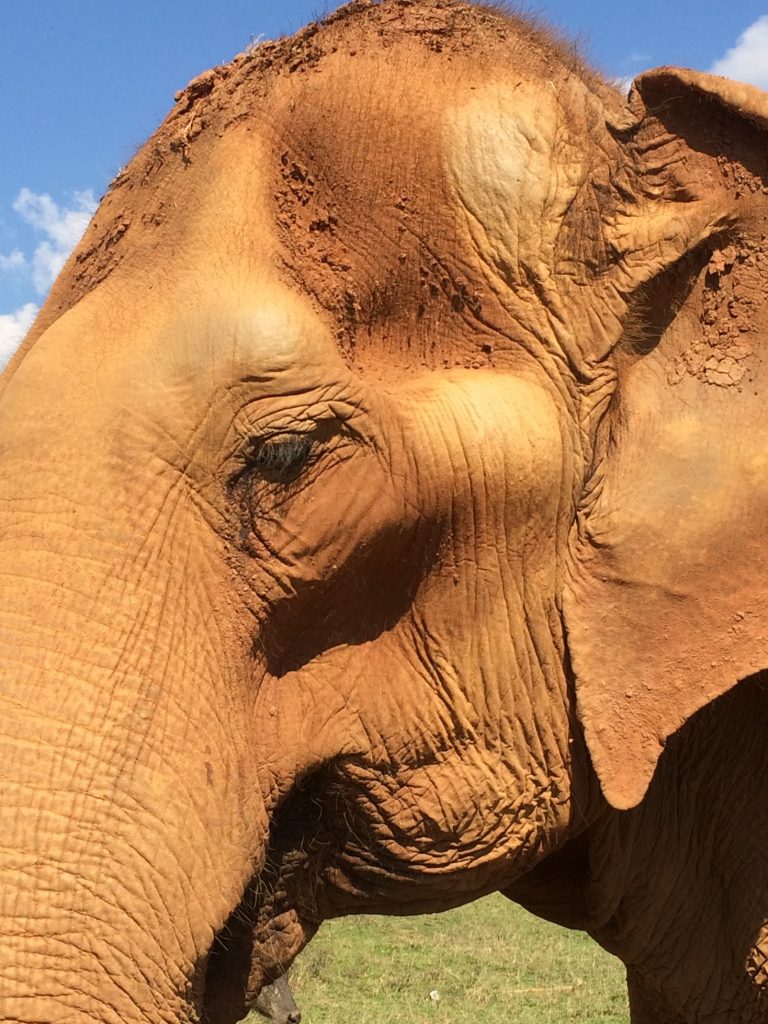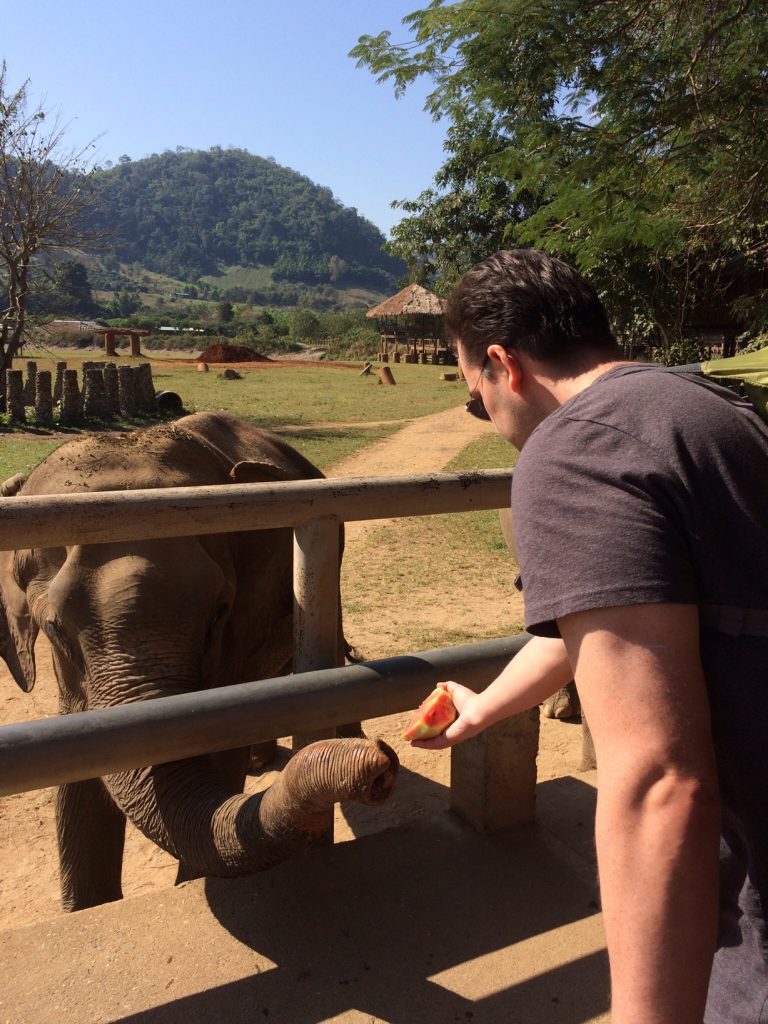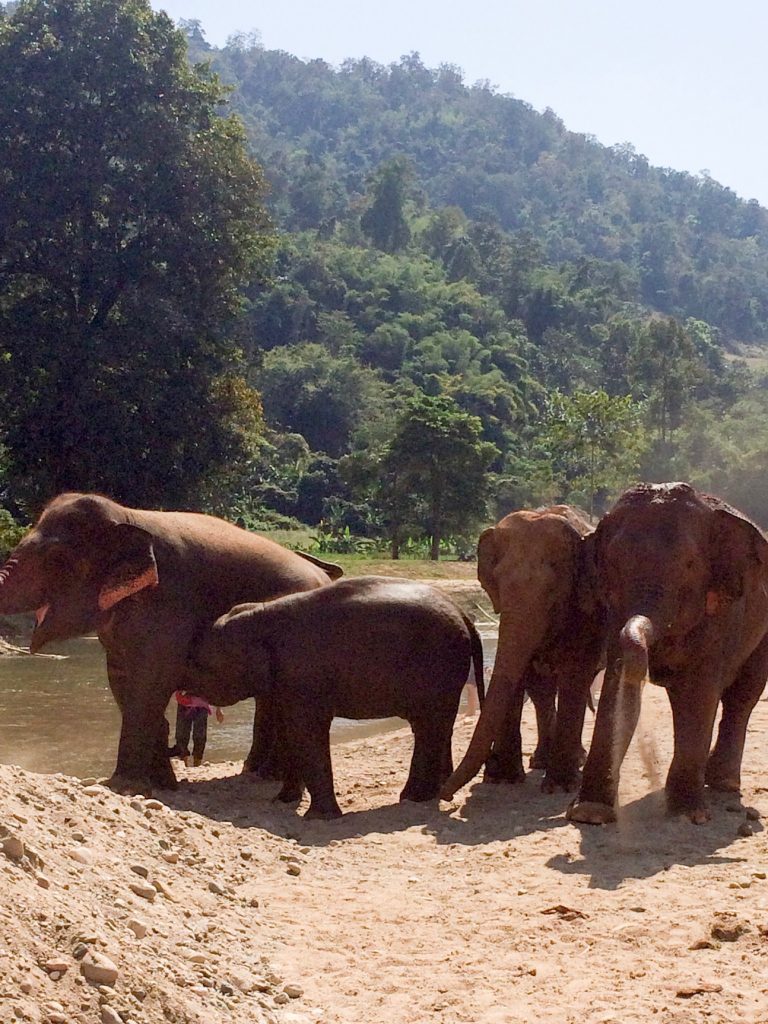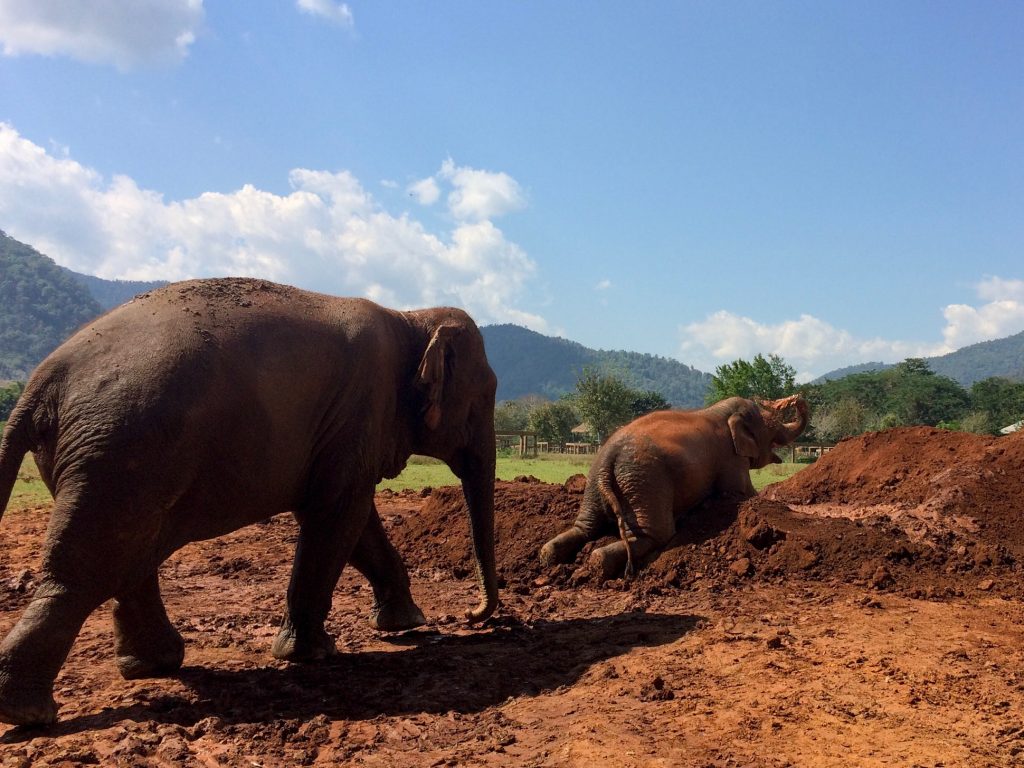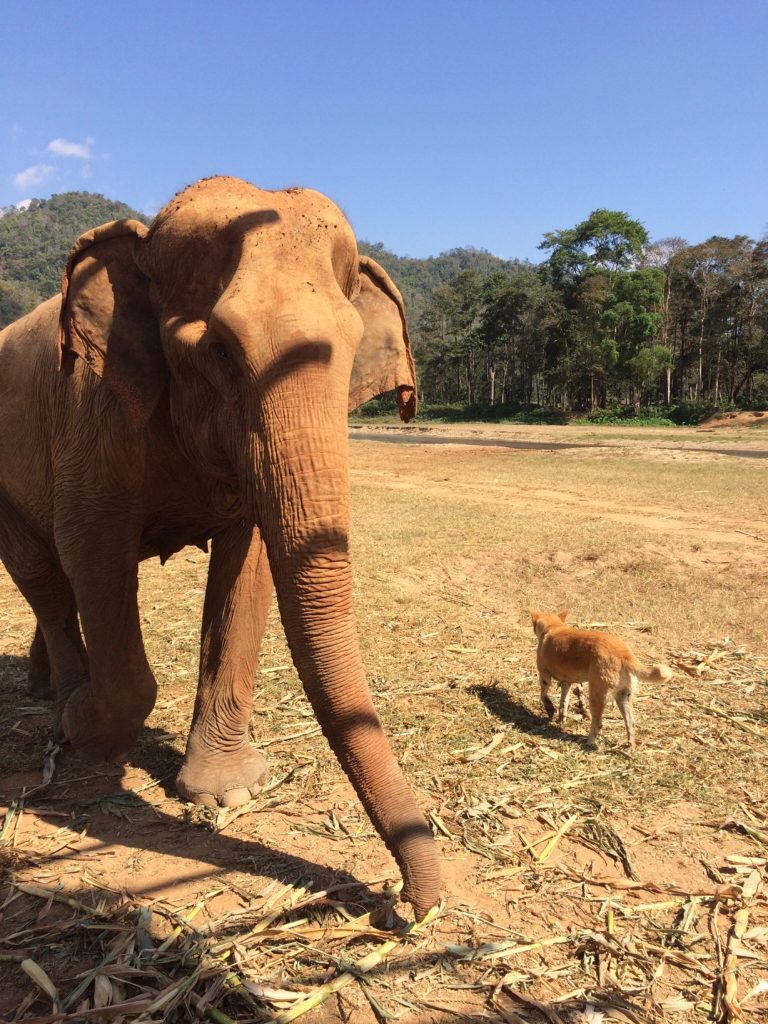 Oh the food
The food in Chiang Mai is Northern-style Thai food and we discovered different flavors and dishes than we had most of the time in Bangkok. Our favorite dish by far was the the khao soi. It's a thick yellow noodle soup that tastes slightly of curry and tamarind topped with crunchy noodles and served with a side of pickled cabbage, lime, and shallots. You can find it in any restaurant in Chiang Mai. There are reviews of "the best" khao soi in town, but we just ordered it wherever we went to try them all! It never disappointed.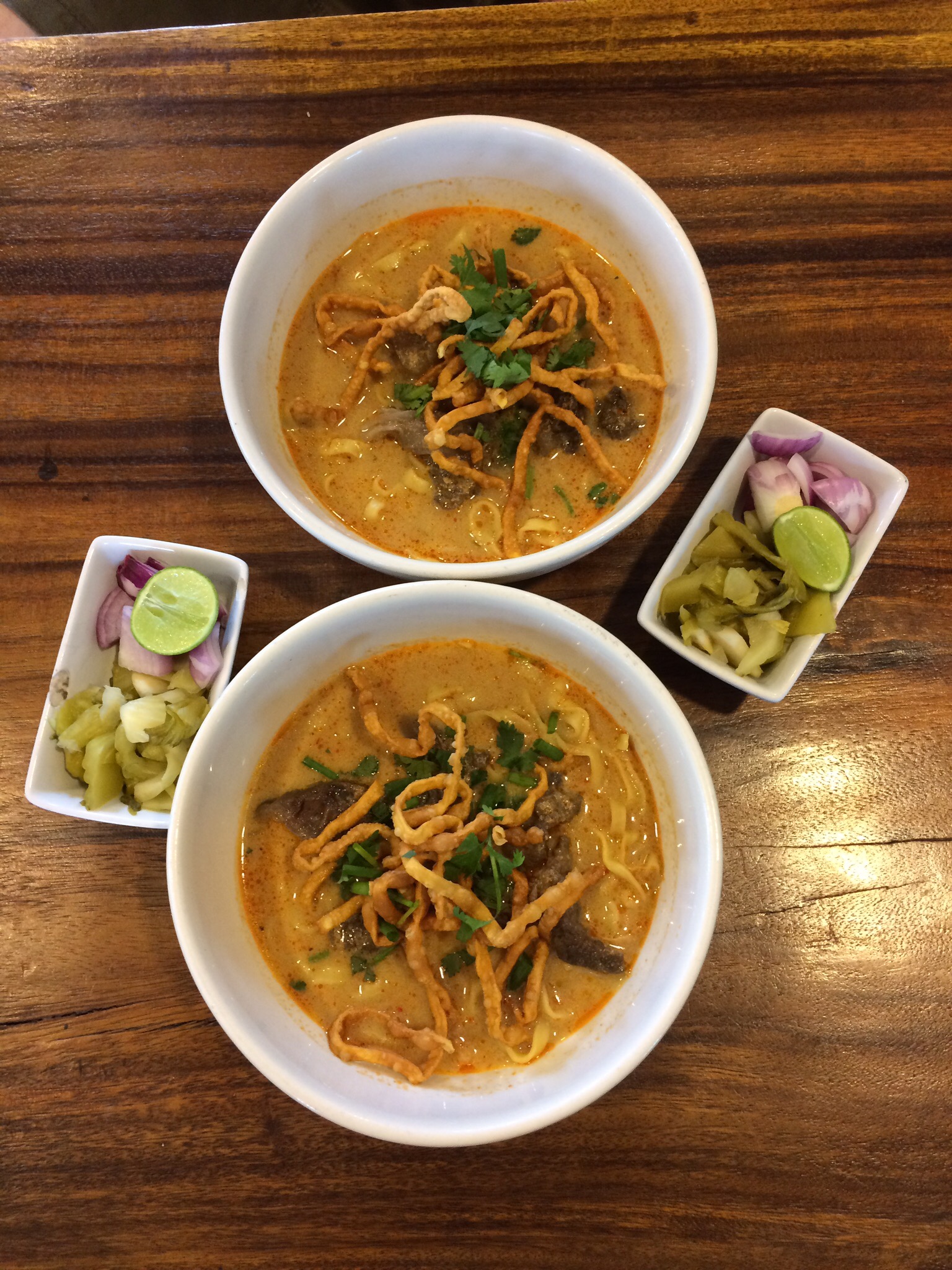 Our second-favorite dish was a pho-like noodle soup we had for breakfast every morning at our B&B. The broth was delicate (until you add the chili peppers!), the chicken perfectly cooked, the noodles not too soft, and the herbs refreshing. It was the perfect way to start the day. We thought about ordering something else every morning but couldn't bring ourselves to do it.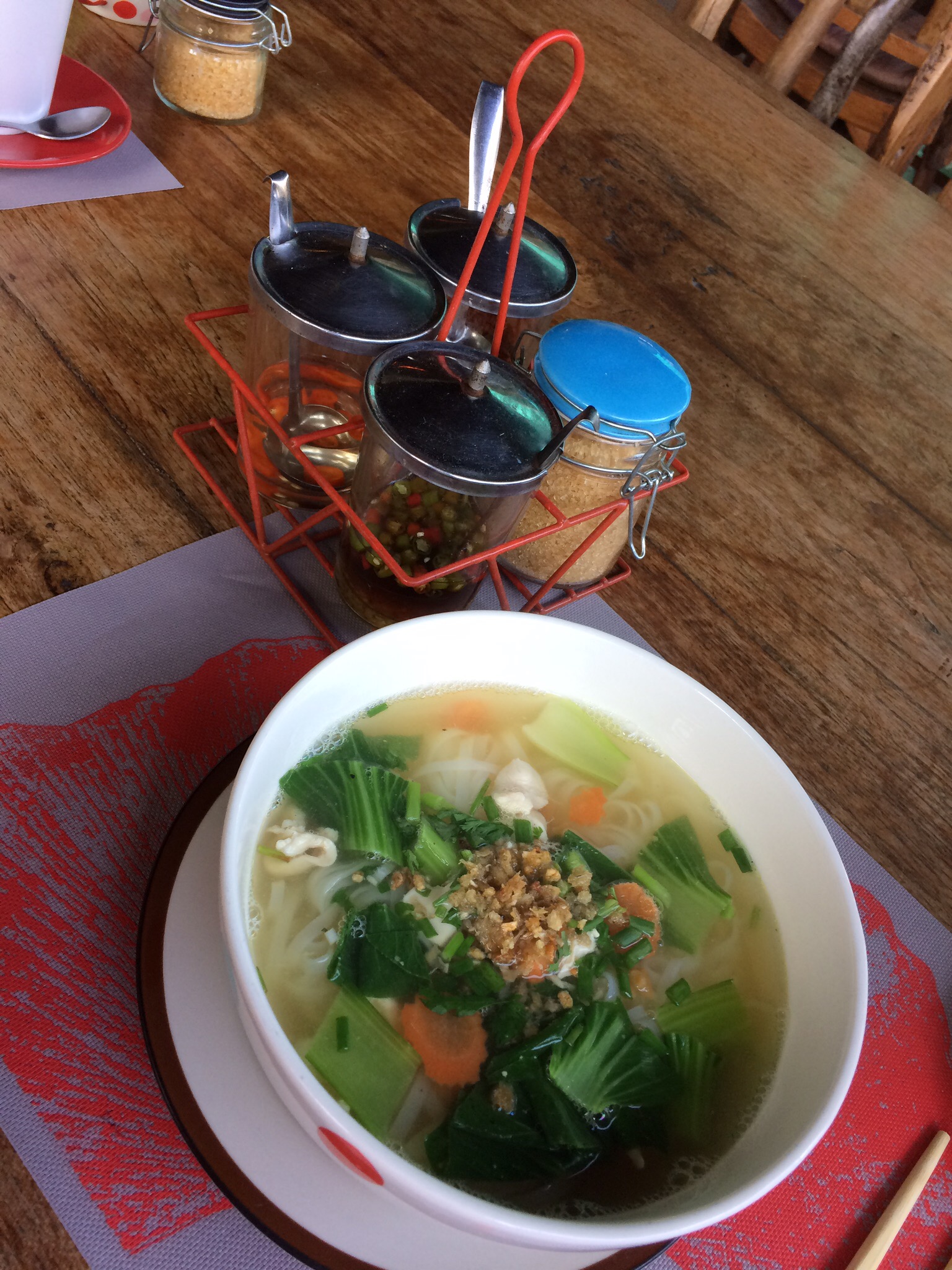 We also enjoyed old standby dishes like papaya salad, Pad Thai (Sarah's favorite), and stir-fried morning glory with garlic and chili (Justin's favorite).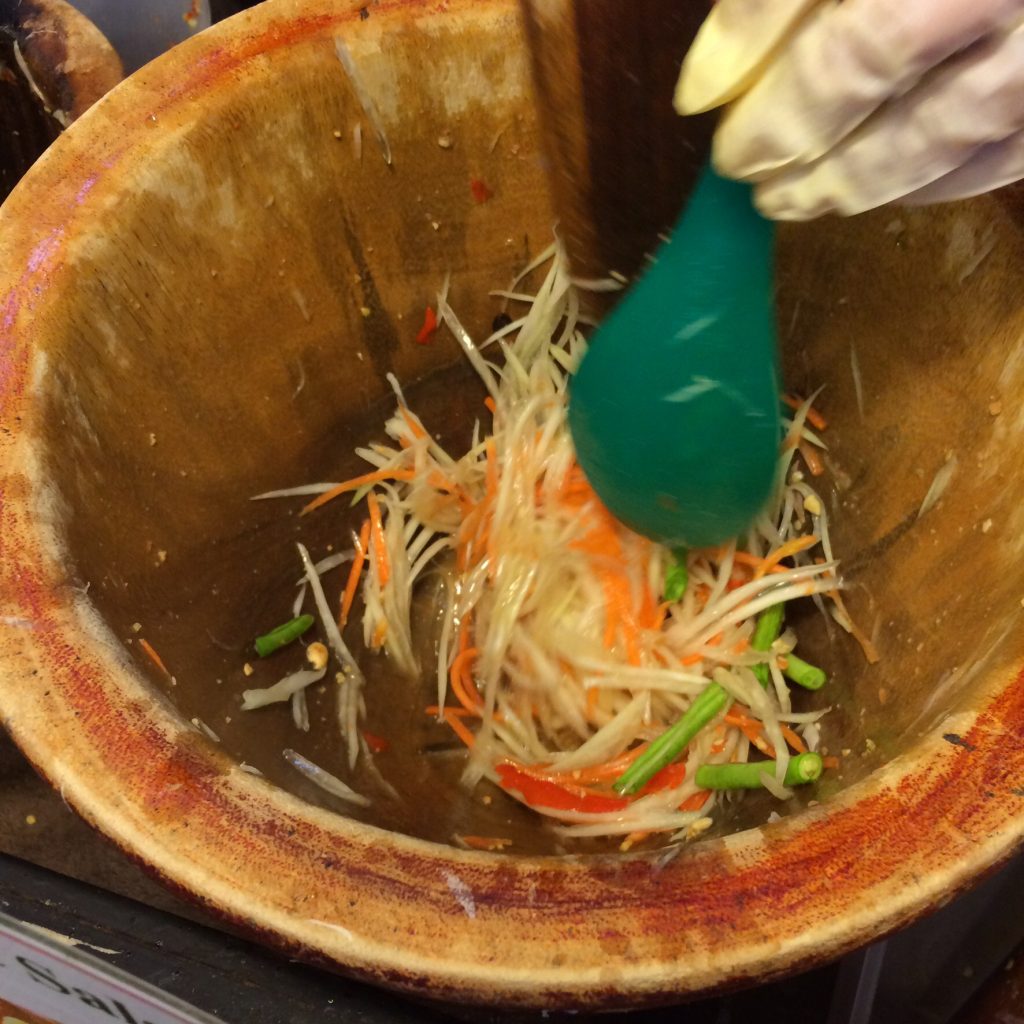 Even though the whole center area is touristy, you really can't go wrong just walking into a spot. Or look for lines. One of our favorite places called Mae Pa Sri Restaurant was just a couple doors down from our B&B and we would probably have never found it if we hadn't been staying there. We also enjoyed going to the food section of the Kalare Night Market. It offered a wide variety of easy to order and really delicious food. We went to the famous night market at the Chang Phuak Gate as well and ate some delicious fried chicken and dumplings, but found it a bit confusing to navigate. We also didn't have the energy to wait on the super long line for the famous pork leg from the Cowgirl (although did admire her ingenuity!).
Other tips
We planned our visit to Chiang Mai before February because the burning season sometimes can start that early and that would be no good for Sarah's lungs.
We flew from Siem Reap via Bangkok on Bangkok Airways, which we learned is a great airline for people with special medical needs.
Getting around Chiang Mai is really easy. It's very walkable and bike-rideable. The taxi from the airport is fixed rate and the system to get one is not at all sketchy. Tuk-tuks are everywhere, although we never took one since they're pricey and require haggling which can get tiring. And there's Uber, which is extremely cheap.
We stayed at a great B&B called Seven Suns Residence. It had massive air conditioned rooms with good wifi. The family that runs it is really nice too. And as mentioned above, their noodle soup can't be beat! We miss it terribly!
Pin it!