Last Updated on 8th January 2019 by Sarah and Justin
We made a quick stop in Chiang Rai – between longer stints in Chiang Mai and the island of Ko Lanta. One of the main reasons we went was because Sarah really wanted to visit the extremely touristy yet extremely beautiful White Temple. Our two days in Chiang Rai were enough, but worth the trip. Here are tips for how to see the White Temple in Chiang Rai and other things to do during your time there.
How to take Greenbus from Chiang Mai to Chiang Rai
We journeyed to Chiang Rai from Chiang Mai via the VIP Greenbus. Two tickets in the air conditioned bus with big seats and a bathroom cost us a total of 516 THB (~$15). The journey takes about three hours and is quite scenic (albeit twisty-turny), going over and through the hills of Northern Thailand. You can book your Greenbus tickets online but we found their mobile app easier. Although, super important tip! Take a screenshot of your ticket purchase confirmation screen because they won't send it to you by email and that serves as your ticket to board the bus.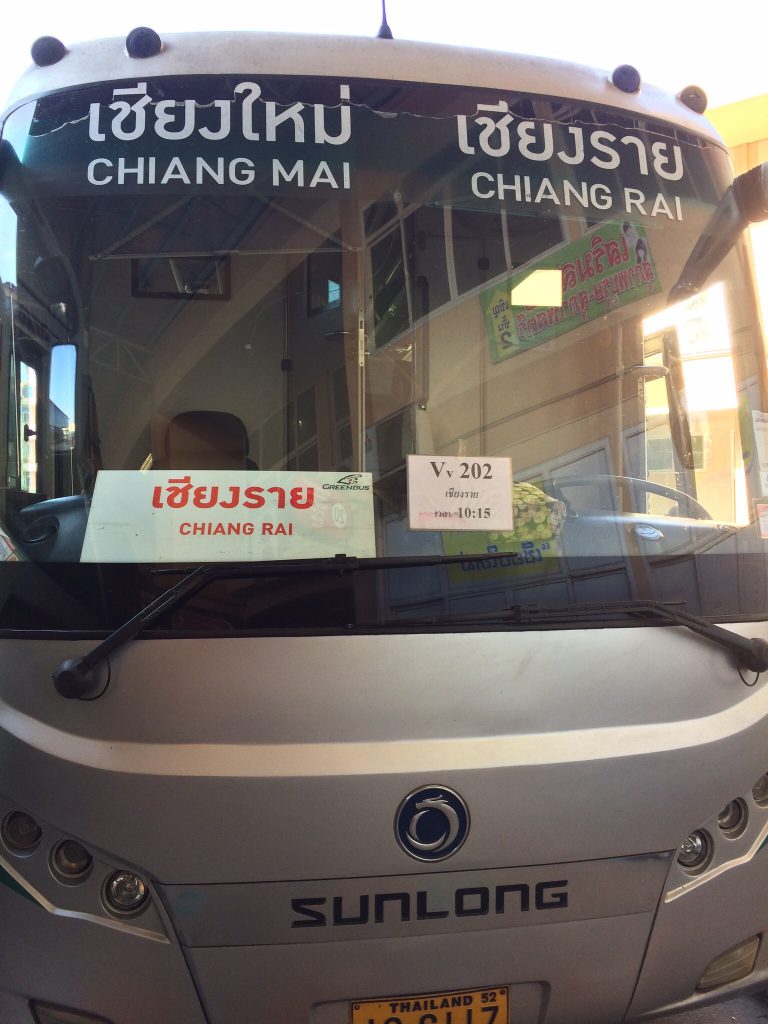 How to get to the White Temple
The Greenbus actually stops at the White Temple on the way to the city, but we didn't undertake visiting the temple with all of our luggage. Instead we took a public bus from the city to the temple. It was our first experience taking such a bus in Thailand, but it was pretty easy – especially since we were going to such a big tourist destination. At the Chiang Rai bus station we wandered about looking for a bus and found one with a picture of the White Temple in the window, confirmed the price (20 THB per person = ~$0.60), and climbed on board. And waited. These buses don't operate on a schedule per se, but rather get going once they're full. It was hot, but there are fans!

The fare collector on the bus will kindly tell you when to get off. And you can count on other touristy looking folks to get off there too.
Wat Rong Khun
The Thai name of the White Temple is Wat Rong Khun. It was designed and created by a local Chiang Rai artist named Chalermchai Kositpipat. A cardboard cutout of Mr. Kositpipat welcomes you to the temple. It opened to the public in 1997, but work on the complex of buildings is not – nor ever will be – complete. Once free, there is now an admission fee of 50 THB for foreign visitors.
Most of the buildings in the complex are blindingly white – with inlaid mirrors reflecting the sun – and are intricately and ornately designed. The main building – or ubosot – is most spectacular. Visitors stop to admire it and take pictures immediately upon going through the entrance.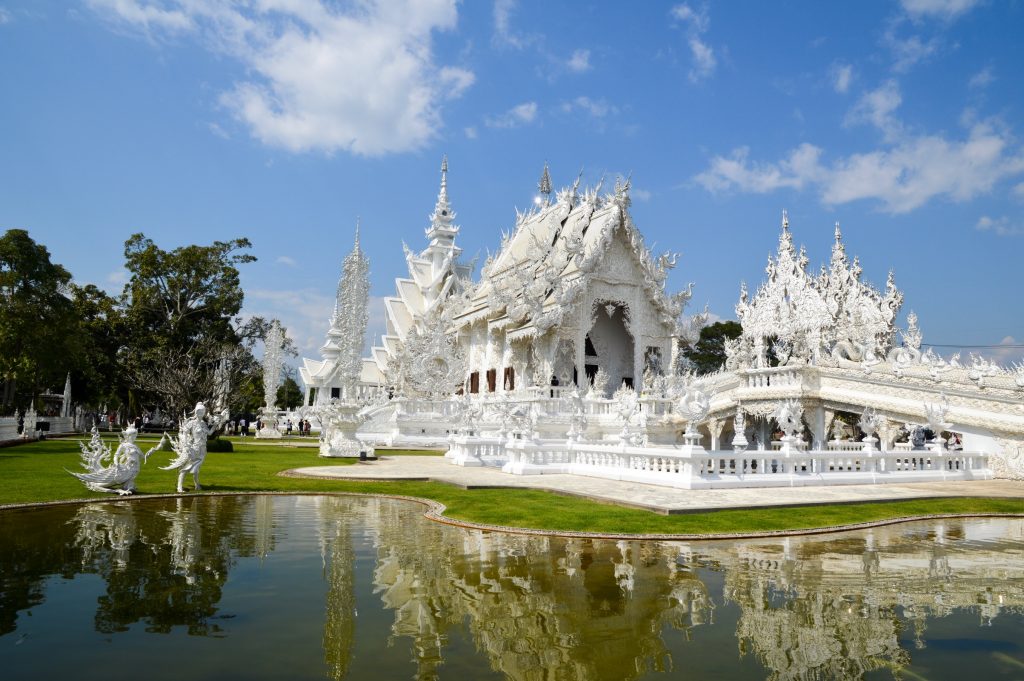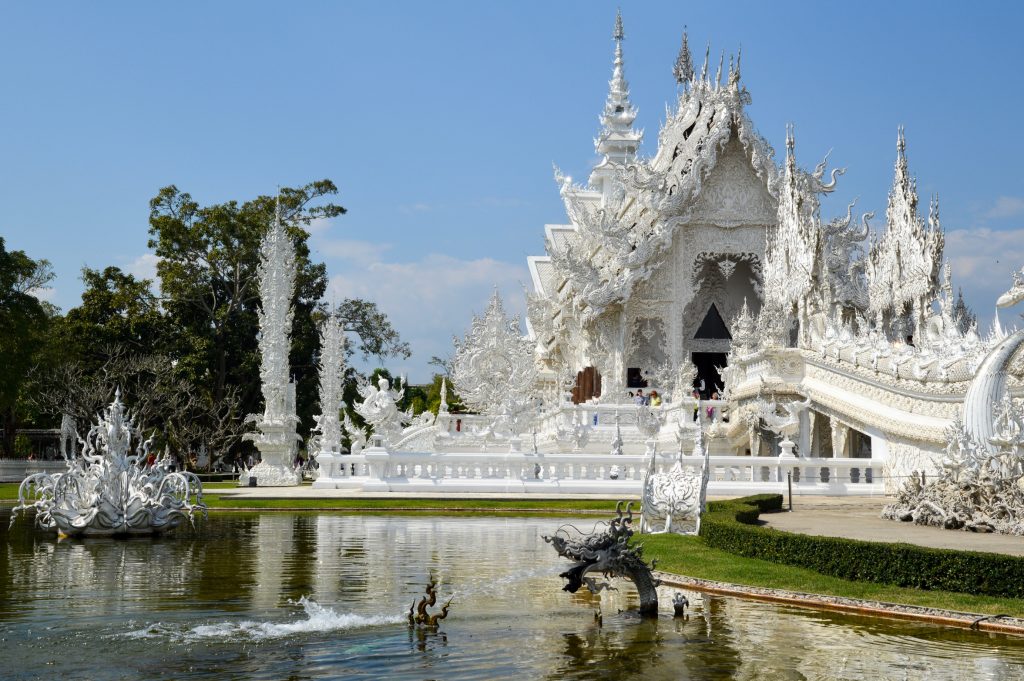 To get to the main building you walk along a bridge flanked by two statues. Below are scenes of death and a sea of hands reaching up at you. It's eerie but cool.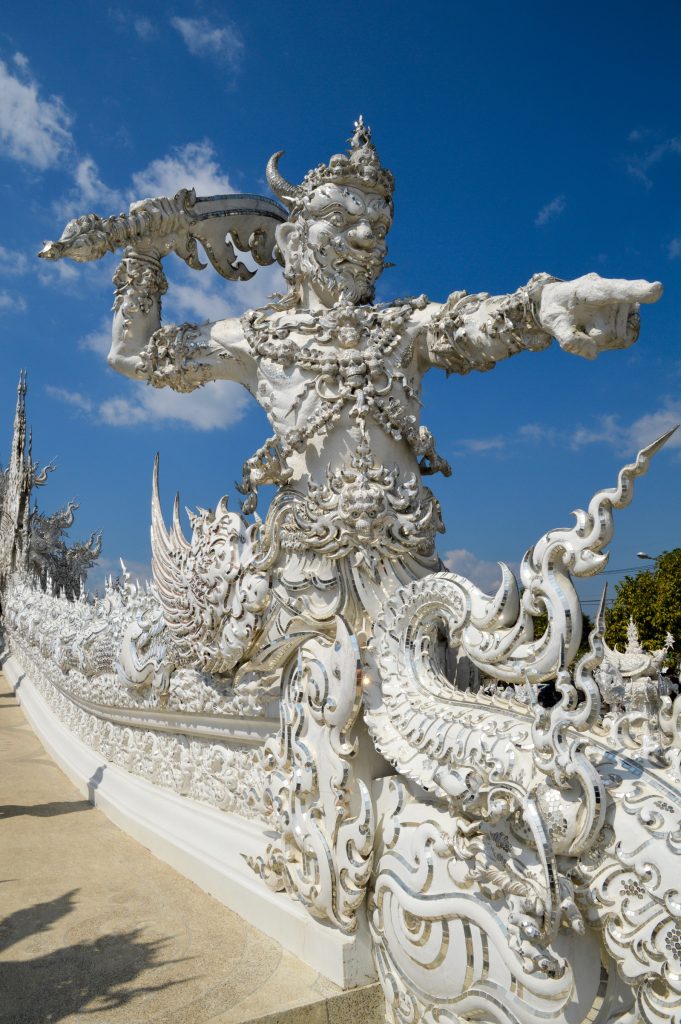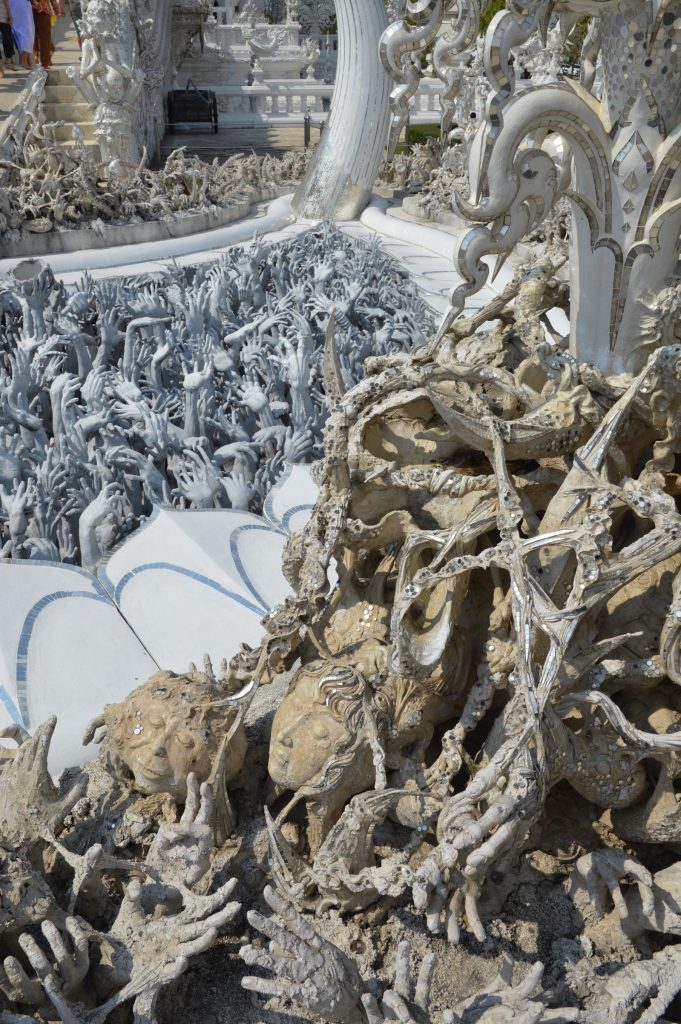 You can't take pictures inside the main building but it's painted with murals unlike most other Buddhist temples, including superheroes and spaceships.
Once you're through the main building you're able to explore the rest of the complex. There are many other white buildings and some nice green space.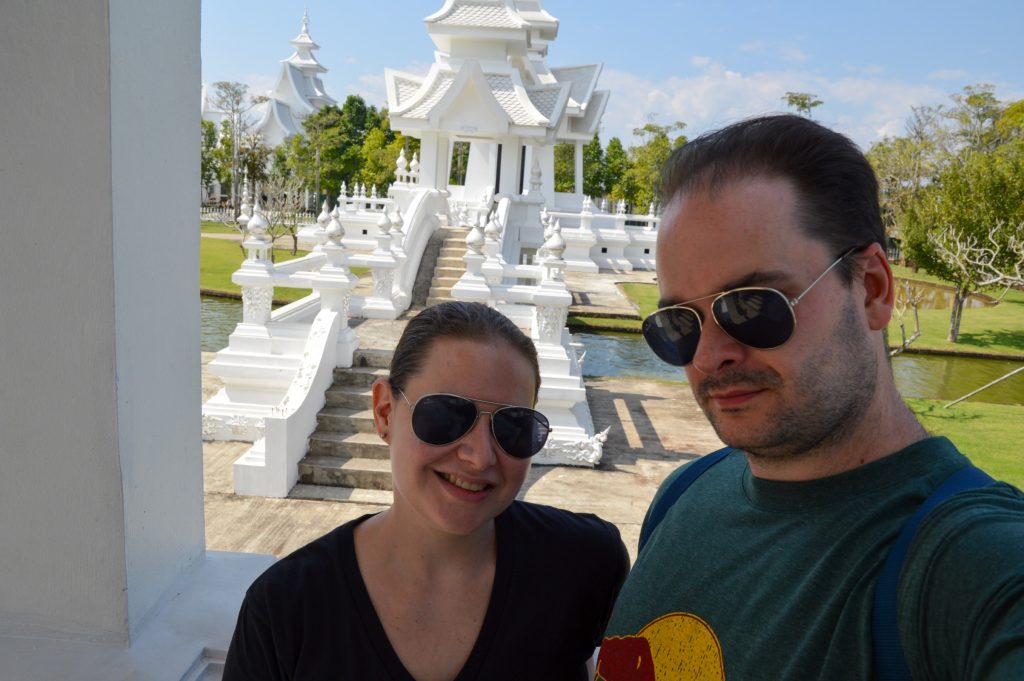 But the stand-out is the bathroom. It's all gold. It's awesome.

It wasn't as simple to get back to the city from the temple as it was to get there. We tried to use Grab Taxi but no taxis were in the area. We ended up walking out to the main street where there is a bus stop and hoped for the best. Two ladies told us a bus was coming soon, but you never know what that means! We got lucky when a songthaew pulled up that was already mostly full of people. They had previously negotiated a rate with the driver, so we only had to pay 30 THB per person for the ride. We had read they can charge up to 300 THB for a trip to/from the White Temple so we were very happy. Plus it was our first ride in a songthaew!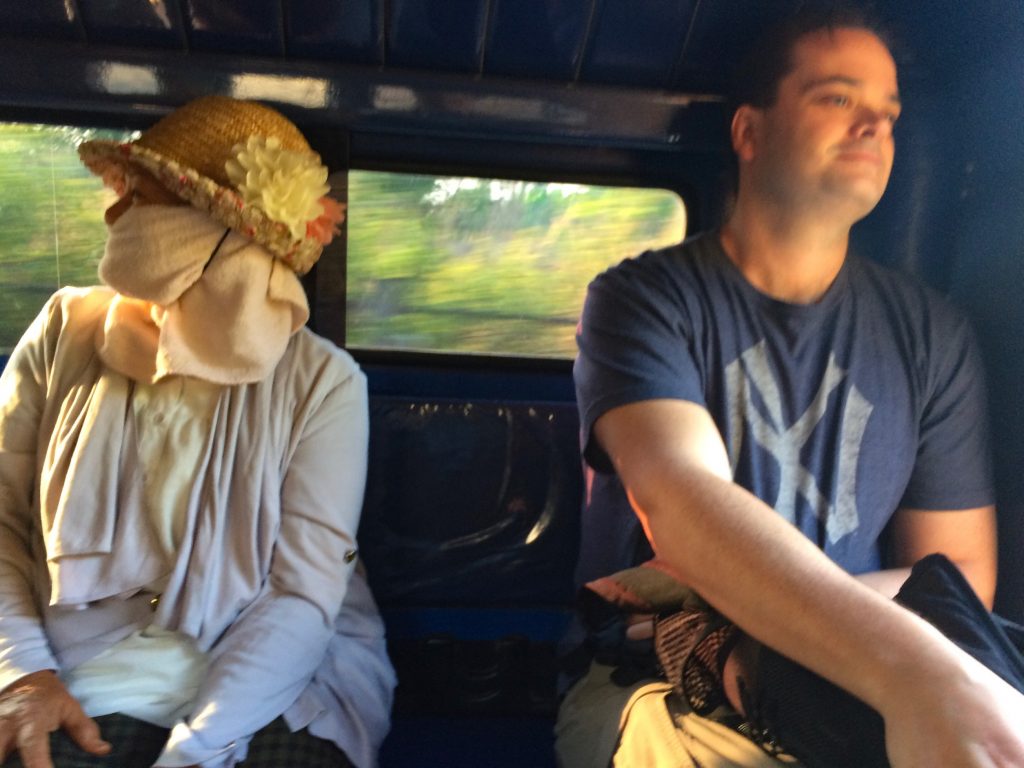 More things to see in Chiang Rai
On an unassuming, large street in the city center stands the Clock Tower. It was designed by the same artist who created the White Temple so looks similar. It's gold and ornate and serves as a roundabout. Apparently there's a light show at night, but we only saw it during the day.

There are also other more traditional temples in the city. We didn't explore them too much since we had just spent a week in the temple-filled city of Chiang Mai, but it was nice to stumble onto a few.

Markets in Chiang Rai
The most popular market in Chiang Rai is the Night Bazaar. It's smaller and less crazy than those in Chiang Mai and offers a great combination of shopping and eating. There are two main places to eat in the market. There's the "nicer" area that has wooden tables and chairs and more upscale (expensive) food. And then there's the "local" area that has plastic tables and chairs and cheaper fare. We ate in the local section so we could try one of Chiang Rai's specialties: the hot pot. It's a DIY meal where you cook meat or fish and veg in a pot of spicy soup. It was pretty tasty and fun and reasonably priced.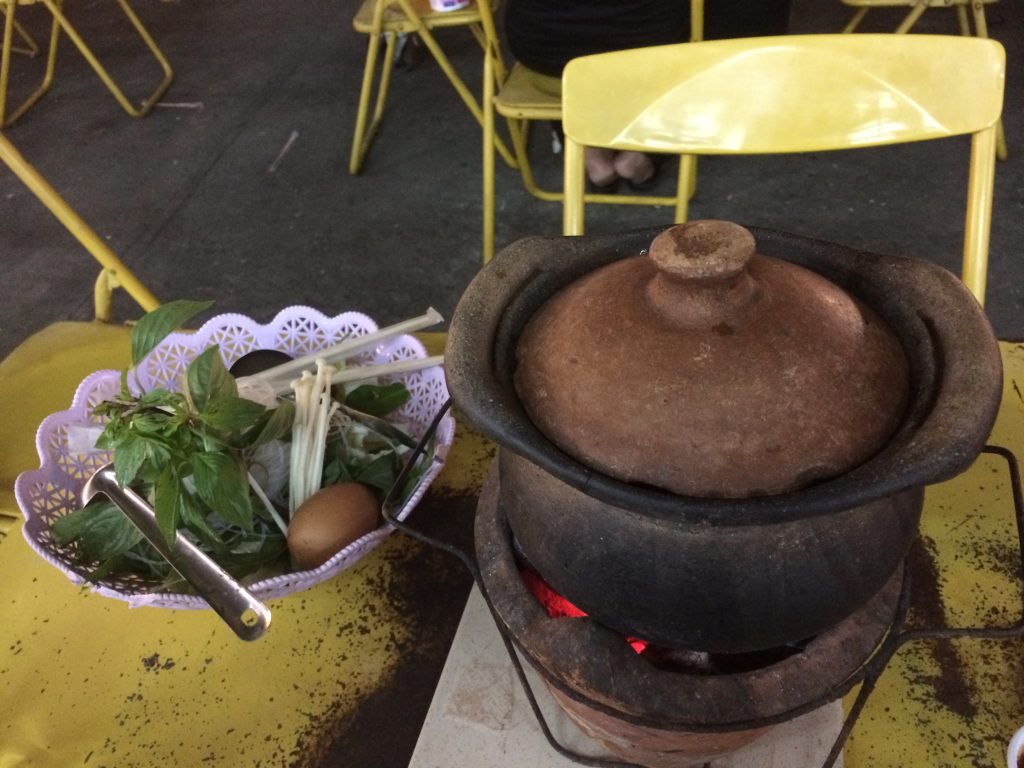 There's also a market during the day. It's a couple blocks from the clock tower. Outside are stalls selling fruit and vegetables and meats. Inside are rows and rows of goods.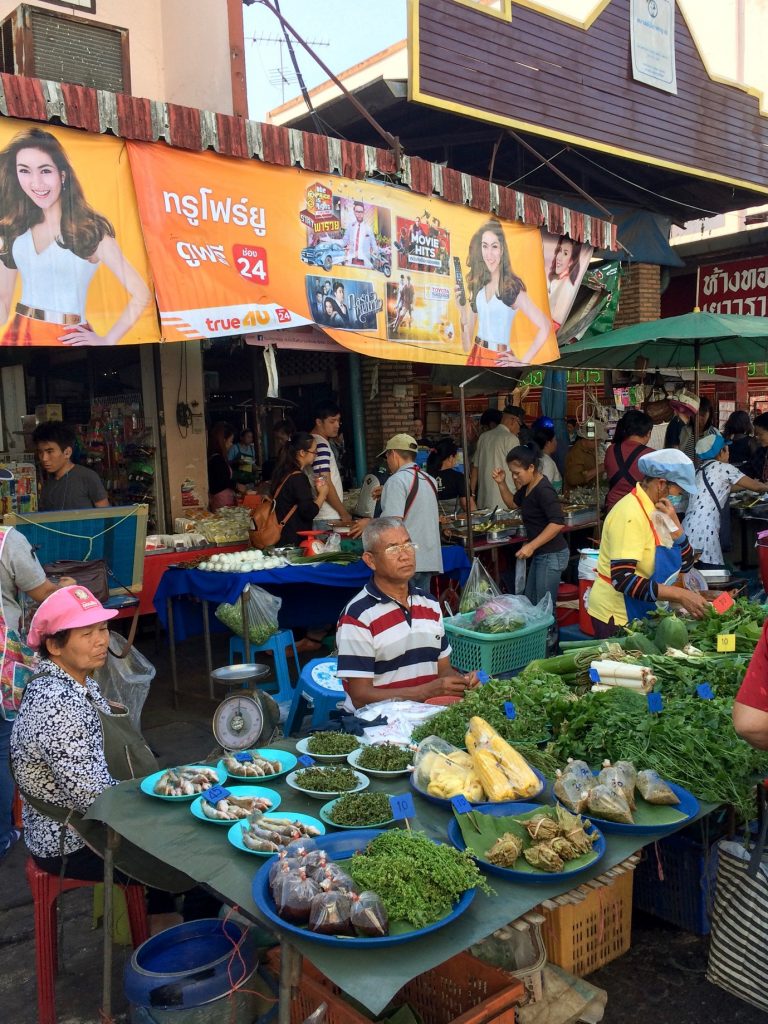 There are a bunch of other things to see outside the city, including the Black House – which serves as a contrast to the White Temple – or you can take a trip to the Golden Triangle, the tri-border point of Thailand, Laos, and Myanmar. Our trip was too short to do those, but it's always good to have reasons to return!
Like this post? Pin it!