Last Updated on 8th January 2019 by Sarah and Justin
If you like small, walkable cities with beautiful, interesting architecture and a dizzying array of cheap, delicious food, go to George Town, Malaysia. It's everything it's cracked up to be.
A true melting pot
The world seems like it's getting smaller and smaller, so lots of places are becoming more and more diverse and international these days. But George Town has been like that for centuries. It was colonized by the British and invaded by the Japanese. As a free port for many years, it attracted many people from many different countries. You can see all of these influences in the varied architecture throughout the city as well as in the food.
The buildings
George Town is a UNESCO World Heritage Site due to its large number of still-in-tact, pre-war buildings. Walking the streets of George Town is like stepping into another time, and a colorful one at that. Our favorite buildings were the ones with Chinese influence. Sadly for the city many of them are falling apart. But it also makes the whole place look more romantic.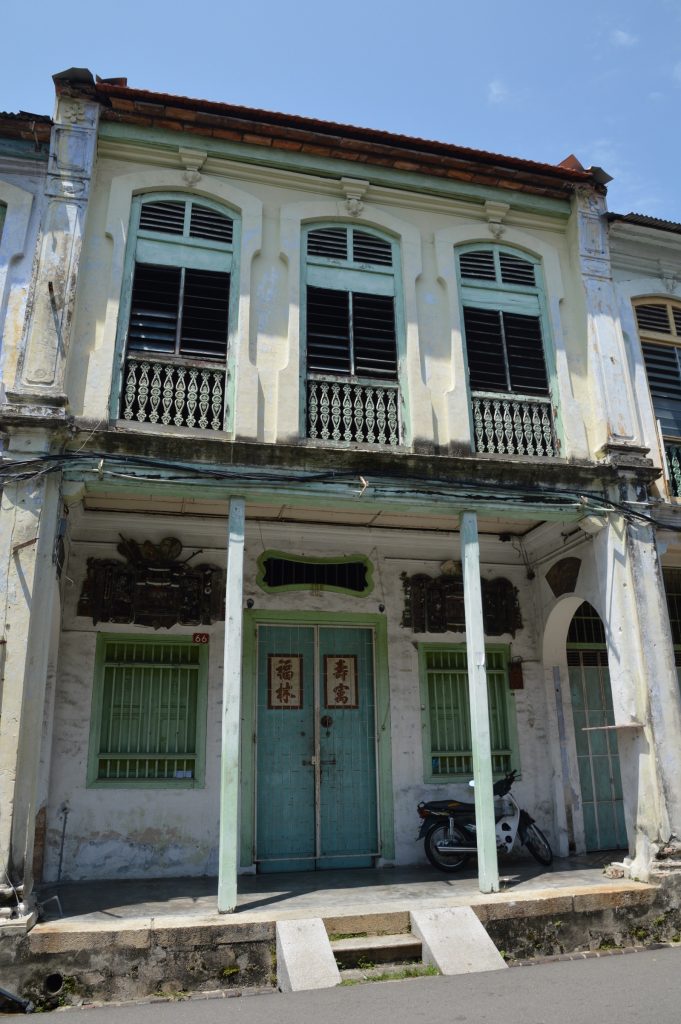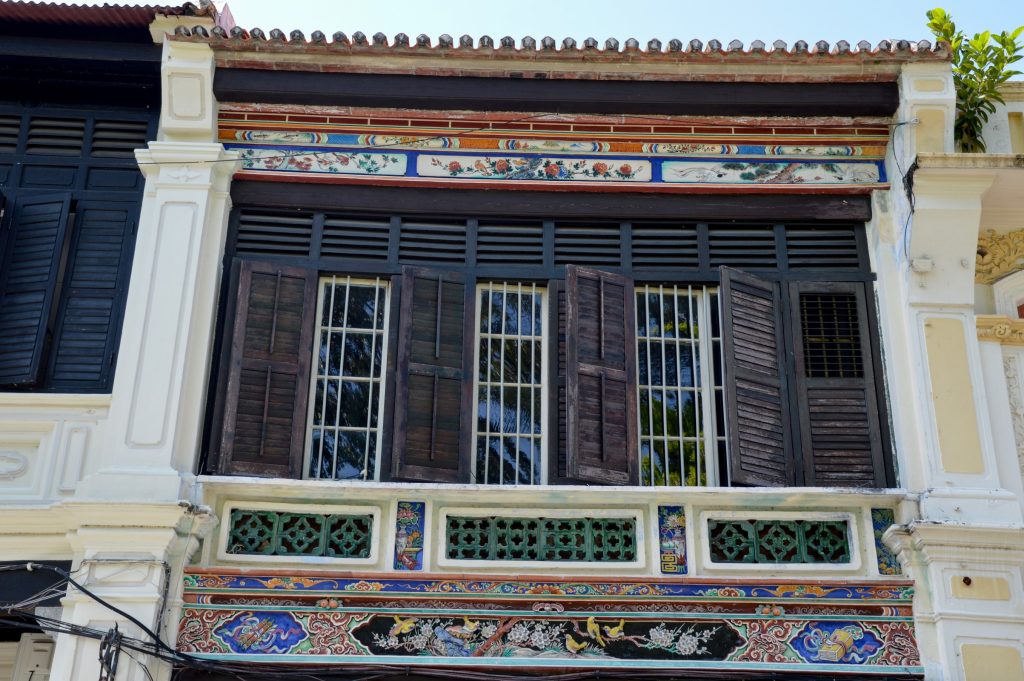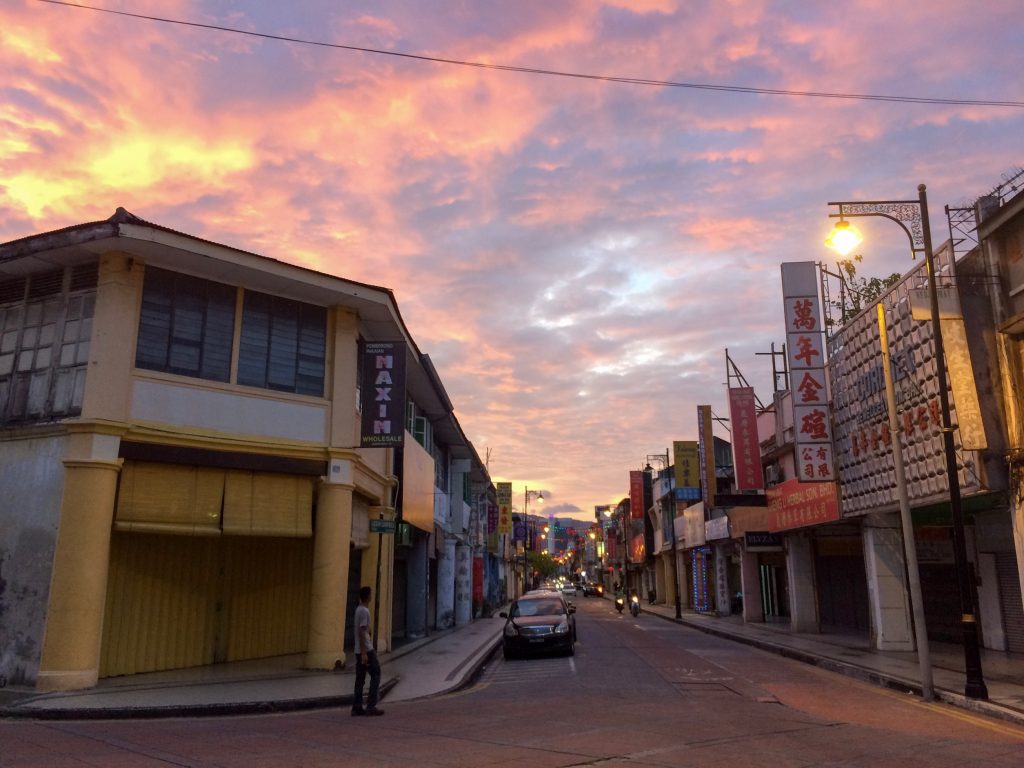 There are also temples – small and large – stuck between regular buildings.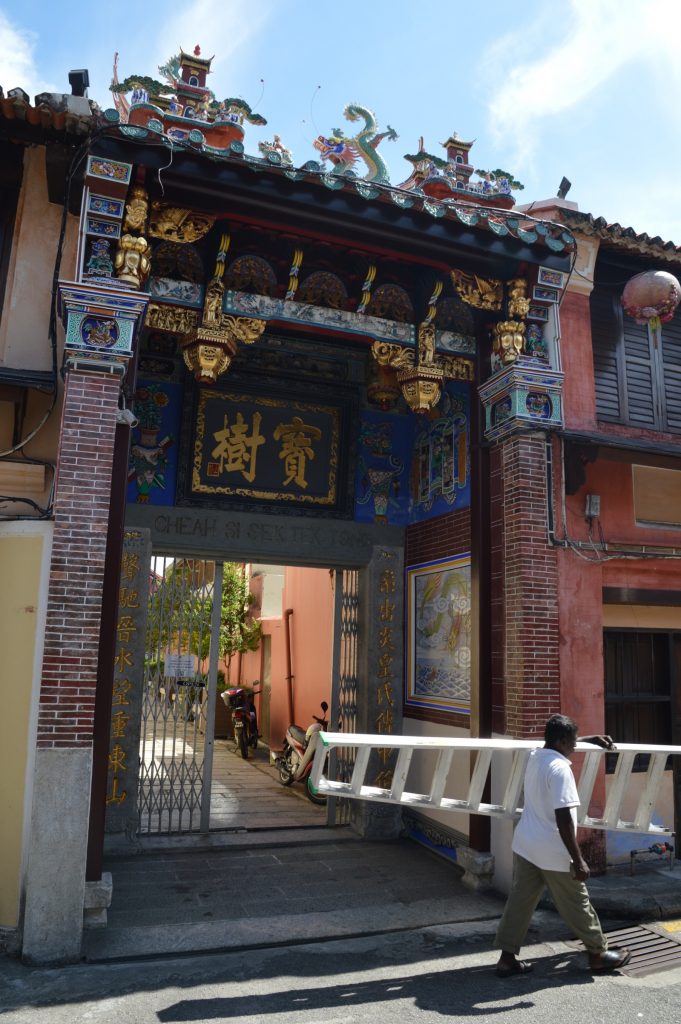 A most magnificent temple is Sri Mahamariamman – the oldest Hindu temple in Penang (the Malaysian state of which George Town is the capital). It was recently renovated and its colors are bright and gorgeous.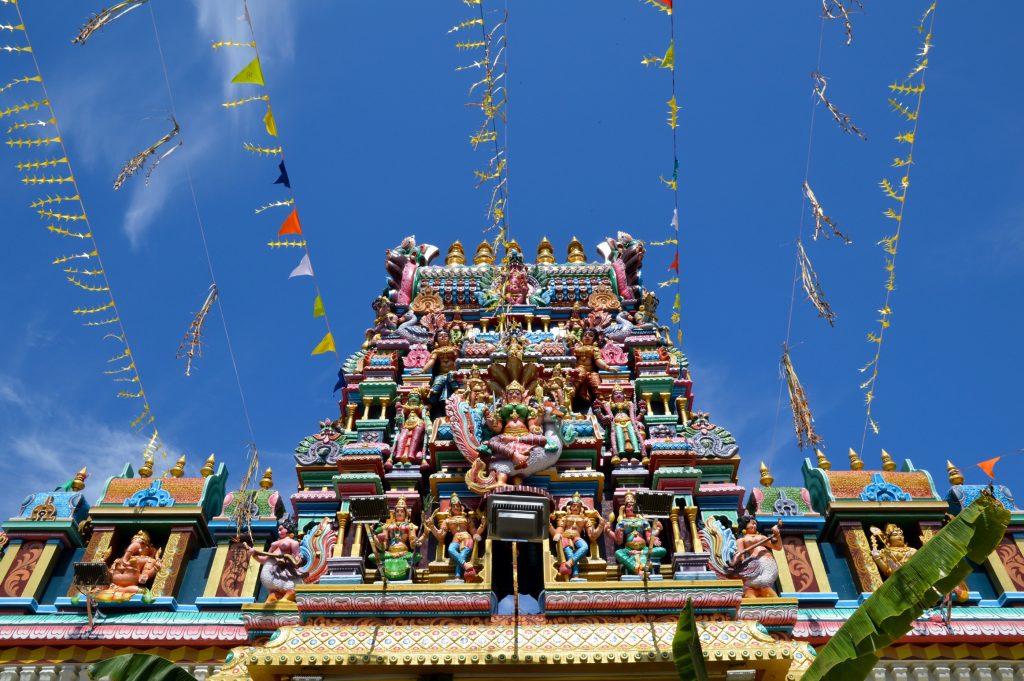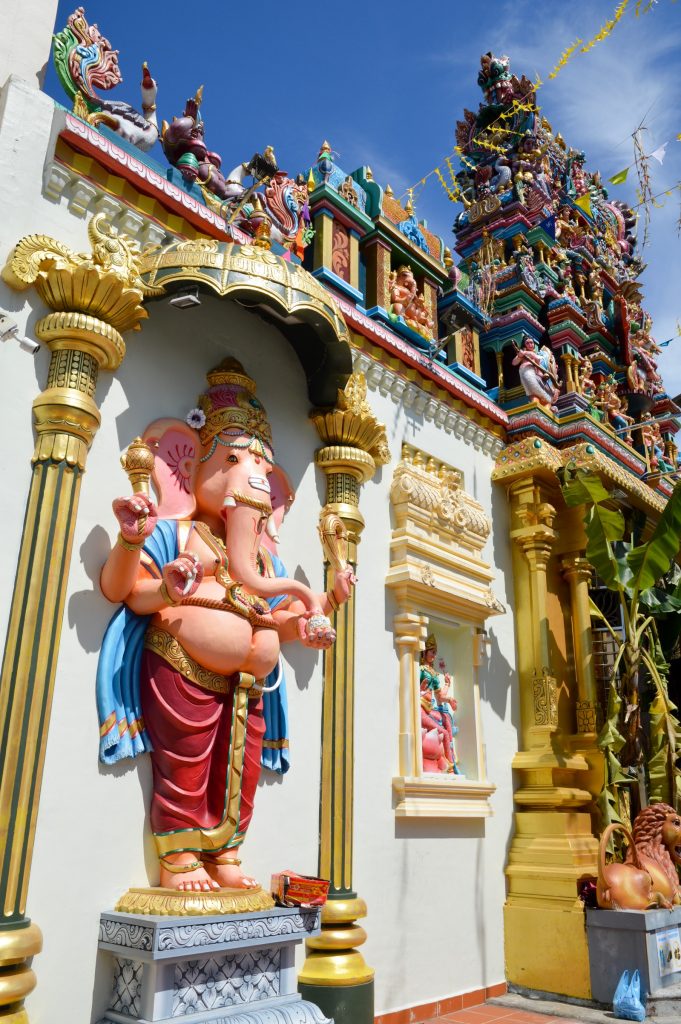 And there are mosques, the biggest and most famous of which is Kapitan Keling. It's a beautiful, impressive sight on a big street in the middle of the city.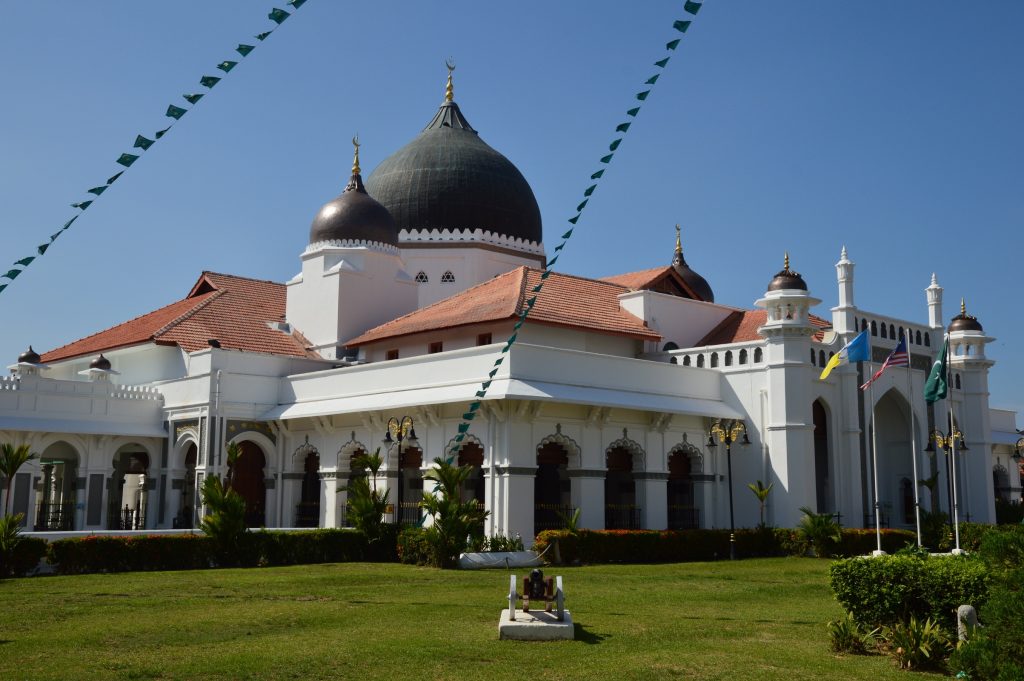 George Town street art
George Town is very well-known for its street art. The art is really neat and gives George Town quite a bit of character. Much of it is integrated into its environment and invites the viewer to participate. The most famous murals are surrounded by tourists much of the day. Waiting to take pictures in the intense heat tested our patience (and we gave up a few times). But we waited it out for Boy on a Bike which was created by Ernest Zacharevic, the artist who created most of the first murals throughout George Town in 2012.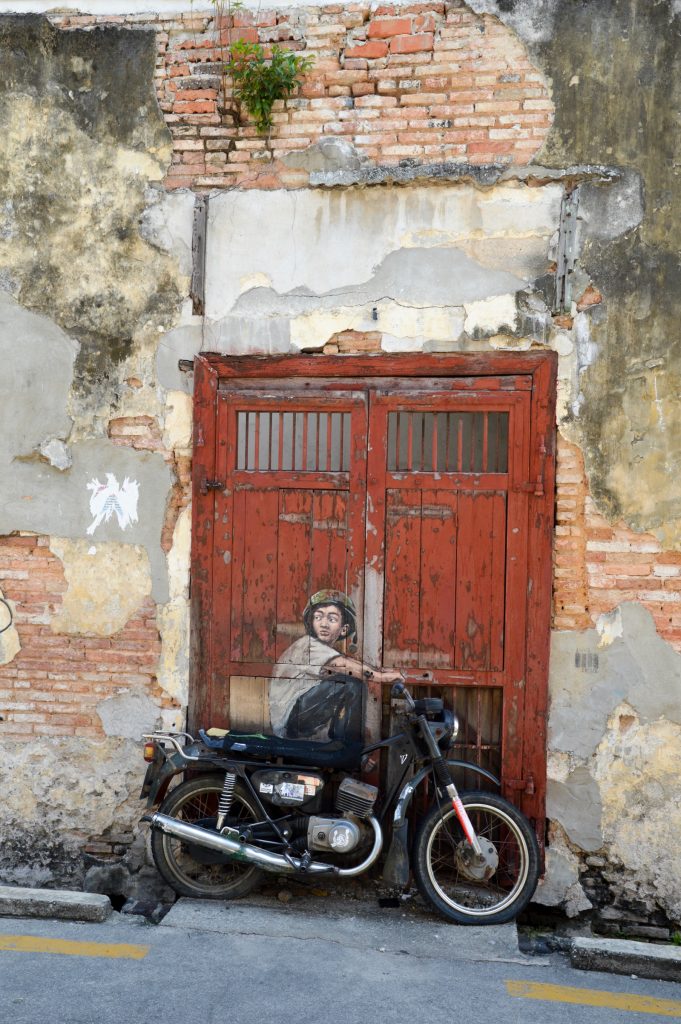 Other murals by Zacharevic that we liked were Little Boy with Pet Dinosaur (featured at the top of this post) and the massive Little Girl in Blue.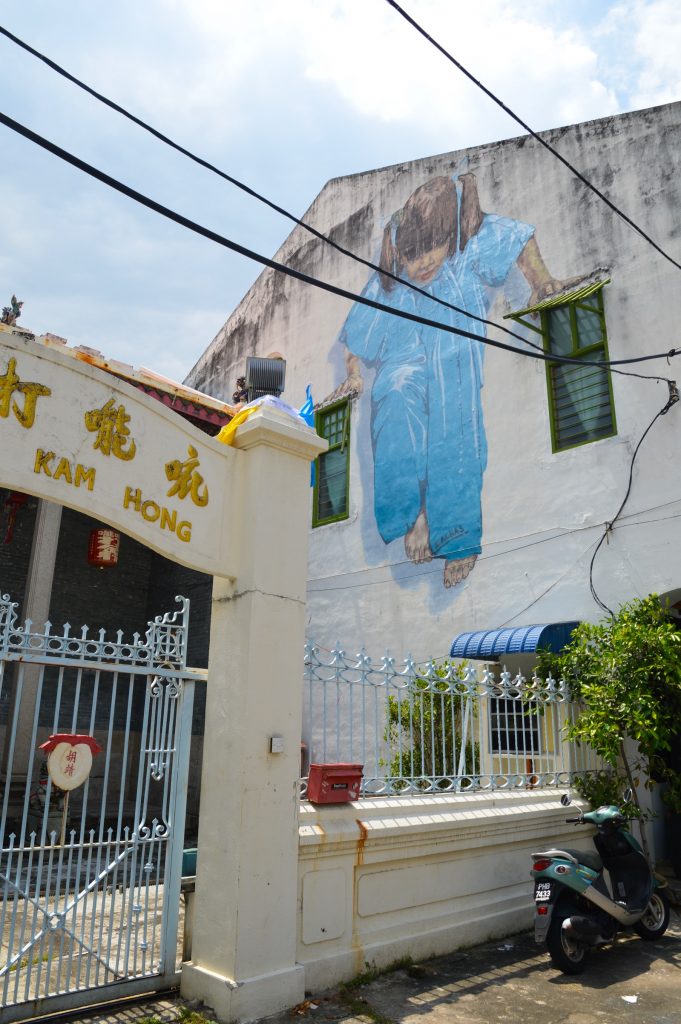 This I Want Bao! mural is similar in style to those by Zacharevic, but by another artist.

While it was fun to use a map and take a self-guided street art walking tour, we really enjoyed just stumbling onto things. Like this massive tiger with a rope.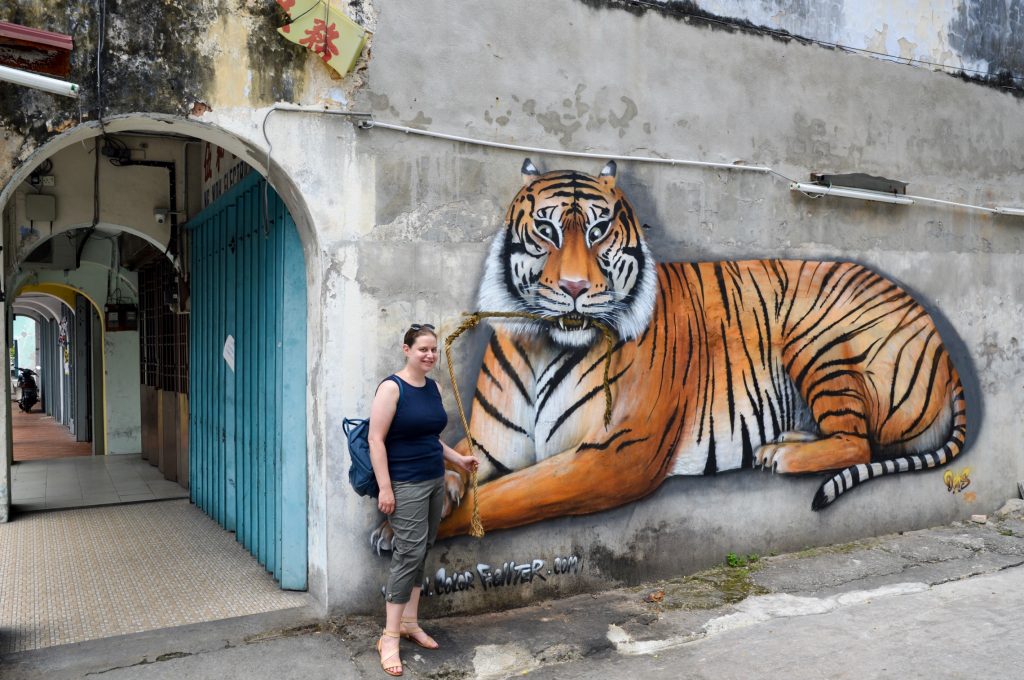 Or these gangster penguins.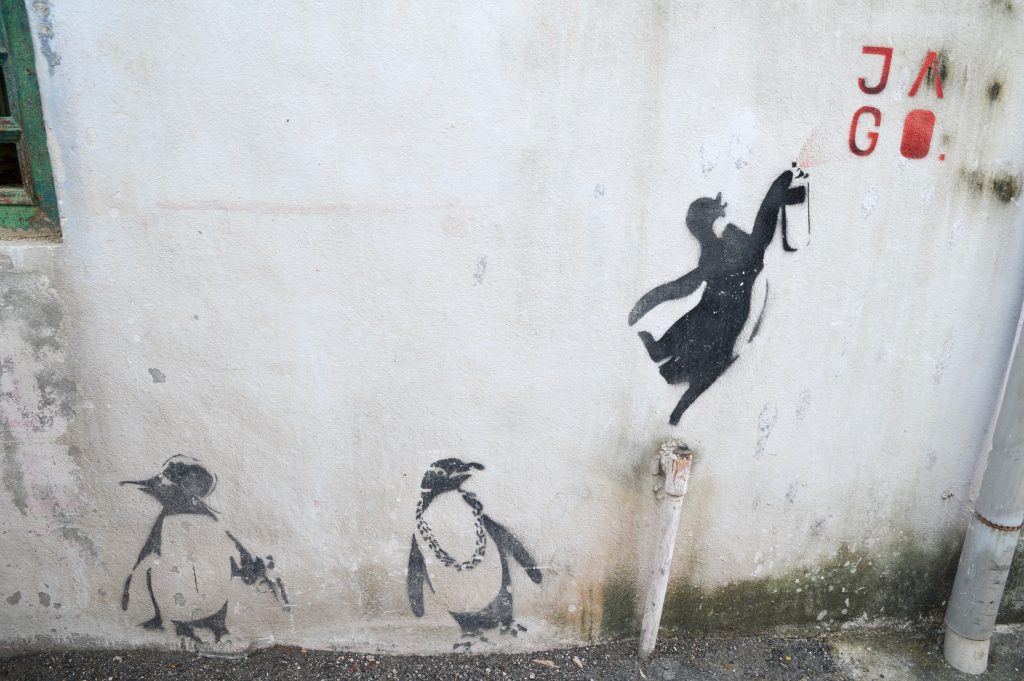 There's just more and more street art everywhere you turn.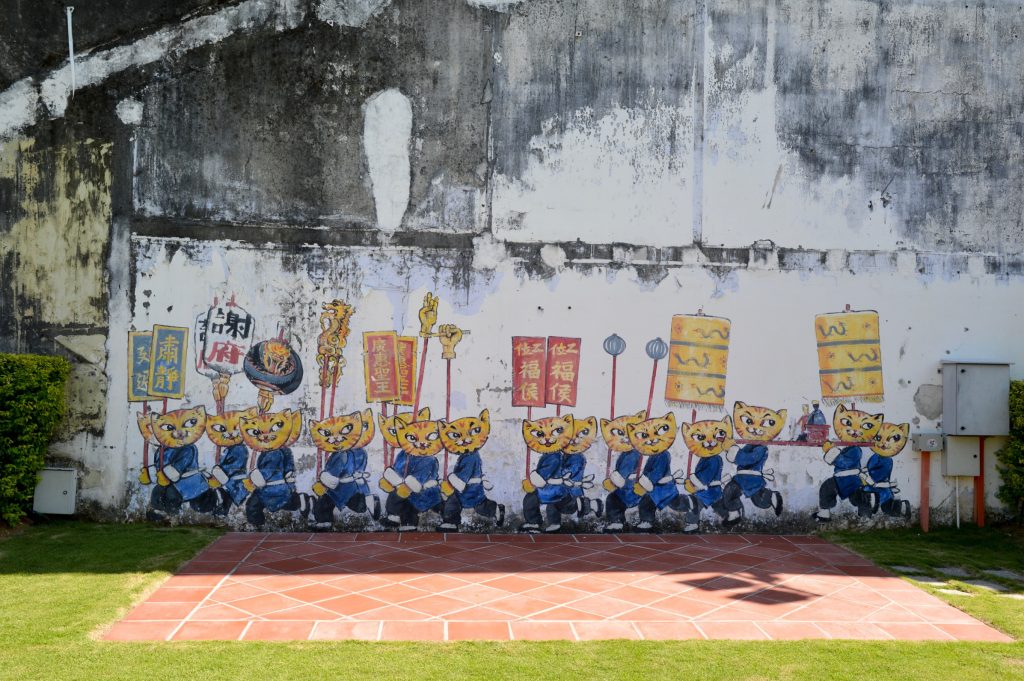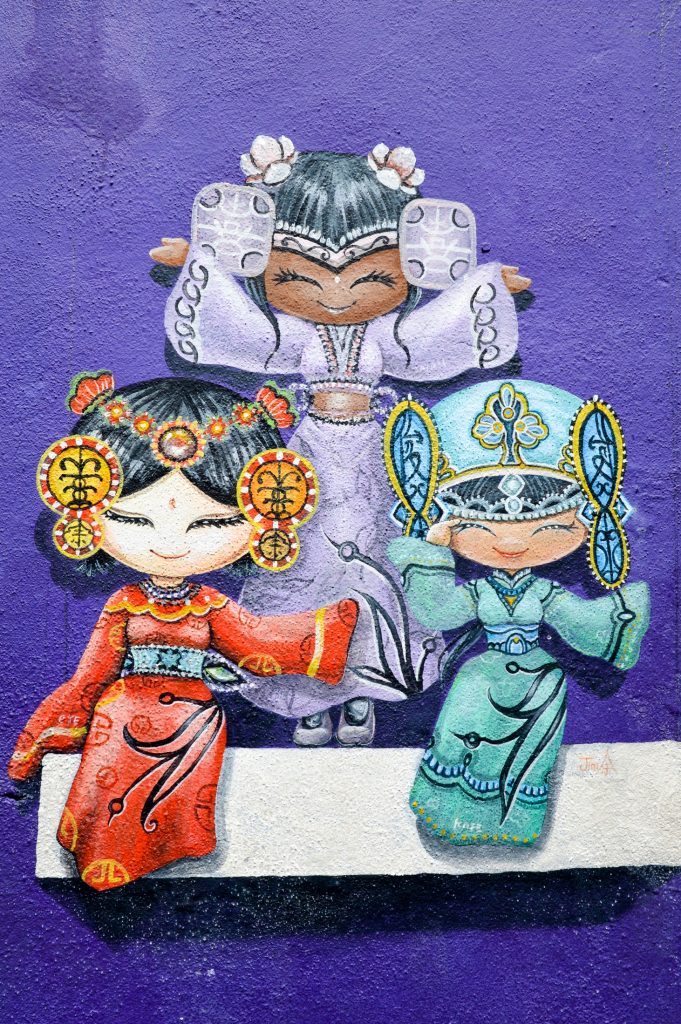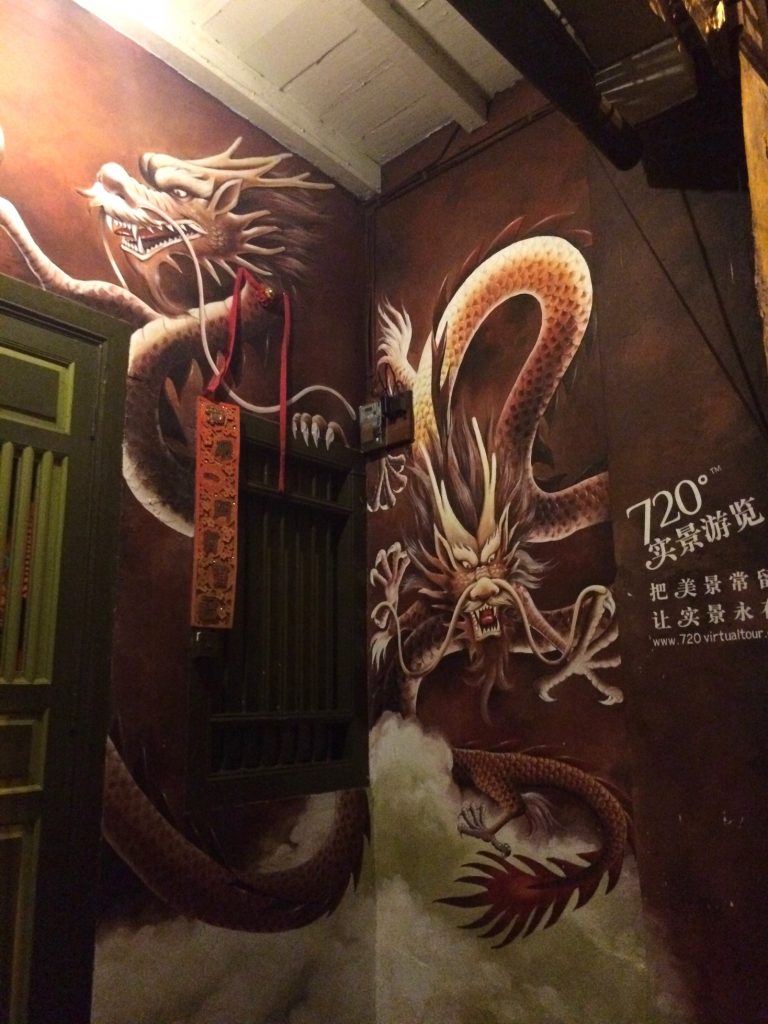 The food
We really enjoyed the food in George Town. It's a hodge podge of a number of different cuisines but mainly Malaysian, Chinese, and Indian. We had so much fun trying different types of food – on the streets and in restaurants – that we actually didn't take pictures. Blogger fail! Hopefully our descriptions will have to do, but if not, Google "what to eat in George Town" and you'll find all the pictures you could ever want.
Breakfast
Every morning we woke up to a massive feast of a breakfast buffet at our hotel. The highlight was the roti bar, where chefs made several different types of fresh rotis for us. Plain roti served with curry, roti with onion, roti with egg that was like an omelet, and most spectacularly a two-foot tall crispy roti cone drizzled in condensed milk.
Street food
We had a number of different street food dishes in George Town.
Our hotel was located around the corner from a well-known food street, Lebuh Kimberley. There, our first night, we had the cheapest dinner of fried noodles with veggies topped with crushed corn chips and pickeled jalapeños and a side of spring rolls all for 7.50 MYR (~$1.73).
A must-eat on Lebuh Kimberley is the most delicious duck kway chap. Kway chap is a popular Chinese style noodle soup in Malaysia. Everything in this version was incredibly tasty: succulent duck, thick, starchy noodles, rich 5-spice broth, and a marinated egg.
On Lebuh Kimberley, we also tasted pork dumplings (like the ones you'd get at dim sum) and lor bak, pork deep fried in tofu skin. For something sweet, we had a dish of black rice in salted coconut milk porridge.
At the Chulia Street Hawker Center, we tried curry mee soup with an array of fish.
On Lebuh Pasar in the Little India neighborhood, we had freshly made samosas (a couple different times!) and a curry with a different type of roti (this one looked like netting) as well as teh tarik, hot sweet milky tea which is poured into glasses from high above so it gets frothy.
Restaurants
You can definitely get by on street food alone, but we really enjoyed the restaurants we ate at as well.
Jawi House Cafe was the nicest place we ate. It serves Jawi Peranakan food – a mix of Indian and Arabian. We ate two delicious curry dishes with flavored rices.
Hameediyah Restaurant is the oldest nasi kandar restaurant in Malaysia. You order in a small shop where you can see all the food and then are escorted to the restaurant next door. We had two plates of curries and rice and vegetables and murtabak, a pancake stuffed with egg and chicken. And we washed it all down with a delicious mango lassi. It was definitely a local spot – we were the only tourists. But everyone was very nice, making recommendations and helping us out with the ordering.
At Hong Kee Wan Thun Mee, we ate yummy bowls of wanton mee, noodles and wanton dumplings. You can get them wet (as a soup) or dry (with just a little broth). Very satisfying.
Food tour
One night, on a friend's recommendation, we went on the Heritage on a Plate food tour. We ended up being the only two participants and had our own personal tour. It was expensive – especially considering the price of the food in George Town – but it was an interesting mix of food and history and we learned a lot about the city as well as its food. We ate both street food and in restaurants and learned more about other places to go and things to eat which we tried out during the rest of our time there. If you're new to Southeast Asia and nervous about the language barrier and trying different things on your own, we'd recommend doing this tour very early during your stay in George Town.
Like this post? Pin it!