Last Updated on 8th January 2019 by Sarah and Justin
We ate a lot of good food in Hanoi. A lot. It's hard to play favorites, but one stand-out dish was definitely bún bò. There are different types of bún bò throughout Vietnam. The version we tried in Hanoi was a delicious bowl of herb salad, rice noodles, and beef topped with fried shallots and peanuts, all swimming in a sweet, spicy dressing. We ate it at a couple places, but our favorite was a famous spot called Bún bò Nam Bò, where that's pretty much all they serve. In fact, when you arrive, they simply ask you "2 bowls?" Here you can see their assembly line so they can serve people within a few minutes of ordering.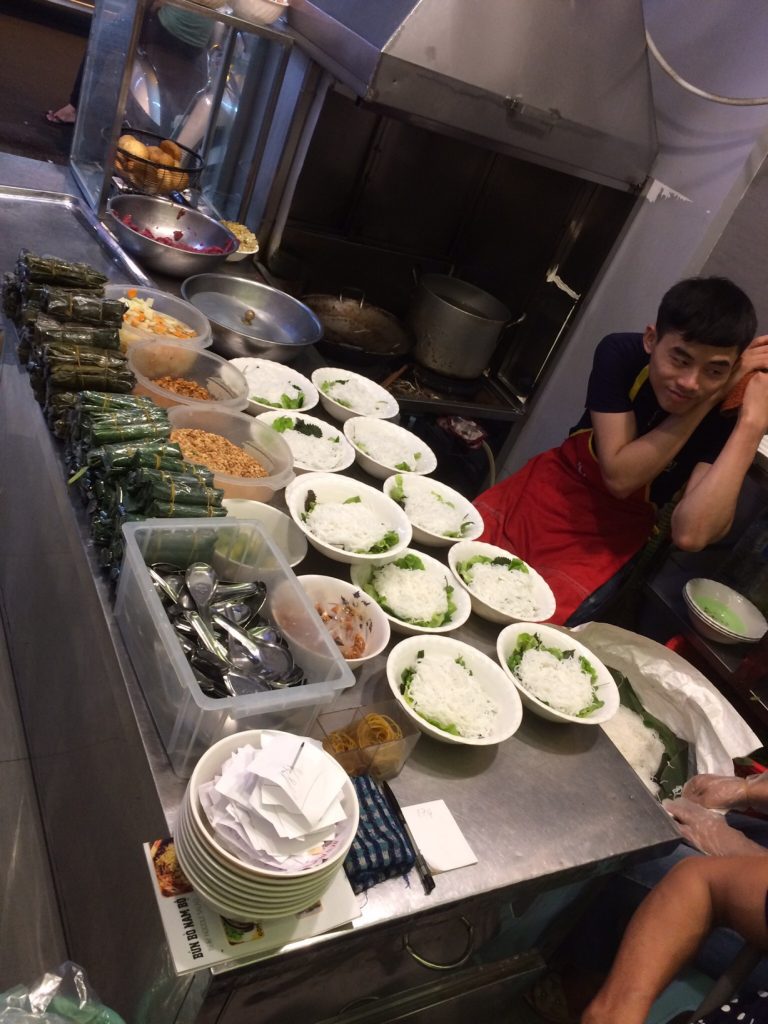 We recently arrived in Köln, Germany, and reacquainted ourselves with a kitchen and home-cooking after a month staying in hotels in SE Asia. Finding ourselves missing Vietnamese food (admittedly, our first meal here was pho), we decided to give home-cooked bún bò a try.
Bún bò Köln
We adapted our bún bò Köln from two recipes: one from the NY Times and one from Williams Sonoma. We also tweaked ingredients based on what we had and what we could find our local German markets. Luckily, there's a big Asian market with a great selection (called Seng Heng) a few blocks away from where we are staying.
Ingredients (serves 2)

Beef 
2 cloves of garlic, minced
2 stalks of lemongrass, minced (only the inside of the lower part that's edible)
1 tbsp fish paste
1/2 tbsp sugar
1/2 tsp soy sauce
1/4 tsp black pepper
300g beef, sliced into small, thin pieces (we used thin roulade because it was the best we could find in the supermarket, but any type that's easily sliceable will do)
1/2 onion, thinly sliced into half-rings
2(ish) tsp oil
Dressing
2 cloves of garlic, minced
1/2 inch piece of ginger, minced
1 small hot chili, minced (or 2 or 3 if you like it very hot)
2 tbsp fish sauce
1 lime, juiced
1/3 cup chicken broth (or water)
2 tbsp sugar
1/3 carrot, grated
Noodles
200g rice vermicelli noodles
Water for boiling
Salad
1/2 head of lettuce (we used iceberg but any lettuce will do)
1/2 cup Thai basil, torn into small pieces
1/2 cup mint, torn into small pieces
1/4 cup of parsley, torn into small pieces (we had parsley left over, but one could use cilantro too)
1/4 English cucumber, julienned (we like the skin, so kept it on, but feel free to peel it if preferred)
2/3 carrot, julienned
Note: 1 large handful of sprouts would be tasty in this too, we just didn't have them
Toppings
1/4 cup peanuts, smashed
1/4 cup fried shallots (absolutely essential to this recipe, so make every effort to find them at an Asian market)
Chili oil, to taste (we have delicious sesame chili oil from Japan, but any chili oil will do)
Method
Make a marinade for the beef using the first 6 ingredients. Marinate the beef for as long as possible up to overnight. We did it for about 1 hour and it could have used more time.
Make the dipping sauce, using all ingredients listed. Let it hang out while you make everything else. Like the beef, this could be done the day before if necessary, but we would recommend leaving out the chilis until you start cooking, otherwise it will be very spicy.
Boil the water in a large pot and cook the vermicelli noodles according to the directions on the bag. You'll probably need to stir and separate them with chopsticks or another tool while they are cooking. Drain and rinse them in cold water and set aside.
Heat the oil in a skillet and brown the onions. Remove them from the pan. Add more oil and brown the beef in batches. Add all beef and onions back to pan to finish cooking and meld flavors together.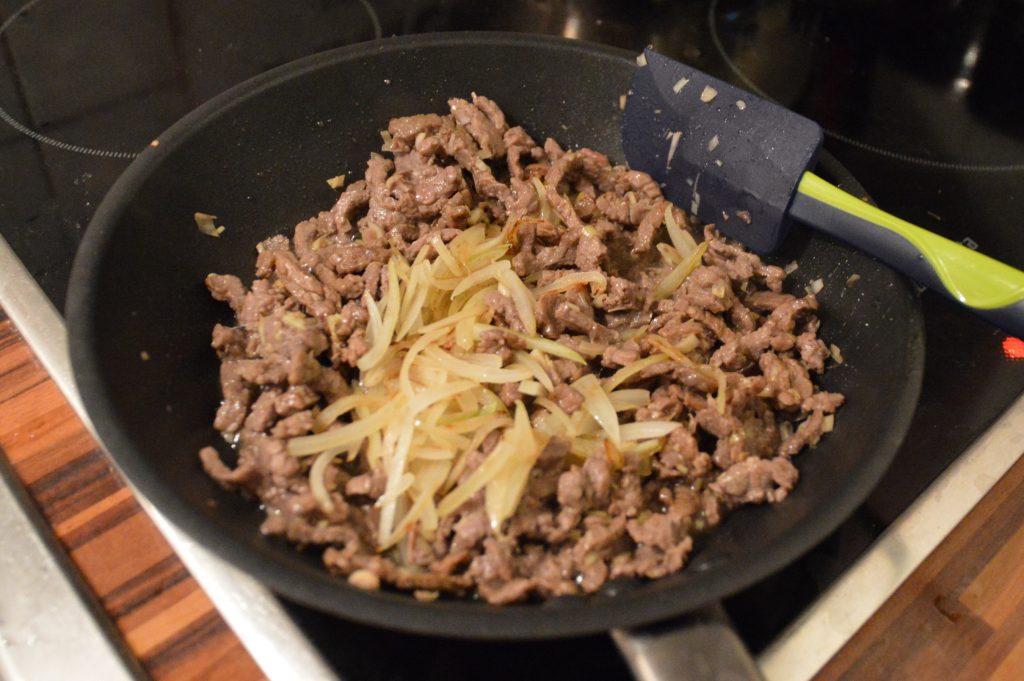 Mix all the lettuce, herbs, and veg together in a bowl.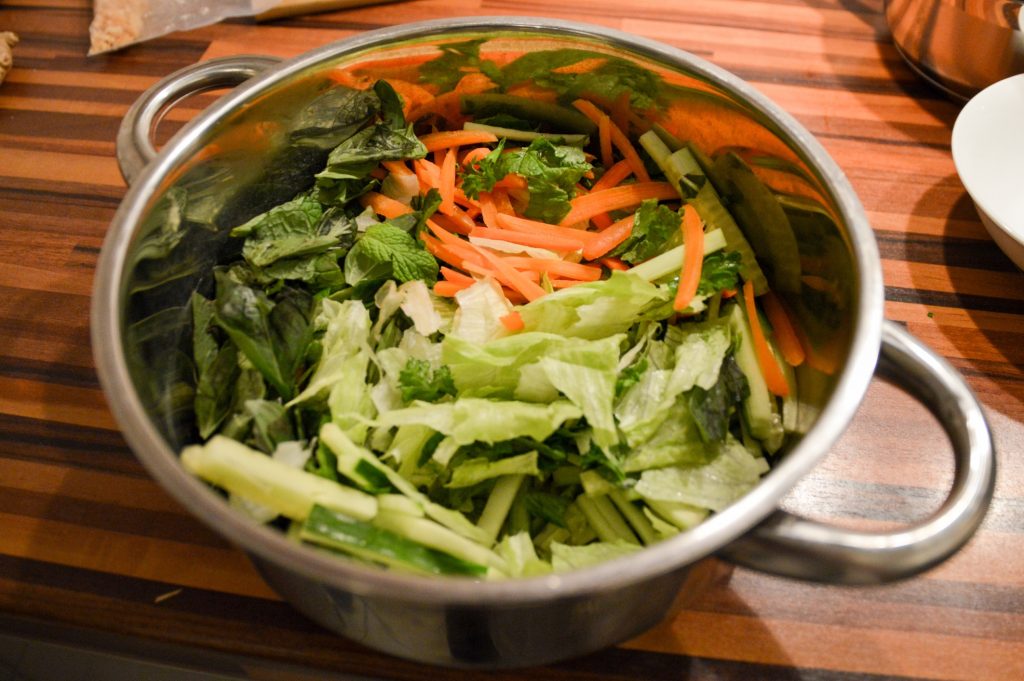 Plate half the mixture in smaller bowls (note, due to our accommodations, we only had plates, but bowls work best for this dish). Add noodles on top of salad (depending on how long they've been sitting, you might need to re-rinse them so they don't stick together). Drizzle half the dressing on top of the noodles and salad. Add the beef and onions. Top with the fried shallots and peanuts. Pour rest of dressing. Finish with chili oil.