Last Updated on 22nd March 2019 by Sarah and Justin
We're excited to introduce a new series of guest posts all about accessible travel. We're featuring people with different backgrounds all around the world who love traveling in spite of what others may see as limitations. First up is Alex, the blogger behind The Life Quadriplegic. Alex was disabled in a car crash at the age of six. Now 29, he uses a power wheelchair and has many adventures seeing the world. He's sharing some great wheelchair accessible things to do in Tenerife. We've heard a lot of lovely things about the Canary Islands, and after reading Alex's recommendations we might just book a trip there ourselves!
A wheelchair accessible vacation in Tenerife
If you like warm holidays in the sun and sandy beaches then Tenerife could be the perfect place for you. The island lies 65 miles off the west coast of Africa so it experiences warm weather all year round. You are almost guaranteed sunshine any time of year and there is very little rain. Most importantly the island has very good access for wheelchair users. In this post I will write about five accessible things to do in Tenerife.
1. Explore Mount Teide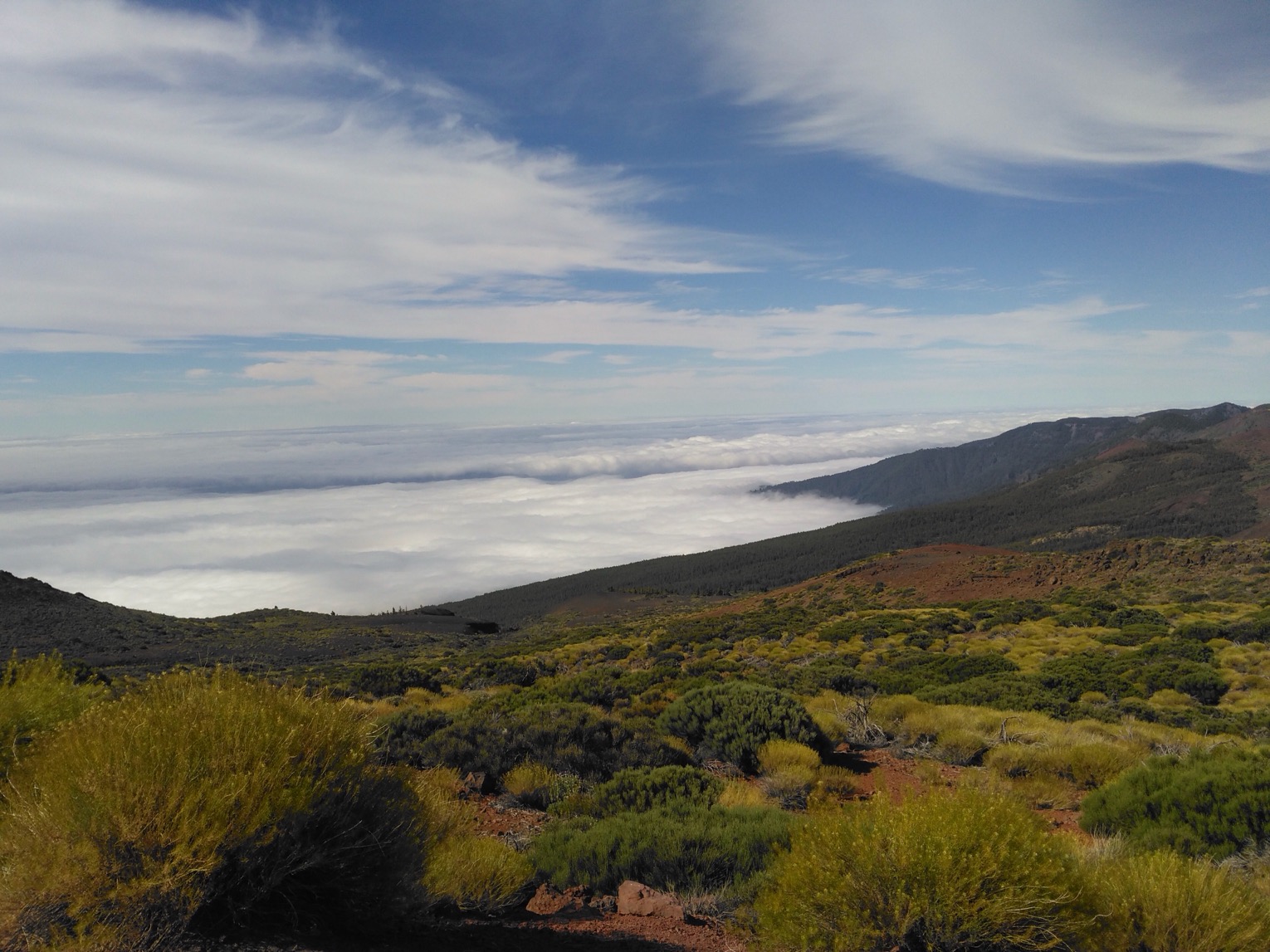 Mount Teide is a dormant volcano which towers over Tenerife. Driving up the mountain gives you spectacular views of the rugged scenery along the way. The national park surrounding the mountain contains some of the island's most beautiful scenery. We hired an accessible van for a few days, from a company called Cicar, which had a tail lift. In my view this is the easiest way to get to Teide as it gives you freedom to go wherever you want. We drove up to the lower cable car station which is 2356 m above sea level. To get to the top of the mountain you have to take the cable car which annoyingly is not wheelchair accessible. I would have loved to have gone up the top which is 3555 m above sea level. However, even at the lower cable car station you are still above the clouds so you can get spectacular views. We drove around the winding roads on the mountain, stopping at numerous laybys to admire the environment. Seriously, if you do one thing on Tenerife, you HAVE to visit Mount Teide. Seriously.
2. Relax at the beach
You can't go to Tenerife without visiting at least one of the beaches, it's the law! Many of Tenerife's beaches are accessible for wheelchair users with boardwalks going along the beach, accessible toilets nearby, and even beach wheelchairs. I went to Playa de Las Vistas in Los Christianos, which has a beach wheelchair available to use. The lifeguards were on hand to help but they didn't have a hoist available. But my carers lifted me onto the beach wheelchair manually. I was then able to go into the sea which was an exhilarating experience. Even though the temperature was about 25°C the sea was freezing! But it's very refreshing. Plus after being in the sea you dry out pretty quick in the sunshine.
3. Visit the Piramides de Guimar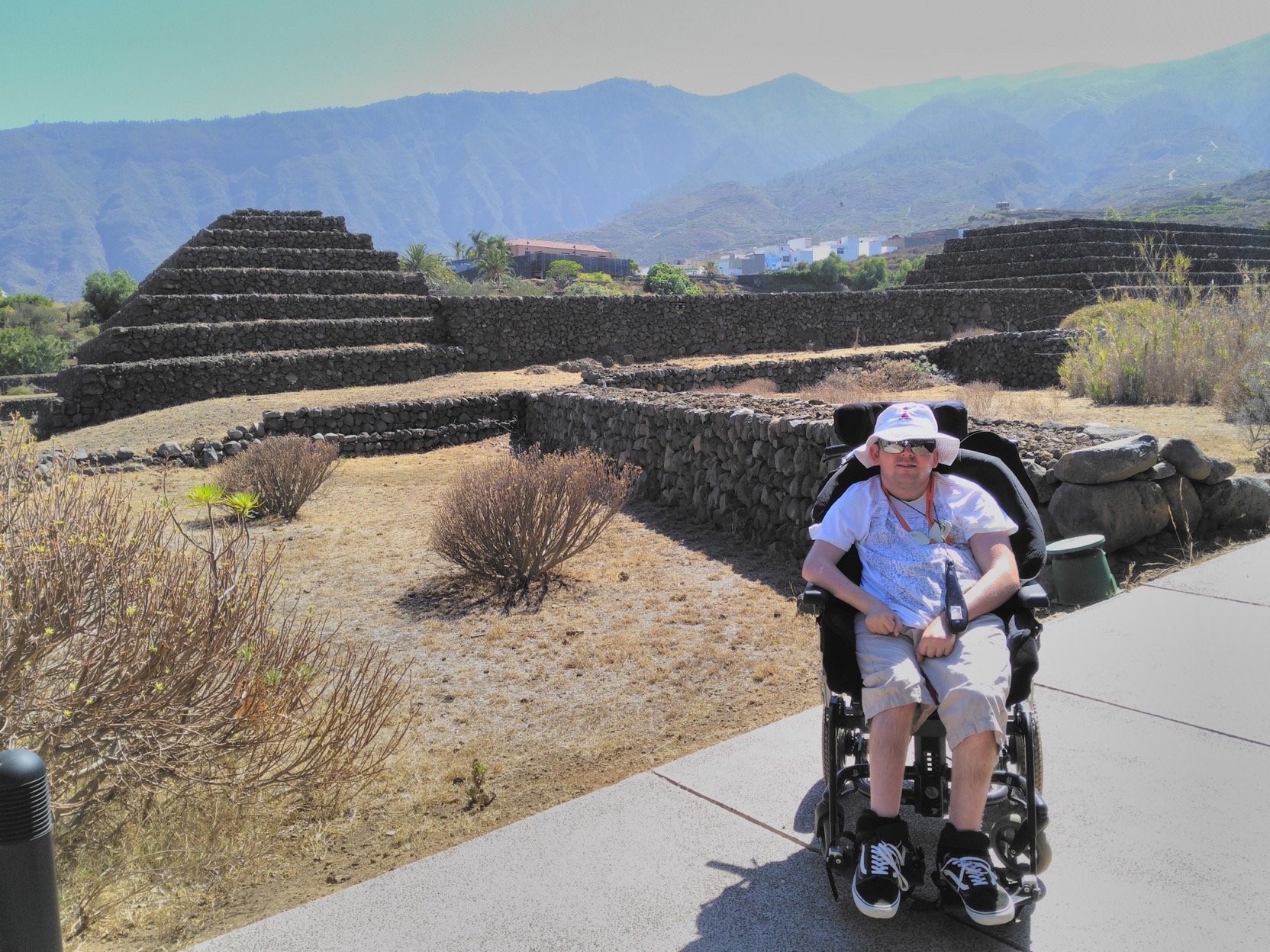 Further north on the island is the Piramides de Guimar ethnographic Park. The park is centered around some stone pyramids built by ancient inhabitants of Tenerife. There is a lot to see in the park and it covers 64,000 m². There are a number of outdoor routes you can take through the park. One route goes around the pyramids, and some go through the different types of gardens. For example they have a poison garden full of poisonous plants which is interesting to see. There are also cultural walks with information boards along the route explaining about the culture and wildlife of Tenerife. All of the routes around the garden and the pyramids are accessible with sloping concrete ramps and smooth paths. However, some ramps are a little bit steep so it might be a bit tricky if you are in a manual chair. I would recommend not visiting here in the middle of the day as it can get very hot walking around. I think it's best to go in the afternoon. There's also a museum onsite and various exhibitions that gives you lots of information about the island's history. A great place for history buffs!
4. Dolphin watching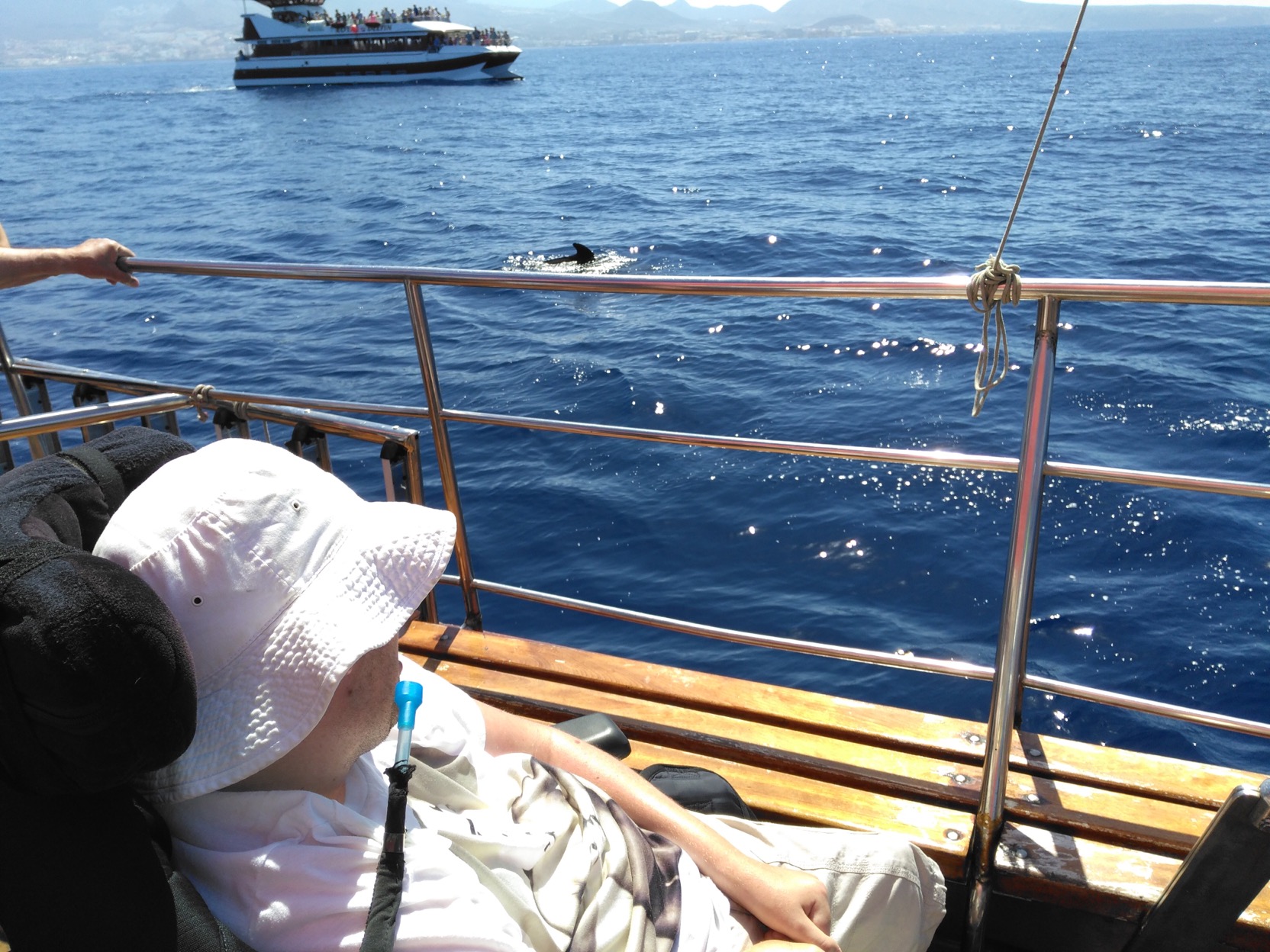 The deep waters around Tenerife are a good habitat for dolphins. So if you get the chance I highly recommend finding a boat to take you on a dolphin spotting trip. Be warned though, not all boats are accessible. I booked a trip with a company after a rep told me it was accessible. But upon arriving at the boat (called the Royal Delfin) I found it was not. I did find a company that did have an accessible boat though called the Shogun owned by the Neptuno Sea Company. Accessibility wasn't perfect on the boat as my chair had to be lifted over a step by about four people to board the boat. Plus there was another step as you go from the front to the back of the boat. It's doable in a manual chair, as long as you don't mind people lifting your chair up and down the steps. They did have an accessible toilet which was a relief. But it was only just big enough to close the door behind me, but we managed. The trip itself was great. It lasted for about five hours, which was longer than I would have liked but I enjoyed it. Plus they served a hot meal for lunch which was very tasty, and if you are able you could have a swim in the sea. I couldn't get out my chair so I was unable to, and they didn't have a hoist. It's a shame because I would have loved to have gone in the sea. It was scorching hot that day!
For even more things to do in Tenerife, I highly recommend looking at this guide to accessible Tenerife which has lots of useful information it.
5. Stay at the accessible hotel Mar y Sol
There is a great hotel on Tenerife called the Mar y Sol which was purpose-built for disabled people. The whole hotel is accessible and it's a short walk from the beaches. There are a number of swimming pools in the central courtyard, some heated and some cold, with hoists to get in and out. Plus there is a spa in the hotel so you can book to have a massage or a number of other therapy treatments. The restaurant serves lunch and dinner in a buffet style and I thought the food was excellent. There is also a useful company next door to the hotel called LeRo. From here you can hire equipment like hoists and shower chairs, and also book excursions on an accessible bus.
So, if you feel like a holiday in the sun why not take a trip to Tenerife? With beautiful scenery, fantastic weather, and great accessibility, it's almost the perfect holiday destination.
About Alex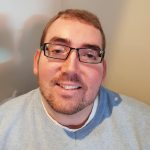 Alex is a 29-year-old blogger, writer, and budding graphic designer, from the UK. He is a quadriplegic Powerchair user and the focus of his writing on The Life Quadriplegic is usually disability-related topics, like wheelchair access, accessible travel, and whatever else crosses his mind. You can also follow Alex on Facebook.
Like this post? Pin it!