We were very excited to drive the Great Ocean Road in Australia! We drove from Melbourne to Adelaide and spent three nights along the way. You could do it faster, but if you have the time, we wouldn't recommend it. The scenery is absolutely beautiful. On some stretches you could stop every few minutes to take pictures of the ocean or the road or a koala! And the roads are very well cared for, so the driving is really fun.
Here's our detailed three day itinerary for a Great Ocean Road trip.
Leaving Melbourne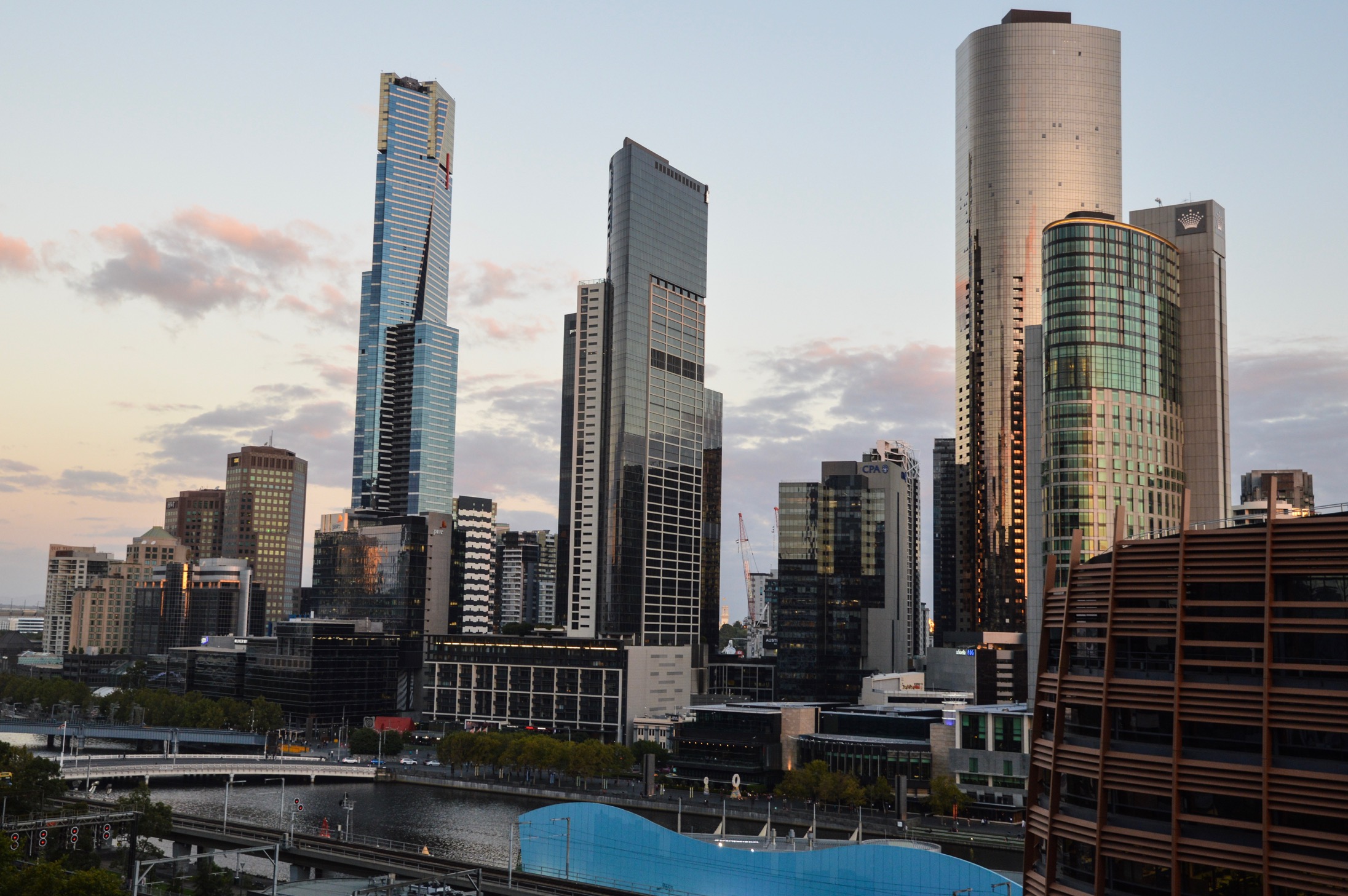 After a week in Melbourne we were sad to leave but excited to hit the road. We picked up our car at the airport and headed south to…
Bells Beach
Bells Beach is a typical first stop along the Great Ocean Road. Us not being surfers, we only made a quick stop for our first views of the beach and ocean.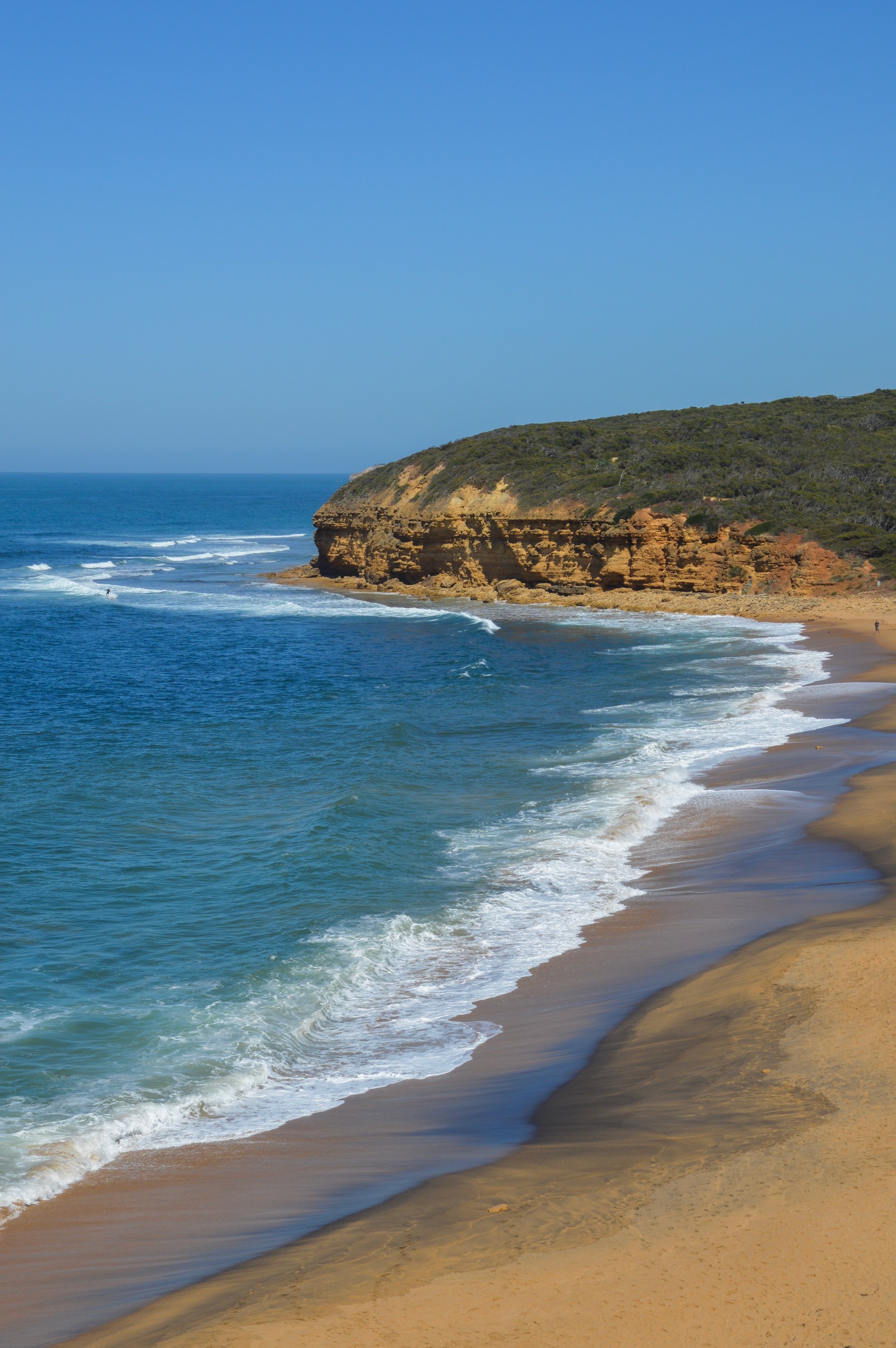 A little later, we pulled over on the side of the road at an unnamed beach to get our feet wet.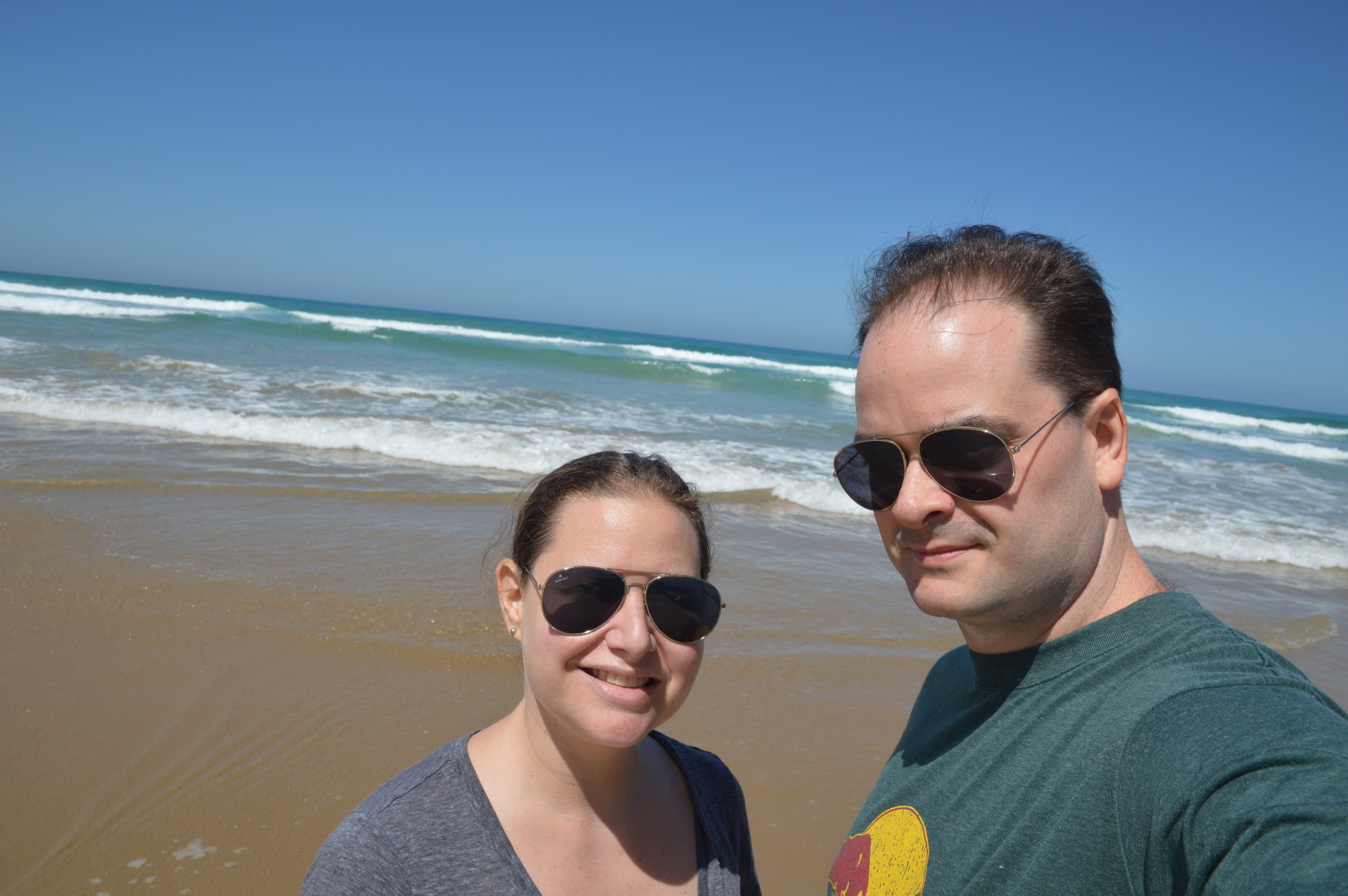 And we kept pulling over for more pictures and more views. The color of the ocean was astounding.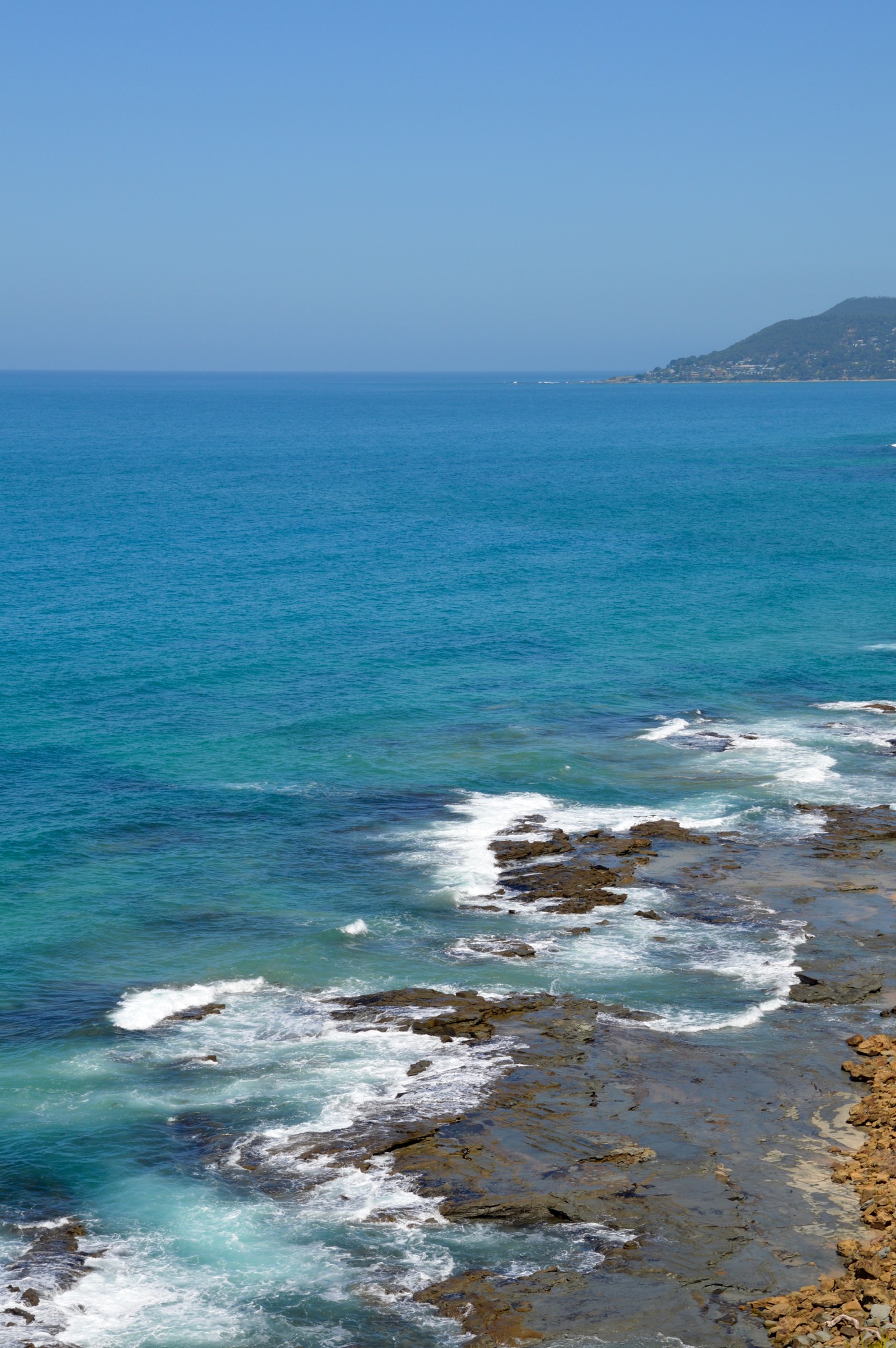 We eventually stopped for lunch in…
Lorne
A gorgeous town right on the beach, many people stay over in Lorne for the night. We wanted to make a bit more progress, though, so just stopped for lunch and a stroll. The beach was extremely busy and there was a surf class going on in the ocean.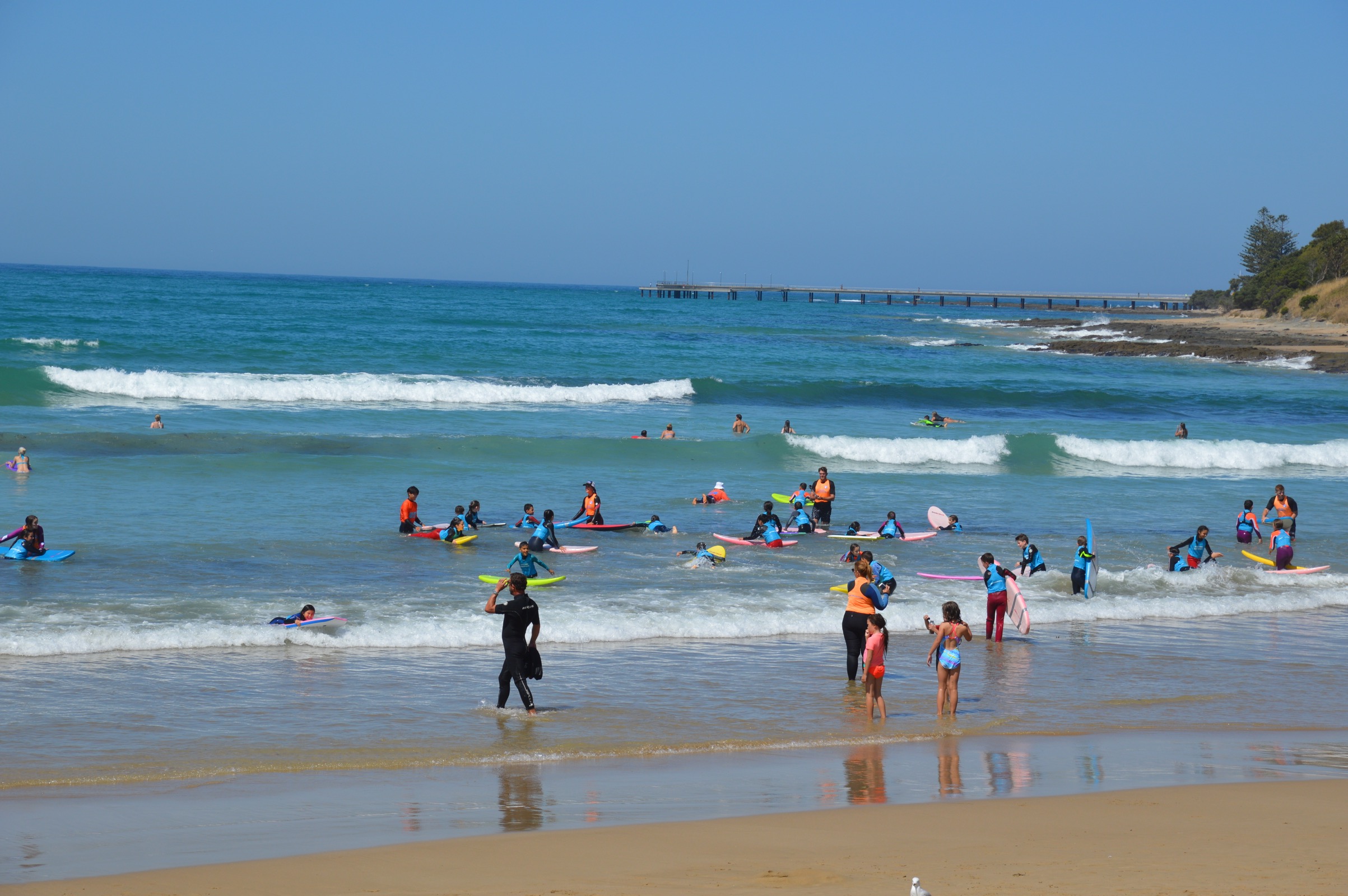 We stumbled on a Thai restaurant and were lured in by their extensive selection of hot sauce.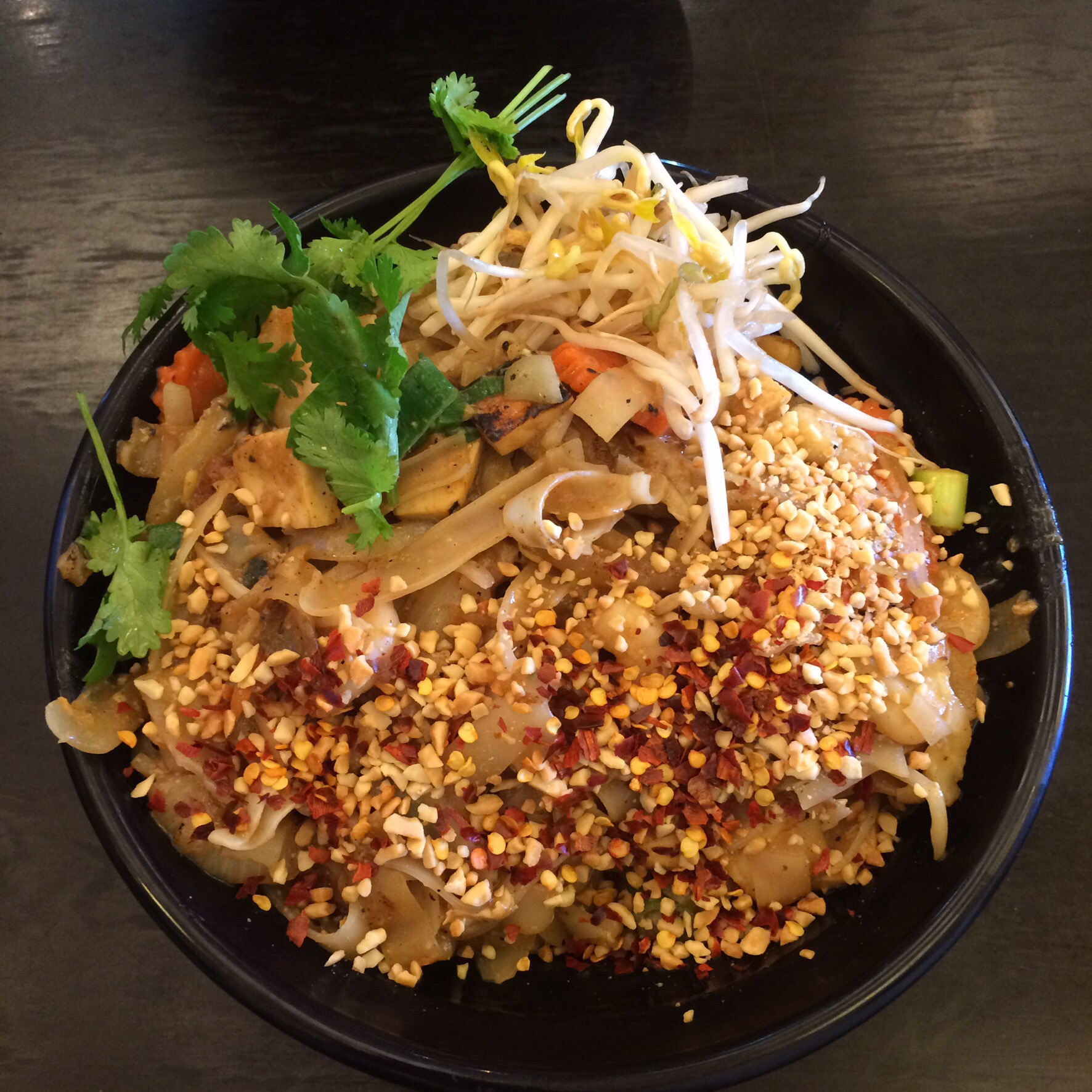 Full of noodles, we continued along the windy roads, stopping every time we saw a view, no matter how harrowing!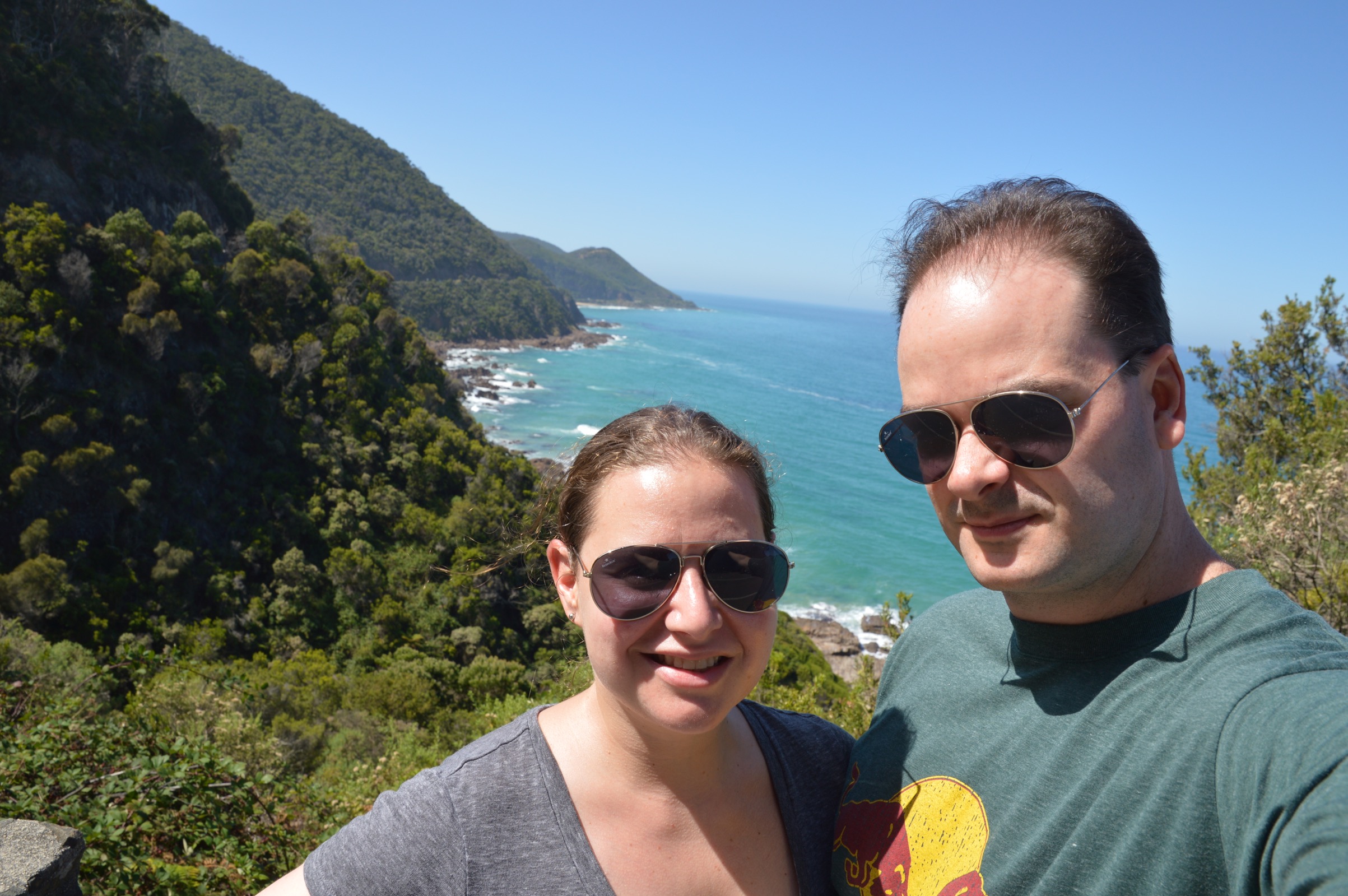 Our next stop was…
The Kennet River
As its name implies, Kafe Koala, which is on the Kennet River, is a well-known koala-viewing spot. We, along with a bunch of other tourists, saw four koalas in the trees by the cafe. They were so cute, albeit a bit boring since they were pretty much asleep the whole time.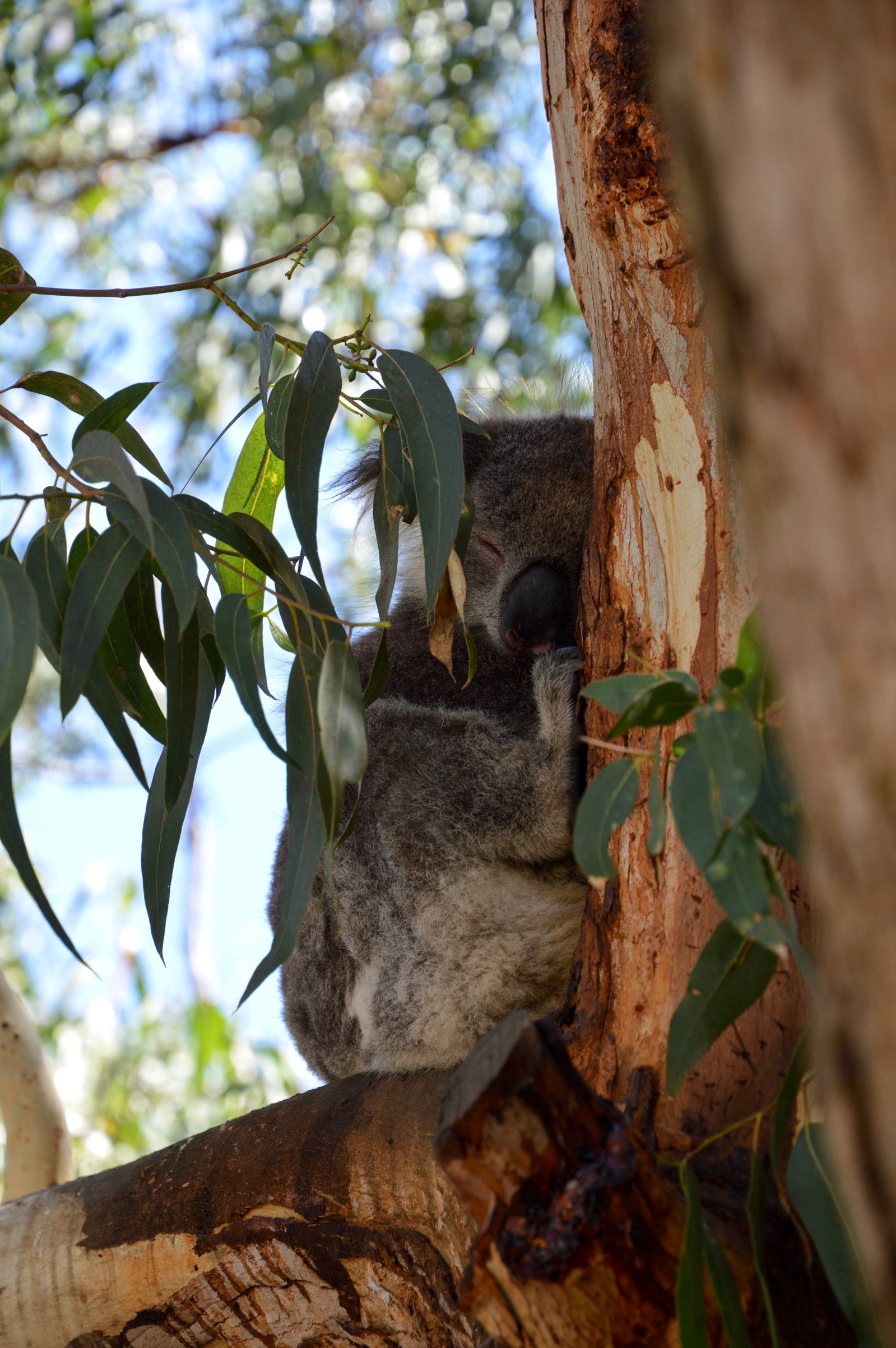 The birds were much more entertaining. They especially enjoyed landing on people's heads.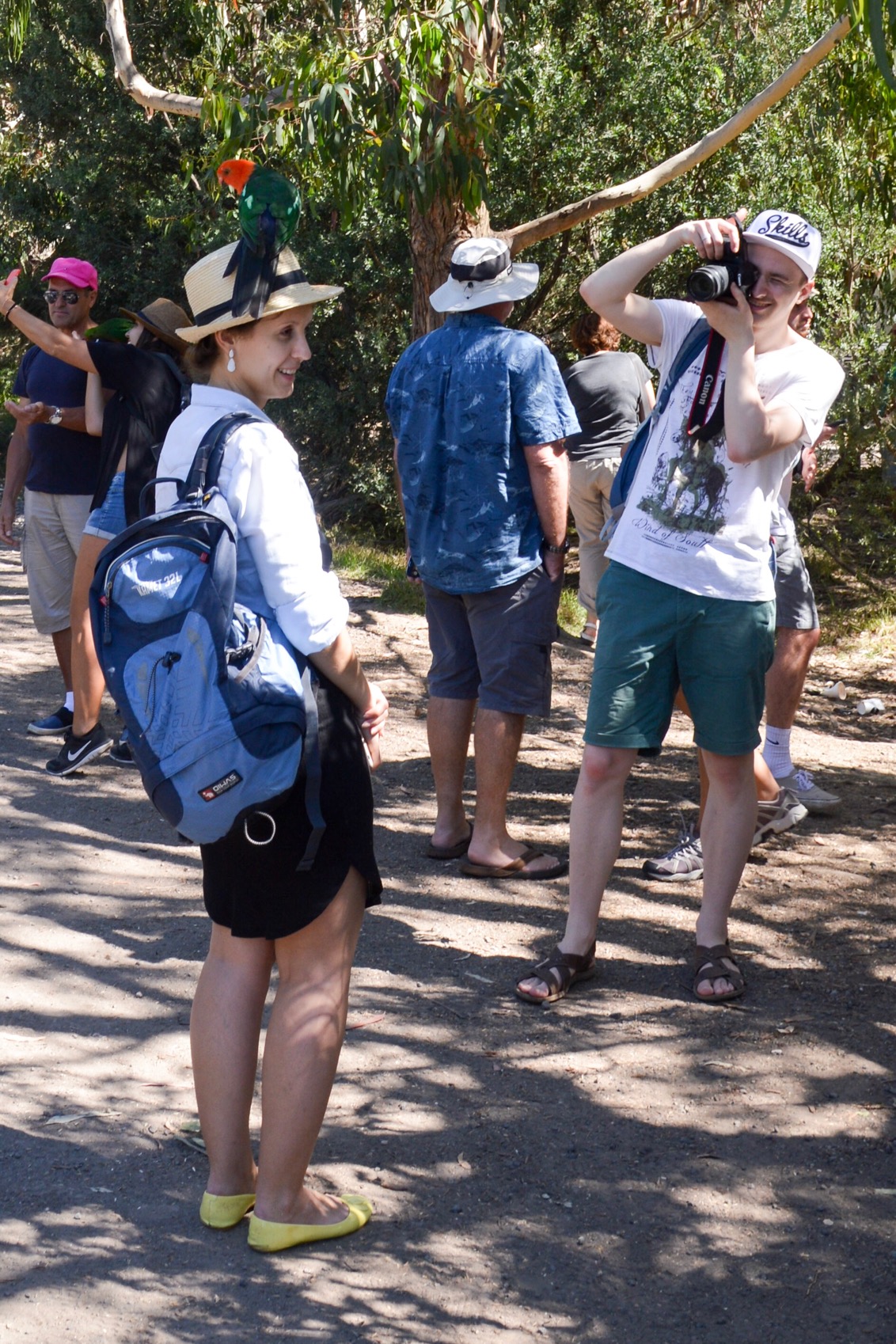 With smiles on our faces, we headed towards our home for the night in…
Apollo Bay
We were really happy with our selection of Apollo Bay for our first night's stay. We stayed at the Beachcomber Motel & Apartments and were pleased with our first experience at an Australian motel. It's a small town, but has a big supermarket and a bunch of restaurants. We had some beers at the local brewery, Great Ocean Road Brewhouse, and made dinner back at the motel.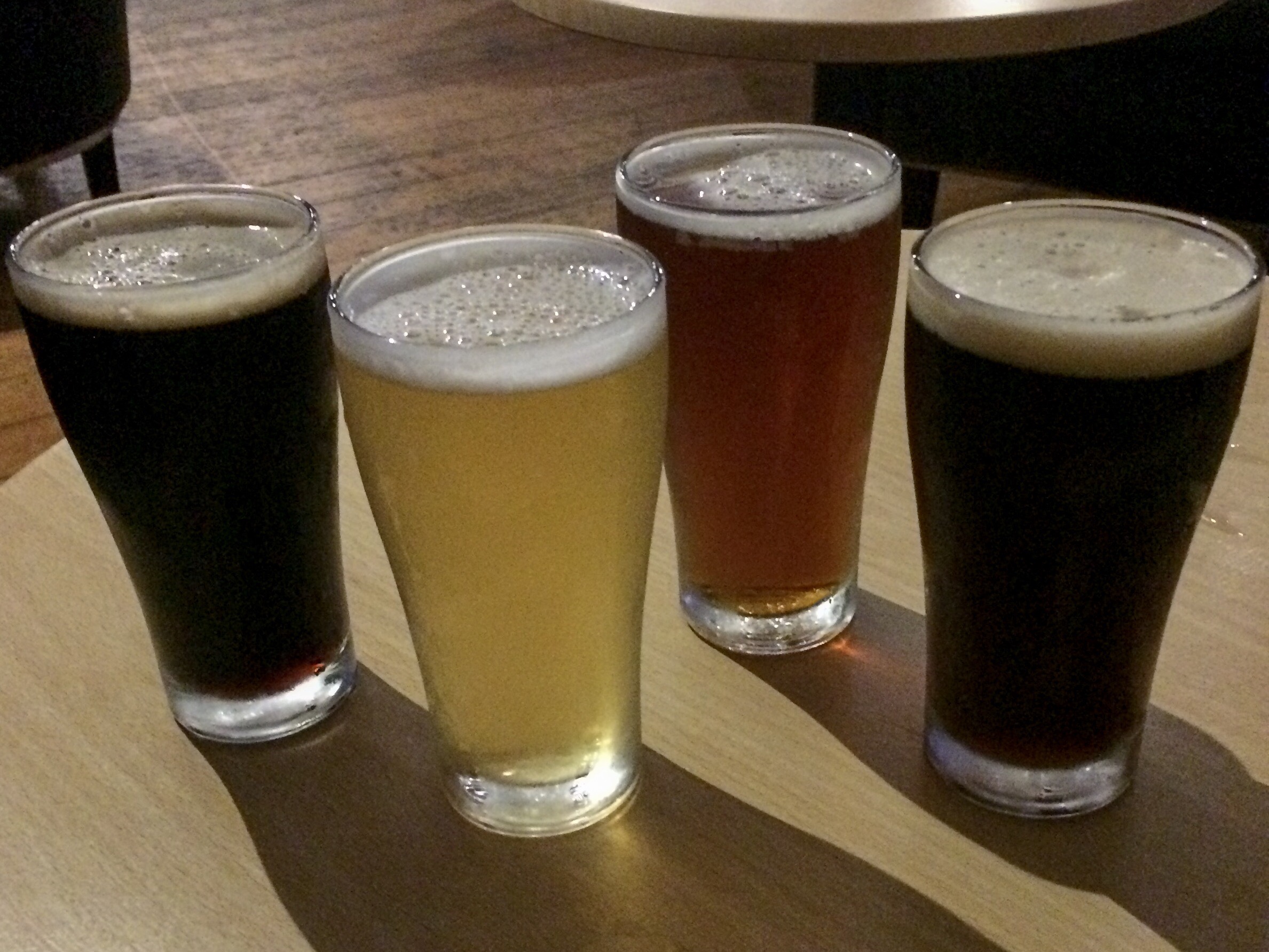 And oh man, the stars! We were lucky to get a perfectly clear night and the stars were absolutely incredible. In the morning, we drove 20 minutes out of town to get some exercise along the…
Maits Rest Rainforest Walk
Just a few steps from the car park and you feel like you're deep in the forest, and then just a bit further, you're in a rainforest. Everything is lush and green. Remember bug spray! The trail is relatively easy with only a few gradual up-hill bits. And much of it is on a wooden walkway.


The walk took us about a half hour to and then we got back in the car and headed to the most famous site along the Great Ocean Road…
The Twelve Apostles
We had read that the Twelve Apostles are overrated. We beg to differ. We found the rock formations unbelievably impressive. We only took in the view from above, going from the main tourist entrance. You can also go down to the beach to get a different perspective via the Gibson Steps (which of course you have to walk back up!).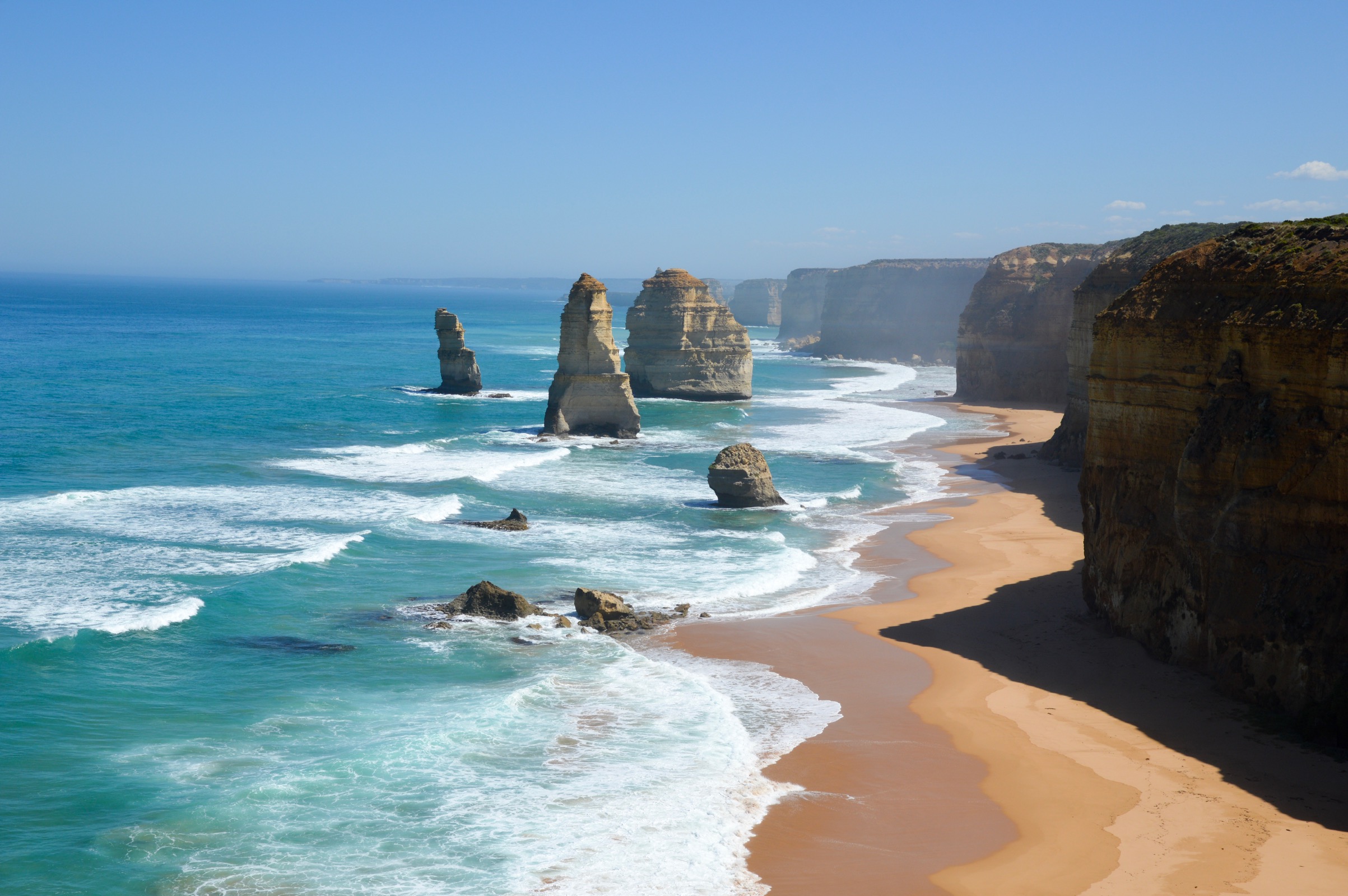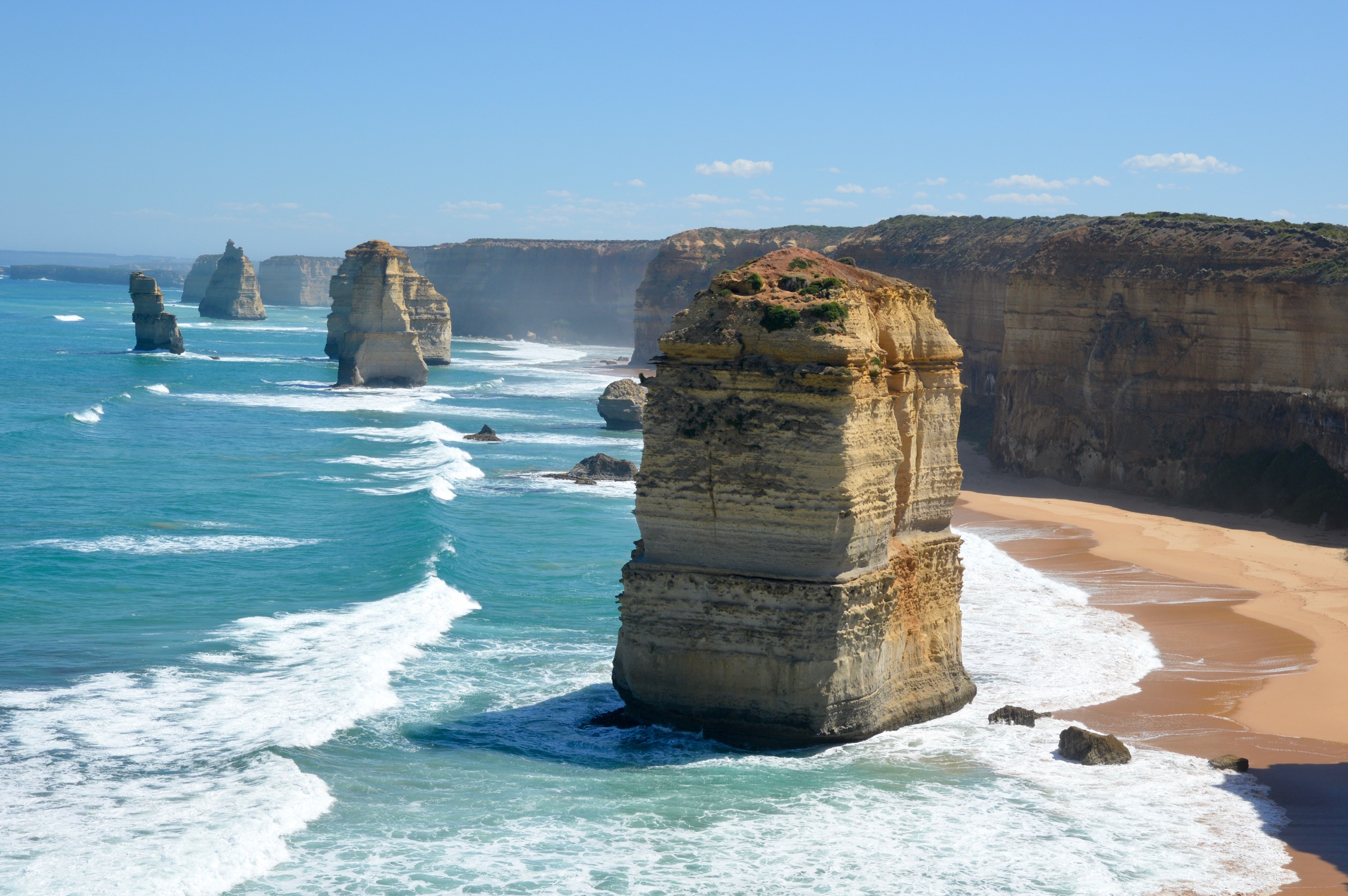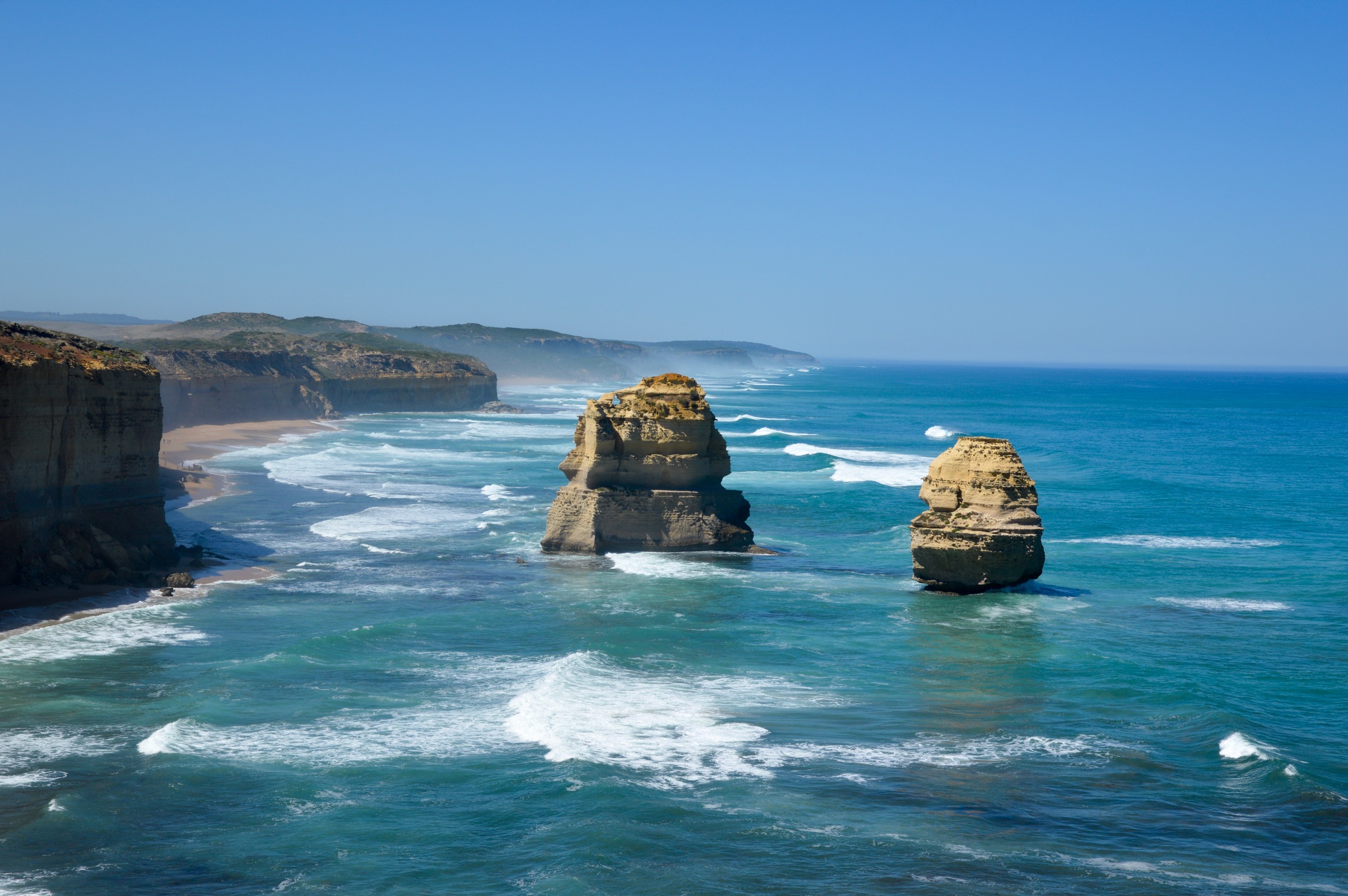 After taking in the view for a while, we head off to check out more of the rock formations along the road including…
London Arch (formerly Bridge)
Part of the London Bridge collapsed in 1990, leaving two tourists stranded requiring helicopter rescue, and only one remaining arch. So now it's officially called London Arch. It's still quite a sight.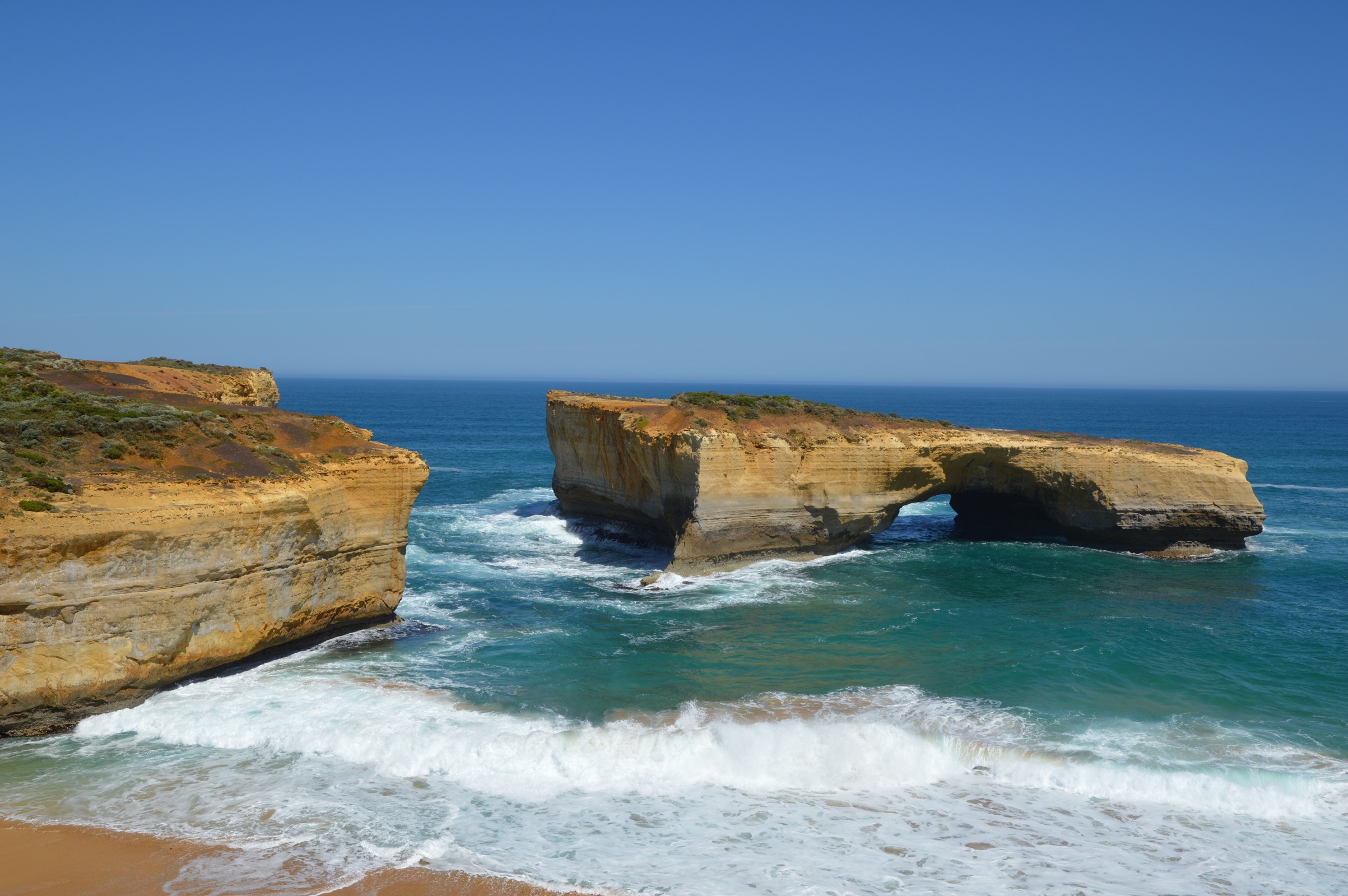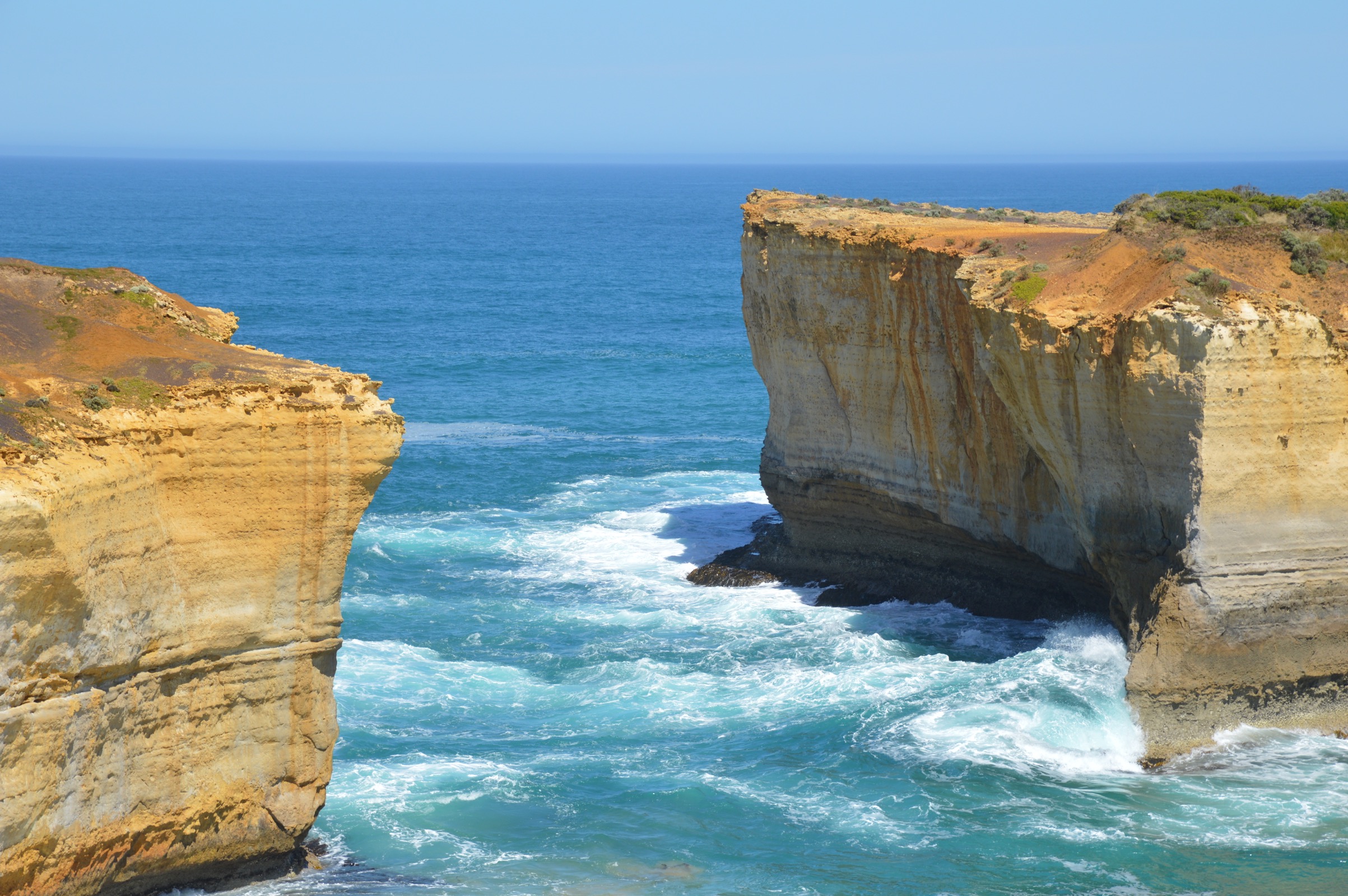 We also saw…
The Grotto
Seeing the archway down near the ocean requires going down (and then by necessity up) a lot of stairs. (This should've stopped Sarah, but it didn't.) It's cool, but we thought the views of all the surrounding ocean and rock were just as impressive.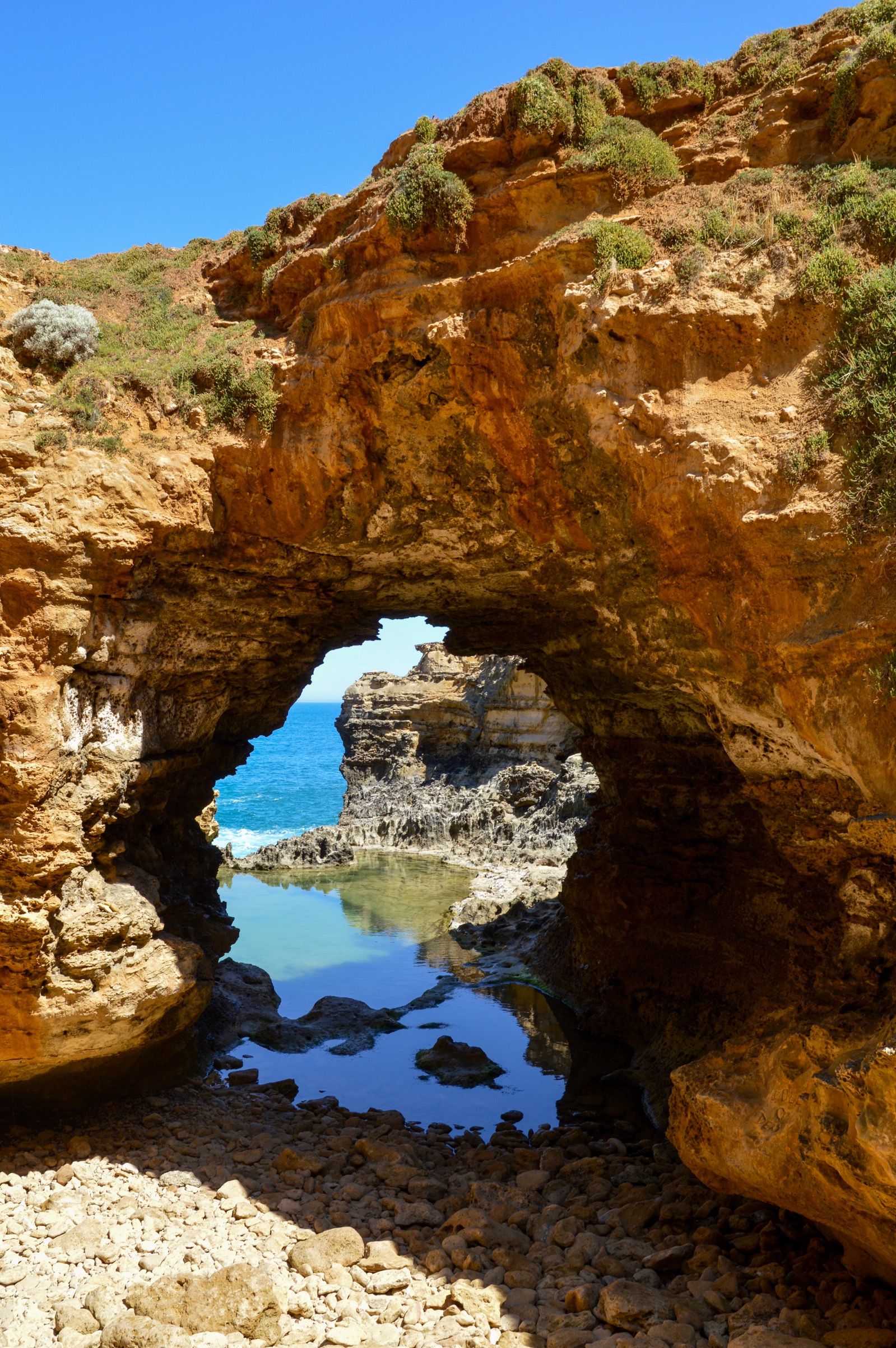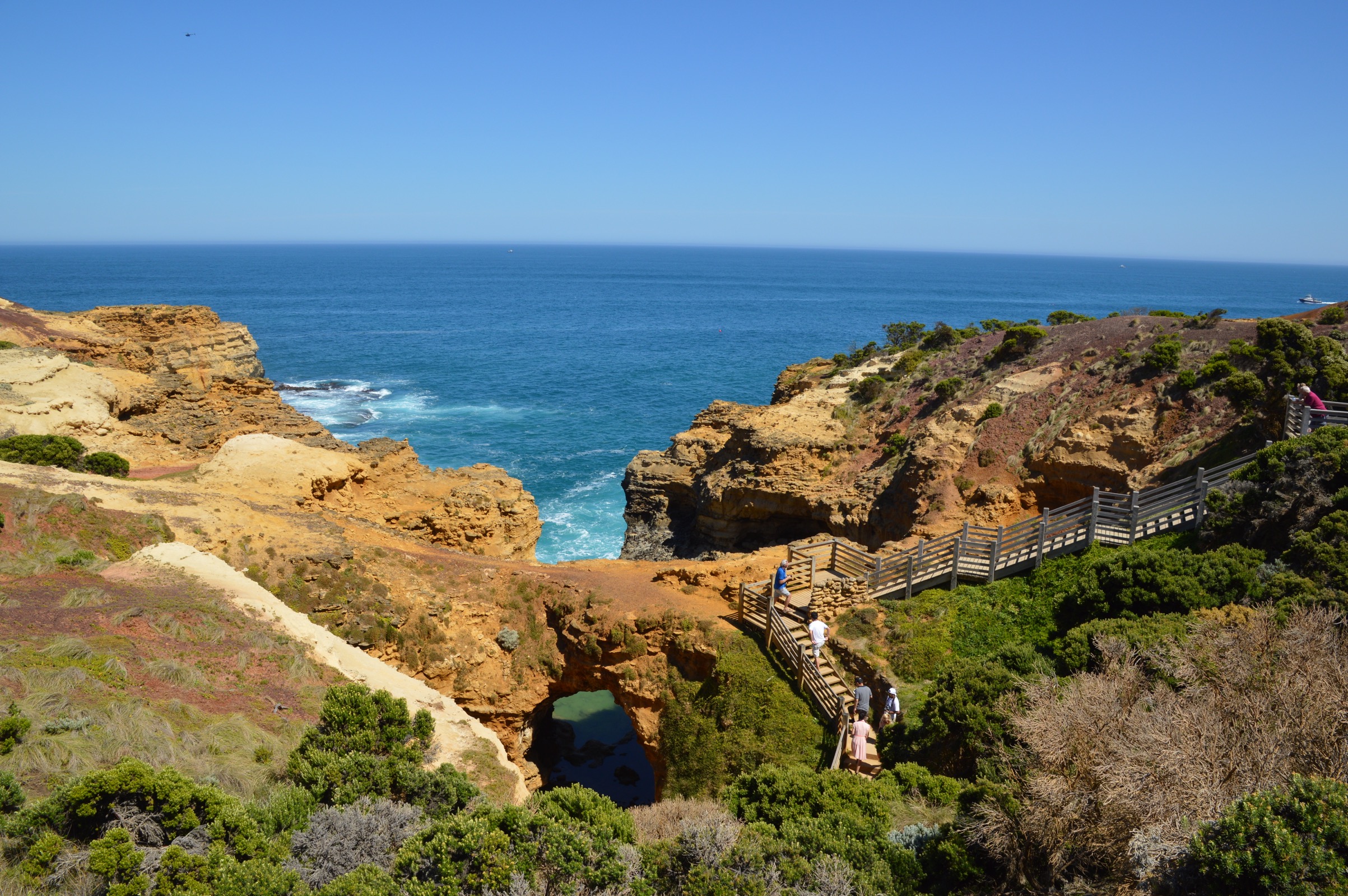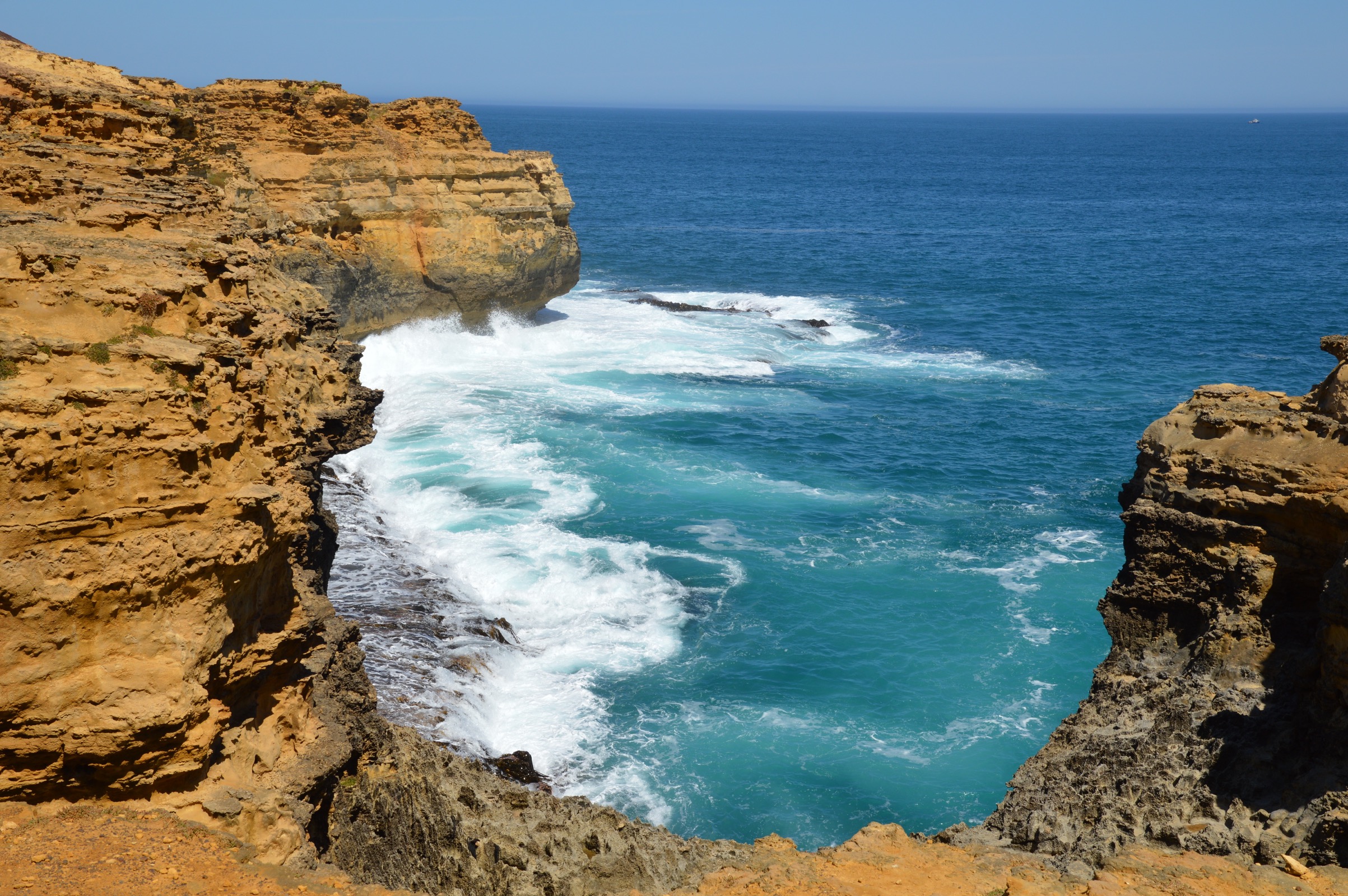 We then continued on our last stretch of the day to our destination for the night…
Warrnambool
Warrnambool is relatively big, seeing that it's still pretty much a beach town. There is a lot to do and a lot of places to eat. We stayed at the Elm Tree Motel. We walked on the very windy breakwater rock pier wondering which waves would be big enough to get us wet. We went to Logans Beach where you can watch for whales at a built up platform. For dinner, we ate cheap burritos from a take-out place and mix-your-own ice cream.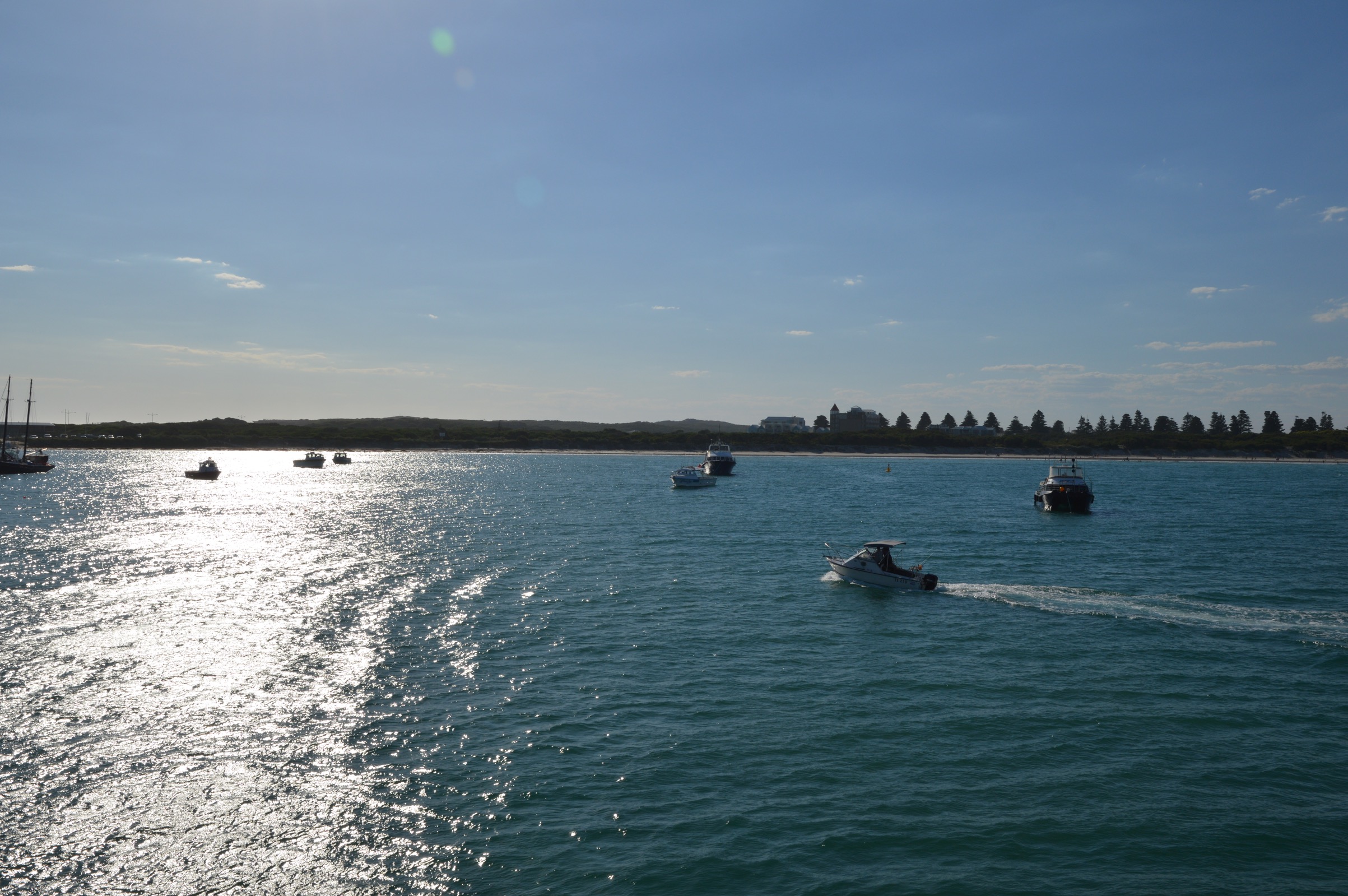 The Great Ocean Road ends at Warrnambool. But our journey continued! The next morning, we hit the road again turning inland towards…
Mount Gambier
We ate a small but delicious lunch of meat pies at the OK Pie Shop in Mount Gambier.


Then we braved 100 degree weather with hats and sunscreen and plenty of water and walked around the…
Blue Lake
The Blue Lake is known for its bright blue color, which you can see from December-March. The rest of the year it is grey. We were there in February and it was stunning, but too hot! It took us about an hour to walk the whole way around. If you'd rather drive, there are plenty of places to pull over to see the view.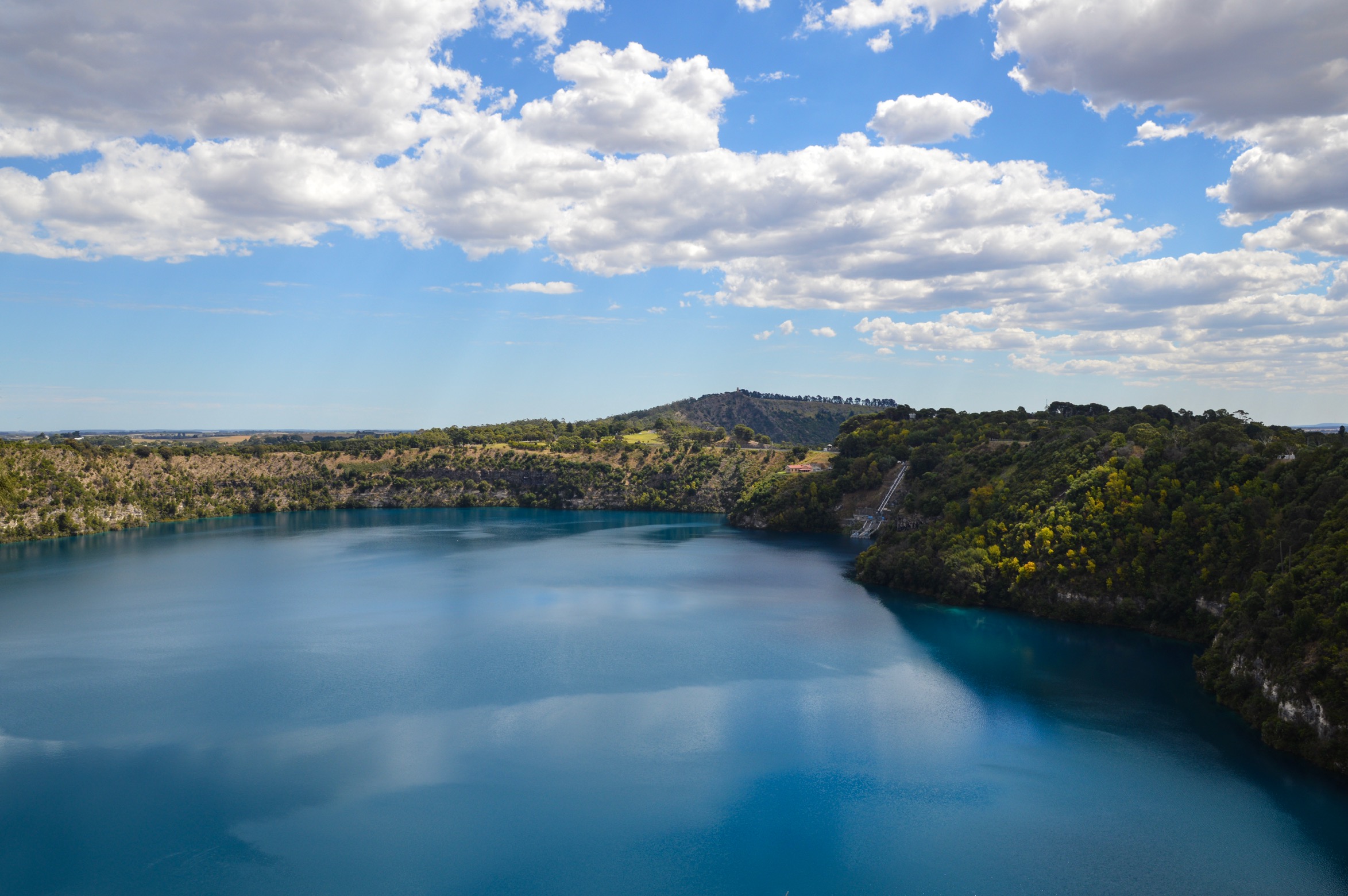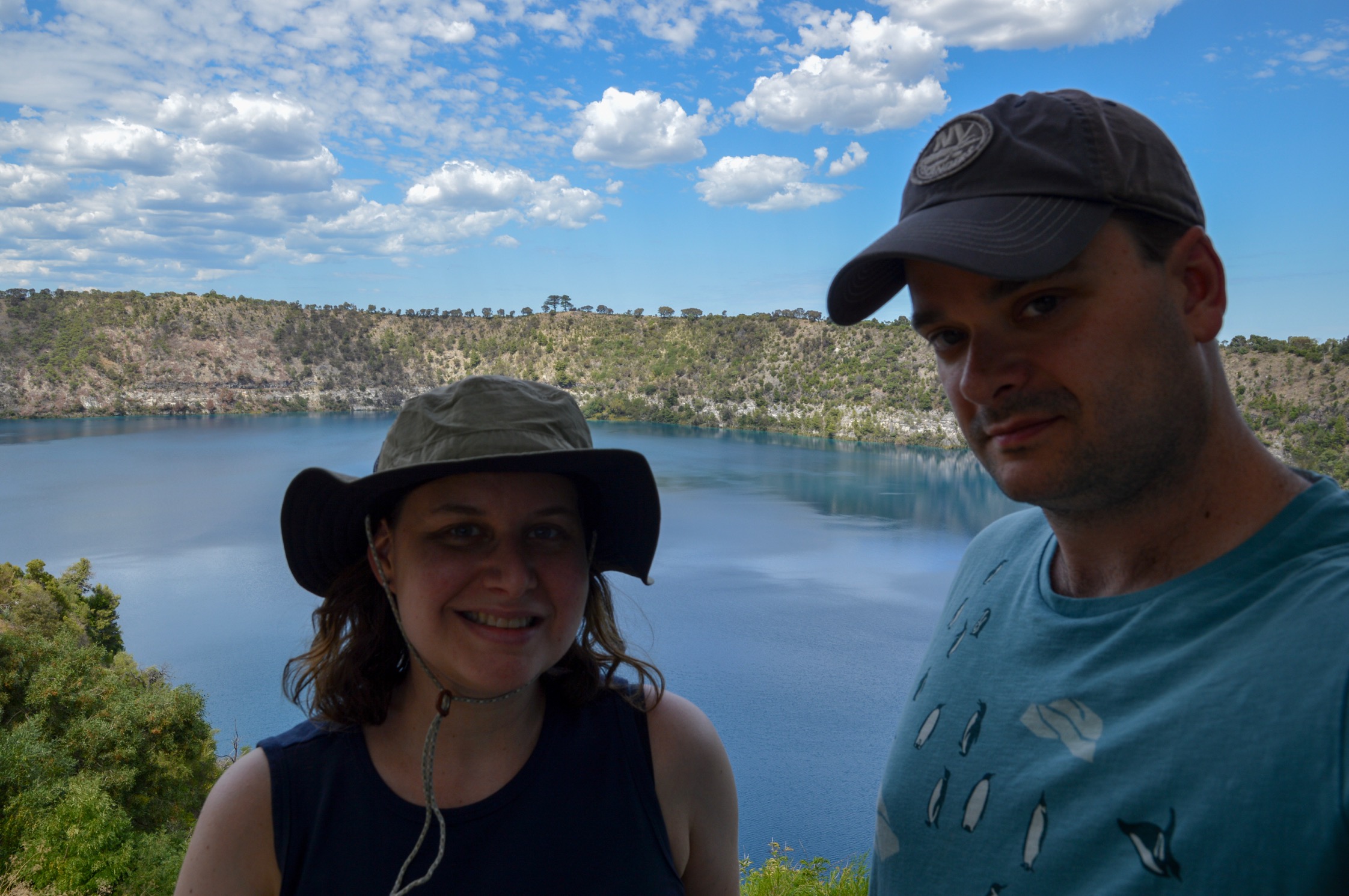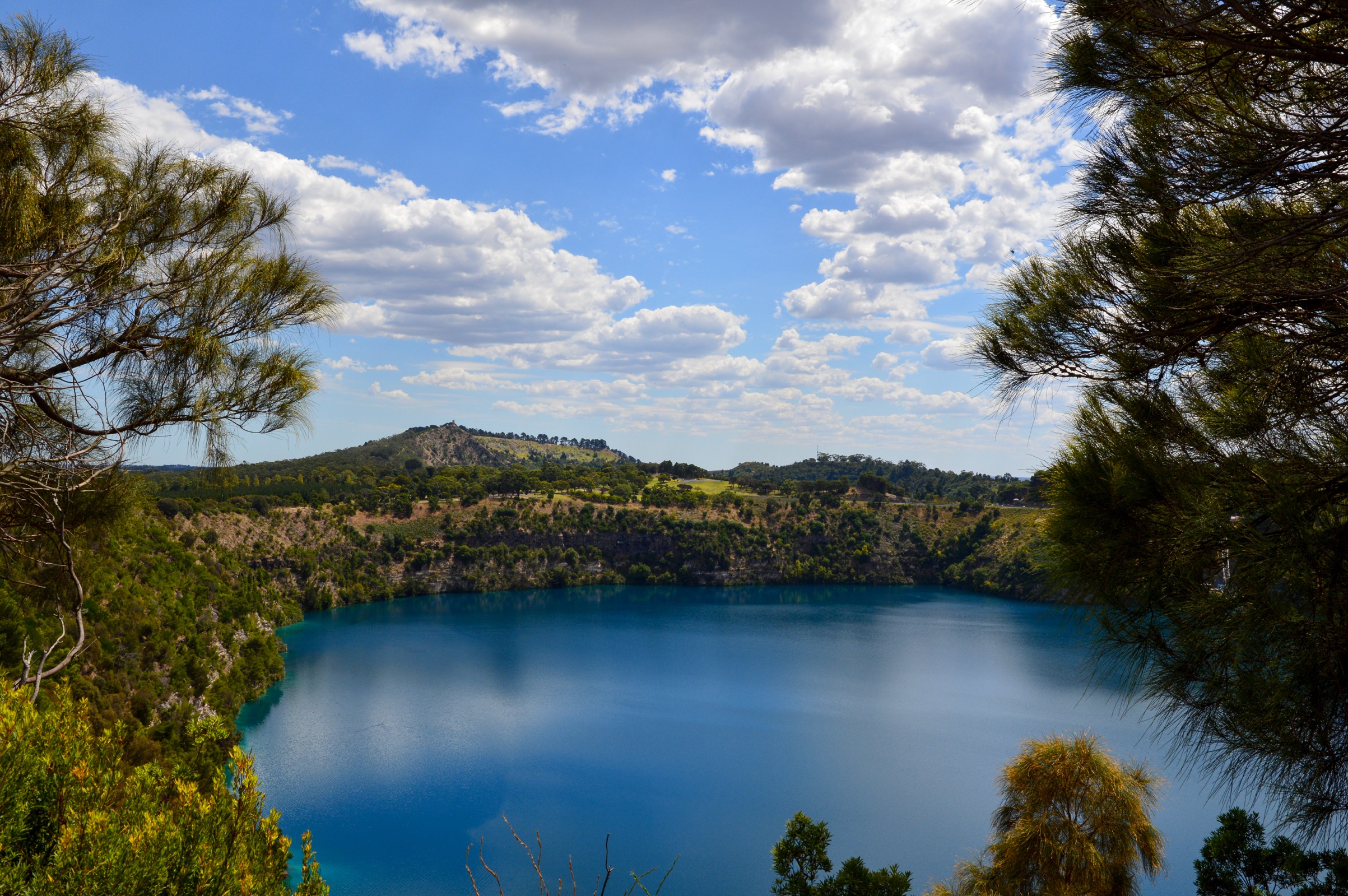 After our walk, we cooled off in the car and drove north to…
Penola
Penola is known for being a good jumping off point to explore the Coonawarra wine region. We did a bit of exploring ourselves, going to three wineries: Wynn's Coonawarra Estate (the most well-known), Zema Estate (recommended by our motel owners), and Patrick of Coonawarra (our favorite). Sarah partook in the complementary tastings, while Justin served as a great designated driver.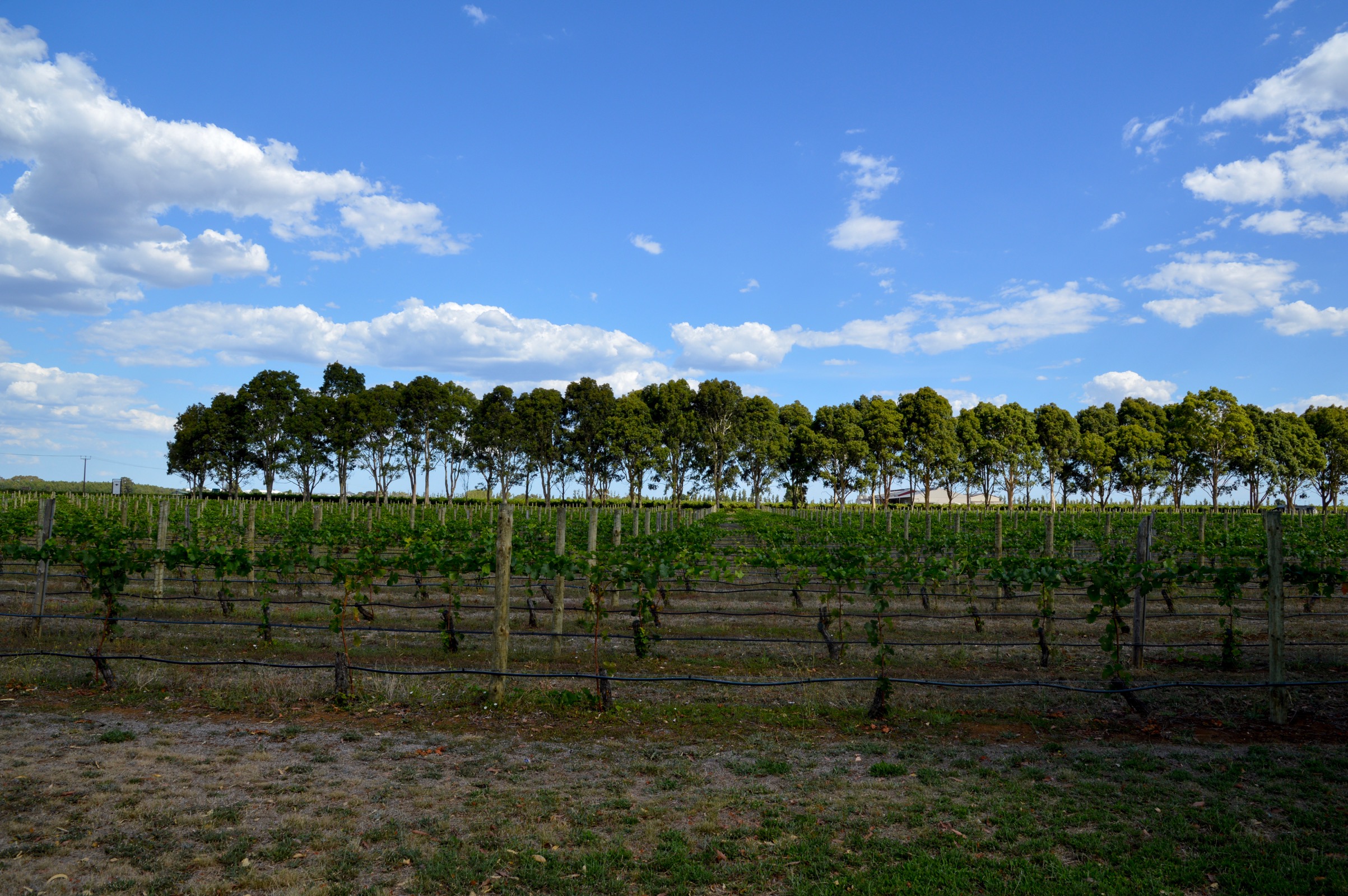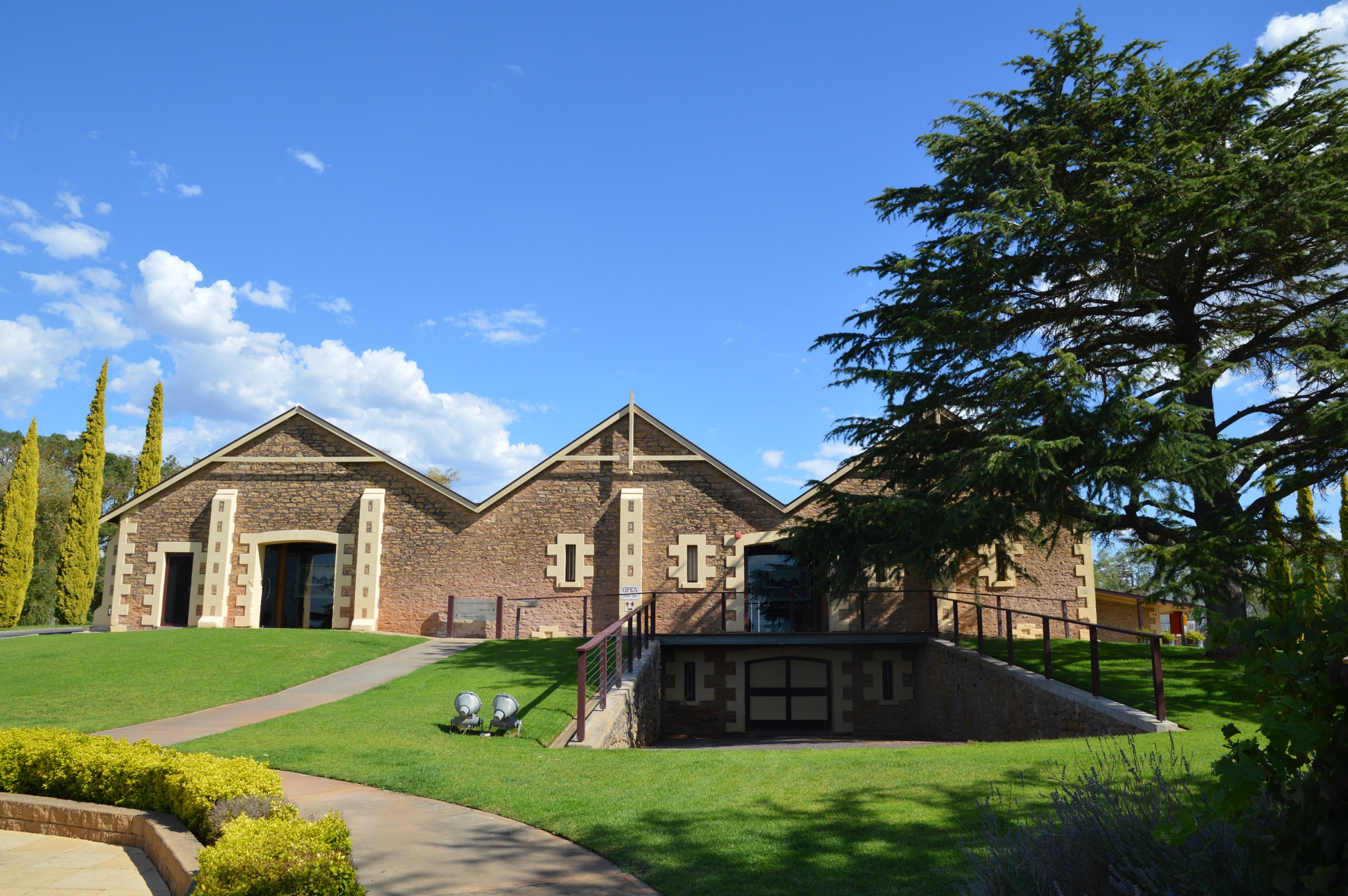 We stayed at the Alexander Cameron Suites motel (the nicest and priciest of the motels we stayed in on this road trip). Penola is known for one of the best restaurants in this area of Australia – Pipers of Penola – but we were tuckered out by this point and wanted something more laid back. Fish and chips and a burger at Heyward's Royal Oak Hotel did the job.


The next morning, we woke up and readied ourselves for the longest, most boring part of our trip, the drive to…
Adelaide
After passing back through all the vineyards in the Coonawarra region, the drive was not so scenic. We stopped for pies at a roadside shop in a random town along the way (and they were delicious). We said goodbye to our car in Adelaide and set off to enjoy a long weekend in the city.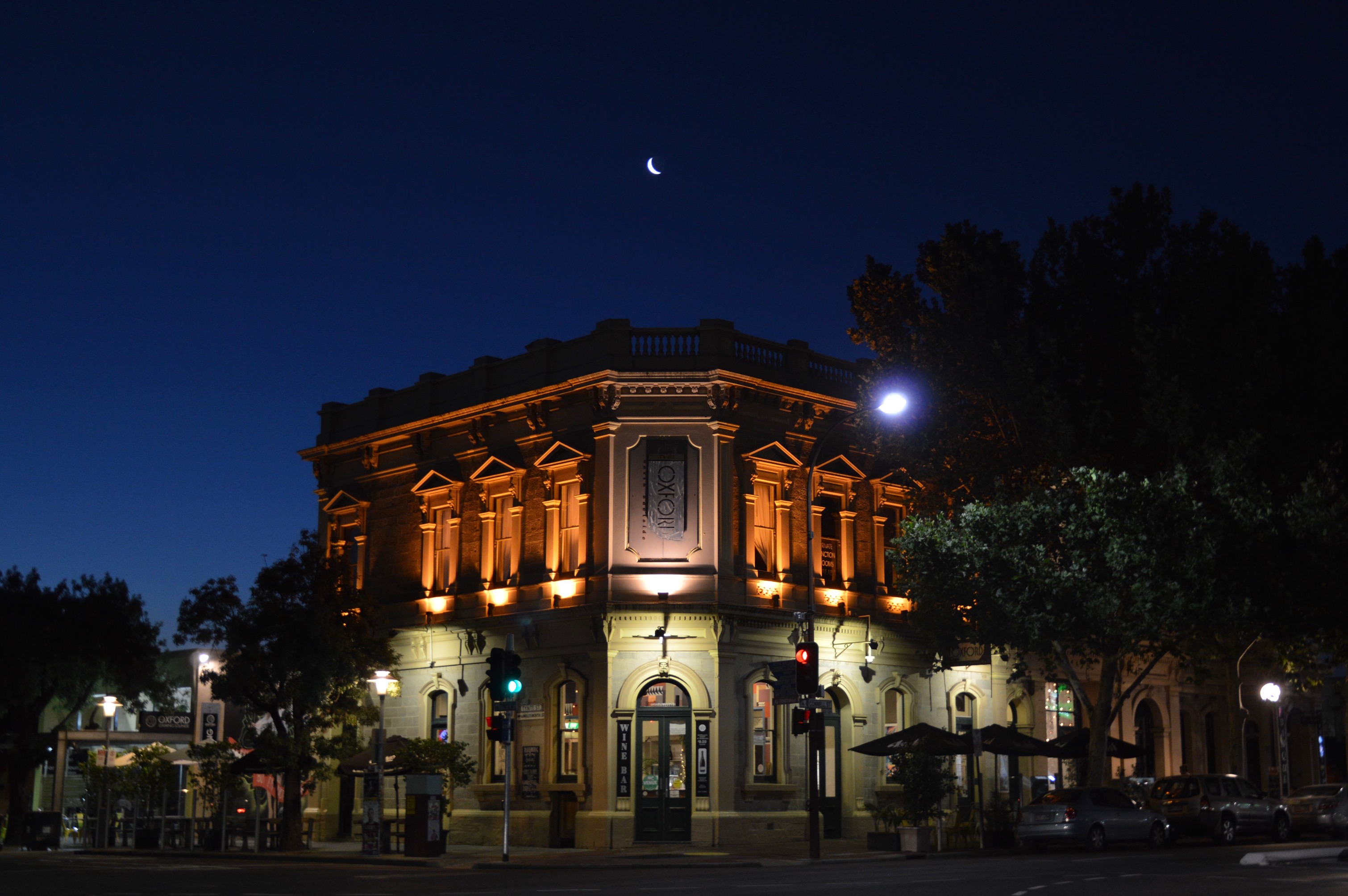 Tips and Tidbits
The Great Ocean Road is the world's largest war memorial, dedicated to those killed in World War I and built by returning soldiers.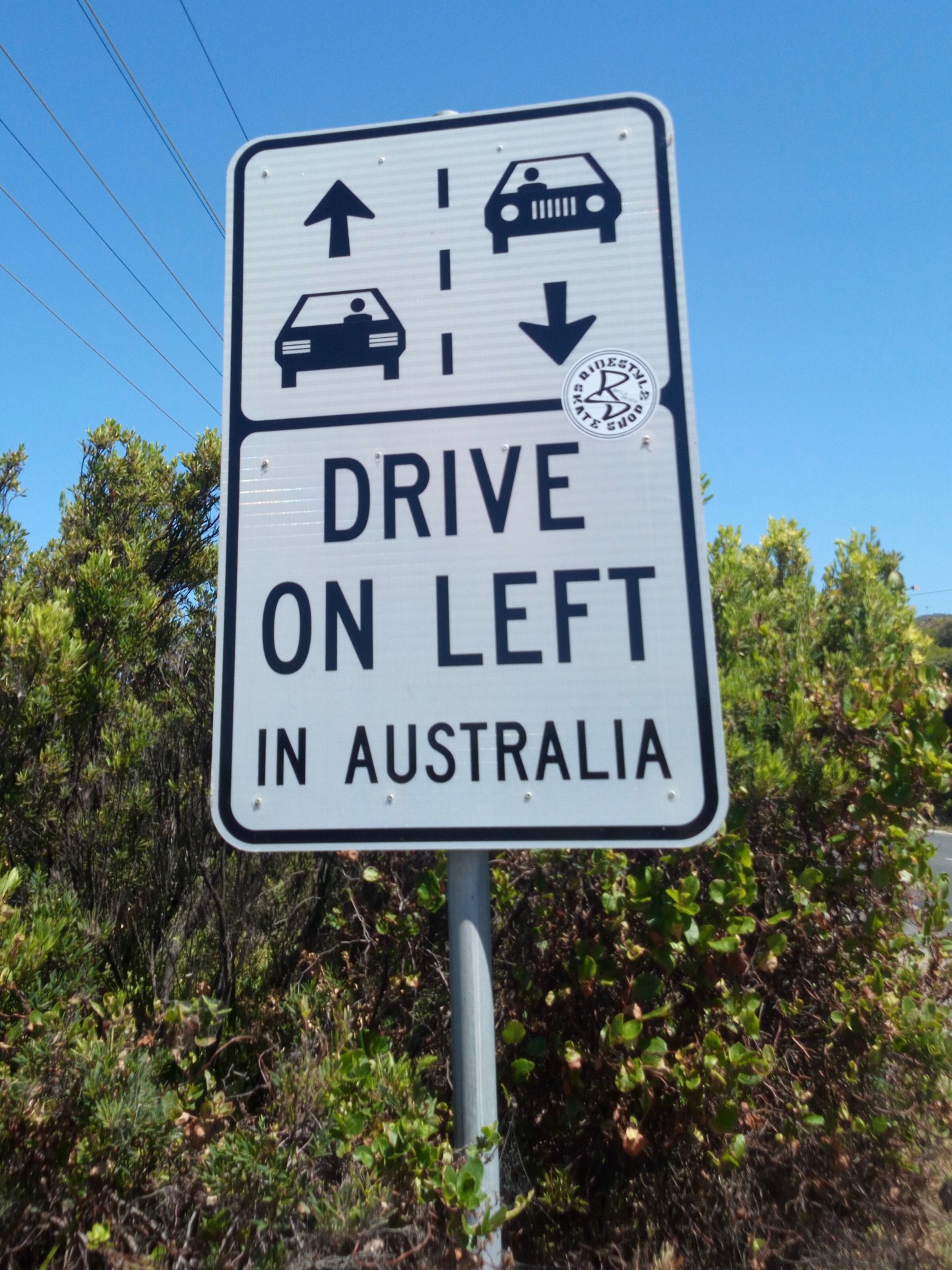 Be careful. In many areas, the roads are super twisty-turny around cliffs jutting over the ocean.

We plotted out our road trip and booked our accommodations in advance. We saw a lot of "no vacancy" signs, so especially if you're only going to be on the road for a few days, we'd recommend pre-planning.
Pin it!