Last Updated on
This past winter, we took a trip to Switzerland. Our main goals on the trip were to meet friends in Zurich, conduct research for our accessible guide to Bern, and spend our wedding anniversary in Zermatt. But we realized we could accomplish another goal during this trip… a visit to the tiny, otherwise difficult to get to country of Liechtenstein. We only spent a few hours in its capital, Vaduz. But if you're like us and love beautiful scenery and visiting new countries, we think it's well worth the trip. In fact, we think visiting Vaduz, Liechtenstein is one of the cooler day trips from Zurich.
Zurich to Liechtenstein train (and bus)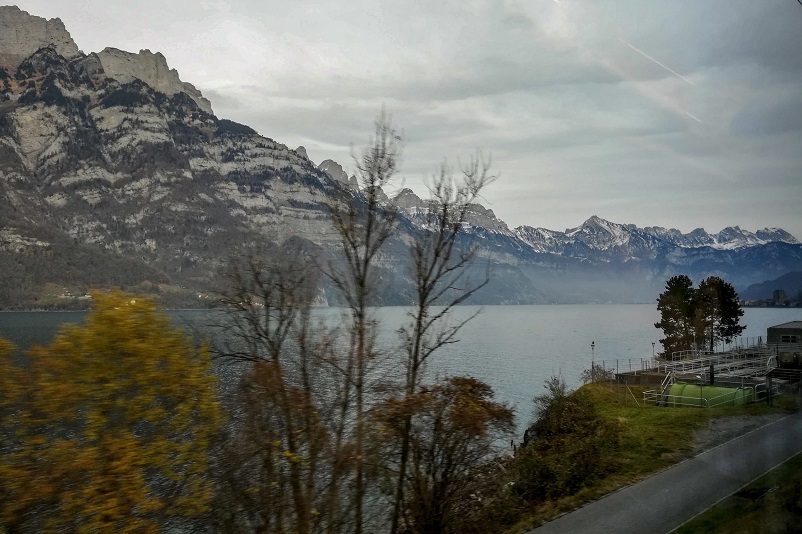 Taking public transportation from Zurich to Vaduz is pretty easy. One train and one bus will get you there in around an hour and a half. Trains depart Zurich HB every half hour. The train ride lasts about an hour and is a treat. Swiss trains are very clean, quiet, and comfortable. And the scenery is beautiful. Going to Liechtenstein, we recommend sitting on the left side of the train, which is the side that runs along the water. But there are some pretty nice sweeping views of the Swiss countryside and mountains on the right side as well. The train's final stop is your stop as well: Sargans. From there, you'll make an easy transfer to bus 11 or 12E going in the direction of Vaduz, Post. Depending on what bus you're on, the ride will take 16-22 minutes. To get off in the center of the city, you'll want to get off at the last stop on the bus as well: Vaduz, Post.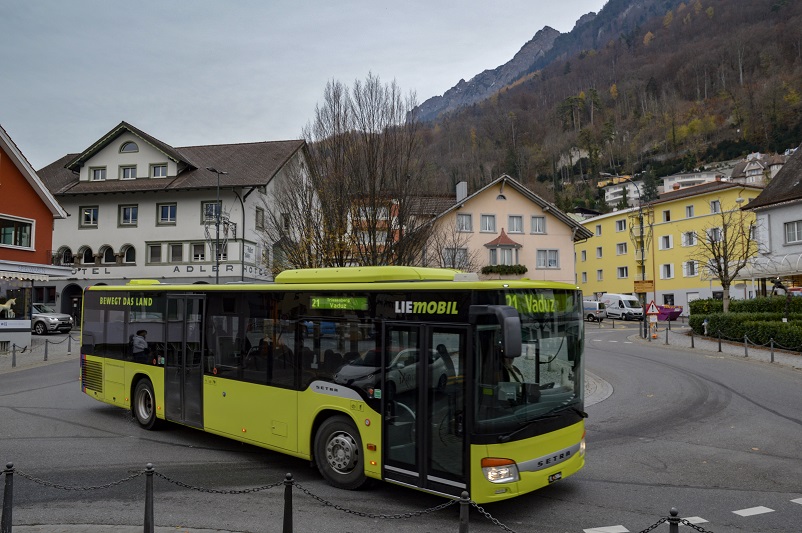 All of the timetables for this journey are available on the SBB website or their app. You can buy tickets online or at the station. We bought day passes since we were using a whole lot of Swiss transportation that day (we flew into EuroAirport in Basel, took the train to Zurich, dropped our stuff off at our hotel, and only then proceeded onto our day trip to Liechtenstein!). The day pass covered all our transportation, including the bus to Vaduz. If you get a day pass, we recommend buying their "saver" pass as early as possible to get the best deal.
At the time of writing, the train trip from Zurich to Sargans is not one of SBB's "barrier-free" routes. Therefore, we recommend that wheelchair users call ahead to arrange any necessary assistance. You can get more information about this here. The bus from Sargans to Vaduz was wheelchair-accessible.
Things to do in Vaduz
Celebrate your Liechtenstein visit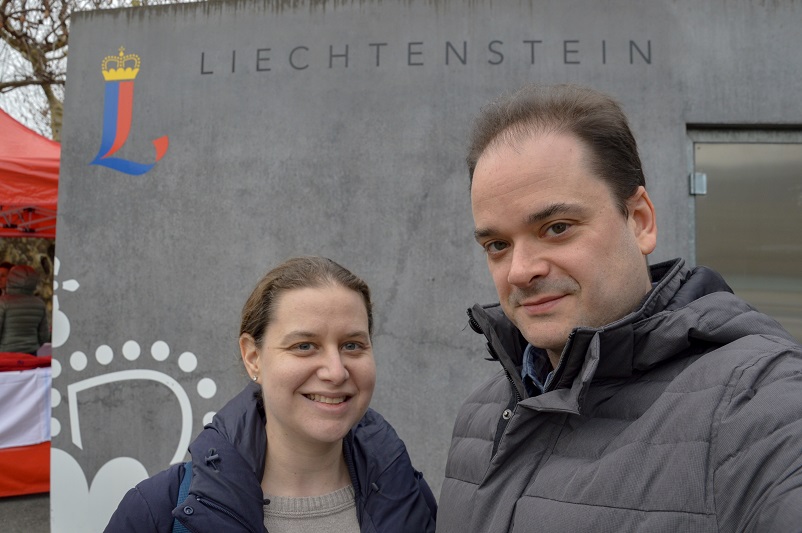 The first thing we recommend doing when you get to Vaduz is celebrate that you're in a new country! Woohoo! It doesn't look all that different from Switzerland, but it's actually a pretty unique place. It's in the top ten of smallest countries in the world and one of only three principalities in Europe. Liechtenstein was the 52nd country we've visited together and seeing new places never gets old. After you do that, here are our recommendations of other things to do in Vaduz.
Walk around Vaduz
Vaduz is small and you can walk the whole thing in about 20 minutes. Do it! When you get off the bus, we recommend turning right immediately. This will take you up to the main drag of the city. It's where the tourist office and the main sights are. The city center is flat and wheelchair-accessible (when we saw stairs, we also saw an elevator).
See the Landtag Building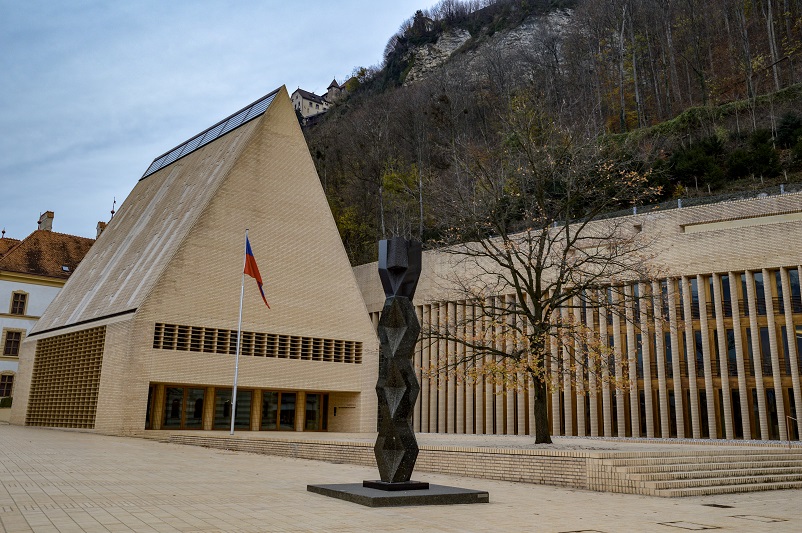 One of the coolest buildings in Vaduz is the Liechtenstein Parliament building (Landtag des Fürstentums Liechtenstein). It's a relatively recent addition to the city, having been completed in 2008. It is a striking brick building complex that also includes a public plaza. It's a lovely place to walk and have a sit.
If you're interested in learning more about the architecture of the building, we recommend reading this article.
Admire the Vaduz Cathedral
Every European city needs an impressive cathedral and Vaduz is no different, no matter how small it is. The Vaduz Cathedral was built in the late 19th century in the neo-Gothic style. You can get some lovely views of the church from the small pedestrian bridge that goes above the main road in Vaduz.
See Vaduz Castle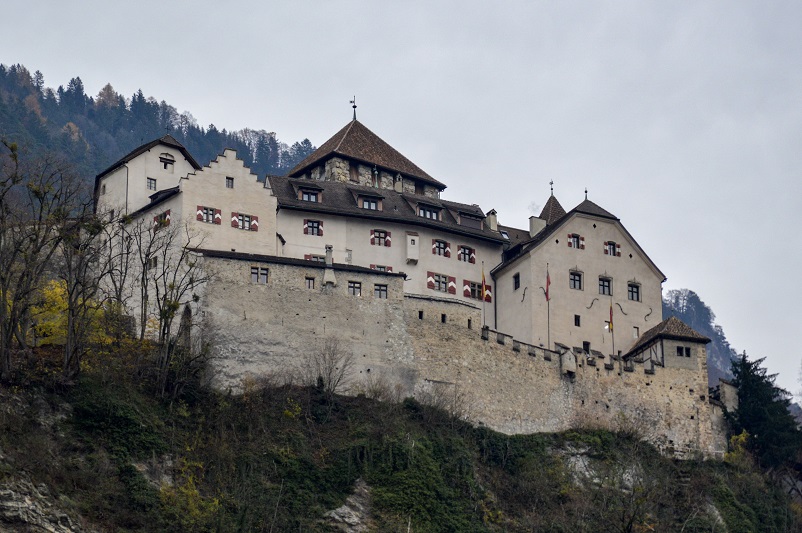 You can see Vaduz Castle, perched above the city, from pretty much anywhere in the city center. The castle serves as the Prince of Liechtenstein's current residence, so no tours or visits inside are offered. You can walk up to the castle to see it up close, but we only made it half way, which brings us to…
Get a nice view of the Swiss Alps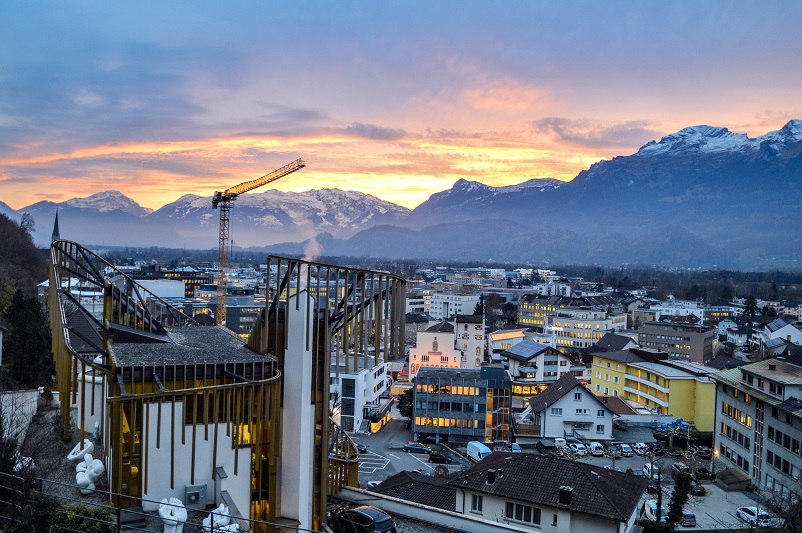 We started walking up the hill that leads you to the castle just as the sun was starting to set. The hill was pretty steep and Justin had to give Sarah a few gentle, helpful pushes but once we saw the view we were so happy we'd headed this way. The streets you should take to get this view are the aptly-named Schloss-Stieg and Schlossweg (in case you didn't know, "Schloss" is German for "castle"). We stopped once we reached a slight clearing, but you can definitely continue walking to reach the castle grounds which we've read are nice too.
You'll also notice an incredibly interesting building below. This is the Centre for Art, which was built in the 1970s and can only be viewed from outside.
Visit museums in Vaduz
There are a few key museums in the small city of Vaduz. Of course, we were just content to walk around and eat lunch.
Had we had more time, Sarah would have visited the country's major art museum, Kunstmuseum Liechtenstein. As it was, we were content to look at it from the outside: a big black box of a building. The Liechtenstein National Museum is a seemingly large place with exhibits on history, culture, and landscape of the country. And there's also the Postage Stamp Museum (for those who like that sort of thing). Last, if you're looking for a little glitz and glamor, you may want to visit the Schatzkammer, the treasure chamber of the Principality.
Note: the National Museum and Kunstmuseum are are closed on Mondays.
Go ice skating (in winter)
We visited Vaduz on 29 November, so its super small ice skating rink and mini-Christmas Market were open for business. Kids were enjoying skating around and their parents were enjoying their Glühwein. It was adorably festive, so if you're in town when it's open, check it out.
Take a peek at the Rathaus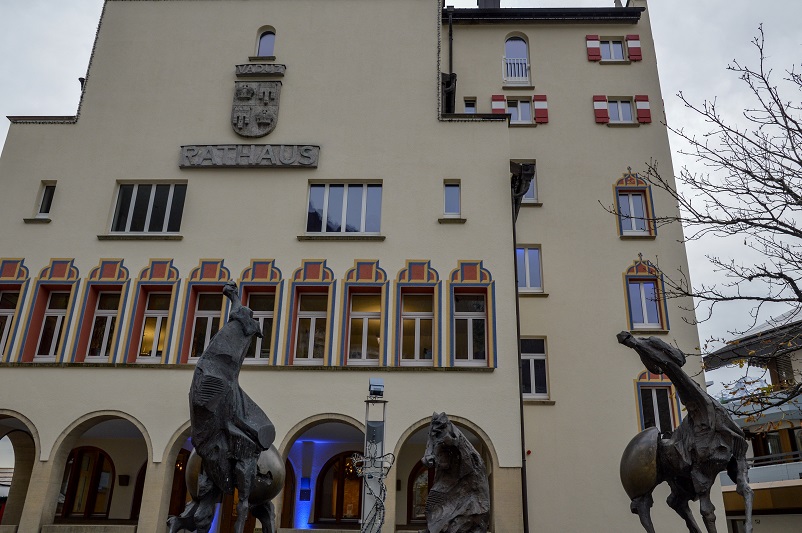 Another nice building to take a look at is the Vaduz town hall (Rathaus). It's an interesting place with arches, frescos, and horse sculptures outside. The aforementioned skating rink is set up next door.
Where to eat lunch in Vaduz
Food and drinks were just as expensive in Vaduz as they are in Switzerland. We spent some time looking for a place we could grab a meal without bankrupting ourselves and read great things about Brasserie Burg. It's located right in the city center, across from the skating rink (if you're visiting during winter). We had tasty burgers and big Liechtensteinian (yes, that's a word) beers to celebrate our visit to this country. They're also known for their pizza, which looked and smelled yummy albeit small. We were also pleasantly surprised to find that the entire restaurant was wheelchair-accessible.
Liechtenstein currency and language
Though Liechtenstein is its own country, the national language is German. We speak a little German ourselves, so didn't have to test their English, but we're pretty sure it's commonly known. The restaurant we ate lunch in listed everything in CHF, but also took Euros.
Like this post? Pin it!