Are you looking to explore the beautiful, relaxing, and delicious countries of Thailand, Malaysia, and Singapore all in one trip? We did and highly recommend making time to visit them all. One important consideration is of course transport between Thailand, Malaysia, and Singapore. Don't worry – we've got you covered!
Long ago in the initial planning stages of our trip, we read about how it's relatively easy to travel from Thailand to Malaysia to Singapore via train. We built much of our itinerary around the (seemingly) romantic idea of taking the train from a Thai Island to George Town, Malaysia before continuing to Kuala Lumpur and then to Singapore. So it came as a rude surprise when we realized a few things:
The Thai island we would be visiting (Ko Lanta) is nowhere near the main train route.
The journey to George Town now consists of two different trains vs. just the one.
The train from Kuala Lumpur to Singapore also now consists of two trains and one bus and get one into Singapore very, very late.
After quite a lot of research, we figured out a journey that worked for us. So here's our detailed account of how to get from Ko Lanta to George Town to Kuala Lumpur to Singapore.
How to get from Ko Lanta, Thailand to George Town, Malaysia (via Hat Yai)
1. Find a tourist office in Ko Lanta
We tried to book a ticket off Ko Lanta in advance, but it was impossible. Our Ko Lanta B&B owner assured us there are many travel agents on the island and he was right. The first day we shopped around and ended up paying 570 THB (~$16.40) each. Most of the shops advertise multiple departures per day. We asked to take the 10am departure, but when the shop owner called the minivan people, they told us to be ready by 8:30am. We paid the shop owner and hoped for the best!
2. Take a minivan from Ko Lanta to Trang
The minivan showed! We had read horror stories about how tight they were and boy were those stories right. We got lucky by being early in the pick-up route so we got seats together and our luggage was stowed in the back of the van. We had our smaller bags on our laps and it was really hot. But at least we were sitting together. The minivan takes a few hours – including the trip on the ferry – to get to Trang. At one point during the trip, the minivan pulled over to the side of the road and let three passengers out. Their connection was a pick-up truck. One of them hopped into the open back. We were glad we weren't going wherever they were.
3. Take a separate minivan from Trang to Hat Yai
When we arrived in Trang, our minivan driver explained that he would buy us our tickets to Hat Yai. So he did, and then he left. No one spoke English at the bus station, so we communicated through pointing and shrugging and smiling… lots of smiling! We missed the first minivan because there wasn't room for our luggage. We jumped into the next minivan where we again were lucky to get seats together. We thought we were going to be let out at the Hat Yai bus station, where we would then have to take a tuk-tuk to our hotel. But fortuitously, someone signaled to the driver to be let out sooner, and we saw that it was close to our hotel, so we got out there. Thank you Google Maps! Very important note: there are bathrooms in Trang.

4. Spend the night in Hat Yai
We knew we had no chance of making the train from Hat Yai to Malaysia that same day, and we didn't want to spend more time on a bus or in a minivan. So we decided to spend the night in Hat Yai. We splurged and spent $52 on a hotel with a pool and a gym and a pretty good view.


Hat Yai doesn't get the best rap. There have been a few bombings. It caters mostly to Chinese tourists who come for the less expensive shopping. But we enjoyed it. We had dinner at a popular (inexpensive) buffet on the top floor of a mall so it had views of the city. And the next day we went to the train station to head to Malaysia.


5. Take the train from Hat Yai to Padang Besar
Not long ago, one could take the same train all the way from Bangkok, Thailand to Butterworth, Malaysia. But recently things changed. This meant we had to take one train from Hat Yai to a town called Padang Besar, which is on the Thai-Malaysian border, and then transfer to a separate train. We bought our train ticket at the Hat Yai train station the day we departed (we unsuccessfully tried to buy it the day before). There are two trains per day – we took the one around 1pm vs. the one around 7am. The train miraculously had air conditioning and plenty of space to store luggage. Two tickets cost a total of 140 THB (~$4).


6. Take another train from Padang Besar to Butterworth
Upon arrival at Padang Besar, you go through customs and immigration out of Thailand and into Malaysia.


The process was easy and pretty fast. We then went to purchase our tickets for the commuter train from Padang Besar to Butterworth. This was not so easy and not so fast. We didn't have any Malaysian money since this was our first stop there. We assumed there would be an ATM in the train station. We assumed wrong. The ticket seller would have taken Thai Baht, but we didn't have nearly enough (because we've gotten very good at spending our cash near the end of our time in a country). A man saw Sarah looking around the station and asked if he could help. He advised we would have to walk to the nearest 7/11 for an ATM. It was about 15 minutes away (and up and down a massive staircase) but we did it, got money, and got back to the train station and bought our two tickets for 22.80 MYR (~$5.25).


It was an interesting entry into Malaysia, and we learned that the Malaysian people are very nice and helpful and speak pretty good English. Just beware of "money exchangers" (ie, random people on the street) trying to convince you the ATM in 7/11 is broken. We were told this, but it wasn't. So if you're traveling this route, we'd recommend you exchange some money in Thailand first! The train to Butterworth itself was fine – although it was a commuter train with no room for luggage. And it filled up with students about a half hour in. But the scenery was beautiful.
7. Take the ferry from Butterworth to George Town
Upon arriving in Butterworth, you can take a free bus to the ferry dock or walk. We walked – it was only about 5 minutes, although up and down some stairs. You change money for exact change at the dock and take the ferry over to George Town. Tickets cost 1.20 MYR each (that's about 27 cents!). You get some nice views on the way. And then you're there!


How to get from George Town to Kuala Lumpur in Malaysia
The leg from George Town to Kuala Lumpur was relatively simple.
1. Buy train ticket from Butterworth to Kuala Lumpur
We recommend buying your ticket when you get to the Butterworth train station on your way to George Town (step 7 above). We didn't do this and later discovered that our desired train was sold out and it cost a little more to buy the ticket online (ours were $13.25 each). We bought our tickets from Busonlineticket.com which worked well, although they didn't accept our US credit cards so we had to use PayPal.
2. Take the ferry from George Town to Butterworth
The ferry is free going in this direction!


3. Take the train to Kuala Lumpur
It's a very nice train. Reserved seats. Air conditioning. Lots of room for luggage. Movies (although they were only showing Jackie Chan on our train). And they pass out halal snacks!


Kuala Lumpur is a great city. We should have spent a few more days there, but enjoyed the time we had.
How to get from Kuala Lumpur to Singapore
When we arrived at the Kuala Lumpur train station, we inquired about buying our train tickets to Singapore. We already knew that the trip required taking two trains and one bus but we didn't know that the journey would take so long and get us into Singapore after midnight because of the time needed to cross the border. So, we looked into a bus instead.
1. Buy your bus ticket
This seemed simple enough but there are so many options! And just as many horror stories including bus drivers leaving passengers at the Singapore border because they took too long. We did a lot of research and decided on Grassland (AKA Super Nice). We chose them because they got pretty good reviews and because they picked up in the middle of the city, near where we were staying, instead of at the bus station which is a bit far outside. We used Busonlineticket.com again, which we recommend, but be careful because they automatically add insurance to these bus tickets. We didn't notice and it cost us a few dollars. Our two tickets cost us a total of 67 SGD (~$47.50).
2. Check in for your bus, go to the bathroom, and buy bread
You need to check in at a hard-to-find office (it's behind a 7/11 on Jalan Imbi) 30 minutes before the bus is scheduled to leave. You are instructed to go to the bathroom before the bus departs and it is questionable if there will be any bathroom stops on the way to Singapore. You are also advised that you cannot bring any food other than bread on the bus.
3. Board the bus and get comfortable
The seats were huge and really comfortable, but someone had fun picking the upholstery design.


The IFE was just a list of mp4 files, but Sarah was able to enjoy The Hobbit.


4. Be shocked when the bus stops for a bathroom break no less than 10 minutes out
Seriously. We were still in the city when the bus stopped.
5. Be pleasantly surprised when 3 hours in the bus stops for a bathroom-plus-food break
It was sort of like a hawker center. The bathrooms were unpleasant, but necessary. And we were able to spend the last of our Malaysian money on snacks.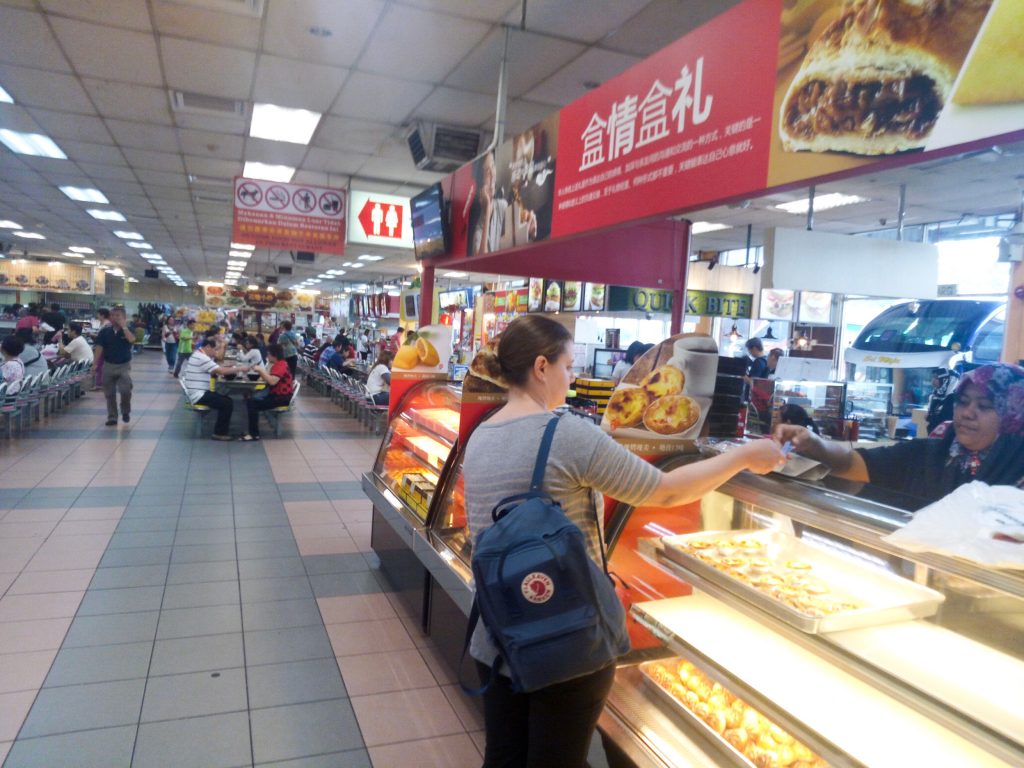 6. Leave Malaysia
This was a bit hectic and disorganized. We were yelled at to leave the bus. It took less than a minute to get through customs and then we had to find our bus among a sea of similar looking buses. We followed people who looked familiar and it worked out.
7. Go through Singapore immigration
This took longer than expected because it took the bus so long to reach the border center. We were on a slow moving line of buses for about an hour. The actual entry process was very organized, and pretty fast, as was finding the bus on the other side. There are also bathrooms here!
8. Arrive in Singapore
It didn't take long to get from the border into the city. It was dark and we got a nice view of the Gardens by the Bay Super Trees all lit up. The bus we took dropped us off at the Golden Mile Complex, which is in the city center (note that a lot of buses, like the train, drop off in a suburb). We could have taken a subway to our hotel, but after our 7-hour journey we just grabbed a taxi.
Pin it!